In:
Today was embarkation day for us, which is far from the most relaxing day on board, but always chock full of anticipation.
We'd initially planned to arrive at Port Everglades between 1000 and 1030, ensuring we'd be first on board.  After going to sleep at 0200 (not at all because we were still packing despite mutually agreeing we'd completed that task on Tuesday), we didn't sleep terribly well.  The anticipation of embarkation day keeps many a sleep-lover awake at night.  We ended up arriving to Port Everglades at about 1100, still plenty early (and hours earlier than Royal Caribbean recommends).  I usually take a car service or get a ride, so it's been years since I drove myself to Port Everglades to take a cruise and while it wasn't painful, I'll probably just take Uber or Lyft next time. It's really is nice just getting right out at the curb.  Port Everglades parking, for the record, is $15/day.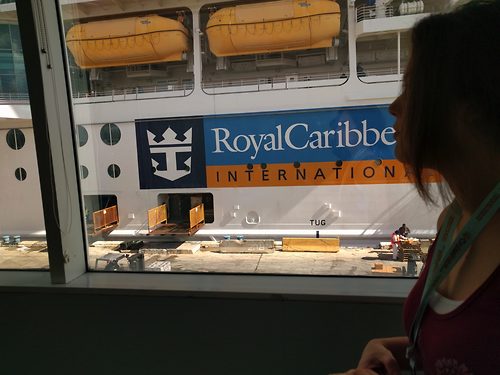 Walking into Terminal 25 it was clear the facilities weren't quite as plush as our last several cruises (including the Allure out of the same port).  The terminal is being renovated, as indicated by signs apologizing for the mess, so there are many temporary dividers, and the bulk of the checkin process takes place in an area that looks like a warehouse.  That in mind, it was silky smooth and perfectly functional - no complains at all.  Security took less than five minutes, we were walked right up to staff to check in (though we're only Gold on RCL), and the agent got us checked in quicker than any cruise I can recall - it felt like less than a minute or two.  We then sat for maybe five or ten minutes before it was time to board.  All in all, it took about thirty minutes from arriving at Port Everglades to that magical chime when your SeaPass is first scanned - most of that thirty minutes was probably spent walking from the parking garage as I muttered something about Uber being easier.
Once onboard we headed right to the Windjammer for lunch.  It was reasonably empty since we were among the first to board, and had a reasonable selection, including a giant "Welcome" sheet cake (which I passed on in favor of other sweets).  I had some chana masala (my favorite Indian dish), vegetable biryani, kidney bean and pineapple stew (new to me, but pretty awesome), and some random vegetables.  Overall I was pleased with the selection.  Somehow, I managed to not overeat, had only a small selection of desserts (your standards), grab an espresso and then take a walk as the Windjammer filled with the losers guests that showed up later than we did.  Oh, for those who are so inclined, I did notice the much revered Honey Stung Chicken was there today!  I don't eat meat, but the sign looked delicious.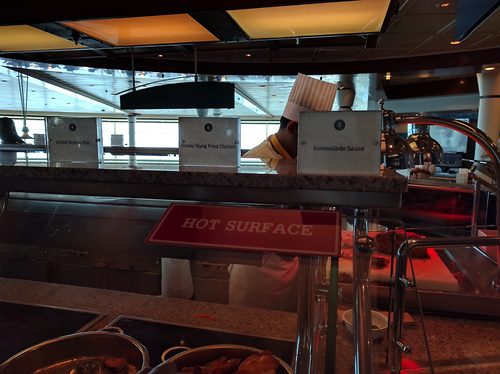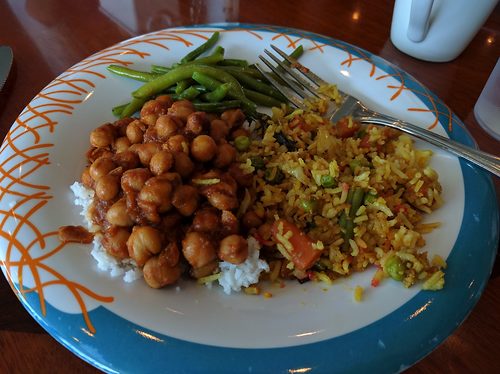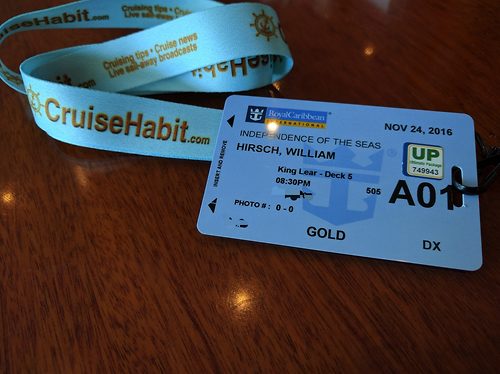 From the Windjammer it was time to get a drink.  We headed up the Sky Bar as it was such a nice day we wanted to enjoy the air and sun.  I'm mostly a scotch person, but in the sun on a cruise, I tend to go for more tropical concoctions - and today's choice, my first drink on Indy, was a Planter's Punch.  After that (and a brief Periscope if I recall) we went for a walk, went to the MDR to request a table for two this sailing, then hit up the Viking Crown Lounge.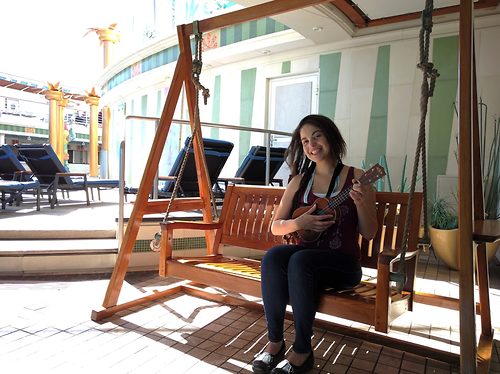 When we were on Freedom in September I really enjoyed the Viking Crown Lounge, having always admired those lounges for their view when sailing on other cruise lines.  Once we got to the lounge (Olive or Twist on both Independence and Freedom), we walked around and checked out the chapel upstairs (which is pretty neat looking).  One thing of note here, it seems the Diamond Lounge is being renovated, so Cloud 9 and Seven Hearts are designated as the temporary Diamond Lounge.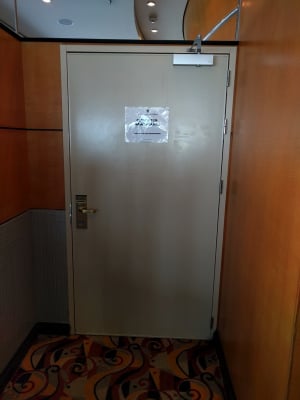 Continuing our roaming, we checked out The Dog & Badger, Indepence's pub.  There we met up with some friends that are, just by luck, on this same sailing.  Their mention of this sentence is the test of whether or not they're reading the blog - I'm looking at you Gabby and Steve.  It's a great venue, and I always look forward to the singers at this venue at night, though as I write this from said venue, he or she may have had the evening off because it's pretty quiet.
Next we headed to our stateroom, a Superior Ocean View Balcony which we booked as guaranty balcony.  We found the room to be much more spacious (in actual space and layout) compared to our ocean view stateroom on Freedom.  The balcony is particularly deep, too, which is nice - though I wish there were loungers, or at least ottomans out there.  I scoped a tour of the room, but I'll offer up some pictures later.
Finally it was time for the muster drill, which I was dressed perfectly for.  The cruise overlords blessed us with an inside muster station, the Pyramid Lounge.  No standing, no sweating, just sitting in a lounge waiting for the fun to begin.  Once the muster drill is over on cruise that's when I feel like vacation has actually started, as any scheduled events after that are purely optional.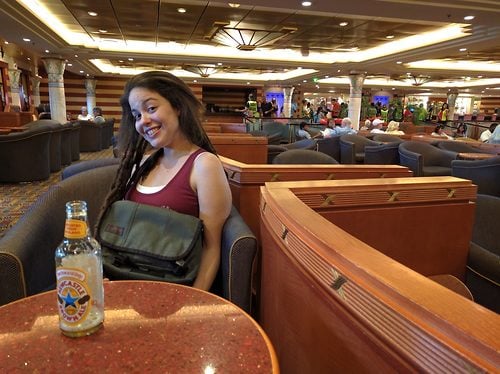 From the muster drill we went back to the Sky Bar for sail-away and did another live broadcast.  It was a beautiful site as the sun set against the South Florida skyline.  Both because of what it indicates and how it looks, this is one of my favorite sights of any Caribbean cruise.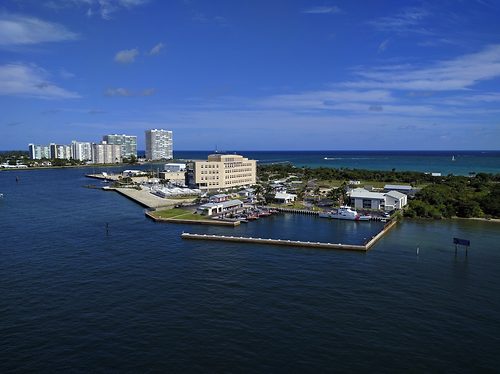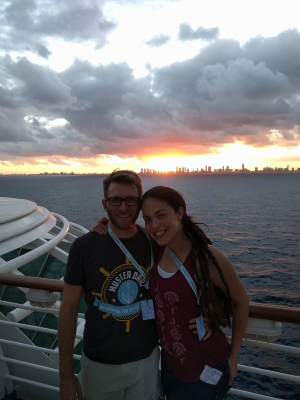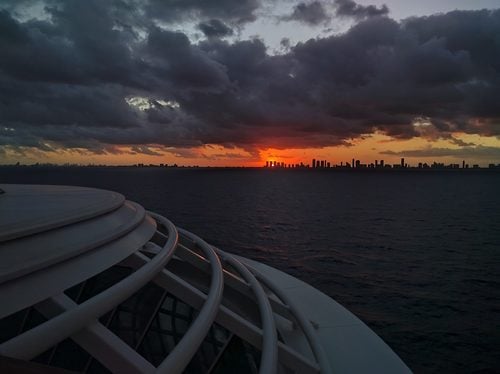 It is of course Thanksgiving in the US, so when it came time for dinner, we were conflicted.  I'm looking to take it very easy on this cruise, so hitting the Windjammer each night is tempting, but I did want to see what the MDR had to offer for the holiday.  There was only one logical solution: two dinners.  The Windjammer was dead quiet (later in the night at least, we usually have second seating), but the buffet was full of options.  While I had every intention of having only a small portion of a couple items I ended up with a plate full of different curries and vegetables.  It was awesome.  I also had what I think was my favorite Windjammer item so far - chana chat, which is an Indian appetizer made with chickpeas, onion, spices, etc.  I'm tempted to ask for this dish each night.  As we left the Windjammer I looked back and smiled, knowing there was so much leftover food and that the crew will eat well tonight.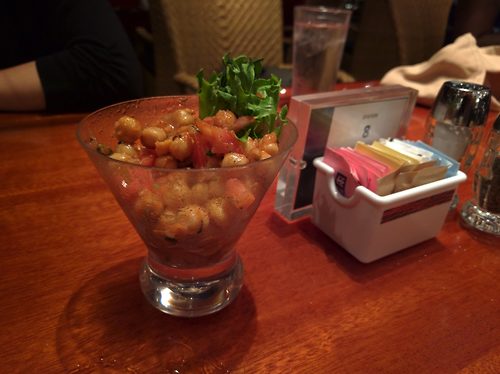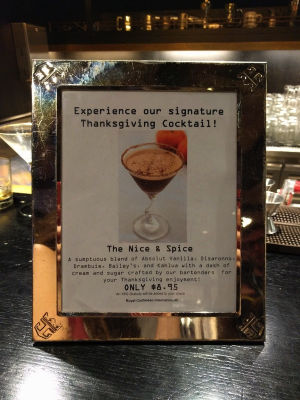 After a pitstop at the Champagne Bar for one of our favorite scotches, we headed to the main dining room.  Our previously requested table for two took a while to find, because it turns out it was a table for four, but with only us.  It's right in the center as you walk into the top deck of the MDR and overlooks the lower floors.  Start keeping score, because I'm very concerned: day one, zero items dropped onto the cruisers below us during dinner.  We had the squash soup and salad then a strawberry dessert before heading out.  Our wait staff was fantastic, and one of them is Brazilian, much to Larissa's joy.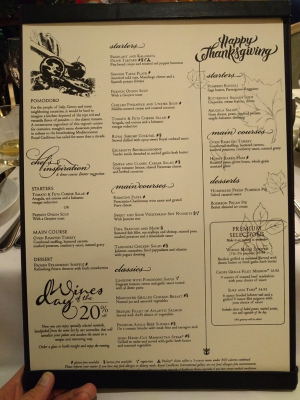 After dinner it was time for karaoke.  Carrying on with our tradition, Larissa thumbed through songs for twenty minutes as I enjoyed a drink, and by the time she found anything they'd filled all the nights slots for singers.  Better luck tomorrow.  I did notice the karaoke booths/rooms which you may or may not have seen Matt and I sing in on the Freedom of the Seas group cruise, we're shut down on Indy, essentially used as storage.  While I don't love karaoke, I thought this was a neat feature and hope they bring it back.  
Tomorrow is a sea day, and I'm stoked about just relaxing on board and exploring the ship.  Make sure you're following me Periscope, Twitter, Facebook, etc as I'll be providing all the updates I can.
Take-aways so far:
Indy is very similar to Freedom, but so far, except for the lack of Sabor there are a few small things that I actually like more on this ship

VOOM works on Indy, but not as well as Freedom.  For those nerds keeping score, I just got about 3 megs up, .6 megs down, with a ping of just over 600ms.

Royal Caribbean Hotel Directors dictate whether or not you're given a receipt with your drink when you have a beverage package.  I don't like wasting paper, but I like getting a receipt so I can add additional gratuity for those working hard.  On this sailing, I'm getting in the habit for asking the receipt so I can do this.

While I enjoy Freedom class ships, @Earl_McGrath from Periscope (who we're hanging out with as I write this - he's fun!) points out that having started on Allure of the Seas, it does feel like a minor step down to be on a Freedom class ship - but a blast either way.