In:
You have decided on the right Royal Caribbean cruise for you, made a deposit on your sailing and have your stateroom reserved just for you. What should you do next?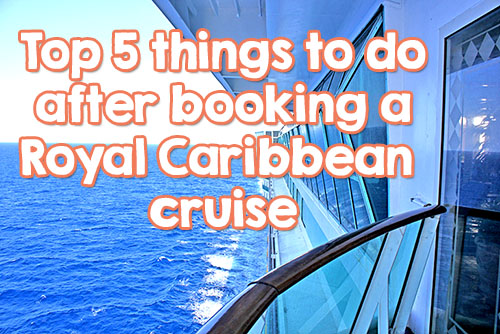 Planning a Royal Caribbean cruise can be a fun exercise in planning, as you discover there is a lot to do before you ever set foot on your ship.  
Once you have your cruise booked, here are five things you should look into as your next step and really jump into the pre-cruise excitement!
1. Select your dining preference
Dinner on a Royal Caribbean cruise has a few options to choose from, and you will want to make sure you pick the option you want.  Depending on your ship, there can be a few choices: traditional, My Time Dining or Dynamic Dining.
Traditional dining is where you have a set time each night of your cruise, where you will be seated at the same table in the main dining room and have the same wait staff and table mates.  This is the most common choice available and is also the most widely available option.  There are two times, early and late seating.
My Time Dining takes place in the Main Dining Room as well, but instead of a fixed time and table, you reserve times during the evening or show up and get the first available table.  My Time Dining allows for more flexibility in when you eat, but requires more planning to ensure you have a spot each night to dine at.
Dynamic Dining is the newest choice, and is available on Quantum class ships currently.  There is no Main Dining Room, but instead you have a choice among complimentary and specialty restaurants to book reservations at.  You can pick the same restaurant or as many as you want, with different waiters and times each evening.
To enroll in any of these options for your cruise, contact your travel agent or Royal Caribbean directly and request the one you want. There can be times where the choice you want is full, but you can request to be put on a wait list and in our experience, wait list requests usually are fulfilled.
2. Register your cruise on My Cruises
In order to gain access to all of Royal Caribbean's pre-cruise planning options online, you will want to register yourself on Royal Caribbean's web site and tie your reservation to your account.
If you have not done so already, create a My Cruises account on Royal Caribbean's web site. It's free and should take just a few minutes to complete.
Log into your account and then add an existing reservation to your My Cruises account.
Now, you will have access to every detail of your sailing, including shore excursions, beverage packages, entertainment, dining reservations and more.
3. Research your pre-cruise transportation
We recommend arriving to your cruise embarkation port at least one day early, to avoid transportation delays that can potentially cause you to miss your cruise.
For those that are flying on an airplane to your cruise, booking airfare in advance is a good idea.  It is also a good idea to research a hotel to stay at and lock in a price now before others do the same.
Depending on the port you are leaving from, there can be lots of hotels and resorts to choose from.  Use consumer review web sites to find which hotel will offer you the amenities you want for the price you can afford.  
It is easy to overlook your pre-cruise transportation and lodging and then have to pay more than you should later.
4. Review your travel documents
Before you can get onboard your Royal Caribbean cruise, you will need to provide local authorities the proper documentation to prove who you are, and you definitely do not want to arrive at the pier missing something important.
Research what proof of identification you may need for everyone in your party, such as birth certificates, drivers licenses and/or passports.  If you are traveling to another country for your cruise, look into if you will need to apply for a visa.
Processing times for documents like visas and passports can take weeks, if not months, so be sure to give yourself plenty of time to get any necessary documents ready for your sail date.
5. Research if you should purchase travel insurance
Insurance is one of things that you do not think of until you need it and then it is worth every penny.  The thing is, not everyone needs travel insurance but you should look into what travel insurance offers and if you are at an elevated risk and would benefit from it.
Royal Caribbean offers travel insurance, as well as many third party companies.  Read exactly what the insurance covers and the scenarios in which you can make a claim.  It is important to be aware that travel insurance does not cover every scenario, but issues such as personal illness, death of a family member, airline delays, lost baggage and more are common times when insurance will be of great benefit.
There is no easy way to determine who does and who does not need travel insurance, but you should at least consider the option now to safeguard yourself in the future.