In:
Hi everyone, I'm really excited to announce our next live-blog experience as we get ready for a cruise aboard Navigator of the Seas for a 7-night Western Caribbean adventure.
It is my hope to provide to our readers a daily look at what this cruise will be like and share our experiences with you.  This means I will try to post photos every day along with a written report of how things are going (internet permitting).
If you're new to our live blogs, check out the live blogs we did for Freedom of the Seas and Jewel of the Seas last year for an idea of what's in store for you. I'm hoping to give our readers a daily look into what we did that day, what was good/not good and what we have planned for the next day.  
For this cruise, we're flying from New York to Houston, Texas on Saturday, February 8 to start our adventure. We're flying in a day early because we want to be good little cruisers and make sure we get to our port in plenty of time and be able to enjoy some time in Galveston (the port our ship leaves from).  Luckily a friend of a friend (hi Paul!) is giving us a ride to and from the airport, which is making things very easy on us.
Our flight leaves New York at 10:00am, so we will be arriving in Houston with enough time to get to Galveston and explore a little. We ended up booking the Galveston Beach Hotel through Name Your Own price option on Priceline, which got us a really good rate compared to anything else we found online.  The next day, we will board Navigator of the Seas as early as humanly possible and start the real fun on February 9th!
This is our first time on Navigator of the Seas and what drew me to this cruise is it is her first 7-night cruise since her month long drydock, where she received a number of upgrades. Many of these upgrades are really quite interesting and unique to Navigator of the Seas and I'm really excited to see them in person.  Also, my daughter is old enough for Adventure Ocean this cruise so I know she is excited to try it and I'm excited to have time with my wife enjoying the new ship just the two of us.
In addition to the exciting changes coming to Navigator of the Seas, the itinerary really appealed to us.  We've never been to Belize City or Roatan previously and have always enjoyed our time in Cozumel.  I've blogged about our plans for Cozumel, Belize City and Roatan, so you can see what we're thinking for those stops.
Who is going
Matt (me), Marissa (wife) & Gabriella (3 year old daughter).
Our itinerary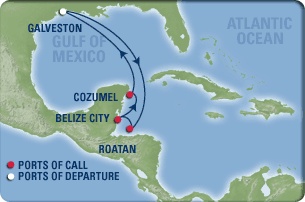 | | | | | | |
| --- | --- | --- | --- | --- | --- |
| Day | Port | Arrive | Depart | Activity | |
| 09-Feb | Galveston, Texas |   |  4:30 PM | | |
| 10-Feb | Cruising |   |   |   | |
| 11-Feb | Cruising |   |   |   | |
| 12-Feb | Roatan, Honduras |  8:00 AM |  5:00 PM | Docked | |
| 13-Feb | Belize City, Belize |  8:00 AM |  5:00 PM | Tendered | |
| 14-Feb | Cozumel, Mexico |  7:00 AM |  5:00 PM | Docked | |
| 15-Feb | Cruising |   |   |   | |
| 16-Feb | Galveston, Texas |  7:00 AM |   | | |
Next update should be on our Galveston day, Saturday, February 8.  Stay tuned for all of our live blog updates right here.