Navigator of the Seas Live Blog - Day 1 - Embarkation Day
In:
Embarkation day is here, which is the best possible feeling for any self-diagnosed cruise geek!
Last night, we started our vacation a little early with a hotel stay closer to port.  We considered a hotel in the greater Fort Lauderdale area, but found significanty less expensive pricing about an hour away in Port Saint Lucie.
We stayed at the Holiday Inn Express & Suites Port St. Lucie West, which was about half the price of what we found near the port.  Our room was a king suite, which meant the kids had plenty of space to mess around.  The hotel was clean, relatively new and offered a decent breakfast.  It is the perfect kind of hotel for a pre-cruise stay!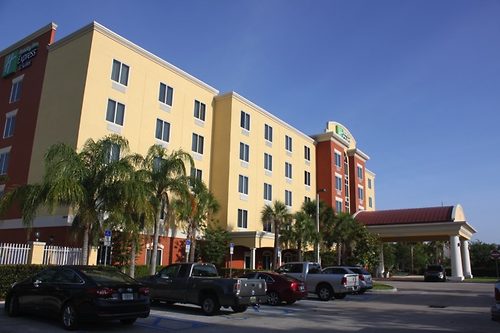 We left the hotel at 8:30am and headed down I-95 to Port Everglades.
The drive was uneventful.  There was one bit of traffic in West Palm Beach, but otherwise an easy drive.
We arrived at Port Everglades at around 10:15am or so and proceeded to drop off the luggage and family at the port and then I went to park the car.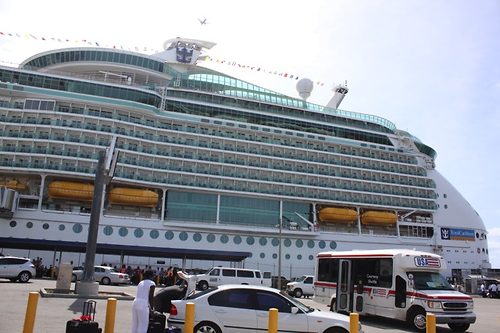 The parking garage at Terminal 29 is much further away than the parking lot at Terminal 18 (that is where the Oasis class ships dock).  Nonetheless, I was able to hop on the complimentary shuttle easily and made it back to the port to get in line with my family at 10:30am.
There was a bit of a line at check-in, but we got through the line relatively quickly. There were two lines: one for suites and any Crown & Anchor Society member and a line for anyone else.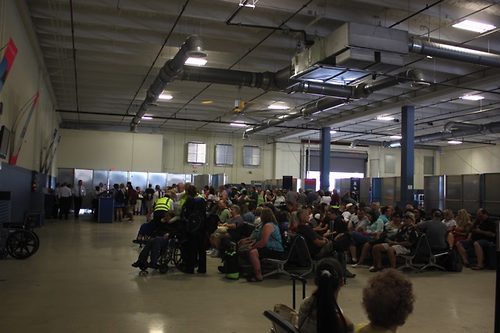 Being in a Junior Suite, we were in the Suites area, which meant we got to be among the first to get onboard. While the Junior Suite perks are not exactly amazing, priority embarkation is a really nice touch!
At 11:15am, we were onboard Navigator of the Seas and so many memories came flooding back to us from our 2014 cruise on Navigator of the Seas.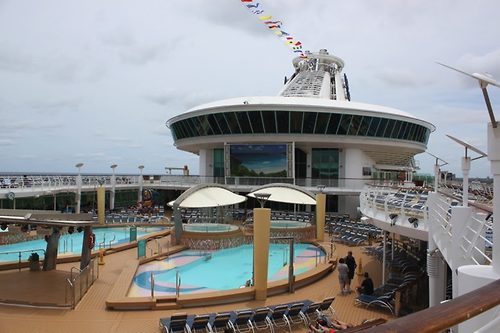 Our first stop was our traditional first stop on any cruise we go on: the Windjammer.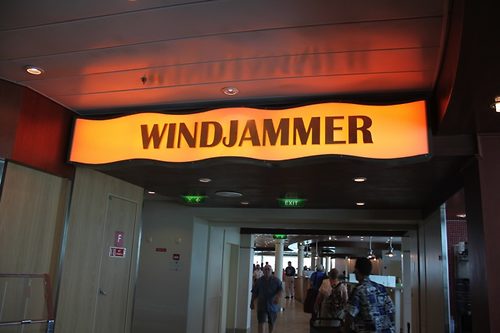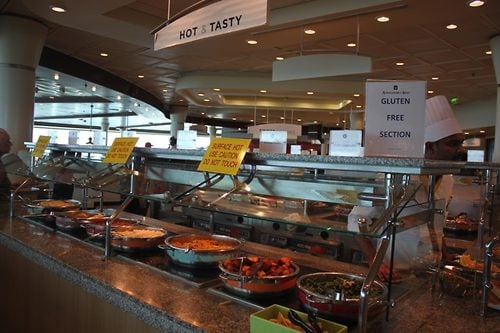 After sailing on Allure of the Seas earlier this year, it was so refreshing have a "normal" size Windjammer, given that the Oasis-class Windjammers are oddly smaller.
I enjoyed the Asian food spread available and we all had a very filling and pleasurable meal.  
We tried to do the spa tour after lunch, but they were not doing it until later, so we walked around the ship a bit to explore.
Our rooms were ready right at 1pm and we got our first look at the Junior Suite.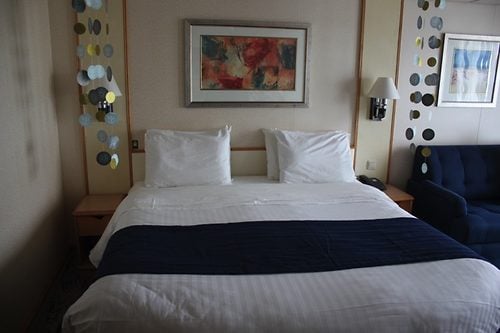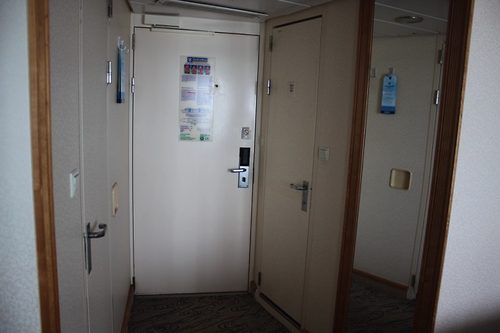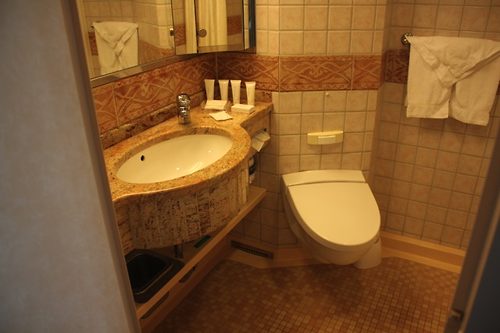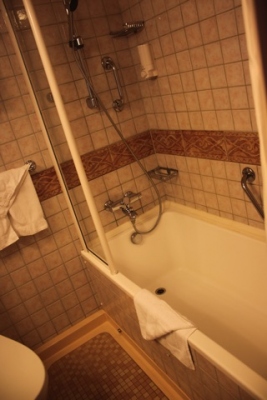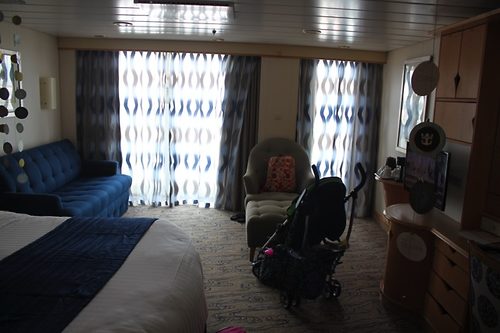 I was impressed by the sheer amount of living space in the Junior Suite.  It was much wider a room than I was expecting and with 2 kids, it is very welcome.  I wish there was a curtain between the bed and couch, but I think we will be fine.  Our issue will be when my one year old daughter needs to sleep. I think we will all have to wait her out on the balcony and then sneak back in after she falls asleep.
We registered the children for Adventure Ocean and the Nursery next.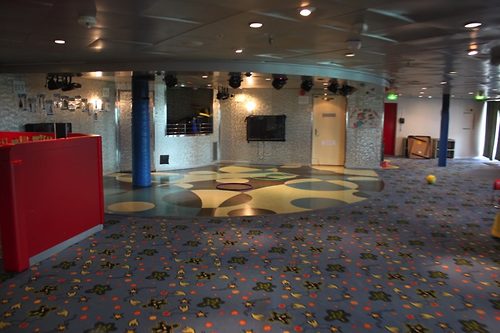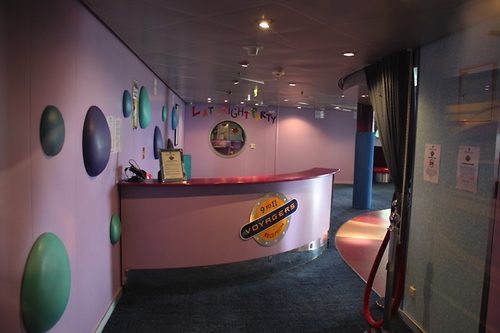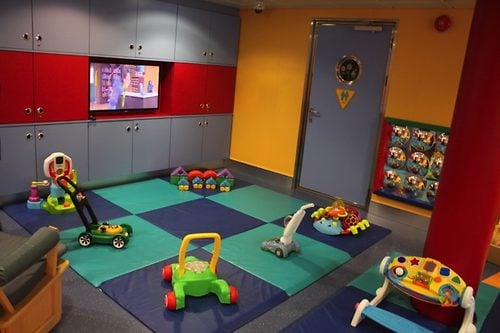 The nursery on Royal Caribbean ships limits you to 20 hours of reservations, but by day 3, they open up space if there is availability.  Essentially, they want to ensure everyone has a chance to get their kids into the nursery.  
We have lots of experience with the nursery and it usually works out just fine for us.  We got our hours in and will wait for day 3 to nab some more time.
We attempted to do some more exploring but the kids were starting to get really cranky, so we headed back to the stateroom for them to nap.
My wife opted to stay with them while I did some more exploring.  Navigator is a great ship and it is easy to forget just how much she offers.
I checked out the Diamond Lounge, which marked my first time in the Diamond Lounge as a Diamond member.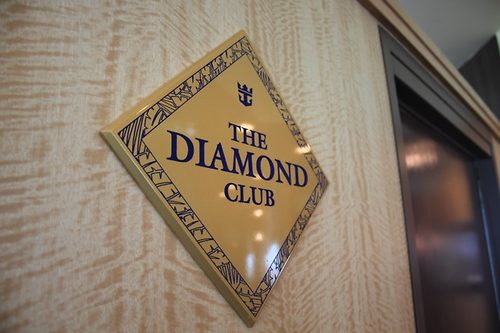 I liked there was an outdoor seating section and of course, it is impressive to have a special part of the ship just for you.  With the kids, I am not certain how much time we will spend up there, but it is nice having the perk!
I realized at this point that I had not "christened" my cruise vacation properly yet and had my first drink of the cruise at the Viking Crown Lounge.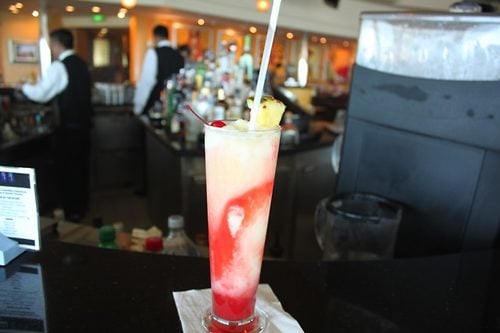 I chose the lava flow and it really hit the spot!
Speaking of drinks, all over Navigator of the Seas are these select drink specials, which are something I have never seen on any other ship.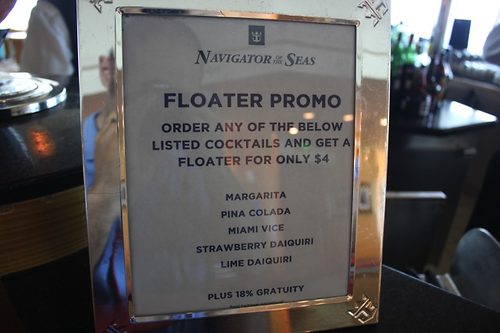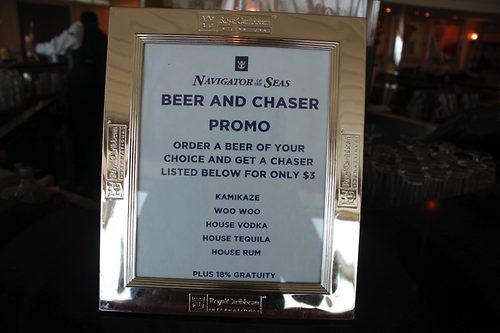 They are not of interest to me, but I am sure some folks may find value in these deals!
Our muster drill was later than usual (5pm), so we proceeded to our muster station.  The muster drill was like every muster drill we have ever been to.  The kids were reasonably well behaved, so not much else we can ask for.  Our muster station was outside, so no seating unfortunately.
Following muster, it was time for sailaway, which I took in from the helipad.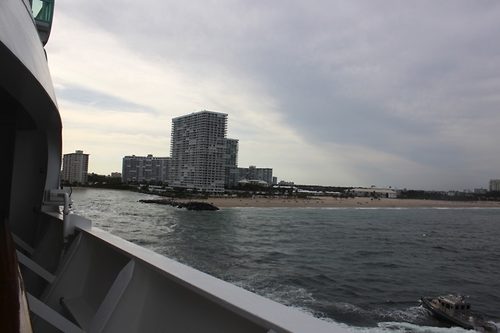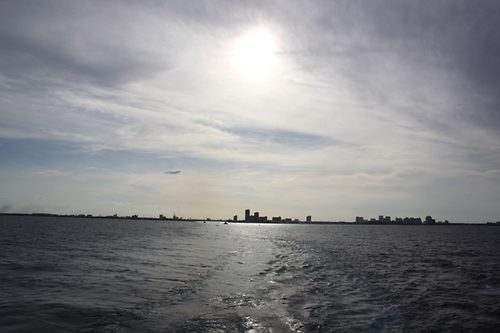 The helipad on Voyager-class ships is a terrific option, and when you are doing sail away or sail-in, it is the place to be. 
I headed back to the room once the kids woke up and we all got dressed for dinner.  Adventure Ocean had limited hours this evening, so our plan was to feed the kids in the Windjammer and bring them to dinner with us in the main dining room without having them subjegated to the menu there.
It was around this time that my wife and I took advantage of our Diamond drink coupons for the first time.
One pretty big perk of being a Diamond member (or higher) is that you get three complimentary drinks per evening outside of the Diamond Lounge.  I did not think we would sneak the drinks in with the kids present tonight, but we totally aced the parenting thing by supervising our children while grabbing a drink from a bar we walked by.  Woot!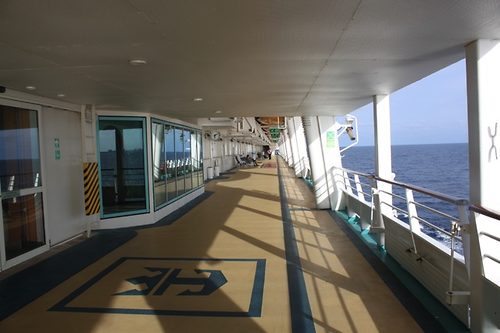 There was family time in the arcade tonight, so we brought the kids up to the arcade to enjoy some free video games.  What better opportunity to play random video games?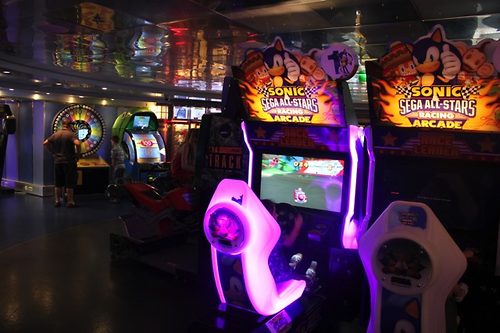 Dinner tonight was at the main dining room and we have a table to ourselves.  I do not mind sharing a table with others, but will not complain about a table to ourselves either.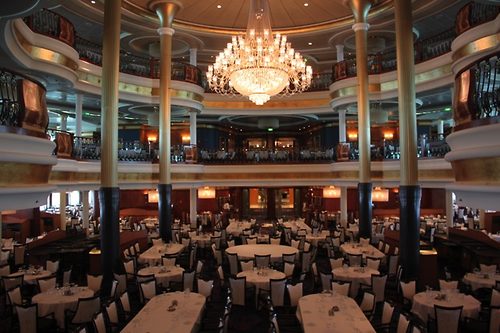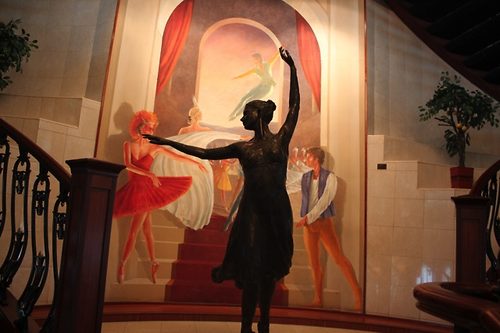 As we sat down, it was around this time that my youngest daughter "hit the wall" from being over-tired. My wife decided to go up to the room to order room service and put her to sleep.
My daughter and I finished dinner, just the two of us and I brought her up to Adventure Ocean.
Being left alone to my own devices, I wandered the ship some more to do some exploring.
I may or may not have ended up at the casino and I may or may not have lost my money quite quickly.
Oh well, I wrapped up my evening watching Star Wars: The Force Awakens on the pool deck, after I had returned my daughter to the room.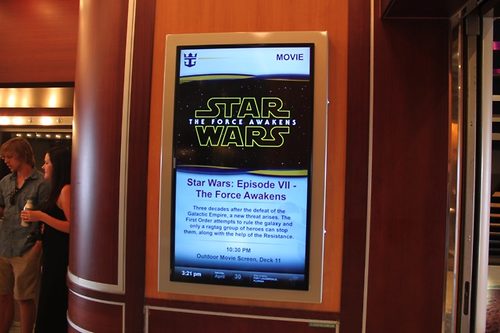 Tomorrow is our first sea day, and that means plenty of time experiencing everything Navigator of the Seas has to offer!
Stray Observations
The elevator keypads have been updated and I have not seen this "style" on any other Royal Caribbean ship.

Adventure Ocean was only open from 9pm to 10pm tonight (with up to midnight available for an hourly charge).  My daughter in Adventure Ocean was literally the only kid there.  We kind of figured there would not be many kids on this sailing.
Regarding Voom, there is no definitive answer if we will get Voom activated during our cruise.  My guess is that it will not be active tomorrow, but a man can dream, right?
I saw another deal that I have never seen before. Johnny Rockets was offering a free milk shake if you dined there tonight

Good night, sweet prince

Share your comments or questions in the comments section below! This live blog is meant to be interactive, so please feel free to comment!
Live Blog Index
Day 3 - Labadee
Day 4 - San Juan
Day 5 - St. Kitts
Day 6 - St. Maarten
Day 7 - Sea Day
Day 8 - Sea Day