In: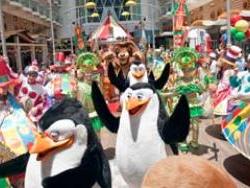 Royal Caribbean announced today a strategic alliance with Dreamworks Animation studios to provide the Dreamworks characters such as Shrek, onboard select Royal Caribbean ships.   Characters from Dreamworks Animation's most popular feature films will be featured, including the films – "Shrek," "Madagascar," "Kung Fu Panda" and "How to Train Your Dragon".
The new characters will first appear on the soon-to-be-launched Allure of the Seas, which debuts in December 2010.  Following Allure, Oasis of the Seas, Freedom of the Seas and Liberty of the Seas will receive characters on board their ships as well.
The move comes as an answer to the Disney Cruise Line and Norwegian Cruise Line that feature their own assortment of characters for guests to meet with during their vacation.  As the number two cruise line in the world, Royal Caribbean felt a need to add their own assortment of characters for their guests to meet.
Throughout the year, characters including Shrek, Fiona and Puss In Boots from Shrek; Alex, Marty and the Penguins of Madagascar; Po of Kung Fu Panda and Hiccup of How to Train Your Dragon will appear on board the ships at select times.  Activities that the characters will participate in include parades, special events, special character meals andphoto meet-n-greets.  Characters also will appear in an AquaTheater show on Allure of the Seas, and in an ice skating show on the ship.
There will be no additional cost to guests to experience any of these character activities.
Analysis
The move by Royal Caribbean to bring characters on their ships is interesting, although not completely unexpected.  Disney introduced the idea of having characters on their ships and once Norwegian brought the Nickelodean characters, it only made sense for Royal Caribbean to make a move to counter that.  Obviously this announcement will resonate most with families although the Shrek characters especially seem to resonate beyond kids.