In:
Royal Caribbean will launch its own streaming service for a subset of its cruise passengers going on the world cruise.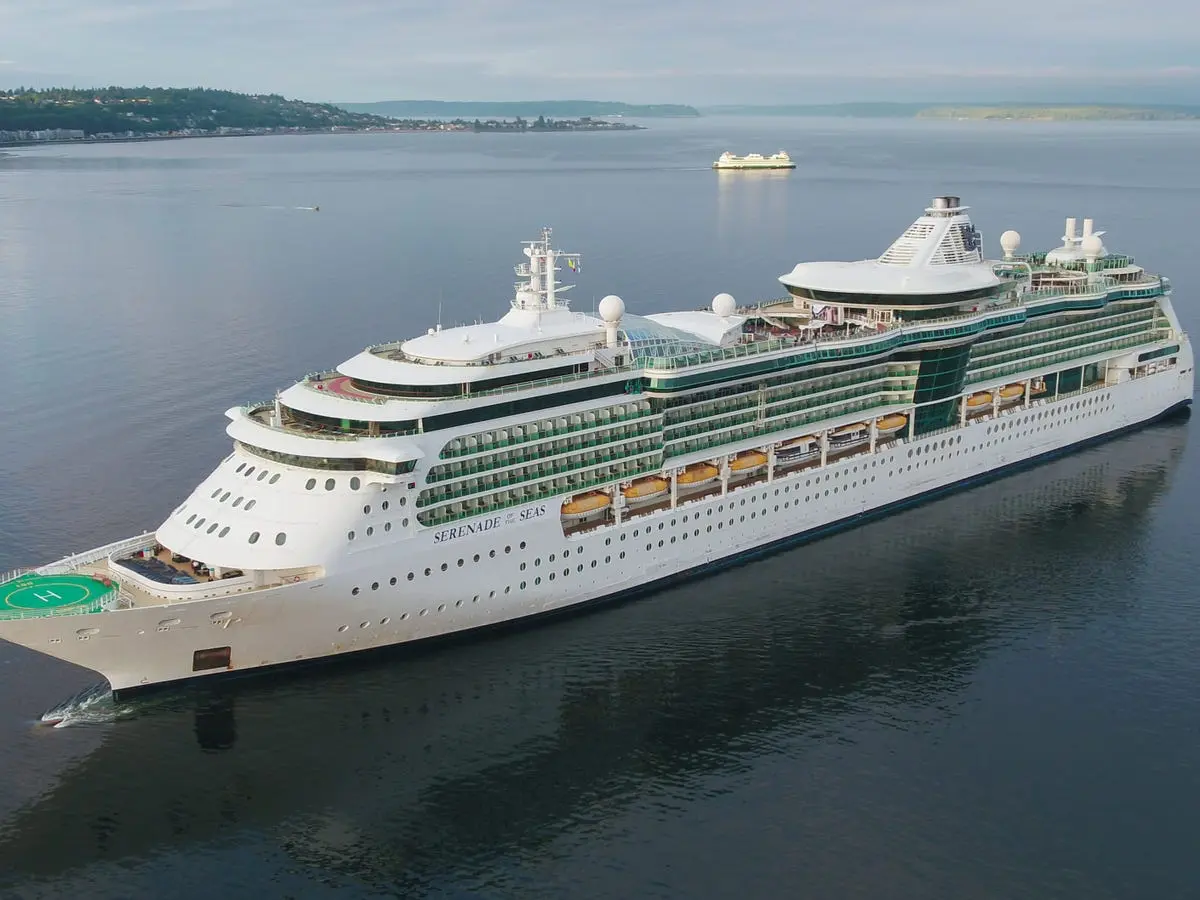 The Ultimate World Cruise will take 274 nights on Serenade of the Seas that will visit more than 150 destinations in 65 countries and 11 great wonders of the world.
Passengers could book either the entire 274-night cruise or one of four 2-3 month segments.
It will be Royal Caribbean's first cruise that goes around the world, and a voyage that long is bound to have some down time.
The service, called Royal Flix, will stream movies for guests to watch that are sailing on the world cruise.
There's no cost to use the streaming service as long as you've purchased a Royal Caribbean WiFi package.
Read more: Royal Caribbean WiFi: Guide to Internet at sea
One guest on the cruise posted a screenshot of the service that has a bare bones interface serving up films.
The service is not available off the ship. Guests simply connect to Serenade of the Seas' internet and access the service.
There's no indication if Royal Flix will make it to other Royal Caribbean cruise ships, or even if it will remain available once the world cruise is complete.
Offering a movie streaming service is one of many pluses Royal Caribbean has added for this length of a cruise.
All guests participating in the Ultimate World Cruise, or one of the segments, will receive the an unlimited drink package for each guest, wash and fold laundry service for up to three bags per state room per week, Gratuities and Voom surf and stream for two devices per stateroom.
The cruise begins in Miami on December 10, 2023 and through September 10, 2024.
Royal Caribbean's first world cruise ever
Up until now, Royal Caribbean never offered a world cruise. In fact, it rarely offered long voyages. Most of its cruises tend to be less than two weeks.
Royal Caribbean is best known for weekend and week-long cruises in the Caribbean, Europe and Alaska.
Even among the cruise lines that offer world cruises regularly, Royal Caribbean's is longer than most.
Most world cruises visits 20 or 30 countries and takes three or four months.
Royal Caribbean's will visit more than 150 destinations in 65 countries and 11 great wonders of the world.
"How many more times would I have this opportunity?"
Pat Bell lives in Anchorage, Alaska and jumped at the opportunity to book this world cruise for the entire duration.
He'll be sailing with his wife Carmela, and they've been married for 25 years.
Up until this cruise, the longest cruise they had taken was a 10-night cruise for their honeymoon.
"I can always find a thousand reasons why I can't do a cruise this long, but I will always kick myself in the pants for not grabbing the opportunity," he said when I asked him why he booked this cruise.
"Plus, how many more times would I have this opportunity to do something like this?"
When I asked him what he is most excited for on this cruise, he replied, "the stories, meeting new friends, and the adventure of seeing the world."
There are certainly challenges with being away for this long.
He is a small business owner, who also has up to 36 apartments to manage, "We are blessed to have our oldest son take care of our house, the apartments, and do the accounting work for our business."
I asked what sort of concerns does he have with such a cruise this long, and he mentioned things like cell phone coverage, medical emergencies, rough seas, not packing enough, and having access to money.
"I'm sure there will be more changes as we travel on this adventure. Just need to go with the flow and enjoy the stories that will come from this adventure. Good and bad."
I also asked about medications and managing his health on the cruise, "We are lucky we don't have to take any medications, but Royal Caribbean says to make sure to bring medications and prescriptions, which can be filled in other countries.
"We did buy a small medical kit to take with us and a blister kit for all the walking we will be doing. We also purchased Geo-Blue medical insurance in addition to our travel insurance."
He mentioned there will be a dentist onboard the ship.
"What attracted me to cruising the world with Royal Caribbean was all the places they plan to go, where I don't have to unpack and repack each time we move to another city.
"Plus, Royal Caribbean is packing a lot of port stops in this 274-day cruise. I believe our longest days at sea is only 5 days in between ports. Also, I get to try the local food while still having the cruise ship meals as my comfort food."
I asked what his plans are for the cruise on shore, and he said there are seven complimentary world wonders tour: Chichen Itza Ruins (Cozumel, Mexico), Seal Bay (Falkland Islands), Machu Picchu (Peru), The Great Wall of China, Taj Majal (India), Petra (Jordan), and The Roman Colosseum (Italy).
He said they were recently informed that Crown & Anchor Society is giving them four additional free excursions to Montevideo (Uruguay), Taiwan (China), Ephesus (Turkey), and Cork (Ireland).