In:
Royal Caribbean's first ever cruise around the world begins in December 2023, and it will be a cruise ship filled with passengers who are ready to globe trot in a new way.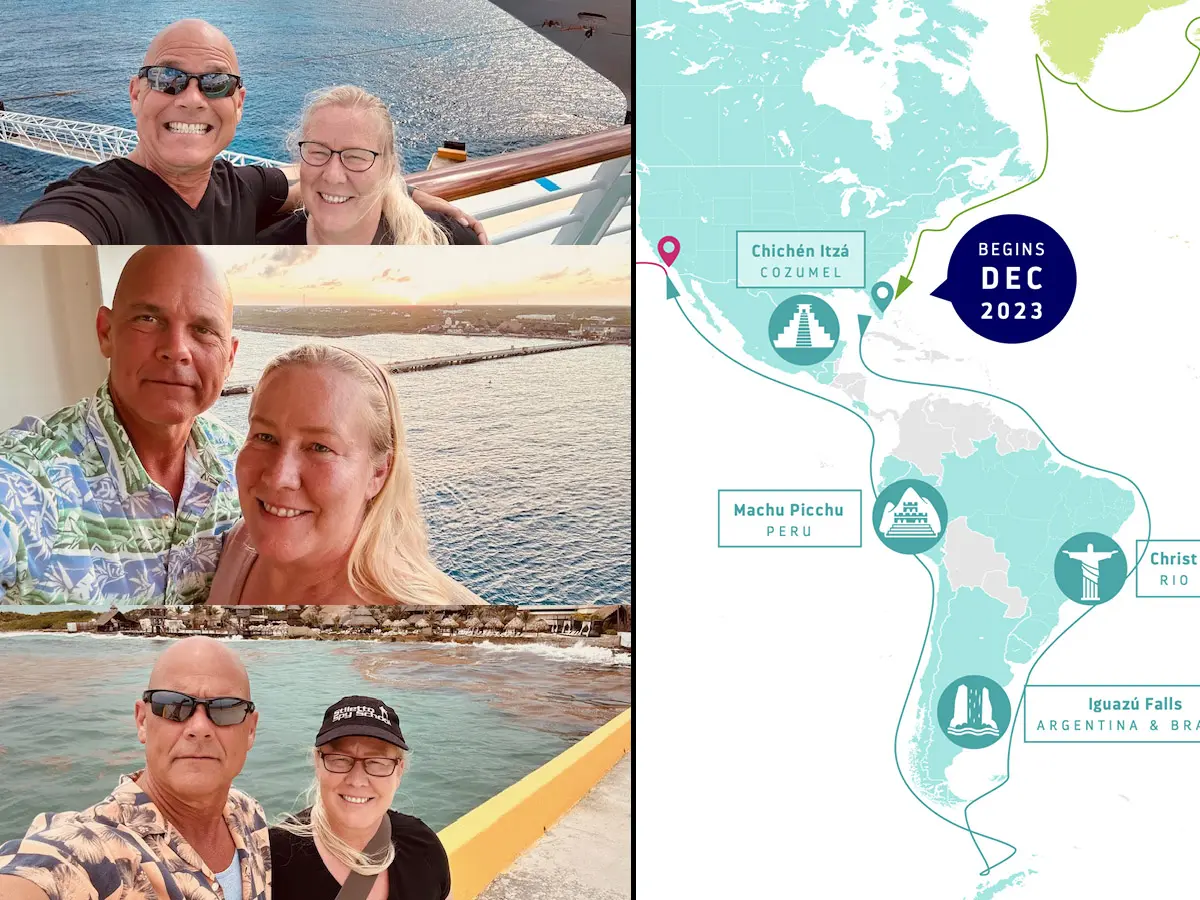 While the concept of a world cruise is nothing new to the cruise industry, this is Royal Caribbean's first foray into this type of cruise.
The Ultimate World Cruise will take 274 nights on Serenade of the Seas that will visit more than 150 destinations in 65 countries and 11 great wonders of the world.
Serenade of the Seas will sail roundtrip from Miami on Dec. 10, 2023 and through Sept. 10, 2024.
When Royal Caribbean first announced it would offer this cruise, many cruisers jumped at the chance to try it.
I wanted to know why a cruise around the world and a sailing that long was appealing, and what compelled them to book.
Leah and Steve are bloggers that booked the entire transit, and they shared why they booked and how they're planning a cruise of this length.
Why we started to consider a world cruise
A while back when I was in my 20s, I heard about a month long cruise that went to all of the religious centers of the world. Not much compared to the Ultimate World Cruise, but I really wanted to do it. At the time, it was beyond my financial resources.
Since then, it has been in the back of my mind to do a really long, epic adventure like that. So when I first saw the Ultimate World Cruise, I knew I was in. I would find some way to pay for it, because it was that important to me. 
My husband Steve thought it would be a great trip, but wasn't sure that we could afford it. You see, he started saving for retirement late in life and has been trying to make up for lost time over the past decade. I pestered him by sending him a meme – I'm sure you have all seen it. The older couple in a Gondola in Venice, both sprawled out in the boat and sleeping.
The thousand words that this picture explains are all the reasons you shouldn't wait until you are too old, and too tired to enjoy traveling and seeing the world. He laughed, but still thought retirement accounts would be a better use of our funds. 
Why we decided to book a world cruise
At the beginning of 2022, we were working in different locations. Steve was in Nebraska, and I was in Guam.
Communication between us on this was mostly texts and video chats. He came to visit me in May, and we had plans for him to join me in Guam permanently in a few months. Which he did in August. And less than 24 hours later, he had a heart attack. That minor event changed every plan we had.
Over the next couple of months we just concentrated on getting him the treatment he needed, and getting our heads wrapped around how are lives were going to change.
It took about three months for the dust to settle, and then that meme came up in my feed again. I showed it to him again, and this time he was more receptive to the idea. 
We did some research online. Called Royal Caribbean and they had a separate line set up for the Ultimate World Cruise, which was a good sign. But the folks answering the phone didn't sound like they really knew the answers to the questions we were asking.
So we researched travel agents, and started working with one from MEI Travel. With her help, we got a better idea of pricing, were able to establish the date for final payment in order to get a 10% discount and spent some more time talking it over. We contacted our travel agent and made arrangements to make the necessary deposits.
Read more: Why first-time cruisers should use a Royal Caribbean travel agent
Then we started working on transfers for the final payments. Neither of us had a single credit card that would accommodate the entire remaining balance, so we had to get creative. And once the decision was made, we haven't regretted it a bit. The hard part has been the waiting.
What we've done so far to plan for the world cruise
From our earlier research, we knew that to get all of the benefit of doing the full length cruise, we would need to have Platinum status with Crown and Anchor 180 days before the Ultimate Cruise began. Royal Caribbean was including seven excursions to new Wonders of the World as complimentary for everyone with this status.
Neither one of us had sailed with Royal Caribbean before, so we booked Junior Suites for three, five-day cruises out of Galveston in April 2023. The same itinerary for all three sailings.
We paid attention and learned a lot about cruising. We also had a blast, met some great people, and just enjoyed a relaxing vacation. Steve was already retired. His heart attack made it impossible for him to continue doing the kind of work we had done over the past decade or so. I was still working part-time from home, so I had to wait until my project was mostly finished before I could call myself officially retired. 
That was in September, and since then, we are planning, waiting, making plans, changing plans, and getting ready to be gone for most of a year. 
How we are planning for the Ultimate World Cruise voyage
Now that we have a few weeks to go, and I can taste the excitement. 
Since our embarkation day is now right around the corner, pretty much everything we do revolves around getting ready for the Ultimate World Cruise embarkation day. We are treating it like a deployment or overseas job.
We have to make sure we are healthy enough to be without major medical for 9 months. This means passing basic physical requirements. Eye exams – with two pairs of glasses each, in case one breaks. Teeth exams and cleanings. The works.
We've already talked to our insurance provider about getting a "vacation" 90 day supply of our medications, so we will be working on that next week. 
We are arranging shipping of some of our bags with Luggage Forward (This is an affiliate link which costs you nothing extra to use, but we make a small commission).
When people ask how you pack for a vacation like this, there are two options as I see it.
Pack for a typical 2 week vacation and buy things as you go.
Or overpack.
I – am over-packing.
Read more: Ultimate cruise packing list
We are also getting our home set up with a house-sitter. Forwarding our mail. Checking the online requirements for voting. Getting all of our travel documents together, including our vaccination records.
I am pretty pale even on good days, so I have been attempting to get a base tan before we leave. And my dermatologist has provided some additional items to help. There is nothing worse than starting a vacation with a horrible sunburn when you have all sorts of intense activity excursions planned. 
We don't have any expectations for things to be much different than any other cruise. Other than the length and that some of our fellow passengers will come and go throughout the trip. There is already some level of disappointment due to current events and how those have changed our original itinerary, but it is perfectly understandable given the circumstances. 
Steve and I have often lived in cramped quarters, and already spend a lot of time together, so no concerns there!
What we are expecting of the Ultimate World Cruise
Since this is a first-of-its-kind sailing for Royal Caribbean, I don't think anyone really knows what to expect, but we are making some assumptions.
Given the cost and length of the Ultimate World Cruise, we think we will be among the youngest of the crowd. I'm 52, and Steve is 59. A bit younger than the standard retired age.  
There probably won't be a lot of families with young kids. 
We are guessing the number of people doing the full 274 days will be less than half.  There will definitely be a lot of interesting people to meet.
Steve and I will probably have the lowest Crown and Anchor society status when we first board.
One thing we are hoping for is a less busy gym than on our previous sailings. Steve and I both work out at least 6 days per week and on our last three cruises the gym was so crowded it was difficult to get a decent workout in. If we are correct about the general demographics of the Ultimate World Cruise, I think we will have a good shot at it. But I will have to keep you posted once we set sail!