In:
Welcome to this week's round-up of all the Royal Caribbean news and happenings.  Hope you are staying warm and are ready to cozy up to the cruise happenings this week.
Royal Caribbean revealed the new main dining room menus this week.
Symphony of the Seas is the first ship to roll out the new menus, which will eventually make it fleetwide by the end of the month.
The new menus have a new layout, with a distinct theme for each evening.  In addition, there's no longer a subset of menu selections that stays the same every night.
This is Royal Caribbean's first refresh of the dining room menu in over five years, which offers guests new choices alongside fan-favorites that remain on select evenings.
Royal Caribbean News
Royal Caribbean Blog Podcast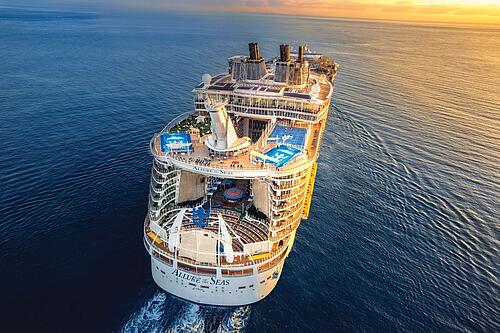 The 482nd episode of the Royal Caribbean Blog Podcast is now available, where Matt and Billy share their wishes for changes Royal Caribbean would make in 2023.
Trying to be as practical as possible, this week's episode is about things they want to see change in policies or offerings.
Please feel free to subscribe via iTunes or RSS, and head over to rate and review the podcast on iTunes if you can! We'd appreciate it.
New RCB Video: Boarding day cruise ship tips for 2023
Have you subscribed to the Royal Caribbean Blog YouTube Channel? We share some great videos there regularly, all about taking a Royal Caribbean cruise! This week, we are sharing our latest video — Boarding day cruise ship tips for 2023 — and don't forget to subscribe here.
23 Do's and Don'ts for your Royal Caribbean cruise in 2023
Ready for your cruise this year? Here's the top tips for how to tackle any cruise sailing in 2023.
Cruising in 2023 is as "normal" as it's been in quite a while, but there are quite a few good tips to follow for your sailings this year.
From ways to save time, to money, to pitfalls to avoid, these are the do's and dont's for a 2023 cruise.
What I wish Royal Caribbean would copy from other cruise lines
I love Royal Caribbean, but there's always room for improvement and I think there's a few things other cruise lines do better.
While the grass may not necessarily be greener on the other side of the cruise line fence, these are a few ideas I like that I wouldn't mind seeing Royal Caribbean add to their ships.
Check out my list of the ideas and things to do that I wouldn't mind seeing Royal Caribbean "borrow" from other companies.
10 cruise ship tips that worked for our Royal Caribbean Blog staffers in 2022
We share lots of tips and tricks, but which secrets are our staff's favorites?
Our staff spent a cumulative 270 nights on cruises last year, and we wanted to share the best tips for our readers from our own experience.