In:
It's safe to say Royal Caribbean is more than happy with the big reveal of Icon of the Seas just a few weeks ago.
"It was fastest we ever sold a ship, the best booked position by a ship at this point from a social media and media buzz, it's been the best product launch we've ever had. So it's been a home run success," is what Royal Caribbean's Senior Vice President and Chief Product Innovation Officer Jay Schneider shared when reflecting on the Icon of the Seas announcement.
After months of speculation and barely any information, Royal Caribbean provided information on what Icon of the Seas will look like, where it will sail from, and important information about what guests can expect in terms of fun things to do.
To the surprise of some, Icon of the Seas will be the the new standard for the largest cruise ship in the world, coming in at 6% bigger than the Oasis Class ships that currently hold the title.
"As we went public with it, the response has been overwhelming," said Mr. Schneider.
Why was the response so positive? "I think that's part and parcel of the way we did the reveal, how far we held it back, and then how amazing the product is."
How it all started
Keeping Icon of the Seas a secret was six years in the making.
In talking about the fact Icon of the Seas is a "white paper" ship, Mr. Schneider described the design process as, "never ending."
"You go through a great design process. We've got in our new build organization excellent architects and designers, with partners in the yard who really are focused on the kind of nautical marine side of some of the innovation that we're trying to do."
While the global health crisis may have been a hindrance, it didn't stop the process, "you're going back in time about six years. The pandemic didn't stop the work. It slowed it a bit and created certain challenges."
Mr. Schneider called the whole approach a very iterative process, with some decisions being made years ago, and still more that have yet to be set.
The master plan, the kind of where the major venues are, get locked in very early in that process. We reserve a lot to iterate, so Thrill Island came together in the last two years, including the water park.
"If you think of like steel structure locking early, that still gives you a lot to iterate on and ideate on."
"We also keep certain venues, what we call those white spaces, and white spaces allow us to iterate even further into the process. And so there's a couple of white space restaurants that we just finished design of maybe maybe a month ago, and then that we'll they'll flow into the development process."
The benefit of keeping certain venues flexible, is Royal Caribbean can pivot an experience to provide greater flexibility.
"The best family vacation on the planet"
Royal Caribbean hasn't shied away from making a very bold prediction that Icon of the Seas will be the best family vacation option, and that isn't hyperbole.
Mr. Schneider did not walk back that assertion at all, "we believe we have created the best family vacation in the world that could compete with anything else you're going to go do."
"And notice we didn't say cruise in the world. I said vacation."
Royal Caribbean has said it wants Icon of the Seas to compete with any land vacation, especially Orlando, Florida vacations.
Royal Caribbean International President and CEO Michael Bayley said earlier this month at the company's earnings call with investors that Orlando attractions are the competition Icon of the Seas is designed to bypass, "The Icon product, along with Perfect Day, with the kind of experiences that we're offering, with the kind of new accommodations that we have on Icon and the experiences that we have for young families, older families and of course couples and singles and what have you, is really squarely standing shoulder to shoulder with Orlando and those kind of destinations."
He was also quick to say that Icon will not be an attempt to mimic or takeaway from an Orlando trip.  Instead, he hopes it offers something different but equally impressive, "I don't want to take away that moment my kid gets to see Mickey Mouse for the first time. I want parents to go experience it, do that. I worked there. That's a moment that everybody who has kids should go do."
"Besides that moment that we don't want to steal or replicate, I would say that as you think of the total vacation experience and you look at the product that we've been showing folks, when you look at the totality of that and you look at the destinations, we're going to visit the product on board the ship, it will absolutely be the best family vacation on the planet.
Why no Solarium on Icon of the Seas?
One change Icon of the Seas will have is there is not a traditional enclosed adults-only space, known as the Solarium. This has irked some cruise traditionalists.
"It's not missing, it's purposely not there," said Mr. Schneider. 
"We felt really good that as we looked at the needs that guests have from a Solarium perspective, we researched that."
"We actually brought in both qualitative and quantitatively guests from a blind survey, as well as actually guests under NDA (non-disclosure agreement) to really understand their basic needs in the Solarium to make sure that as we design new spaces and as we program spaces that we were delivering and or over delivering their needs."
The result Royal Caribbean came up with is a combination of a new adults-only area, as well as other areas of the ship that would appeal to adults.
The team came up with three venues that together will offer a superior adult-only experience:
Cloud 17
The Hideaway
Overlook Lounge inside the AquaDome
"The three of those together far over index what we think kind of an equivalent solarium experience would be."
Mr. Schneider also pointed out that Royal Caribbean ships are not designed to all be the same, "All of our ships and classes of ships are not the same. We do that for very purposeful reason. We want you to sail Icon of the Seas. We also want you to sail Oasis of the Seas, and Wonder of the Seas, and Radiance of the Seas."
"The diversity of product for us is really important."
Will the Icon class ship names be closely related?
Royal Caribbean has ordered 3 Icon Class ships so far, and more could be ordered in the future, so will their names be close in matching?
"Naming a ship is is terribly hard," admitted Mr. Schneider.
"It's hard for a couple of reasons. One, there's lots of words in the English dictionary."
"There's lots of legalese that has to get wrapped into the right word. There's a lot of history, in certain words, both positive and negative. There's future negative and words that we have to think about. And so we go through a really exhaustive filtering process."
"We also need to save names for future vessels. So if we ever build an Oasis seven, it will need a name. And so we're also thoughtful about blocking for future vessels as well."
"When we went to Utopia, we were thinking about future Oasis class. We're thinking about the evolution of Icon two and three. If we build future classes of ships, we may be reserving certain names for future classes of ships that we're dreaming up."
It appears a name for Icon 2 and 3 are somewhat set, "we also look back at former names we've had on vessels that we think are kind of live up to. So we've looked at literally everything."
"I'm still taking ideas on Icon two and Icon three. I feel really confident in the name we have for Icon three, it's actually two that we're still working on."
I asked if a former ship name would ever be considered, such as Empress of the Seas or Sovereign of the Seas.
"I don't know that any name that is in our past is off limits, at least for me."
"it has to feel like it fits with the ship that we're creating. It shouldn't just be that it's part of our history. Some things part of a history should stay part of our history. Some things that are part of our history, maybe exited the fleet in a certain way should stay that way."
"In other cases, it it may fit where we want to go. And so old names are never off."
Will Icon 2 be bigger than Icon of the Seas?
Since Icon of the Seas is going to be the new largest cruise ship in the world, and since each Oasis Class ship always came out just a little larger than the previous one, I wanted to know if we can expect the Icon Class ships to continue that trend of each new ship becoming the largest in the world.
"I don't know yet."
"In the case of Icon Two, we're doing construction in some ways already started."
"Blocks haven't been fully started yet. And so you'll have to wait and see if two and three get bigger a little bit more."
Does the Icon Class leave older ships behind?
With the arrival of the Icon Class ships, and the already impressive Oasis and Quantum Class ships, does this create an experience gap for the smaller, older ships in Royal Caribbean's fleet?
"You'll notice they're not competing on a seven night Caribbean with Icon or Utopia or one of those ships."
"Great destination rich itinerary ships. That's why we use them in the Mediterranean, Alaska and the Baltics, in the South Pacific."
"The Vision and Radiance class are great ships doing great itineraries. They're very profitable for us. They rate really well and we're really thoughtful about how they age. Now, that may not be a full amplification for them, but they serve a kind of very specific purpose for us in our in our our brand."
As for ship upgrades, Mr. Schneider hopes to resume that process in the future, "We stopped that program. We hope to pick that program back up. It's just a priority of how we've restarted our business, we will eventually get back to amplification of ships."
What about the adults-only area at Perfect Day at CocoCay?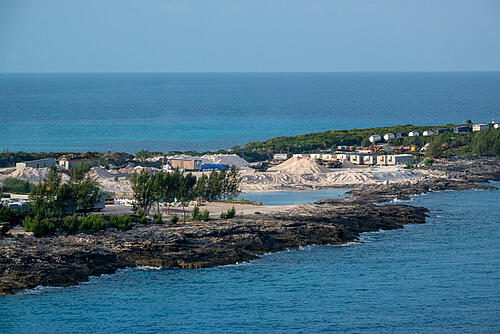 A new expansion to Perfect Day at CocoCay will bring an adults-only area to the private island. So when will it open?
"Our target is still the end of '23. Construction has started. We've got our environmental clearance with the Bahamian government a couple of weeks ago."
"We've talked about it being an adult only experience, that has been the second most requested thing that people want from us on the island."
"We haven't really shared what it is going to be yet or what the designs of it are and the experiences that will be there....but feeling really good about it because we're not it's not like it's questionable. We got clearance. Construction is actually started."
"As guests sail in the coming kind of months, they'll see that ramp up of construction pretty fast."
"We'll hit a tipping point sometime, and I'll call it first half of 2023, and then we'll have to start sharing."