In:
Icon of the Seas may still be months away from sailing, but the cruise line is already simulating how its new water park at sea will operate.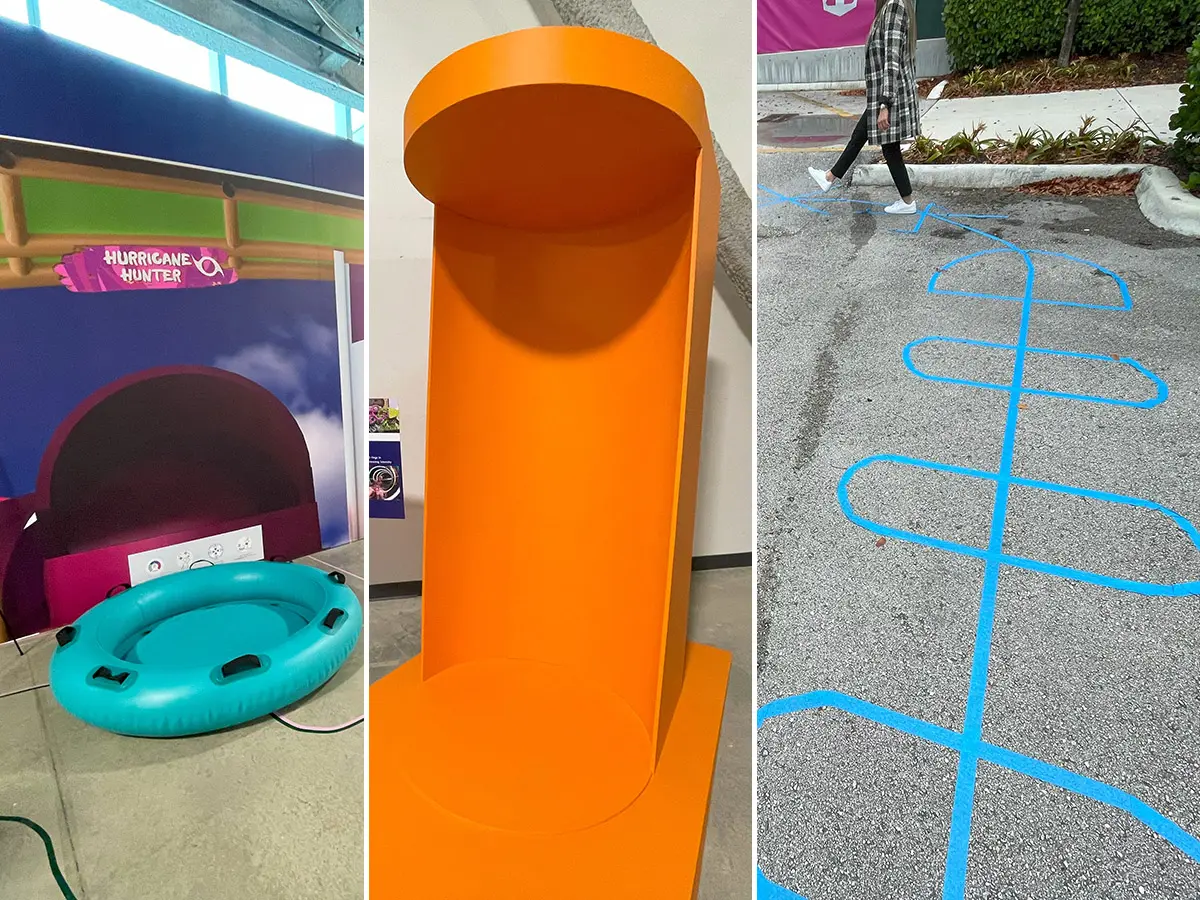 Thrill Island is the name of a brand new neighborhood coming to the first Icon Class cruise ship, and it will include six water slides, new dining venues, and lots to keep families busy.
It's a new approach to aquatic fun on a cruise ship for Royal Caribbean, and they want to ensure everything looks and works great before any passenger gets onboard or the ship is even complete.
At Royal Caribbean's Innovation Lab in Miami, Florida, the cruise line life-size mock-ups to give its executives and team members a real-world look at what their plans on paper will actually look like once built.
Royal Caribbean calls Icon of the Seas a "white paper" ship, which means it's designed from the ground up with new concepts. While that's exciting for passengers to look forward to new tings to try, it also introduces new challenges to make it work for the cruise line.
While touring the Innovation Lab this week, RoyalCaribbeanBlog.com got a first-hand look at what Royal Caribbean is doing to ensure its new aqua park is ready to go on day one.
First neighborhood dedicated to thrills
The appropriately named Thrill neighborhood on Icon of the Seas is Royal Caribbean's first fully themed neighborhood centered around fun activities designed to stimulate guests' senses.
Guests will find an entire water park, the FlowRider surf simulator, Crown's Edge experience, mini-golf, a rock climbing wall, and new dining venues inside this area.
Life-size testing
Royal Caribbean wanted to get a sense things would look and feel as intended before the final product gets built out, and that's why they set up scale mock-ups at their headquarters.
While the company can use virtual reality to help provide context for the flow and overall design of the ship, scale replicas convey the theme and aesthetics in the real world before it gets built out.
On the starboard side of the ship will be one entrance to Thrill Island, and guests will notice a great deal of theming even before entering the neighborhood.
The elevator lobby begins with a tropical look to it, leading you to the formal entry way. 
In the case of the signage leading to Thrill Island, the render provides how it will look, but you can't get as good sense of depth to it, "one of the discussions we had last week was, is it too high? Should it be lower or should it be higher? Because what you really want to see coming up the stairs is you really want to see how massively awesome the water park is. And so that's just something that we we look at."
Crown's Edge walkthrough in a parking lot
One of the feature attractions coming to Icon of the Seas is the Crown's Edge walkway, which combines a rope course with sky walk and obstacle course.
Guests are strapped in and walk 154 feet above the ocean for this experience.  It's a major feature on Icon of the Seas, and something never before done on sea or land.
Royal Caribbean first built out the safety briefing area where guests will gear up and learn what they need to do to enjoy the experience in a proper manner.
Royal Caribbean Senior Product Owner, Emily Rodriguez, talked about what they get from designing this space in the real world, "in building out this space, I think it helped us understand what that flow would look like, and how to think through all of the small details to how we brand the jumpsuits, how we brand the helmets, and what the photo and video experience would be like."
Royal Caribbean then used tape in their headquarters parking lot to map out to provide the scale of the experience, "We wanted to do here is tape out the experience to understand scale."
The climax of the experience is a drop through portion, which Royal Caribbean described as "pretty scary" when they tested out the drop harnesses with just a 4 foot drop in a warehouse in Bulgaria.
Crown's Edge will be about a two and a half minute experience, with 4 to 6 guests going at one time.
Building out the water park
The water park on Icon of the Seas will be called Category 6, and it will be the largest waterpark at sea.
There are two stair towers in the water park, the aft stair tower and the forward stair tower. But Royal Caribbean wanted to understand what that experience would look like from the from where the slides were placed to what the mat rack mat journey was going to be for the mat racers.
To that end, they built out a portion of water park in their lab. This provides operational learnings for the team to better understand if materials are too heavy, provide a flow study, and generally what things will be like once onboard.
"I think this is a really great exercise for us to understand what that flow was like, what that experience is like. And as we build these out, we capture lessons along the way," Ms. Rodriguez said.
The team even tested out the various chairs the neighborhood would use because Royal Caribbean anticipates while some members of the family will be doing the slides non-stop, other members of the family may want to take a rest and relax between slides.  As a result, Icon of the Seas will have different kinds of seating beyond a simple lounger.
"We wanted to make sure that we're creating an environment that offers just as much areas for you to refresh and recharge in between the thrills as well...We also wanted to talk through these unique seating opportunities and areas for you to really call your home base."
Basecamp
One area of Thrill Island is Basecamp, which will be a fast casual grab-and-go venue for Thrill Island that's going to serve handheld items.
"The idea of this is really a place for islanders to kind of hang out, swap stories in between thrills, catch a break, refresh on some great food, great bites," Ms. Rodriguez explained.
The exact menu offerings are still being worked through, so nothing is set yet. There will be some items that cost extra and other items that are complimentary.
Once again, creating a mock up of the dining area and surrounding attractions gives the team a better sense of flow, "we did want it to bring the whole experience together and look at how does furniture look like as well for the venue."
"So we pulled some of the sample furniture and really understanding if I was a guest and I wanted to grab a meal for my family while my kids are running the waterslides or playing mini golf right next door, what would that experience feel like?"
Gourmet milkshakes
Another new venue coming to Icon of the Seas is Desserted, which will sell gourmet milkshakes. You can even get milkshakes with alcohol in them.
Expect milkshakes with plenty of garnishes, such as sprinkles, donuts, candies, and churros.
The alcoholic version would have a little bottle of fireball sticking out of the top.
Ms. Rodriguez said, "So think over the top milkshakes," whereas Linken D'Souza, Global Vice President Culinary, Dining & Beverage, said, " We like to call Freakshakes."
I asked if the popular Royal Caribbean drink package would cover milkshakes at Desserted, and the team responded, "it's still a discussion."
The final menu is yet to be determined, but Mr. D'Souza expects there to be 3 or 4, "mega crazy milkshakes with all the toppings."
Guest flow through the waterpark
One issue the team discovered was Desserted and Base Camp were on the port side of the ship, but what about guests wanting a drink on the starboard side?
"We were having a lot of conversations internally and thinking through the guest flow, one of the things that we realized we needed was a way to get drinks on the starboard side near the water park."
So Royal Caribbean added a themed beverage cart to place near the FlowRider.  The cart will serve "ready to drink" canned beverages.
Getting back to the water park, the team is also working on something they're calling internally, "Eye of the Storm," where rain showers erupt randomly to the surprise and delight of passengers.
Located in one of the circulation areas where families will be walking through to get from slide to slide, you may hear a storm brewing, "Sounds of thunder, rain, wind, water will come from up above you. You don't really know where it's coming from. It really blends in with the environment and strobe lights as well to give that lightning effect and make you feel like a storm has just erupted."
Royal came up with different storm programming so it's not always the same experience.
No classic elevators on Icon of the Seas
One notable change Royal Caribbean has made with Icon of the Seas is the type of elevators.
Royal Caribbean's Senior Vice President and Chief Product Innovation Officer Jay Schneider talked about the change in elevators, "We don't have classic elevators on Icon, we have destination elevators."
"If you think of the difference between the two of them, a classic elevator: as I walk up, I hit a button, I walk inside, I hit a floor, off I go."
"A destination elevator is I go to a panel, I tell you where I want to go, it tells you what elevator you should go to, and then I go to it."
Carnival Horizon and MSC Meraviglia both offer these sorts of elevators, Royal Caribbean feels their implementation will be somewhat different. 
Part of the reason why Royal Caribbean is opting to go with destination elevators is crowd management on a ship the size of Icon, "Being able to effectively move up to 7500 passengers seamlessly and solve for some of the problems that we've seen from our elevator technology on other ships, this is a big step forward."
"It's a big step forward, though, that we've been obsessively trying to study to make sure we don't we we don't run into some of the challenges that some of our competitors have seen."