In:
People that cruise a lot have been the steady base for the cruise industry throughout Covid-19, and some are going over and over again because of how much they are enjoying it.
Greg Brockman lives in Iowa, but is sailing on his fourth Freedom of the Seas cruise in a row, with number five coming up next weekend.
What's it like to go on consecutive cruises during the height of the Omicron wave, and has anything changed in his approach to being on a cruise? Given that Greg is one of thousands of loyal cruise passengers that loves being on a ship, his thoughts on getting onboard today seem intriguing to consider.
From his stateroom on his Royal Caribbean ship, Greg talked about what it's like to stay onboard a cruise ship right now.
Booking five cruises in a row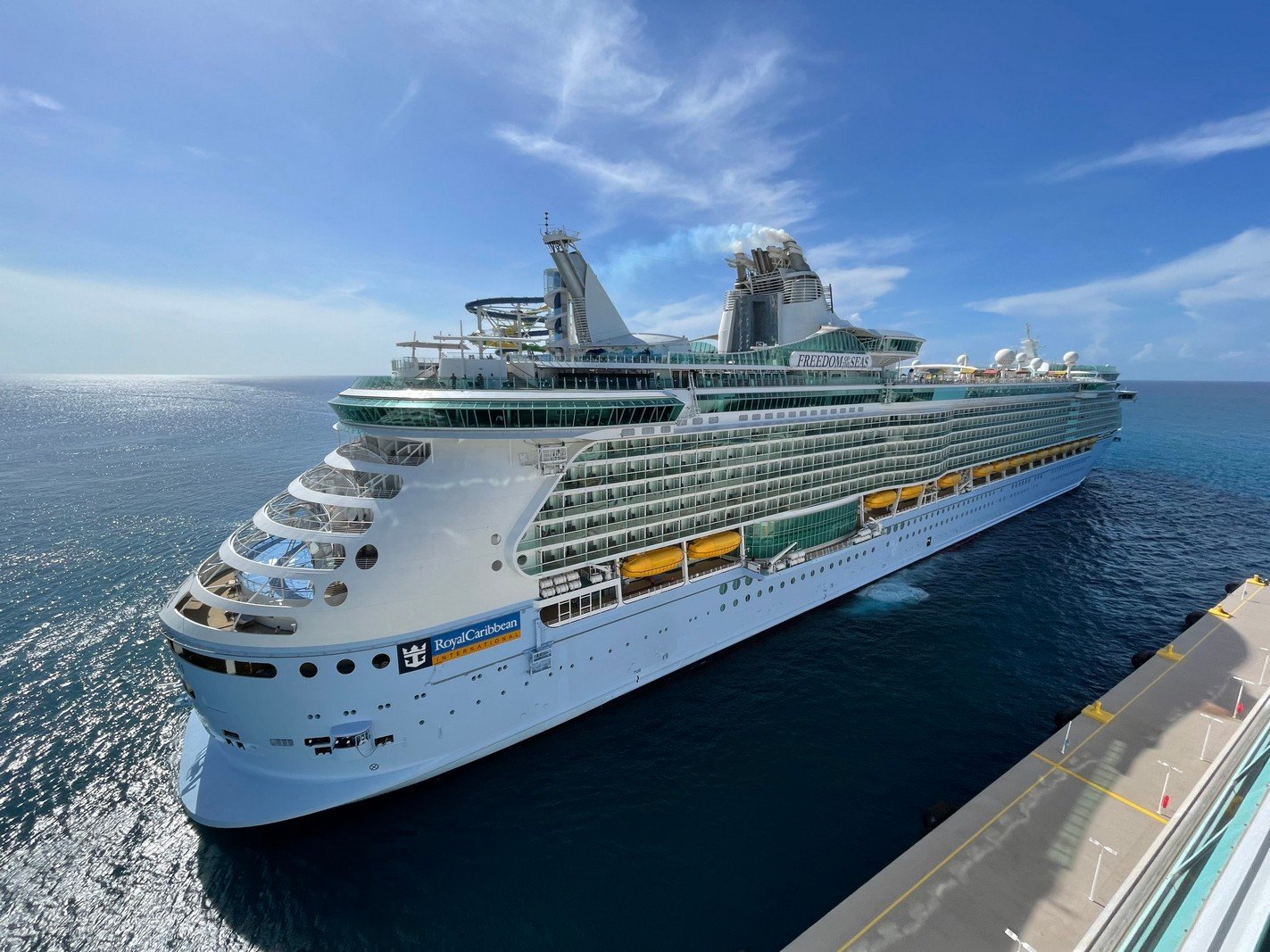 Even before the pandemic, booking more than one cruise at a time may have seemed eccentric to someone that has not been on a cruise. In today's hyper focused media attention of cruise ships, the decision to sail over and over again can do more than raise an eyebrow.
Greg is sailing on Freedom of the Seas from Miami for a total of 17 nights starting December 31 to January 17. 
He first booked cruises only in January, but decided to add more, "As time went on, I was able to add the three night on to the end extending my time until the 17th. Then, in November when there were many price drops, I added the New Year's Eve sailing ."
What's the atmosphere on the ship right now?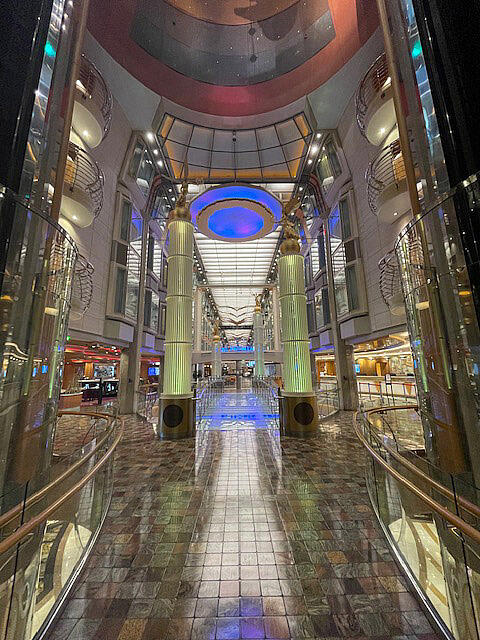 What does it feel like to be on a cruise ship, and what are passengers and crew members saying?
Greg says he's seeing people having fun, "For the most part, the general vibe on board the ship is that of relaxation and enjoying the cruise."
Greg thinks the key to a fun cruise despite all the changes recently is having the right view, "From what I have seen, the passengers having the best time on each of the sailings have been those coming on board who are happy with any perks or benefits they receive but they are not coming on board expecting to be waited on every moment of the day."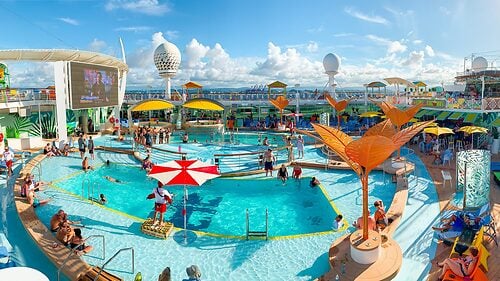 "The frustrations tend to happen when people come on board with expectations of everything being just like it was two years ago and being disappointed and frustrated."
Read more: Why you need to be flexible if you want to go on a cruise right now
Greg was impressed by how upbeat the crew members are given that they are short staffed, "The crew all seem to be maintaining a very positive and energetic outgoing attitude."
"You can tell some of them are very exhausted working longer shifts and covering for other crewmembers who have tested positive and are no longer on board."
"But they are always smiles and happy to see you when you pass by."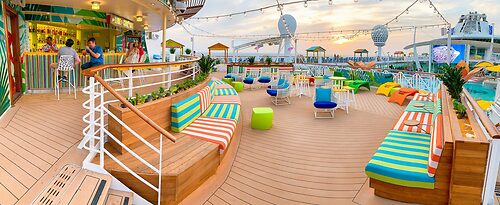 Speaking of the crew, I wanted to know more about how the crew members are doing, and he indicated a lot of the senior officers seem to be stepping in to help out, "They all are maintaining excitement, enthusiasm and passion for what they do."
"Ivan, the Food and Beverage manager, oversees the largest department on board the ship and has been hit the hardest with crew members testing positive. I frequently see him all over the ship chipping in and picking up duties whenever some thing is needed."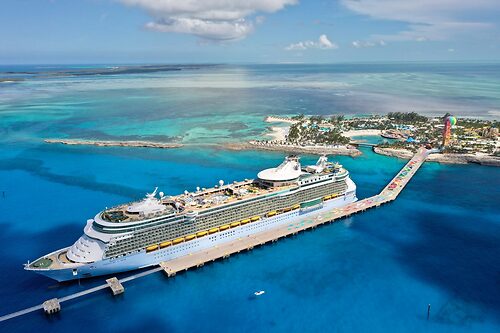 Greg was impressed by how Freedom's Guest Services manager, Dolly, took extra care of his experience, "She just spoke with me last night knowing that I was a consecutive cruiser and staying in the same cabin for multiple cruises. She asked if I would be interested in a complementary cabin upgrade for the next sailing but wasn't sure if I would be interested in moving multiple times between each sailing."
"This is something I absolutely did not expect but was very appreciative of. Just one more way the crew is trying to go above and beyond whenever they can with the resources available."
How does the back-to-back process work?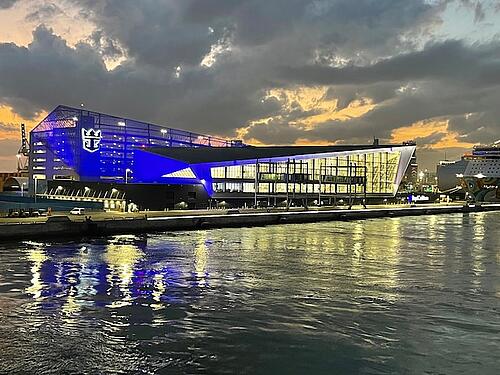 Given all the protocol changes onboard, what changes have been made to going on more than one cruise in a row?
All of the consecutive cruisers have an antigen test done on the day prior to debarkation, which is complimentary.
On the morning the test is scheduled, consecutive cruisers meet around 7:30 am and wait in the Star Lounge until the negative test result has been received. At that point, they are allowed to leave the lounge and go on with your day.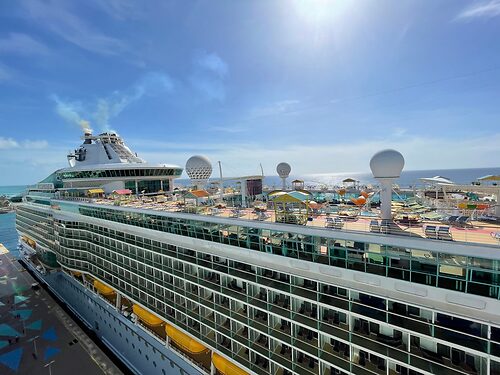 On the turnaround day, everyone again meets in the Star Lounge at 9:30 AM waiting for all other passengers to disembark. At that point the cruisers are escorted through the security checkpoint to officially depart the ship and proceed into the cruise terminal.
The passengers then complete the facial recognition process (required by U.S. Customs and Border Protection) and then get back in line to re-board the ship.
Greg said extra Royal Caribbean delayed the back-to-back cruisers from returning immediately in order to conduct sanitization, "On the last two sailings, the ship did additional cleaning and sanitizing and we were asked to wait in the terminal about 20 minutes before we were allowed to proceed back on board the ship."
Read more: Back-to-back cruises tips and advice
How many people are going on these cruises?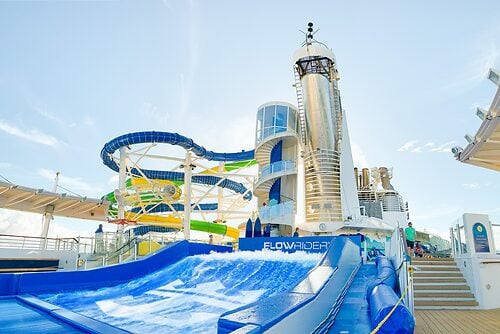 Across Greg's four sailings, he's had a good chance to look at trends among passengers, including how many are on each sailing.
According to Greg, there have been less passengers on each cruise since the New Year's Eve holiday sailing.
"Passenger count has been decreasing on each of the sailings since New Year's Eve. The December 31 sailing had approximately 2000 passengers on board, this was down from the 2400 they initially expected."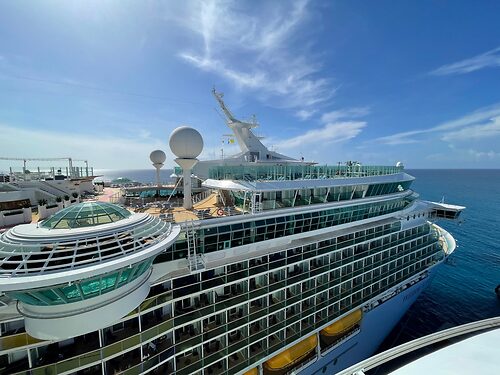 "The next sailing was expecting around 2100 passengers and ended up with 1850 actually boarding. The third sailing was expecting 1800 passengers and ended up sailing with about 1450.  We are expecting 1800 for the current sailing."
Freedom of the Seas has a capacity of just under 4400 passengers.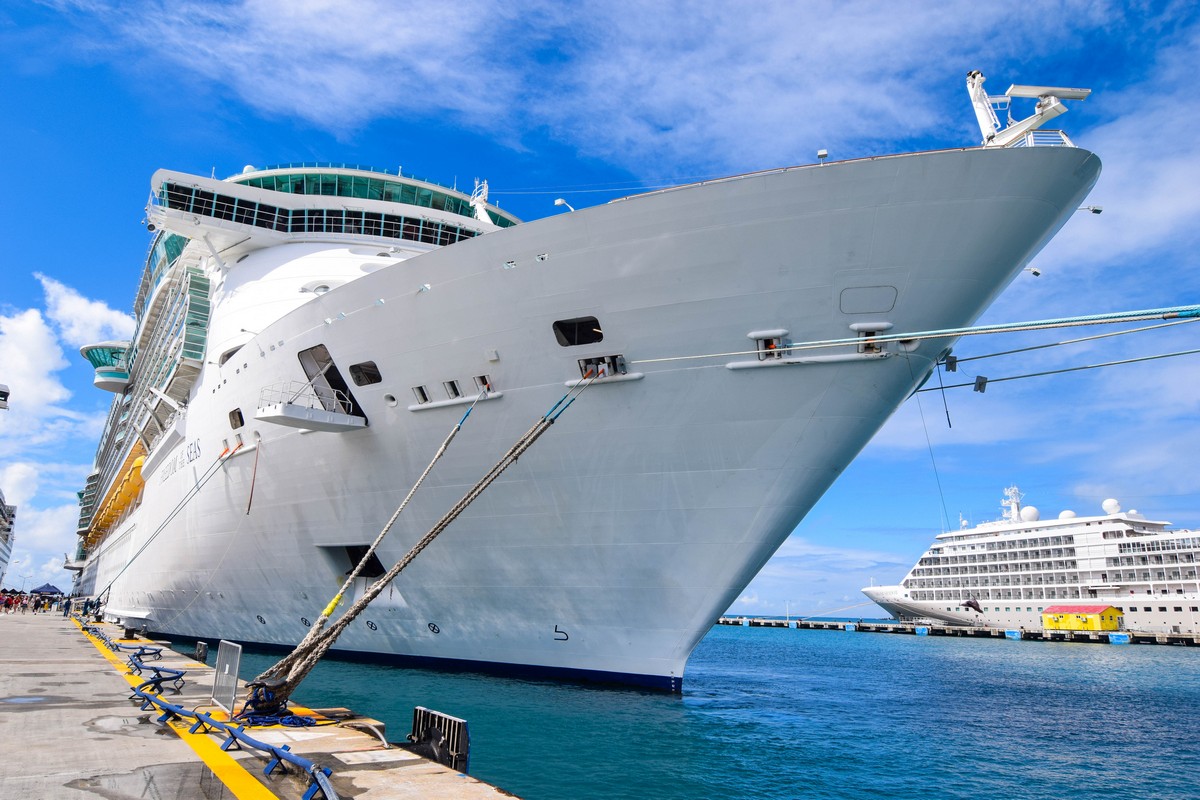 It's also worth noting January is also a traditionally slow month for cruises, since the holidays are over and school is back in session.  Plus, many people just took a vacation at the end of December.
On December 30, Royal Caribbean Group told investors the company "experienced a decline in bookings and increased cancellations for near-term sailings but to a lesser degree than that experienced with the Delta variant. "
Load factors for sailings in the first half of 2022 remain below historical levels, as expected.
Advice for anyone going on a cruise ship right now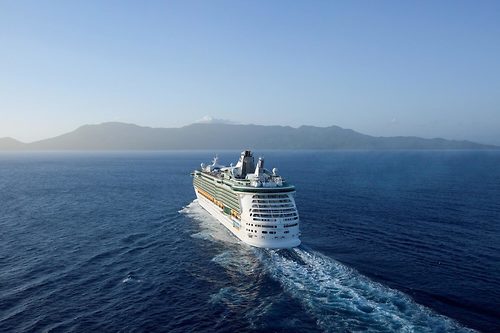 I asked Greg what advice would he give someone going on a cruise today while the Omicron variant is on the top of everyone's mind.
His primary suggestion was for everyone to pack patience, "be prepared to be flexible, and do not board with expectations of benefits or perks because of past cruises."
"Follow the rules and don't argue with the messenger. They are following their instructions. Just know the crew is doing everything they can to ensure you're having an amazing vacation and a safe and healthy environment for you, your family and their family (fellow crew members)."
"I absolutely feel safer onboard a Royal Caribbean ship that almost anywhere right now. "