In:
Going on a cruise vacation is undoubtedly more exciting than your daily life at home. Each day on a cruise brings you to a different place packed with new views, experiences, and memories to make.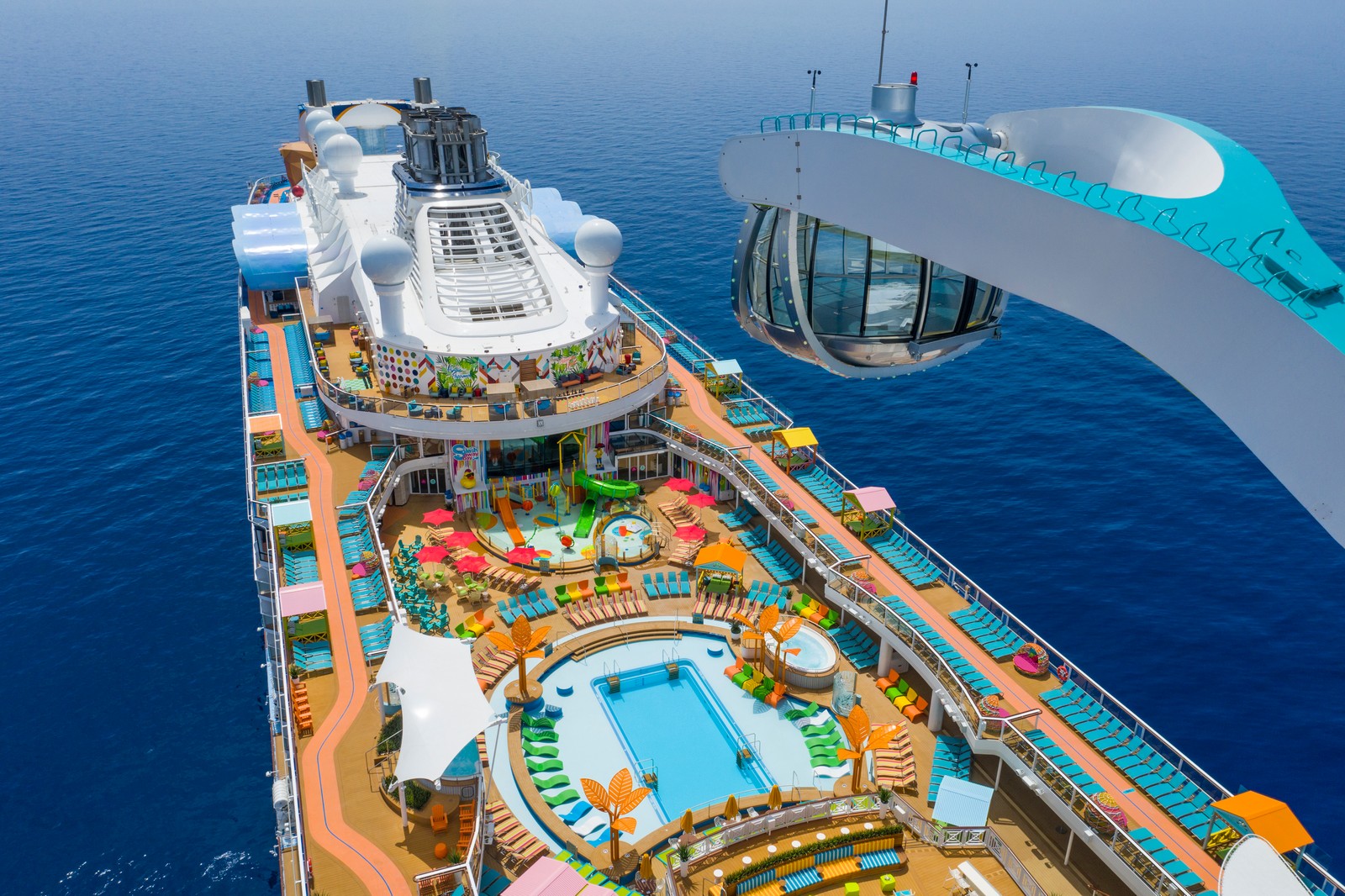 There are, of course, some everyday things that you will do both at home and on a cruise. But what everyday things are better on a cruise ship than at home?
Waking Up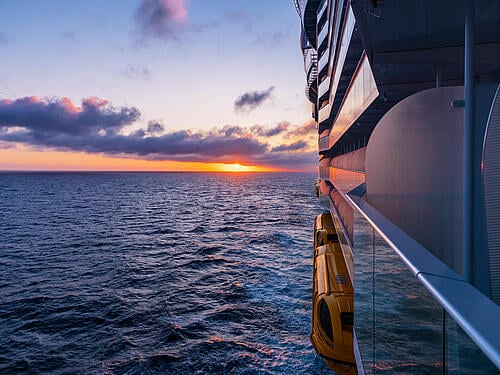 The start to your day on a cruise ship is a lot more enjoyable than at home. You don't need to set an alarm, rush to get ready for work, and drop the kids off at school. You can wake up when you want with no obligations planned for your day.
Waking up on a cruise ship is even better when you have a balcony room. With a balcony, you will wake up to the sun shining through the window and sound of the ocean breeze. Our recommendation is to order room service for breakfast at least once on your sailing. Enjoying fresh fruit, pancakes, eggs, and toast on your own private balcony is a relaxing way to spend the morning on a cruise ship.
Plus, waking up on a cruise is especially exciting. Rather than waking up to prepare for your normal daily routine, you are waking up ready to explore and experience new things. It's a lot easier to get out of bed in the morning when you have a new island to explore!
Dining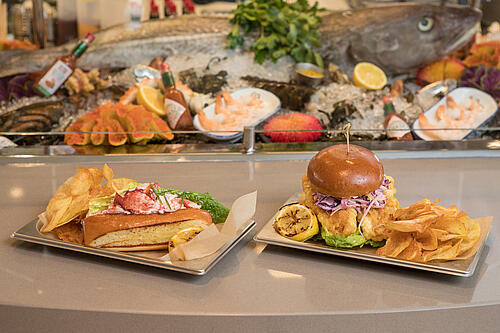 Dining at home is much more complicated than on a cruise. From making a shopping list to going to the grocery store, meal prepping, and cooking, it can simply be a lot of work.
On a cruise ship, however, dining is exciting, dynamic, and stress-free. Say goodbye to sad leftovers at the office and say hello to endless dining choices with no cooking required.
Royal Caribbean cruises offer both complementary and specialty dining, which gives you the chance to try a variety of cuisines, dishes, and flavors.
Those looking for a unique dining experience may wish to try the peculiar dishes available at Wonderland. If you're looking for something really fun, book a dinner at Izumi Hibachi, where you can watch your meal being cooked right in front of you.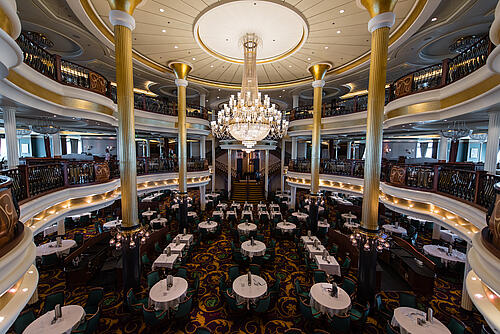 Dining on a cruise ship may also be more elaborate than your usual meals at home. Whether in the Main Dining Room or at a specialty restaurant, meals often come with three or four different courses. Whereas dining at home may be a quick event, dining on a cruise ship always feels like a special occasion.
Another benefit of dining on a cruise ship compared to at home is the ability to try new foods without worrying about whether you will like them or not. While eating at a restaurant on land, you may be nervous to order a dish you've never tried before for fear of disliking it. After all, you'll be paying for each dish you order!
On a cruise ship, though, there is no harm in ordering something new to try. Dishes are included in your cruise fare or dining package, so if you do not like something, you can always order something else.
Finally, did we mention that there is unlimited soft serve ice cream?
(Lack of) cleaning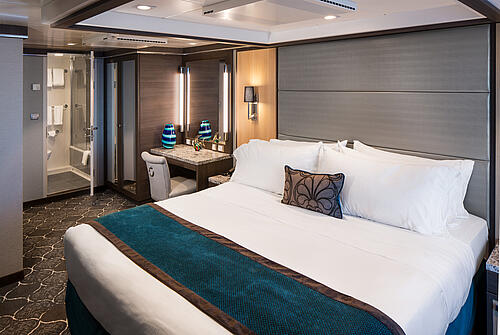 Everyday life involves a fair amount of cleaning. Whether doing the dishes, laundry, vacuuming, yard work, or cleaning the kitchen, housework is a daily chore that many people really dislike doing.
One of the best parts of a cruise vacation is the service you receive while onboard. Once you board the ship, you can forget all about chores at home and enter vacation mode. Cooking, cleaning, and maintenance will now be dealt with by Royal Caribbean crew members.
On a cruise, your stateroom will be cleaned not just once, but two times per day. Did you leave your clothes on the floor? Are your dirty room service dishes on the desk? Did you run out of clean towels? No need to worry. Your stateroom attendant will come through to put your cabin back to picture-perfect condition.
After a big dinner at home, your kitchen sink is probably full of dirty dishes. On a cruise ship, you don't have to worry about doing the dishes! You just eat your meal and a crew members take away the dishes for you.
All this being said, even though someone is going to be cleaning up after you, you should maintain common courtesy. And of course, be sure to leave gratuities to your helpful crew members!
You should also be aware that going home after your cruise and suddenly having to do these household chores again will feel very hard.
Entertainment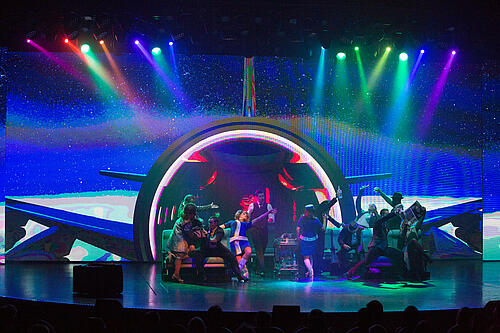 At home, it is unlikely that you are attending live musical events and theater performances every night. Your daily entertainment at home probably includes your couch, TV, and Netflix! This could not be more different than being on a cruise ship.
One of the biggest myths about going on a cruise is that you will be bored. People new to cruising may be nervous about feeling "stuck" on a cruise ship with nothing to do.
Once you get onboard, though, you'll quickly realize that there is always something exciting happening on the ship. Royal Caribbean plans its days at sea or in port to be packed with entertainment, events, music, fitness, crafts, lectures, dance parties, and more.
Entertainment on cruise ships is nothing short of exciting. Depending on the ship, you can see full-length Broadway shows, ice skating shows, live music, comedians, and AquaTheater performances, to name a few. 
Another plus of being on a cruise is that unlike at home, entertainment on a cruise ship is included in your cruise fare. You won't have to shell out pricey tickets to view a Broadway show or musician, and you can view as many performances as you want while onboard.
To find out which events are happening on your sailing, browse through the daily calendar on the Royal Caribbean app. It is a good idea to make reservations for shows in the Royal Theater, AquaTheater, Two70, and Studio B in advance to ensure that you have a seat.
Working out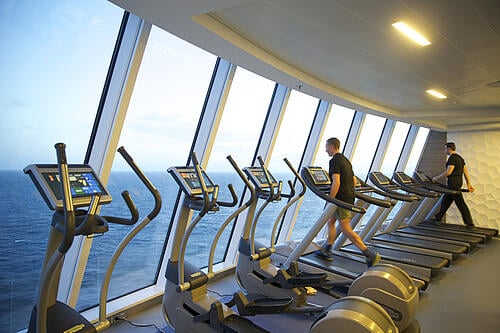 Let's face it: going to the gym can often feel like a chore. Whether before work, after work, or on the weekend, there is probably something you would rather be doing than going to the gym.
However, working out on a cruise ship is a whole lot better than on land. Royal Caribbean's ships have excellent fitness facilities, and they design the gym so that most equipment is facing windows. This leads to unbeatable views as you sail through the ocean, making a strenuous workout a little more enjoyable.
While onboard, complementary and paid fitness classes are available. For complimentary offerings, take a look at the Cruise Planner each day to see what classes are available. You may find that there are complimentary guided stretching classes in the morning or dance lessons in the afternoon.
Some fitness classes come at an additional cost, including spinning, yoga, and pilates. These can be purchased individually. If you plan to attend several classes, though, you may want to purchase a class package in Royal Caribbean's Cruise Planner prior to your sailing.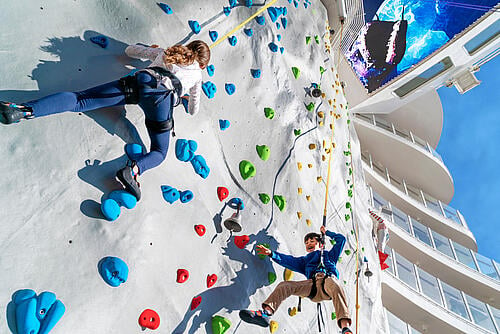 There are a variety of fitness opportunities outside the gym, too. One of the most popular places to get active onboard is the Sports Court. Here you can test out your strength on the rock climbing wall, practice surfing on the FlowRider, and play basketball, pickleball, soccer, or volleyball on the basketball court.
On select ships, you can also get your daily exercise in by roller skating, ice skating, or even trying out the flying trapeze at circus school!
And lastly, are you just looking for a simple run? Enjoying sunset views over the ocean while on the jogging track is much better than running on the treadmill at home.
Commuting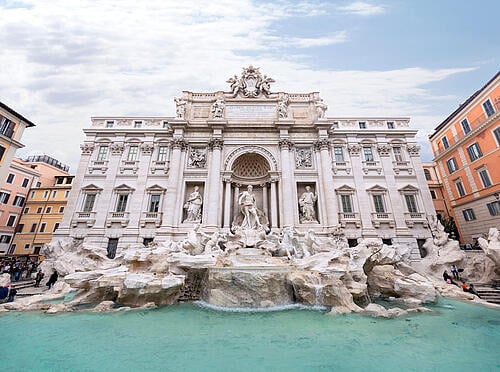 Commuting is a part of the day that most people do not enjoy. Traffic, increment weather, and long commutes are simply not very fun. On a cruise ship, commuting is much more exciting. Your "commute" will be more unique than sitting in a car on the freeway.
Going to Alaska? Board the White Pass & Yukon Railway for a commute up into the mountains. Visiting Cabo San Lucas? Step onboard a tender boat and make your way from the ship to Baja California's coast for a full day of whale watching, beaches, and tacos. How about Europe? Try exploring Croatia's coast in a sailboat, Copenhagen via bicycle, and Rome by foot.
No matter where you cruise, your commute as you explore a new port will certainly be more enjoyable than back at home.
Meeting new people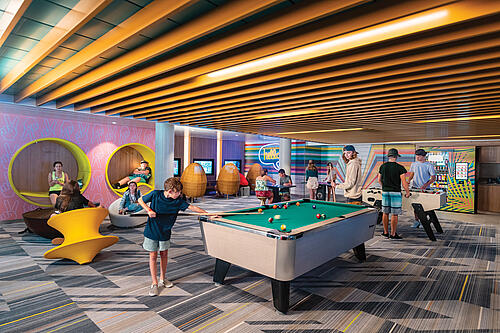 Whereas at home you are usually surrounded by the same community every day, a cruise vacation brings ample opportunities to meet passengers and crew from all over the world.
A great way to meet new passengers is, unsurprisingly, at the bar. Heading to the Pool Bar or the pub is a nice place to strike up a conversation with fellow passengers. If it isn't busy, get to know the crew! Royal Caribbean's crew is extremely diverse, and getting to learn more about where they come from provides a nice insight into their culture and background.
Shore excursions can also be a fantastic way to mingle with other guests. It is easy to strike up a conversation with a stranger when traveling to a destination on a bus, taking a walking tour, or touring a historical site. 
Kids and teens will have an enjoyable time meeting new peers, too. On the first day of your cruise, be sure to enroll your kids in Adventure Ocean, the kids programming onboard. Adventure Ocean is broken up by ages (3-5, 6-8, and 9-11) and is filled with games, crafts, science experiments, and more. 
If you have a teen who doesn't want to hang out with their parents the whole cruise, you're in luck. Teenagers can go to the teen club onboard, where passengers aged 12-17 can meet and hang out with each other. The teen club also organizes group activities specifically for teenage passengers, including events like pool parties, dedicated time at the Flowrider, guitar hero, and themed dances.
Amazing views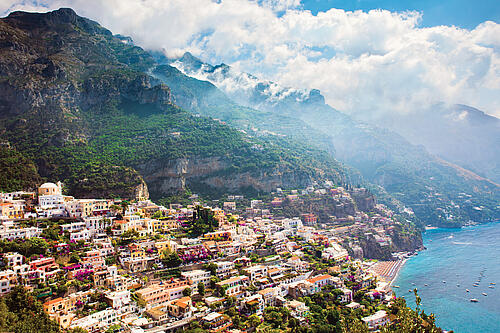 At home, the views mostly stay the same. The view out of your bedroom window might change slightly from summer to winter, but nothing changes drastically. You likely spend most of your time in an environment with the same views.
This could not be more different when at sea. On a cruise, you will see a different view from the ship each and every day. One day you might see palm trees and sand in St. Maarten, the next day a view sailing into CocoCay, and the next day mountains in St. Lucia.
Beautiful views don't only happen in port, though. One of the best parts of being on a cruise is looking out at the ocean around you on a sea day. Whether it's whales swimming near the ship in Alaska or sunset in the Mediterranean, views from a cruise ship are much better than at home.
Trying new things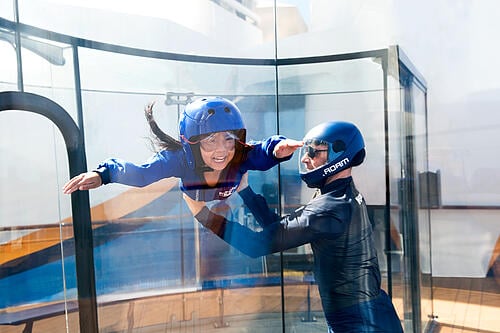 Going on a cruise vacation is the perfect time to try something new.  A Royal Caribbean cruise is packed with activities, events, and entertainment. The majority of activities offered are included in your cruise fare, meaning that you can get outside of your comfort zone to try something completely different than what you would normally do at home.
Have you ever tried indoor skydiving? RipCord by iFLY is a popular cruise activity on Quantum-class ships. After a brief demonstration, you will have the opportunity to try to fly in the skydiving chamber. If the thought of jumping out of a plane terrifies you, RipCord by iFLY is a nice alternative!
How about ziplining? Oasis-class ships offer a zipline that goes over the ship's Boardwalk neighborhood. Trapeze? Check out the circus school in the Seaplex. Bumper cars? Surfing? Karaoke? Sushi making class? 
Needless to say, there is surely something onboard that you have never experienced before, so give it a try!