In:
An erroneous email went out to some guests about a change in the consecutive cruise policy, but Royal Caribbean has clarified the process will not change as drastically as first thought.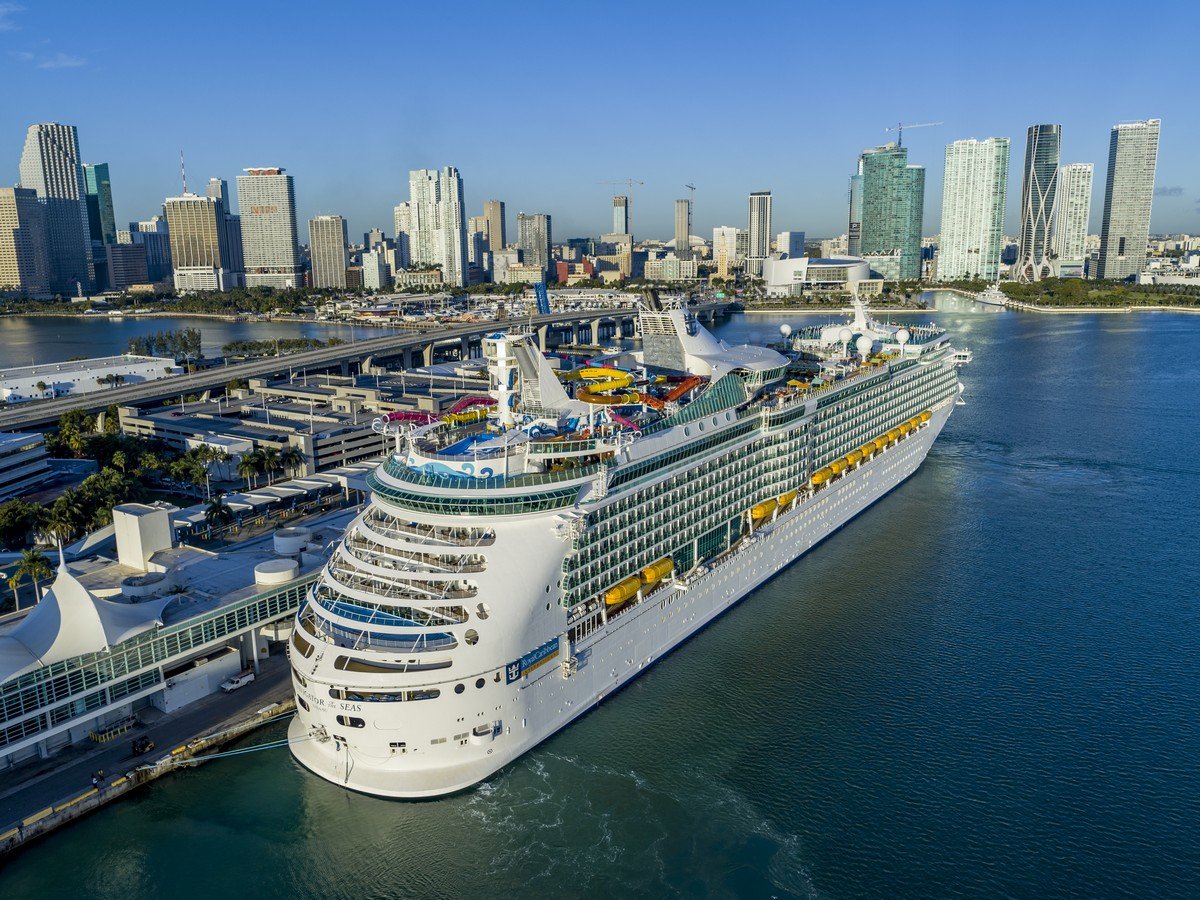 On Thursday, Royal Caribbean sent an email to guests to inform them guests doing a back-to-back cruise would have to take their luggage off the ship with them, take a Covid-19 test, and then re-embark during a selected check-in time.
This drew a great deal of negative reactions from cruise fans, who relish the opportunity to do back-to-back cruises. Many cruise fans questioned the logic in leaving the contained environment of the cruise ship to mingle with the public again before coming back onboard.
Many of the outraged took to airing their frustrations on the RoyalCaribbeanBlog message board.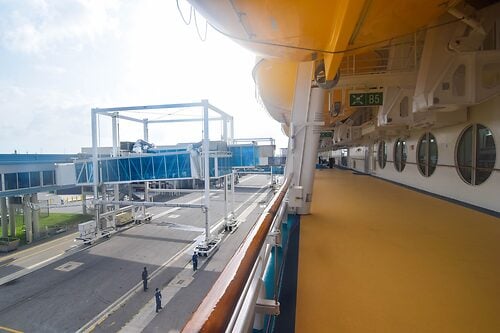 ConstantCruiser wrote, "Tested on the ship and confirmed to be negative but you have to fully pack and sit in the terminal for fours hours?"
"Definitely not the experience we were looking forward to," teddy added.
Corrected and updated back-to-back information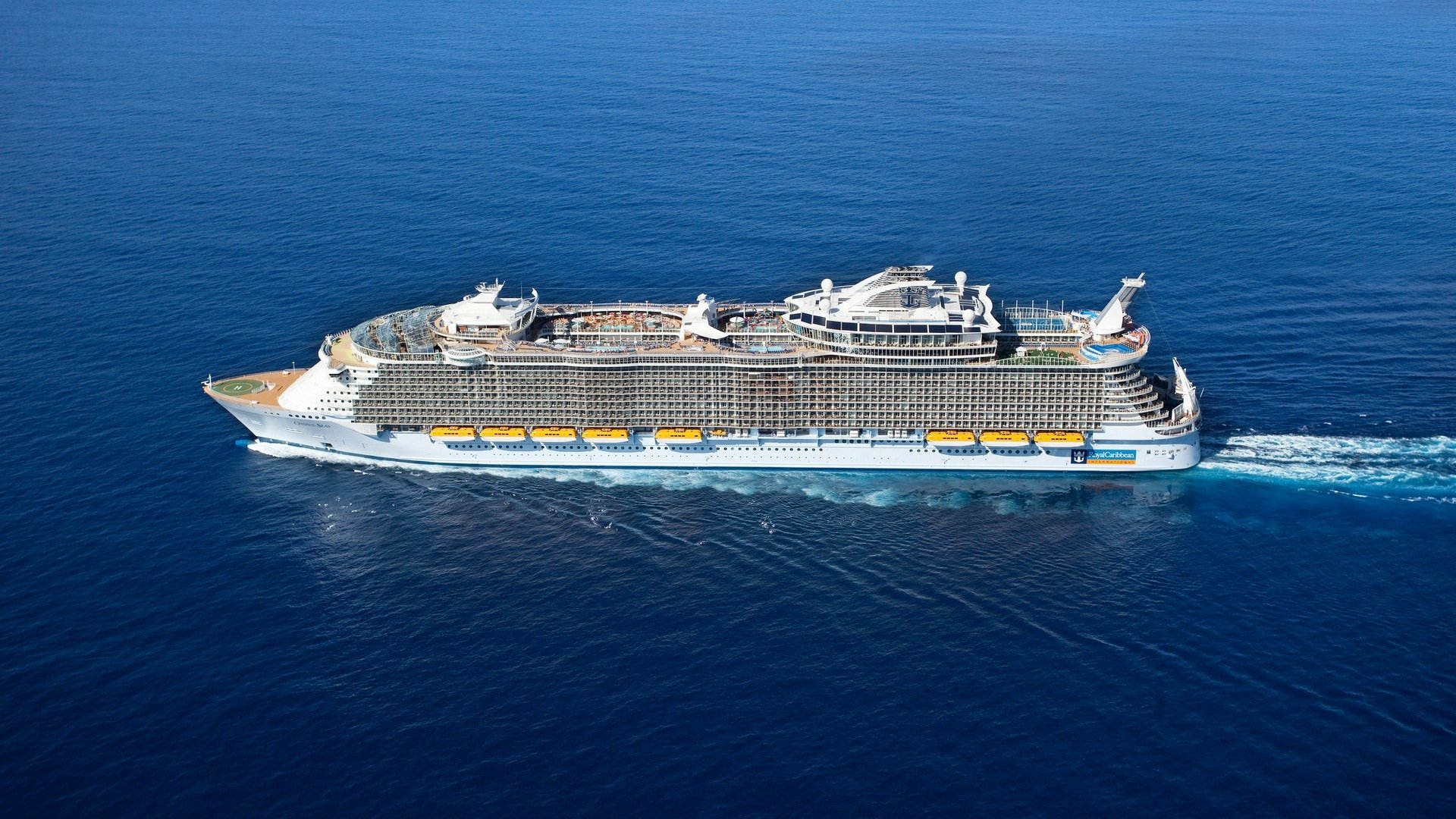 A few hours later, Royal Caribbean sent a follow up email to clarify that the original directions of being required to pack your bags and bring them to the terminal between sailings was incorrect.
"This is incorrect. You do not need to pack your bags and bring them to the terminal," the email said.
Instead, here are Royal Caribbean's back-to-back sailing requirements.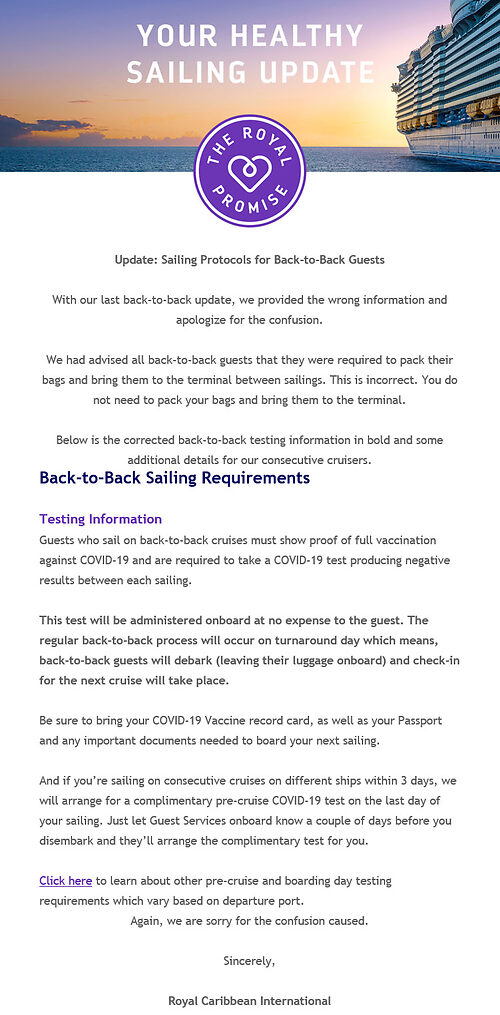 Guests who sail on back-to-back cruises must show proof of full vaccination against Covid-19 and are required to take a Covid-19 test producing negative results between each sailing. 
This test will be administered onboard at no expense to the guest. The regular back-to-back process will occur on turnaround day which means, back-to-back guests will debark (leaving their luggage onboard) and check-in for the next cruise will take place. 
Be sure to bring your Covid-19 Vaccine record card, as well as your Passport and any important documents needed to board your next sailing. 
And if you're sailing on consecutive cruises on different ships within 3 days, Royal Caribbean will arrange for a complimentary pre-cruise Covid-19 test on the last day of your sailing. Just let Guest Services onboard know a couple of days before you disembark and they'll arrange the complimentary test for you. 
Guest reactions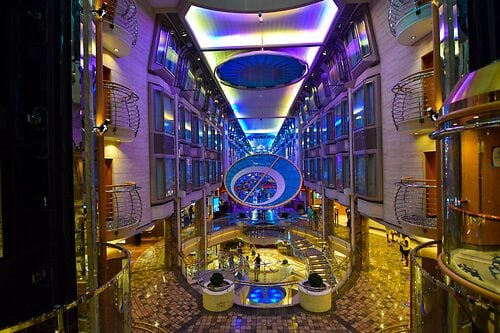 Just as quickly as the negative comments originally came in, RoyalCaribbeanBlog readers commended the quick fix of what looked to be a bad situation.
JimnKathy immediately wrote, "I commend Royal for correcting this so quickly. Makes me feel much better about our back-to-back sailing next month."
BrianB added, "I appreciate Royal acting so quickly to change it. It may have sounded like a good idea, and was probably made with input from health officials, but somewhere along the way reasonable accommodation for the customer must also enter into the formula."
Teddy admitted he the job of crafting protocols cannot be an easy task, "I'm glad I don't have to make policy decisions for cruising. Truly a no-win situation for everybody. "