In:
Merry Christmas! Welcome onboard the beautiful Quantum of the Seas, the first ship to resume cruising in the fleet from the 
island nation of Singapore!
We are onboard a 4-night Ocean Getaway cruise to celebrate Christmas. Quantum of the Seas sets sail with comprehensive health and safety guidelines, including the CruiseSafe certifications jointly developed by the Singapore Tourism Board (STB), and DNV GL. We shall now bring you to see how the new cruise experience is like onboard, and probably shed light on how a future cruise onboard Royal Caribbean will be like. 
Embarkation Process
Royal Caribbean International has arranged a complimentary COVID-19 PCR test prior to embarkation through medical healthcare provider Eurofins. This test is to be conducted in the city two to three days before embarkation, and we were made aware of the results within 24 hours. As for the guests, they will receive a notification on the mobile app, along with the "fit to sail" document.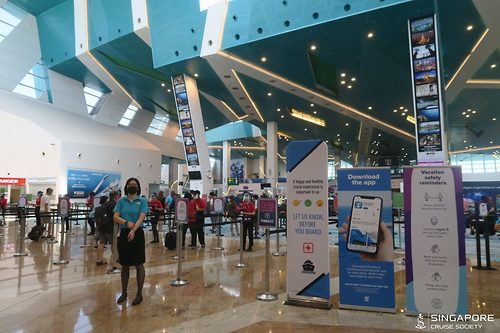 Online check-in is highly recommended by the cruise line, as arrival appointments at the pier are strictly complied with by the port staff as they wanted to stagger arrivals to avoid congregation and crowding.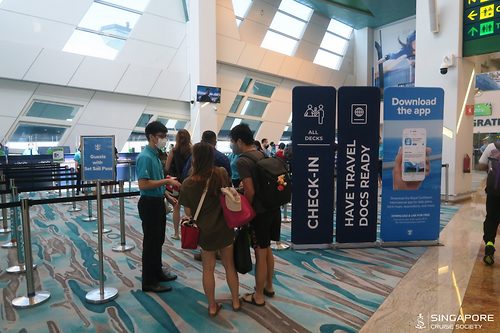 They checked our Setsail Pass and ensured we completed the PCR test before allowing us into the terminal building. Royal Caribbean has also implemented a new station - aptly named the Wellness Test, where the crew measured our temperatures and completed our health questionnaire.
Before their embarkation, guests are required to show the terminal staff that they have the 'Trace Together token or mobile application.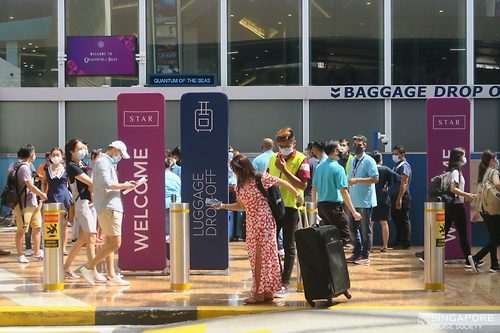 Royal Caribbean now recommends guests to complete online check-in. The check-in formalities include the standard security photo taking and setting up of the onboard account. Something new here would be the issuance of the Tracelets, which is mandatory for guests to wear at all times.
After our wellness check, we then proceeded to immigration, which is now made contactless through iris scanners, an improvement from the previous biometric scanners made by the immigration authorities to reduce common touchpoints. We went from curbside to ship in approximately an hour.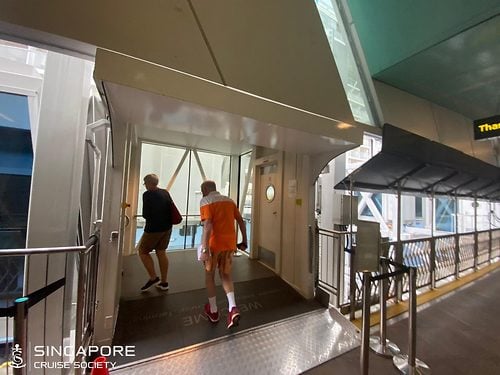 Our Balcony Cabin
We are residing in a balcony stateroom for this voyage in the forward section of the ship, and everything is as perfect as it normally is, except we are provided with the wellness kit, which consists of masks, hand sanitizer, and some documentation of the new COVID-19 measures onboard.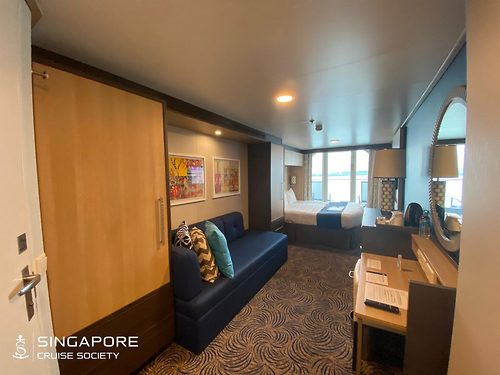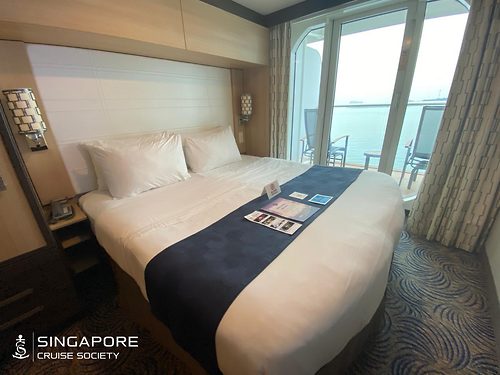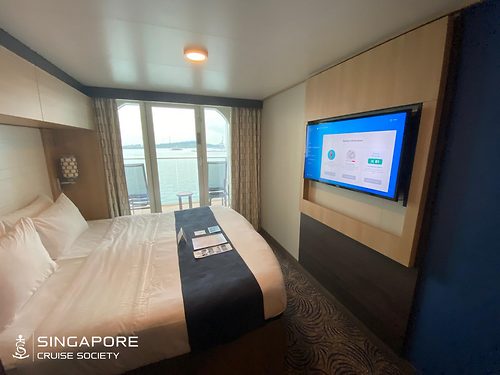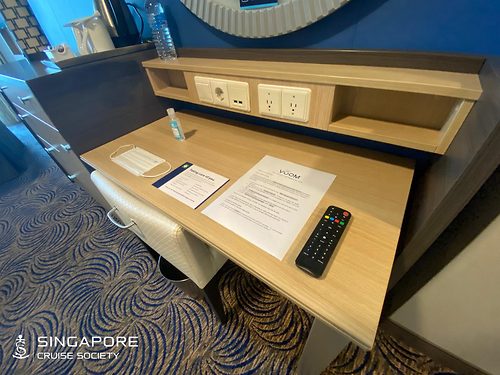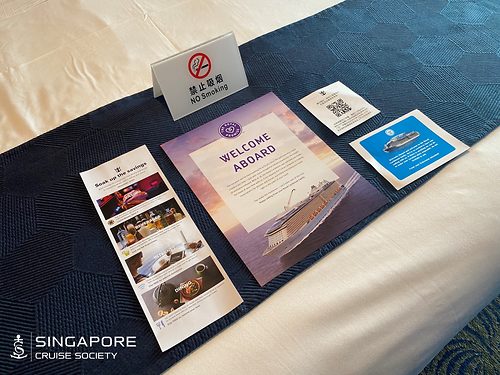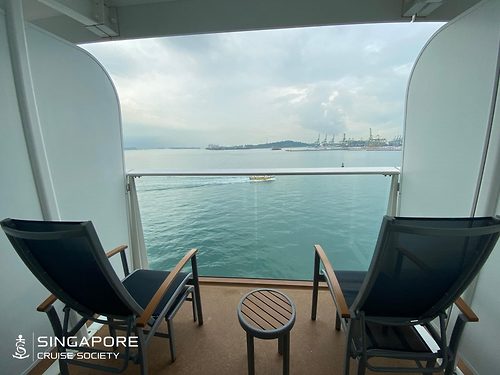 Room service menu is removed and now replaced with a barcode for you to access through the complimentary Royal Caribbean application. 
Dinner and Activities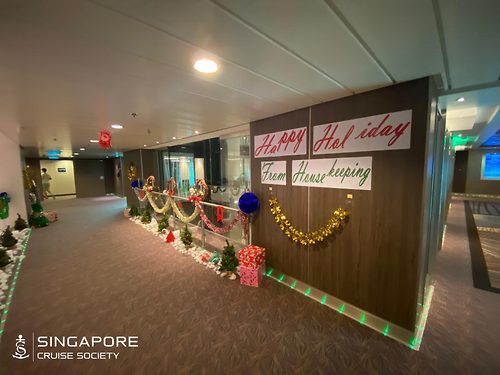 We opted for the Main Dining Room in the first sitting. We had always preferred to have the same waiter/waitress every evening, who remembers our preferences.
For example, from my previous sailing, they remembered that I preferred to have coke and two shrimp cocktails ready, and when I had settled down, they served these to me before I even had a chance to look at the menu.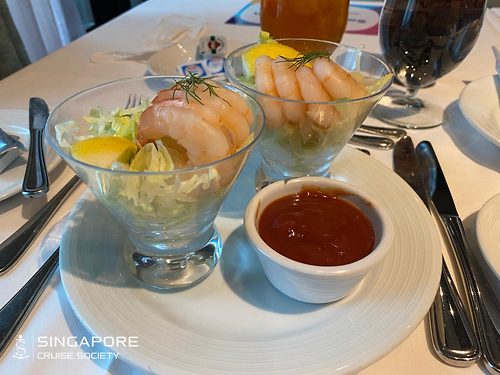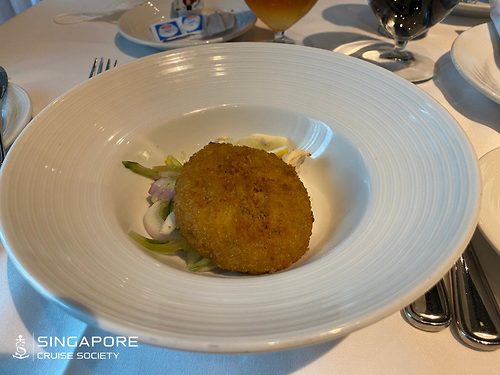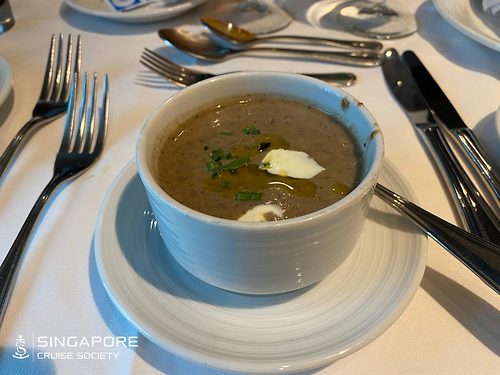 The menus in the main dining room are also digitalized.
Guests have to scan the provided QR code to access the menu, however, physical menus are still available, in English and Mandarin for local guests.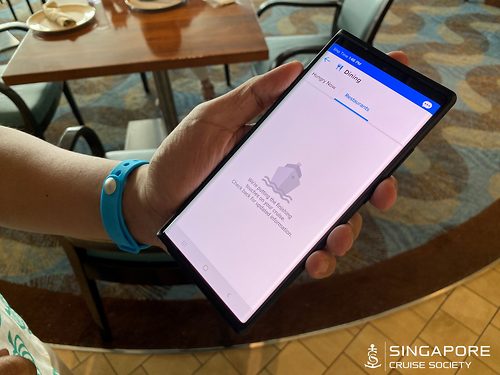 After dinner, we headed up to the Solarium for the departure out of Singapore. This sail away is one of the most scenic departures we have experienced, with the Singapore skyline bidding us goodbye. 
We went down to the bar to have an evening drink before the cutoff time at 10 in the evening. In order to comply with local regulations, the bars and restaurants onboard will stop taking orders for alcoholic beverages at 10 in the evening, and all public consumption of alcoholic beverages will have to cease half past 10. A stray observation was that there were now no longer any snacks or peanuts available with your drinks. If you are someone who enjoys live music together with your drink, this might 
disappoint you. Local rules dictate that bars should not have bar consumption at the same time for some reasons. Also, you have to don your masks between bites and sips to ensure everyone stays healthy onboard. 
Changes since we last boarded Quantum of the Seas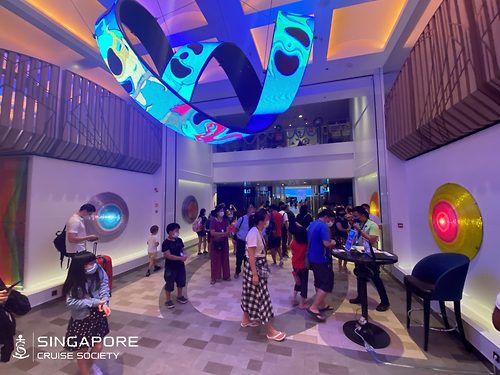 Up in the SeaPlex on Deck 14, the bumper cars used to be on a first-come-first-serve basis. However, due to the formation of long lines which makes social distances almost impossible, Royal Caribbean has now implemented reservations on their application before the session. We simply have to choose a day, time and number of guests before the reservation is confirmed.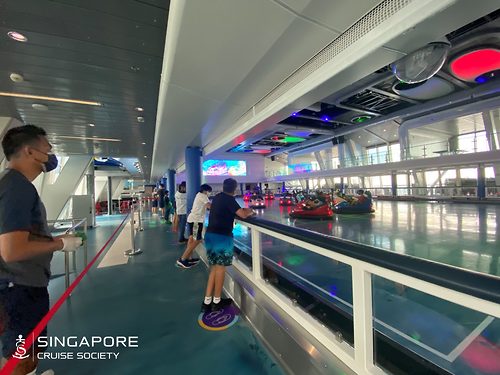 Since these reservations are only available to be booked onboard, guests can only reserve them once they have boarded the ship. However, we noted that some guests were not able to book and enjoy the shows as the slots tend to be fully booked by 3pm.
After consulting the guests, changes were made so reservations of these shows will only start at 6pm, once everyone has boarded. Some guests also had issues with the mobile app, and this is yet to be resolved. 
Conclusion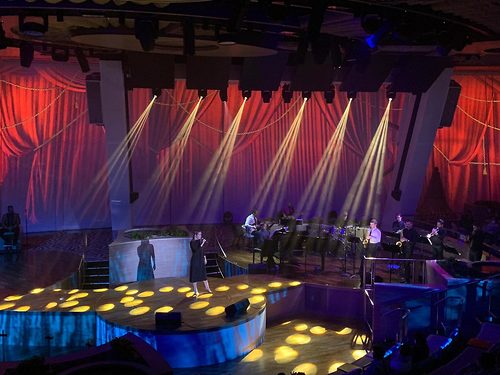 We departed from the Marina Bay Cruise Centre Singapore at 8:20pm, and we are sailing along with 1,995 passengers and 1,219 crew members assisting the guests onboard. We are currently sailing eastbound; towards the South China Sea.
Interestingly, several fleetmate of Quantum of the Seas are currently in this area, including Spectrum and Voyager of the Seas. We shall keep a look out and see if we can catch any good shots of them!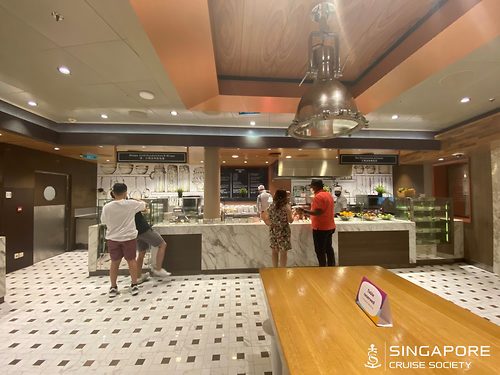 Tomorrow is Christmas Day, and there are several interesting activities lined up, so please stay tuned to the Day 2 Blog Post on the Royal Caribbean Blog! You may follow us on Facebook @sgcruisesociety for more!
Simply drop us a message and mention that you are directed from Royal Caribbean Blog if you have any questions or something you want us to check out.