In:
We woke up early for our appointment with the ship's nurse to complete a PCR test onboard in preperation for our consecutive sailing onboard Quantum of the Seas.
A letter was sent to our cabin earlier in the cruise on the formalities we must complete before continuing our adventures onboard the ship, and of those was to complete this swab test on the last day before turnaround day.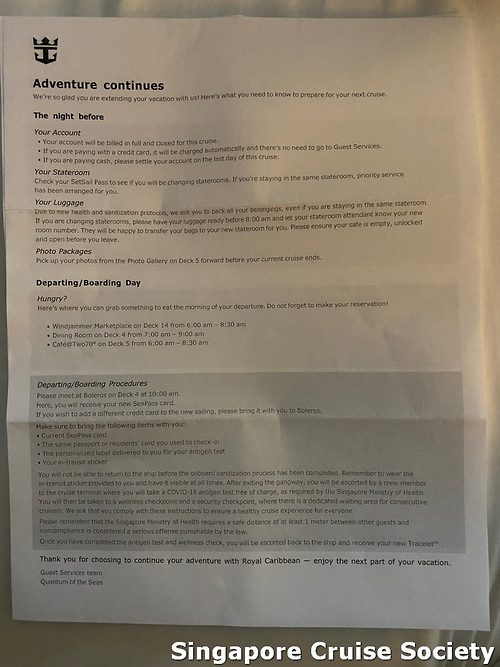 Most formalities remain like pre-COVID times, with the only difference being
A PCR test required on the last day of the voyage prior to turnaround day
An Antigen Rapid Test (ART) to be completed in the terminal on turnaround day (as required by Singapore authorities)
New Tracelet required
Coming back to the COVID-19 test, we received the results back in the stateroom within a few hours after the swab was done. We were free to move around the ship for normal activities while waiting for the results.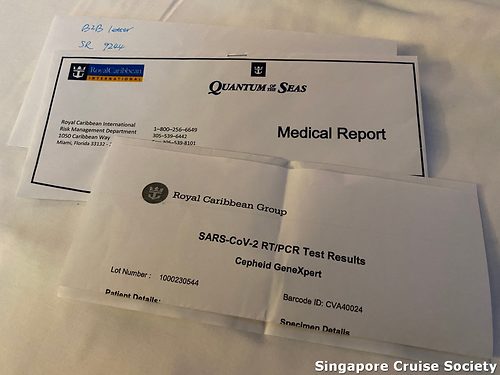 However, to comply with local regulations on achieving 'zero count', which means to disembark all guests before embarking new ones, we must disembark and re-clear security and immigration before boarding again.
We must also wait for the sanitation process to be completed before coming back onboard.
How we went about our day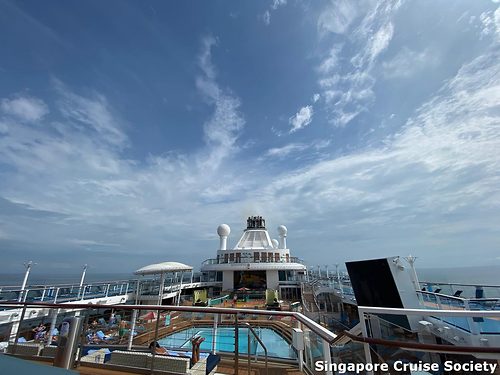 As we have completed all the theatre shows and activities, we decided to slow down and rest a little on our 'last' day onboard this voyage.
We went up to the pool deck, and as usual perfect weather to have a drink by the pool. We ended up skipping breakfast and lunch, and we met up with several of our followers for a final catch up before they disembark the Quantum.
Interestingly, even though these voyages are sea-days only; the Schooner Bar only opens at five! We checked with the crew and this was because before five, the venue was used for trivia and gameshows, and the bar could not open while activities were going on due to local COVID restrictions, thus the delay.
We then joined our few followers for dinner at the Main Dining Room, and this evening food was the best of the entire voyage. It started with the exceptional service by the team did to find a table for five; amongst the reduced capacity each table had. Most selections from favourites, to local delights – were done well.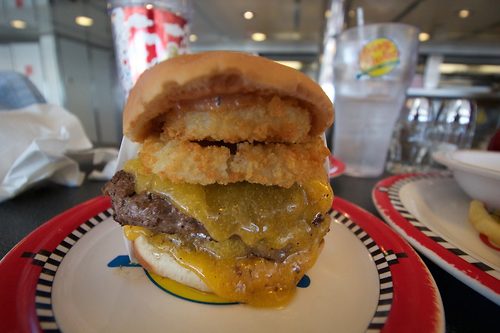 We also met up with our Royal Genie – who will be assisting us around the ship during our next voyage, where we will be reviewing the Star Class – Royal Suite Class in a Grand Loft Suite.
I will keep these details a secret for now, so do remember to come back and read up on the special stuff we arranged!
Thoughts for this voyage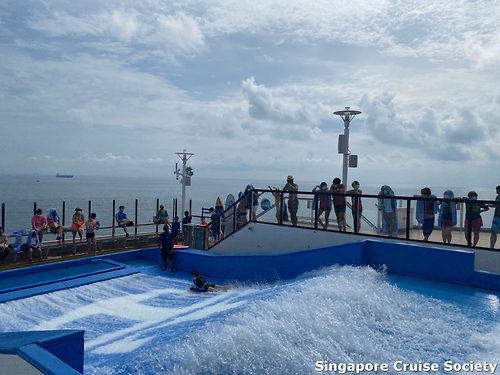 During our daily walkaround the ship, we noticed guests were experiencing issues with the new Royal Caribbean app. It seems to revolve around making reservations for activities, especially for production shows in the Royal Theatre and Two70.
We checked in with some of the guests and it appears so that even after Royal Caribbean did adjustment to bring the reservation commencement time to 6pm, the system crashed at 6 on the first day as many guests were on their phones waiting to book.
By the time they restarted the app, the 200 or so seats per seating were already booked out.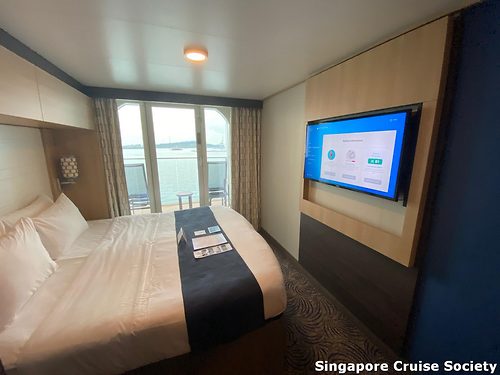 This drastic reduction in capacity; for example in the Royal Theatre which could originally hold 1,400 guests per show, now could only accommodate 250. This was due to the restrictions by the local government laid out under the Safe Management Measures (SMM), which the ship had to comply with.
However, we had a chat with the ship's senior management, and they revealed to us that they have been in discussion with the local government to increase the capacity in a safe manner, as well as other methods to ensure guests catch at least a show during their cruise, but for now, their hands were tied.
Changes could come soon however, as Singapore will move towards Phase 3 tomorrow (28 December 2020) of re-opening after seeing low to no cases of COVID-19, the local government has met the criteria set out such as the higher adoption rate of contact tracing system 'TraceTogether', and is on track to reach the target of 70% by end-2020.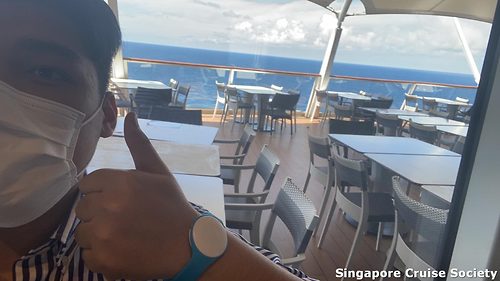 Changes that will occurs shoreside, which is highly likely followed by onboard management
Group size for gatherings increased from 5 to 8
Capacity limits of premises will be increased, and attractions can start applying to the tourism board to increase operating capacity to 65%

Capacity limit will increase from 10m2 to 8m2 per person in malls and large standalone stores

Capacity or congregational and other worship services increased up to 250 persons
Other measures were changed too, you can find out more on the government website.
These should normally change onboard as well, but we shall find out on the next voyage to see if the situation improves. Tomorrow we will return to Singapore for our next trip which we are so excited for, in the Grand Loft Suite!
So please stay tuned and you may follow us on Facebook @sgcruisesociety for more! Simply drop us a message and mention that you are directed from Royal Caribbean Blog if you have any questions or something you want us to check out.