In:
The U.S. Centers for Disease Control (CDC) believes going on a cruise ship is among one of the riskiest forms of travel during the current global health crisis, but has turned a blind eye to air travel and the complete lack of testing, distancing, or protocols to stem the spread of COVID-19.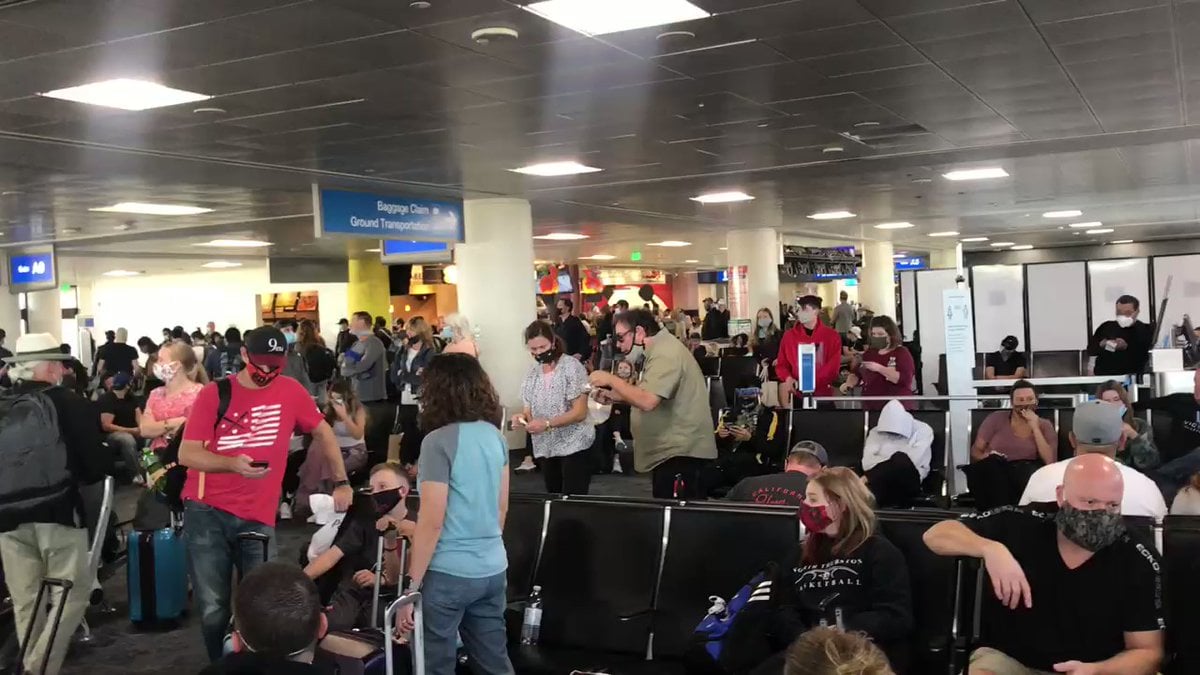 Over the weekend, the CDC raised its warning about going on a cruise ship to the public to the highest level possible. Meanwhile, Thanksgiving holiday travel is beginning to peak and the CDC has held airports and airlines to no strict protocols.
While the cruise industry remains completely shutdown in North America with impossibly high standards instituted by the CDC, neither airports nor air travel have had any shutdown or forced regulation related to health protocols.
Crowds at Sky Harbor: The day after the CDC recommended people cancel their Thanksgiving travel plans, #azfamily viewer Ed Westerfield caught this scene of passengers waiting at their gates pic.twitter.com/r9gIhWlbek

— Max Gorden (@Max_Gorden) November 21, 2020
This double standard perfectly exemplifies how cruise lines are being unfairly targeted by the CDC, while air travel has faced no such restrictions despite being chiefly responsible for the spread of COVID-19 from continent to continent and country to country.
While the CDC did urge Americans to stay home for the holiday, millions will still fly around the United States and there are no stringent regulations placed on airports or airlines like there are for cruise ships.
HOLIDAY TRAVEL SURGE: Americans are ignoring the CDC's calls not to travel for Thanksgiving.

Health experts warn that the estimated 50 million Thanksgiving travelers will send the deepening COVID-19 crisis into an even faster -- and deadlier -- tailspin.@krisvancleave reports pic.twitter.com/ct0z7Hizv6

— CBS Evening News (@CBSEveningNews) November 23, 2020
CBS News reporter Kris Van Cleave said more than three million have been screened at Transportation Security Administration checkpoints since Friday. Sunday was the busiest day at airport checkpoints since March 16, and AAA expects up to 50 million Americans to travel.
Meanwhile, cruise ships remain unable to operate until the CDC signs off on a cruise ship demonstrating it can operate in a completely safe environment. Cruise lines are committing to 100% testing for all passengers and crew, enhanced HVAC and air circulation, and a multi-faceted approach to mitigate the risk of spread on a cruise ship.
In the executive summary from the last No Sail Order, the CDC Director warned cruise ship travel should not occur because it would facilitate the spread of the virus.
If unrestricted cruise ship passenger operations were permitted to resume, infected and exposed persons disembarking cruise ships would place federal partners (e.g., Customs and Border Protection and the U.S. Coast Guard), healthcare workers, port personnel, and communities at substantial unnecessary risk.
The same concern regarding cruise ship travel is affecting air travel without any of the safeguards.