In:
Royal Caribbean Cruises Ltd. announced it will extend its cruise suspension by cancelling most cruises through September 15, 2020, due to the coronavirus.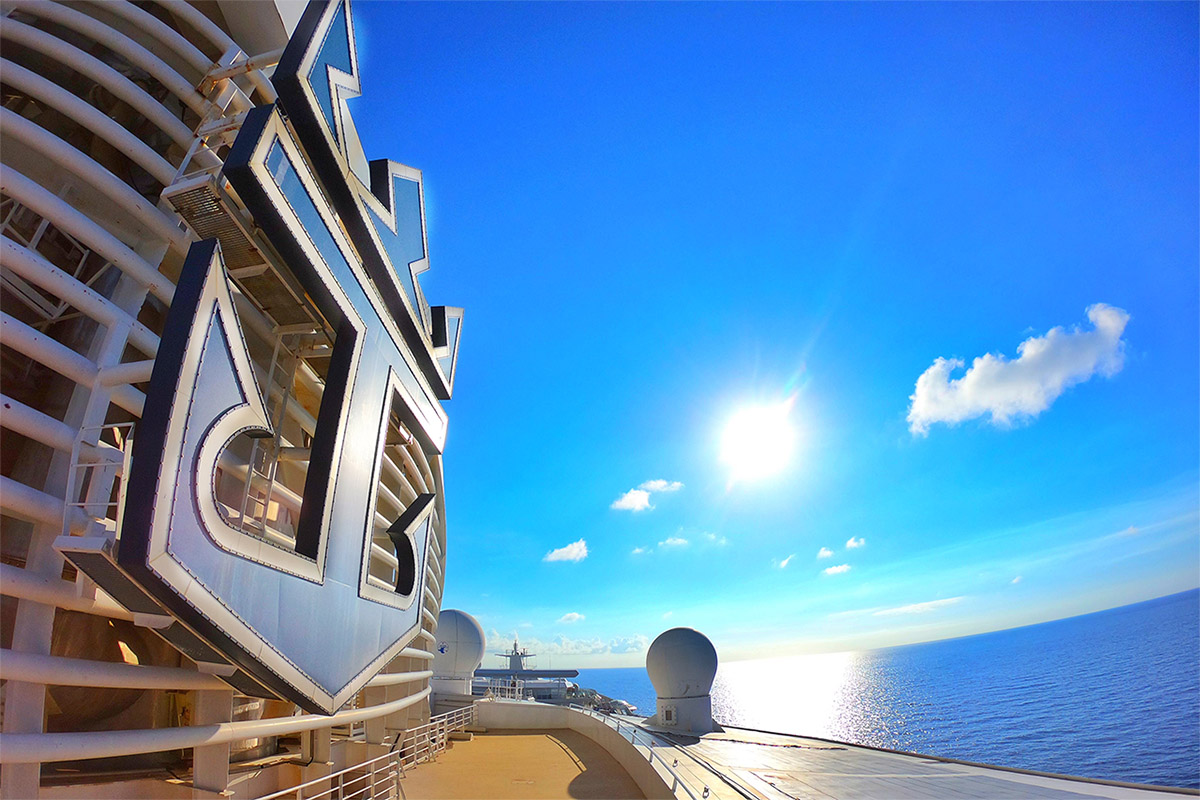 On Tuesday, the Royal Caribbean Group has decided to extend the suspension of most sailings through September 15, 2020, excluding sailings from China, suspended through the end of July, and sailings to Bermuda, suspended through October 31, 2020.
Exceptions to this timeline include China sailings paused through July onboard Spectrum of the Seas and Quantum of the Seas, as well as the further suspension of the 2020 Bermuda season onboard Grandeur of the Seas and Adventure of the Seas through October 31, 2020.  Voyager of the Seas sailings through September 30th, 2020 have also been cancelled.
Royal Caribbean's new goal is to resume operations on September 16th, 2020 for the majority of our fleet.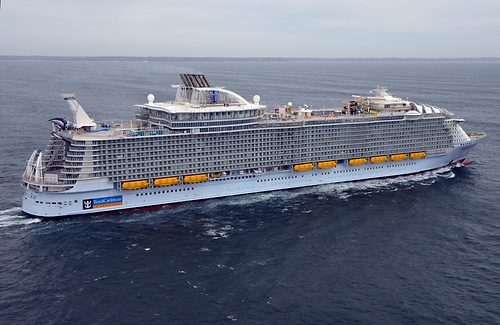 The news comes days after Cruise Lines International Association (CLIA) trade group announced its member cruise lines will cancel all cruises from U.S. ports until September 15, 2020. Royal Caribbean neglected to confirm the cancellations at the time of CLIA's announcement last week.
This new set of cancelled cruises marks the fifth phase of cancelled sailings by Royal Caribbean due to the COVID-19 pandemic. Royal Caribbean has not offered any sailings since mid-March.
Both Norwegian Cruise Line and Carnival Cruise Line have each announced their own set of cancelled cruises through September 30, 2020.
Compensation offers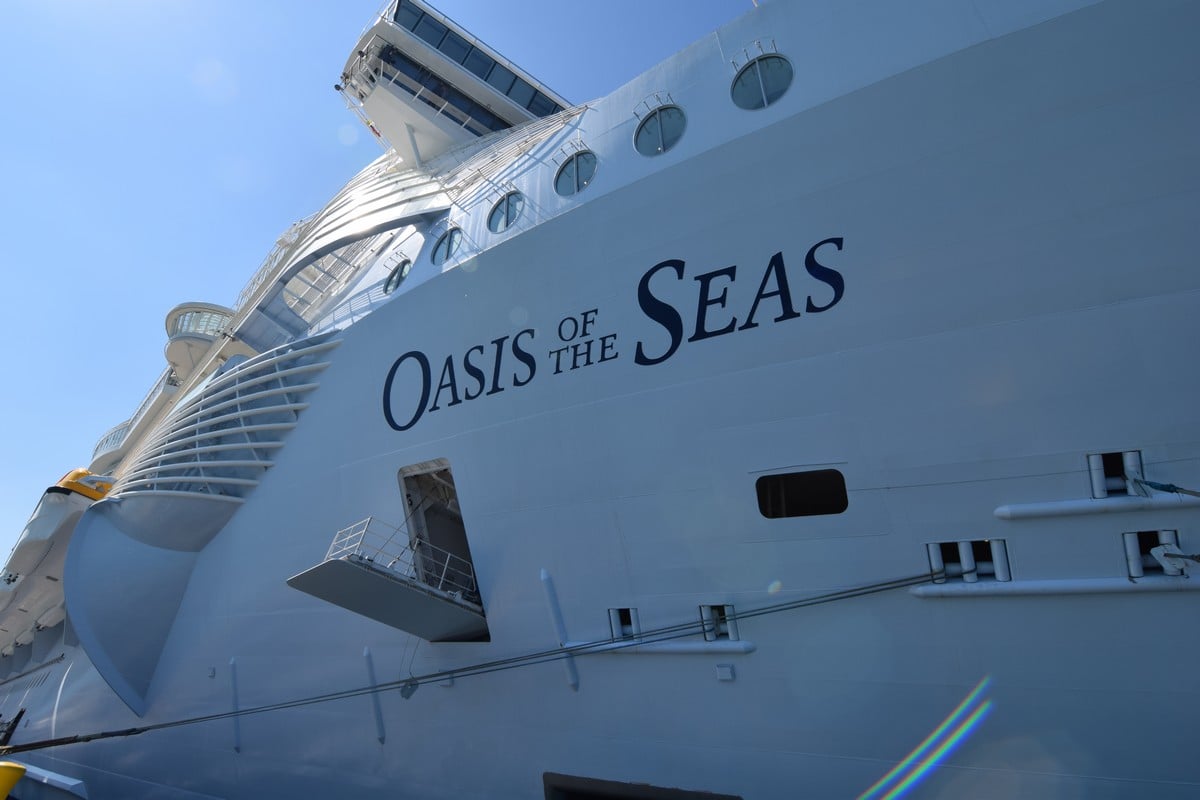 For those currently confirmed on sailings departing August 1 - September 15, 2020, as well as impacted Bermuda and China itineraries, who have not previously canceled under the Cruise with Confidence offer, there are several great options to consider: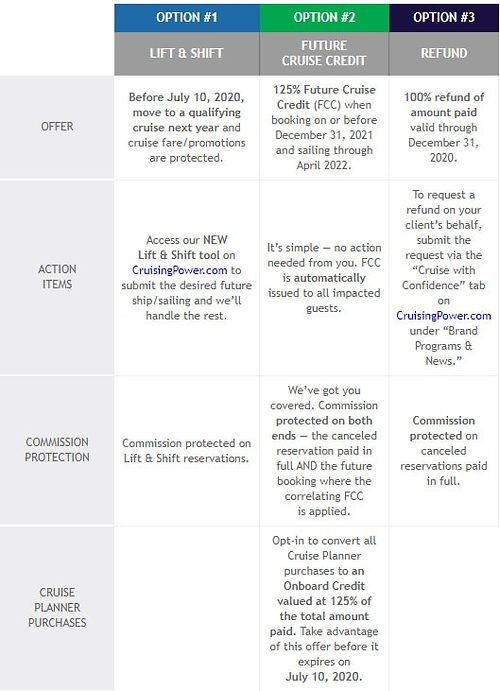 Lift & Shift: Select next year's sailing with the same itinerary type, sailing length, stateroom category, and within the same 4-week window of the original cruise date, and you can take your existing reservation and move it to next year.Option expires on July 10, 2020!
125% Future Cruise Credit: To account for the inconvenience this has caused, guests are eligible for a 125% Future Cruise Credit (FCC) that is based on the total cruise fare paid at the guest-level and will be automatically issued on-or-before July 31, 2020 — if neither of the other options is selected.
Taxes and fees, as well as any pre-purchased amenities or onboard packages will be automatically refunded to the original form of payment within 45 days from the cancellation date. 
If you previously opted to take advantage of our Cruise with Confidence policy, the 100% FCC will stand, and this new option is ineligible.
Additionally, if you redeemed your Cruise with Confidence Future Cruise Credit on a sailing that is now cancelled, their original FCC will be reinstated, plus 125% of any amount paid by the guest on the cancelled reservation.
Refund: If you prefer a cash refund, you can do so by requesting this option on-or-before December 31, 2020.
You can expect their refund to the original form of payment within 45 days from the cancellation date. 
If you redeemed a Cruise with Confidence Future Cruise Credit on an impacted sailing and would now prefer a refund instead, Royal Caribbean will process this request in the amount of any new funds paid above the original certificate and, in turn, will reinstate the Cruise with Confidence FCC for future use.
Working with the CDC for approval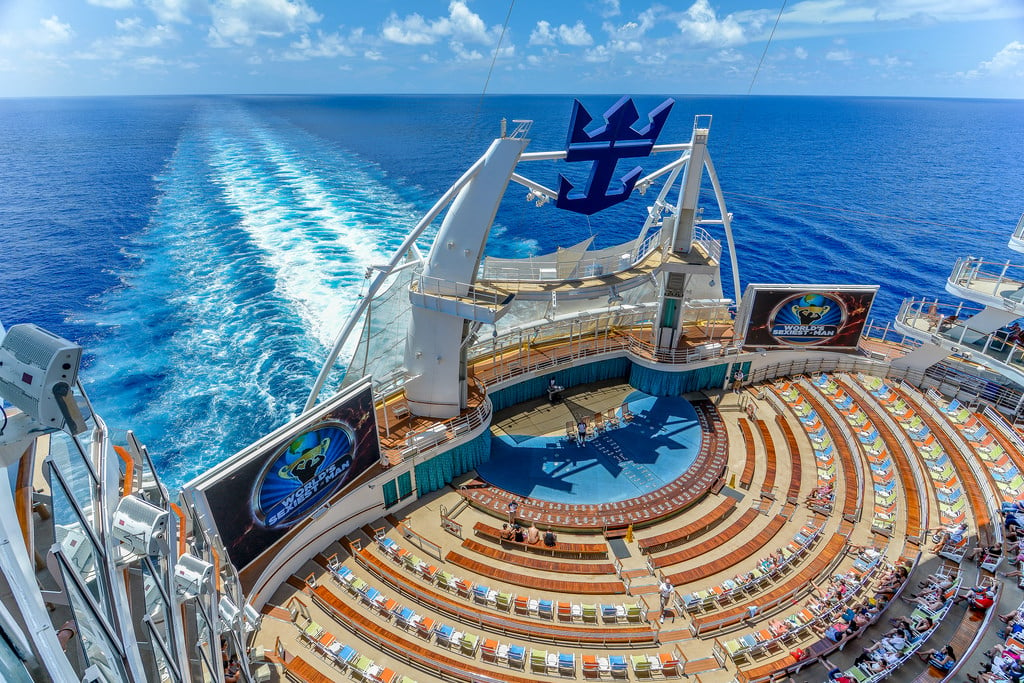 The most frequently asked question among cruisers is when will cruises resume, and the answer is unclear thus far.
A combination of changing health recommendations, as well as garnering government approval has made the road to return for any cruise line difficult, at best. 
The cancellations are a result of the current health crisis, and Royal Caribbean reconfirmed its dedication to keeping guests and crew members safe.
Aligned with CLIA, as well as the Center for Disease Control and Prevention (CDC), we are committed to industry safety and will not sail until we are confident in the protective measures put in place to welcome your clients back aboard.
CLIA hopes this additional time without sailings will provide opportunity to "consult with the CDC on measures that will be appropriate for the eventual resumption of cruise operations."
For its part, the U.S. Centers for Disease Control (CDC) supports CLIA's announcement last week, citing outbreaks of COVID-19 on cruise ships even after passengers stopped sailing as good reason for further delays.