In:
Royal Caribbean Cruises Ltd. Chairman and CEO Richard Fain has shared another video speaking to travel professionals on the current state of the cruise industry while in the midst of a prolonged shutdown.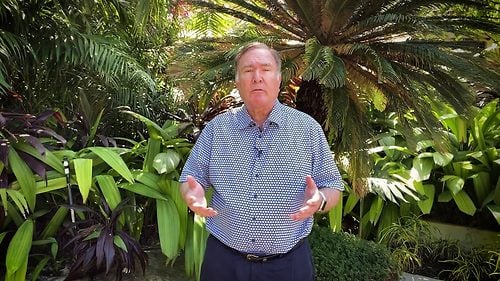 Speaking from his backyard, Mr. Fain filmed his message with his phone on an iPad, dressed more casually, and offering words of encouragement. 
His message comes less than a day after Royal Caribbean announced it would extend its global suspension of cruises for an additional 30 days.
"We all came to work in January ready for a truly gangbuster year, and look where we are today. But even against that very serious backdrop, the work goes on here in Royal Caribbean."
"Our immediate focus is on keeping our guests and our employees safe and healthy, even while the last few ships are returning to port. But you should also know that we're putting just as much effort and just as much focus into making sure that from the day we begin sailing again - and it won't be that long before we do - we're able to offer our guests safe, healthy, and enjoyable cruises from day one."
Mr. Fain explained he believes lots of people will want a vacation escape once the current crisis improves, and Royal Caribbean has "teams studying to make sure that health and sanitation procedures are best in class and make use of the hard lessons we've learned over these last few months."
This is one of many videos Mr. Fain has recorded in the last few weeks that offer comfort, inspiration and a dash of humor.
Mr. Fain also touted the fact Odyssey of the Seas is coming, which is Royal Caribbean's next new cruise ship and set to debut in November.
"Better days may seem far away right now, but they're coming sooner than you think."