In:
Like many other cruisers, I love to share, read, and learn tricks of cruising. Large or small, every tip and cruise hack you can learn helps make your next Royal Caribbean cruise a bit easier.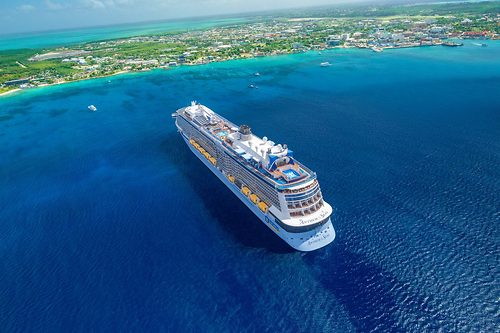 With that in mind, I am sharing the one tip or trick that the repeat cruises that frequent our message boards use/love the most.
1. Arrive to the embarkation port early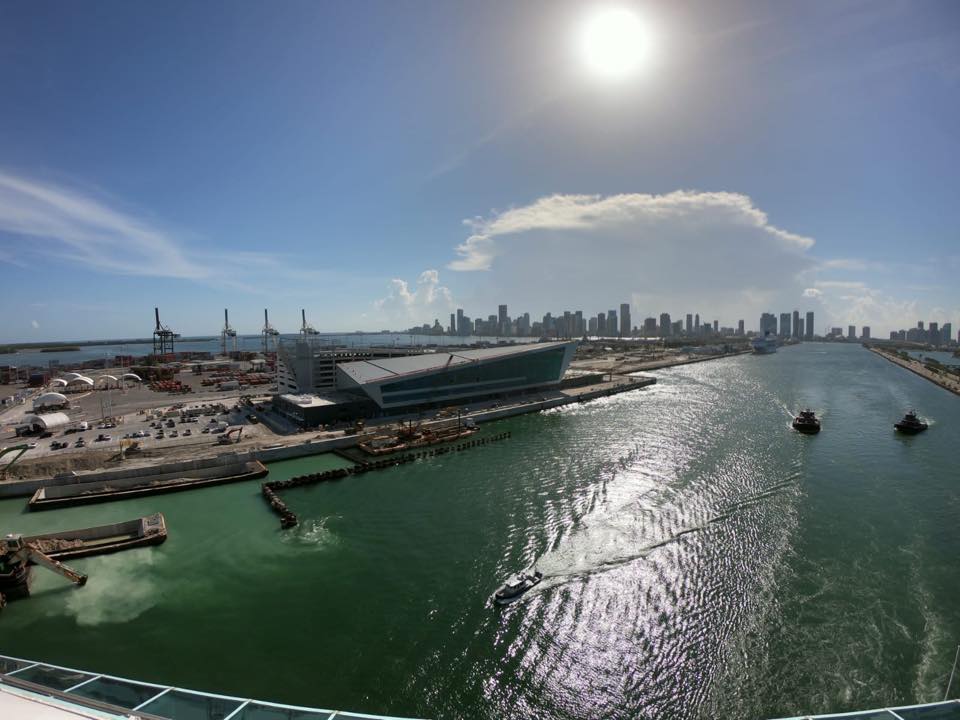 The day your cruise is scheduled to begin, arrive to the cruise terminal in the morning to maximize your time onboard on the first day.
It seems most people arrive to the cruise terminal after lunch, but you can begin checking into your cruise usually around 10am, with boarding process usually beginning around 11am. Arriving early to the cruise terminal means you get onboard sooner and more time on the ship.
2. Bring a USB port outlet for more charging space.
Between phones, tablets and every device you may have, there is always a need to charge something and power outlets are limited on a cruise ship.
Surge protectors and power strips tend to be confiscated for being a fire hazard, but a good USB outlet is perfectly safe to bring along.
I recommend a USB outlet similar to this one. (This link contains an affiliate link, which means I get a commission for purchases made. There is no additional cost to you)
3. Bring bathing suits on embarkation day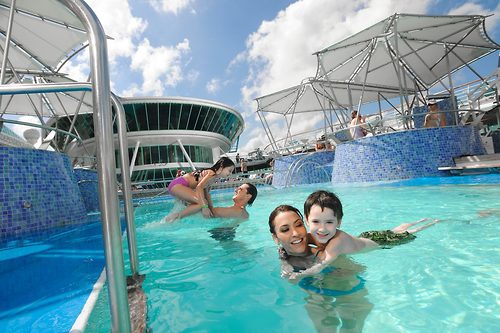 One of the best times to enjoy the pools and water slides on a Royal Caribbean cruise is embarkation day. Most guests do not have their bathing suits with them, and that means very little competition for the aquatic fun onboard.
You can opt to either wear your bathing suits onboard, or keep it in your carry-on luggage and change in a restroom.
4. Once onboard put your phone in airplane mode
To avoid crazy roaming fees, once you get onboard the ship, the best thing you can do is place your phone into airplane mode.
By doing so, you will still be able to use the ship's WiFi, but avoid your carrier charging you exorbitant fees for roaming on another network, either at sea or in one of the countries you visit.
5. Bring a pen and a highlighter with you
You never know when you want to write a thank you note to a crew member, or highlight an activity that you do not want to miss in the Cruise Compass.
6. Study the Compass before the day starts.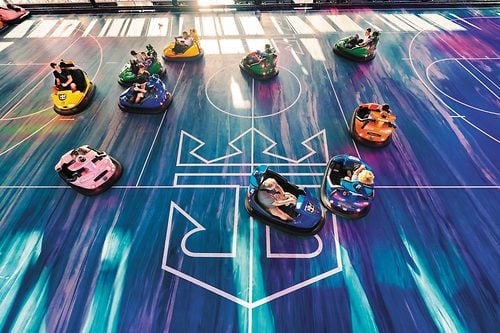 Each evening, your stateroom attendant will deliver the next day's Cruise Compass to your room.
Your best bet to avoid missing out on an activity you really want to do is read it before you get going during the day.
7. Buy magnetic hooks
Something you may not realize about your cabin is how little opportunity there is to hang stuff.  By investing in a pack of strong magnetic hooks, you can place them around the room to hang your hats, swimsuits or whatever else needs to be hung.
Your stateroom walls are made out of metal, which means you can simply stick a magnet onto a wall or ceiling.
Here are some magnetic hooks you can order. (This link contains an affiliate link, which means I get a commission for purchases made. There is no additional cost to you)
8. Speak up if there is a problem
If something is not as expected or disappointing, do not just accept it and let it ruin your cruise vacation. Instead, speak up while onboard and nicely inform crew members of the issue, and ask how it can be resolved.
The crew members want to make your cruise exceptional, and will do what they can to make it right. The bottom line is do not hesitate to speak up if there is an issue.
9. Book anything you can in advance via the Cruise Planner
This sounds so simple, but booking activities, dining and more in advance via Royal Caribbean's Cruise Planner site will make your cruise vacation easier.  On Oasis or Quantum Class ships, you can even pre-book entertainment to reserve admission into the event.
Keep in mind that you can always change your mind later, but having something locked in is better than nothing.  
10. Look for deals even if there is no sale
Royal Caribbean will run sales periodically, but do not limit yourself to just those sales to find deals.  Check the Cruise Planner site regularly, even if there is no sale.  You never know what you may find!
11. Use a trusted travel agent
One of my favorite bits of advice is to use a good travel agent to book and manage your cruise.  A good travel agent is more than somebody to take your credit card details and reserve a cabin.  Travel agents are your advocate throughout the cruise process, and are invaluable if an issue should arise at any point.  More to the point, travel agents will absolutely save you time, and have the potential to save you money along the way.
Since a good travel agent should cost you nothing extra to use (the cruise line pays them a commission), you have nothing to lose and everything to gain by using one.
12. Figure out what kind of a traveler you are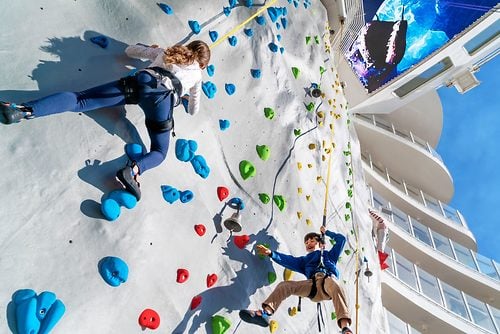 A really good bit of advice is to figure out what you like to do, and craft the cruise around that.  
Are you an active, out and about person, or a room dweller? Are you in it for the ports, or are you in it for the ship? Are you a foodie, or are you fine with just the main dining room and Windjammer?
Knowing what you like (and do not like) impacts everything from your room selection, to your excursions, to your daily planning.  By figuring out your preferences, you can pick out a better cruise that matches what you want.
13. Do not wait for the elevator
The elevator is great, but using the stairs can be a lot faster, plus it can help burn off some of those vacation calories.
If you are going up or down just a few decks, opting for the stairs will likely get you there quicker.  This is especially true when shows or events let out and many other guests descend upon the elevators.
14. Bring Downy Wrinkle Release 
Did you know that there are no self-serve laundry options nor any clothing irons on Royal Caribbean cruise ships?  The only option if you want your clothes pressed or cleaned is to send them out for dry cleaning.
If you are concerned about your clothes being wrinkle-free after you unpack onboard, invest in a good wrinkle release spray  (This link contains an affiliate link, which means I get a commission for purchases made. There is no additional cost to you).
You simply spray any clothing to remove any unwanted creases or wrinkles.  Plus, it has the added bonus of making your clothing smell good again, which can be an issue if your luggage that you store in your basement/attic has an odd odor to it.
15. Avoid getting seasick with an easy remedy
While you can take over-the-counter medication to combat nausea caused by motion in the ocean, mild seasickness can be remedied with a green apple. Seriously.
Green apples are a natural remedy that crew and guests use, along with crackers, to help ease an uneasy stomach. 
You will find green apples in the Windjammer, so it might be a good idea to take a couple to keep your stateroom.
16. Look for Kids Sail Free deals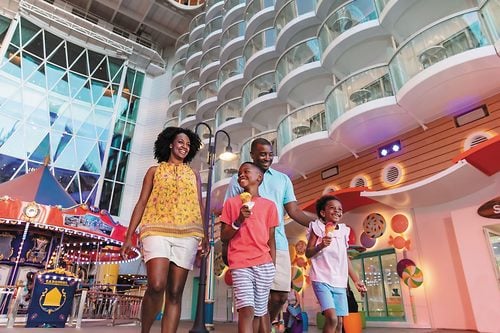 Families looking to book a Royal Caribbean cruise should keep an eye out for Royal Caribbean's kids sail free deals.
Royal Caribbean offers promotions where kids under the age of 13 staying in the same room as two adults can qualify for free cruise fare.  There are a lot of blackout dates, but if you can make it work with your schedule, the kids sail free deal is among the most lucrative promotions offered.
There is usually a kids sail free promotion every few months.
17. Talk to the crew members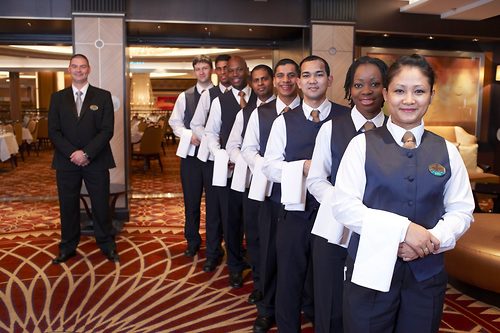 Beyond letting the crew take your drink orders, or asking where the nearest restroom is, be sure to strike up conversations with crew members you encounter.
Your cabin attendant is usually one for a quick chat. You might learn a thing or two, and it can really make someone's day.