Symphony of the Seas Live Blog - Day One - Embarkation Day
In:
We are back onboard Symphony of the Seas and it feels great to be sailing again! A mere two day break between sailings and this time we are with my kids, along with a bunch of friends from RoyalCaribbeanBlog.com.
We stayed at the DoubleTree Grand Biscayne between cruises, which is barely 3 miles from PortMiami.  We got going in the morning and drove our car to Terminal A to start our cruise.
We parked the car in the Terminal A garage this time around. As you enter the garage, there are porters ready to take your luggage, after which you proceed to park the car. Super simple.
After parking, we had perhaps the simplest and quickest check-in process ever.  After walking in the terminal, there is a special entrance for suite guests and Pinnacle members. You go up on elevator, sit down in the lounge and a port agent walks around with a tablet to check guests in.  Whole process took perhaps 5 minutes.
Boarding began around 11am and of course our first stop was the Windjammer for lunch.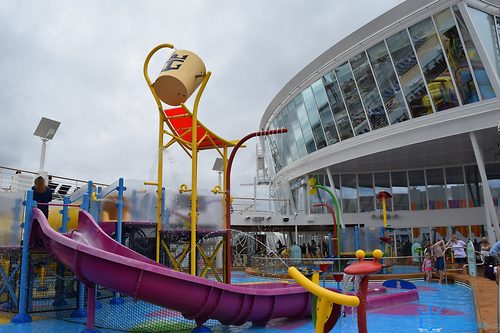 Lunch felt more crowded than usual for that early in the day, but once they opened up the other side of the Windjammer, crowds subsided quickly.
After lunch we registered the kids for Adventure Ocean.
Next, it was time for the pool.  Despite cooler than average temperatures, my kids insisted on hitting up Splashaway Bay.
Rooms were ready at 1pm and on this sailing, we are staying in a Grand Suite stateroom.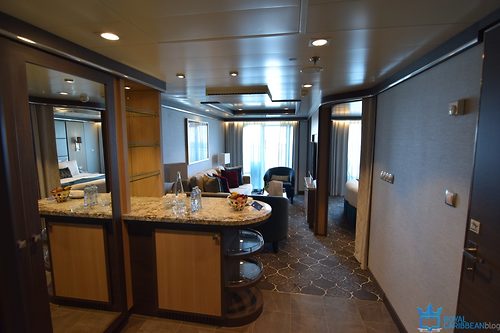 The amount of space in this room is perfect for our family, and I love that the bedroom is completely separated from the rest of the room by curtains.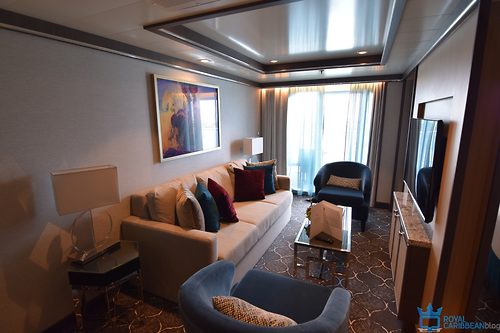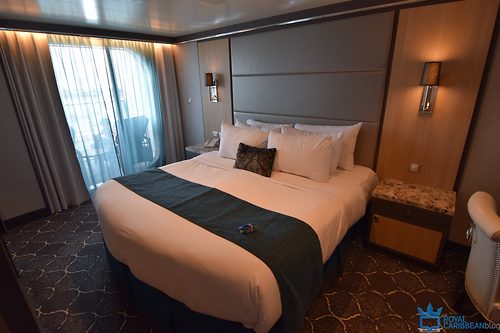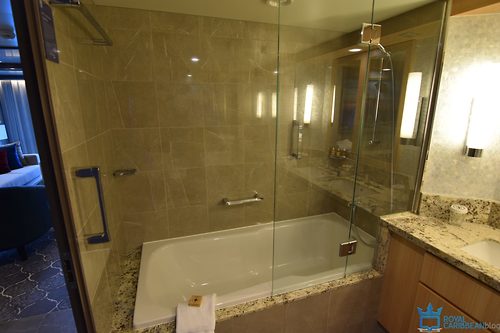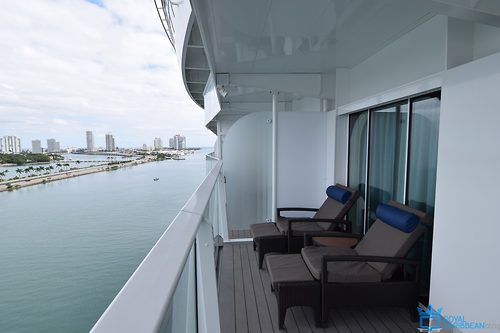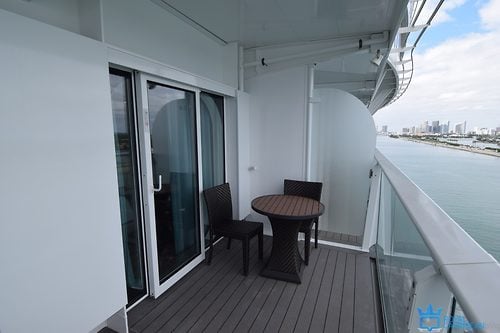 Our first RoyalCaribbeanBlog.com group cruise meet up was at Boleros for a celebratory first drink together. It was our first time to see many faces onboard and I had a great time setting the tone for the sailing.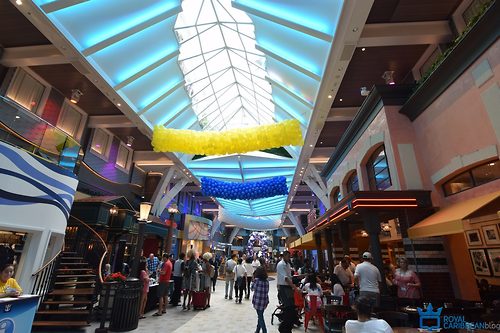 Following muster drill, we headed up to the pool deck for a fun sailaway party.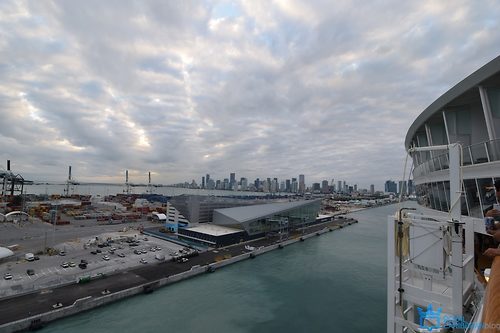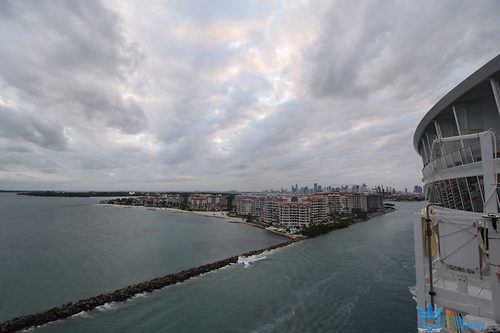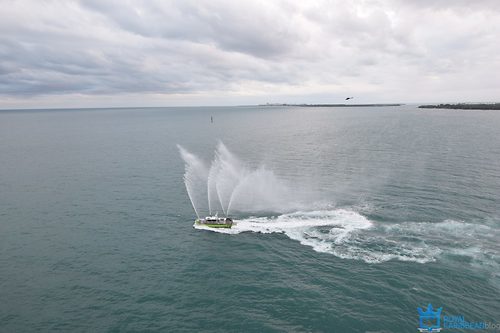 The kids were getting hungry, so I took them to grab dinner.  One wanted pizza and the other a quesadilla, so we hit up Sorrentos and El Loco Fresh for a convenient dinner option.  They grabbed a few bites from the Windjammer too.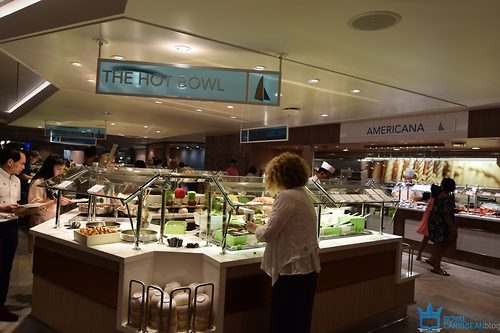 Adventure Ocean opened at 7pm, which was a pleasant surprise since usually Adventure Ocean opens an hour later (8pm) on embarkation day.
After dropping the kids off, my wife and I enjoyed some evening cocktails in the Suite Lounge.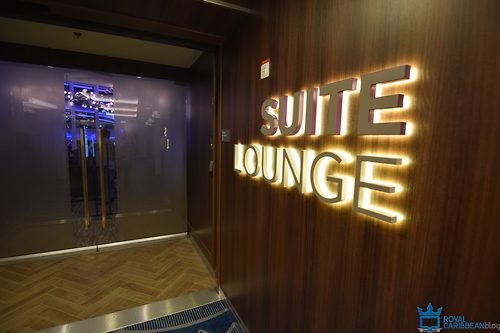 Dinner this evening brought us to the main dining room, and the meal seemed to flow quite smoothly for embarkation day.  Usually the first day is a bit unevenly paced, but the staff tonight did a great job.
Our plans for after dinner were to see 1977, the ice skating show, but the show ended up being canceled.  
My wife went with my in-laws to see MO5AIC, an acapella singing group, while I opted to enjoy drinks with friends in the Pub.
We wrapped up our evening with a balloon drop on the Royal Promenade at midnight and then called it a night.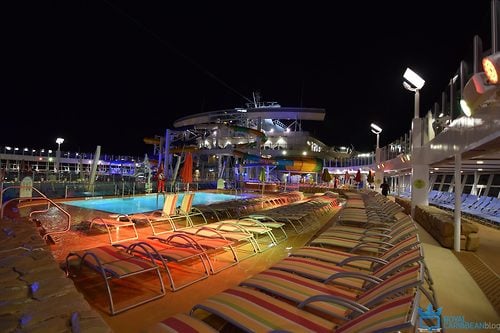 Tomorrow is a sea day.