Symphony of the Seas Live Blog - Day Six - Nassau
In:
Our short two-night sailing brings us to our sole port stop on the only full day onboard, and that is Nassau, Bahamas.
As noted in yesterday's live blog post, this is a complimentary two-night preview sailing provided to me by Royal Caribbean.  
Symphony of the Seas arrived in Nassau shortly before 9am on a sunny and hot day in the Bahamas.  We had a great view of Nassau harbor as we pulled into port, with Enchantment of the Seas in port as well.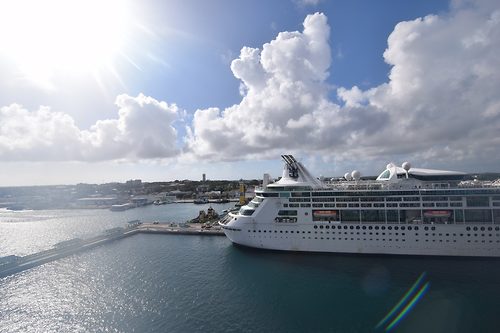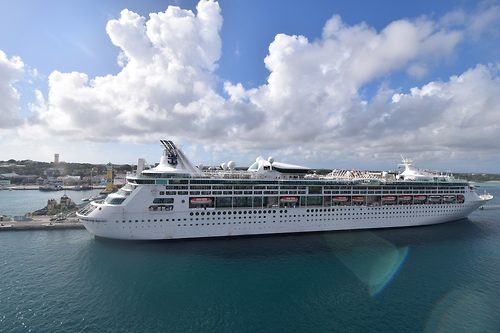 I grabbed a quick breakfast at Park Cafe to get my morning started. Their breakfast sandwiches are really good.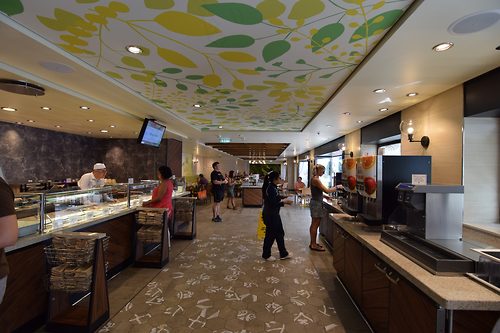 The first order of business this morning was a Q&A session with Royal Caribbean's CEO Michael Bayley and Symphony of the Seas' Captain.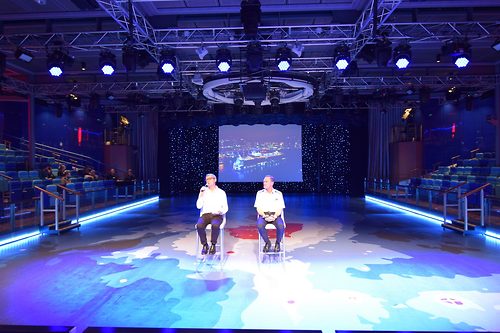 The Q&A session was for the members of the media onboard, and questions covered a lot of interesting topics.  Most of what was mentioned was not news, but there is always some interesting tidbits or insight into Royal Caribbean's thought process.
Next up was an overview and update on Royal Caribbean's new smart phone app development.  The head of the new app gave an in-depth presentation on how Royal Caribbean's app came to be, where it is now, and what the future holds.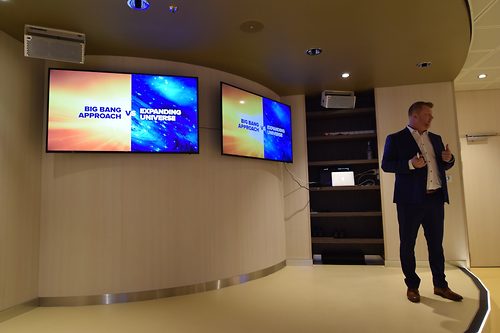 Of particular interest was the roadmap of features coming to the app.  Royal Caribbean prefers to itterate their development and roll out more releases over time, rather than doing  a lot of development and having periodic milestone releases.  
I will write up a new blog post with a peek into the future of the app shortly after this post.
Following the app session, it was time to grab lunch.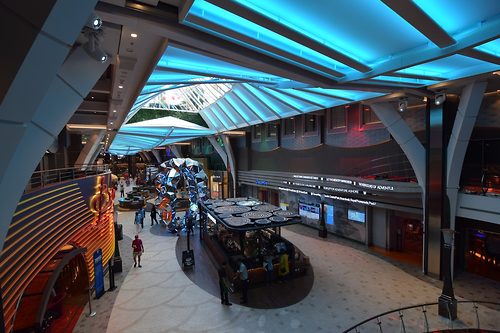 I headed over to the Boardwalk for lunch at Playmakers.  For the purposes of this preview sailing, they were only serving a combo meal of slider, wings and fries.  Everything tasted great, and I really think Playmakers is a compelling choice for an inexpensive, yet good quality meal.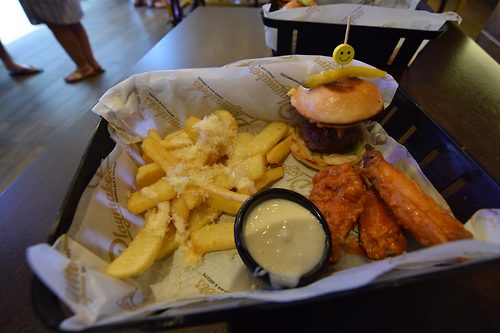 Meanwhile, the Bahamas was celebrating the arrival of Symphony of the Seas to Nassau for its inaugural visit. There was a large ceremony in the AquaTheater, complete with marching band.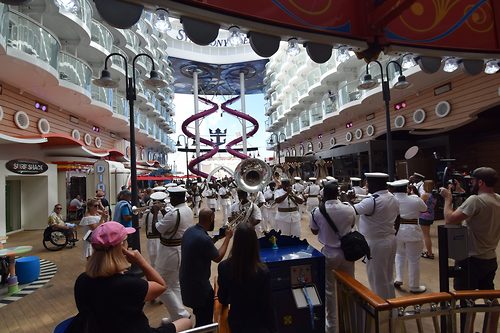 I wanted to see Symphony in port, so I actually disembarked the ship for a few minutes before getting back onboard.  She looked amazing with a picture perfect backdrop.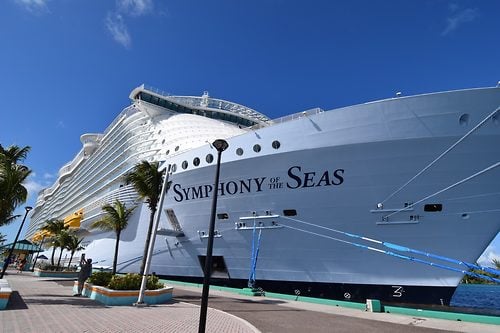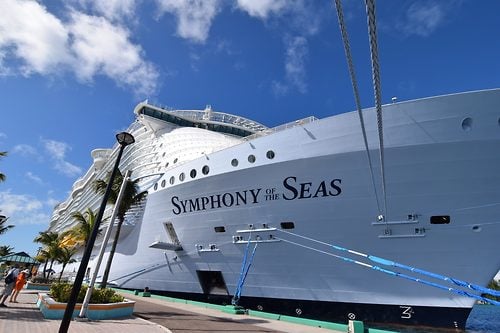 In the early afternoon, Symphony departed Nassau to start making her way back to Miami.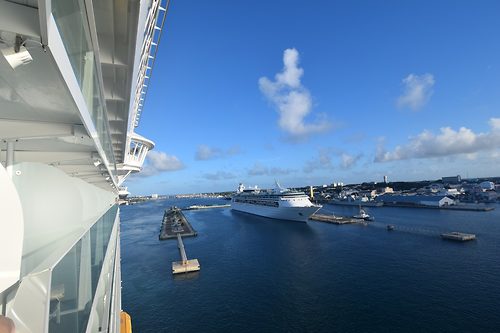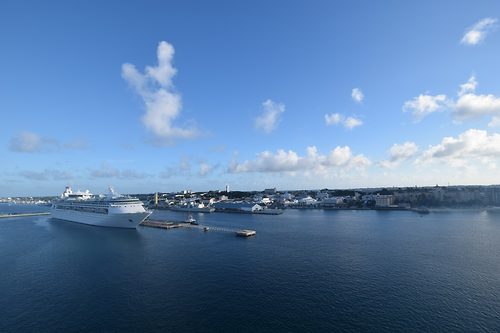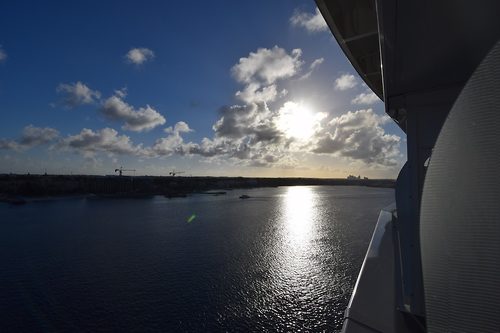 A real higlight was seeing Royal Caribbean's Vice President of Entertainment, Nick Weir, speak about the ship's entertainment.
Mr. Weir is as talented at creating awe-inspiring shows as he is providing audiences with a behind-the-scenes look at how all the show magic happens. He gave backstory and even demoed a few things from 1977 ice show, as well as talked about Flight, the AquaTheater and teased us about the future.
The best part of the show was a live demo of the drones that are used in the ice show.  These photos do not do the show justice.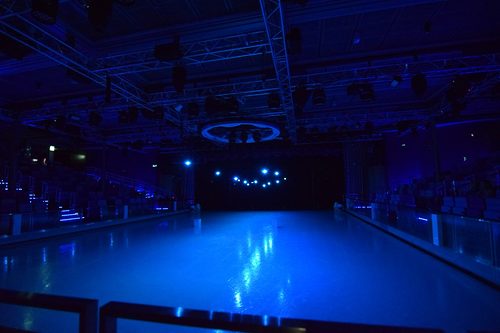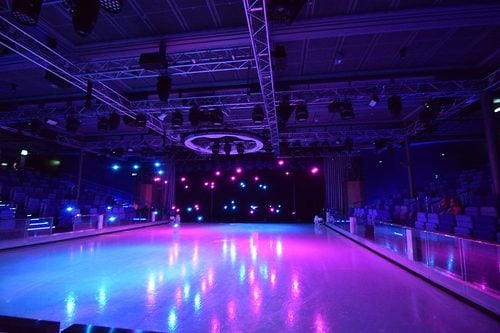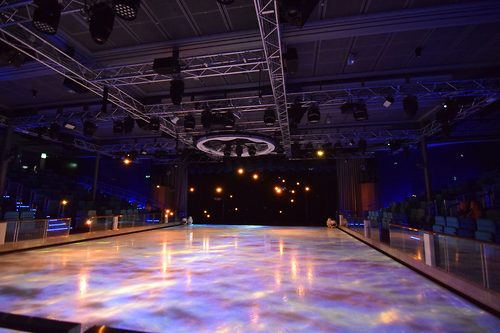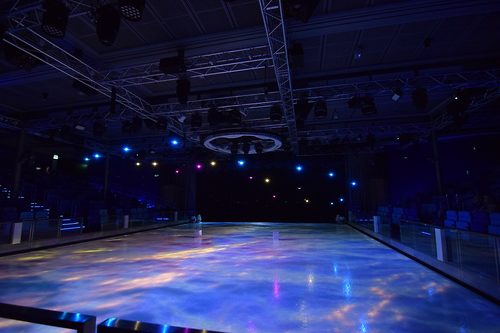 We headed back to the room to get ready for dinner to discover a wonderful tote bag gift waiting for us.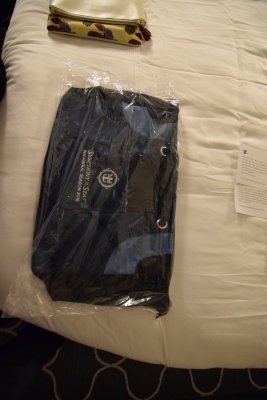 We headed up to the Wonderland Bar for happy hour drinks with our favorite bartender on Symphony, Sorin.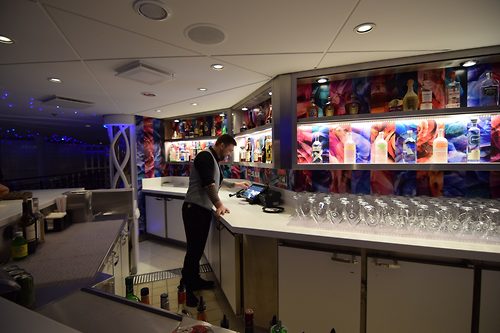 We rounded out our evening with dinner and the late-night comedy show.
It was a great combined six nights onboard Symphony of the Seas and while I got to see a lof of the ship, much of it remains yet to be experienced.  Luckily, my family and I are coming back on Saturday for a 7-night Western Caribbean cruise with my friends from RoyalCaribbeanBlog.com.
We will hit the pause button on this live blog, and pick things back up on Saturday.