In:
Today was our second port day in Falmouth, Jamaica. We had a long stay here today, 10am-7pm I would imagine since many of the excursions are at least an hour away. I didn't have any real plans today other than some shopping at the port and endless trips down the waterslide poolside.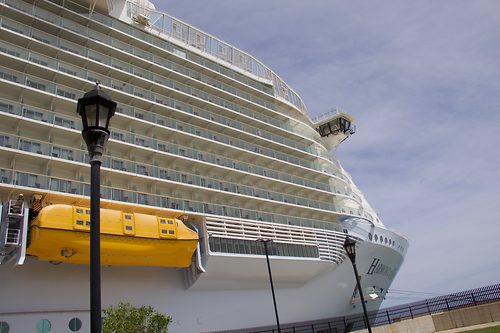 Not sure if anyone has noticed in my post, but I haven't had breakfast all week. With this ultimate dining package the dinners are so large, I just have to skip a meal. But I did head to the pool early morning and went down the slides ten times with zero lines. They didn't have the green slide open until 2pm, but the two racers are my favorites anyways.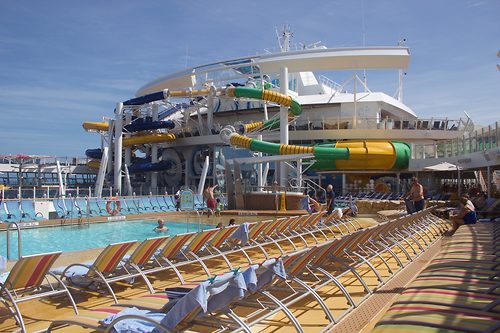 At noon my friend Ron and I decided to get off the ship just to look around. We went into a few shops, and quickly noticed they all sell the same items. I bought a little gift to take home and we headed over to Jimmy Buffett's Margaritaville's. If you happen to have one of their t-shirts you get a free drink if you wear it here. We only had one drink each here, the cheapest cocktail was $9 each and beers $5.
Once we made it back on board I headed to Park Café for lunch. I had a large salad with ham and the roast beef sandwich. As usually the food in here was very enjoyable. They did add a lot more seating to this Park Café, than her two sisters Oasis and Allure. For most of the afternoon, I just relaxed in the pool with some friends that also stayed on board. I will say, I did really enjoy the empty ship while everyone was in Jamaica.
Evening on board
Tonight I wanted to have cocktails somewhere we haven't been yet, I know that's hard to believe but they just have so many options. We ended up at the rising tide bar and rode that up and down four times. On Harmony they put soft chairs and tables VS her sister ships where they have bar stools and high tables.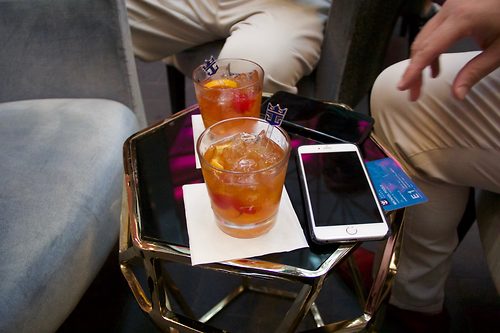 Dinner tonight was in Chops grill at 7:30pm, when we arrived they were so busy; but seated us right away. I've noticed every time I come here they are so busy, but tonight it didn't affect our service. We had an amazing server who was laughing with us to make the meal so enjoyable. I ordered the shrimp cocktail and they serve this in the old 150 Central Park cucumber martini glasses. We ordered some side dishes for the middle of the table to share, during the main course. All our steaks came out perfect to how we ordered them, and I'll come clean, I ate every bite!
After dinner we had reservations for the comedy show at 10:30 in the Attic. This venue holds 200+ people for the comedy show, so I was curious how it would go. Of course, I had to sit front row and get involved with the show. The show was fun and only last an hour. I do recommend making reservations for the show in the cruise planner, because the standby line was down the casino hallway.
I ended the evening with their new nightclub themed party – Club RED. This is the first time I've ever seen anything like this on Royal's ships. They held the party in Studio B on deck four. The had backdrops set up to take photos going into the party, almost reminded me of something you would see in Vegas. The party itself was for all ages as they started with fun music from 80's and progressed into more hip-hop as the evening went on. I had an absolute blast and managed to stay up late tonight, of course grabbing some pizza on my way to bed.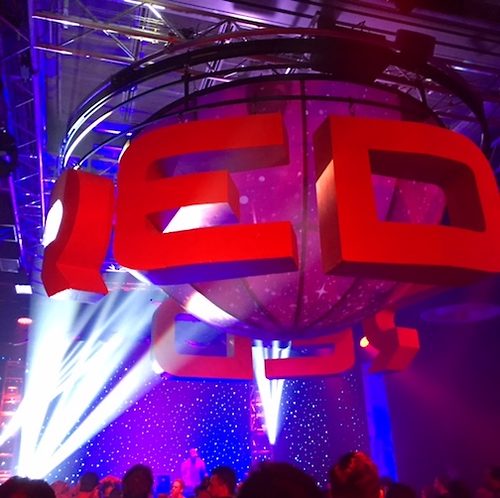 That completes my day four on board Harmony of the Seas; tomorrow we have a nice relaxing sea day as we head to Mexico.