Majesty of the Seas Live Blog - Day 2 - Nassau, Bahamas
In:
Morning on board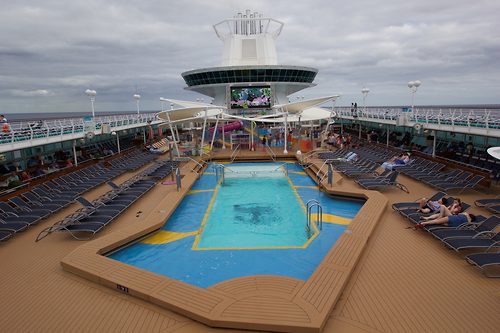 Today was our first stop in Nassau, Bahamas from noon-midnight. So this morning we had our "sea morning" as we made our slow approach into the Bahamas.
I started my day in the main dining room with breakfast. I am sad to report I forgot my camera in the cabin, so no food porn of my ham & cheese omelet. We sat in the Diamond section, which the only real perk does not have to wait for a table; you just simply walk in and seat yourself. Breakfast was fast and we were on our way to start enjoying our day. 
After breakfast, we attended the top-tier Crown and Anchor event, which started at 10:30am. The on board officers introduced themselves and what their role was on the ship.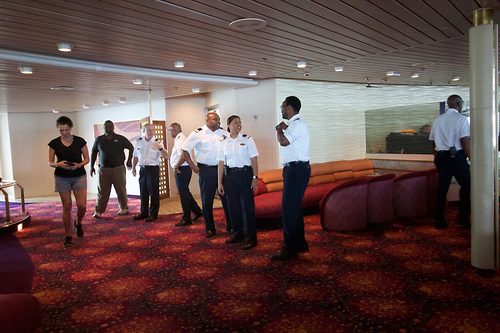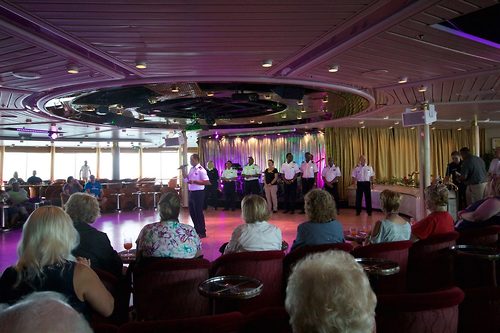 They also presented some guests receiving their loyalty cruise block. Once you reach 140 C&A points, you receive a crystal block and again every 70 points after. During the event they have free cocktails, champagne, and wine so that's reason enough to attend right? 
Nassau, Bahamas 
At 11:45am we made our approach to the pier in Nassau. I noticed while we were docking a tug boat was pushing us, so the high wind didn't take us off course.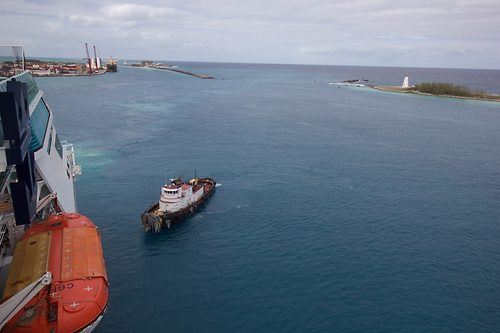 Around 12:30pm we made our way down to exit the ship for our day in Nassau.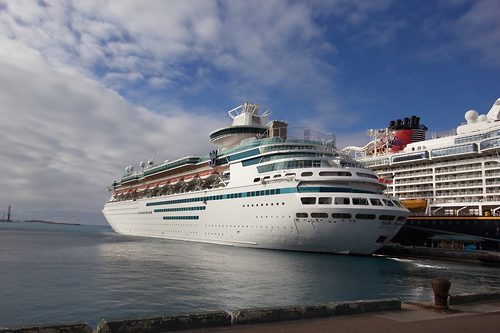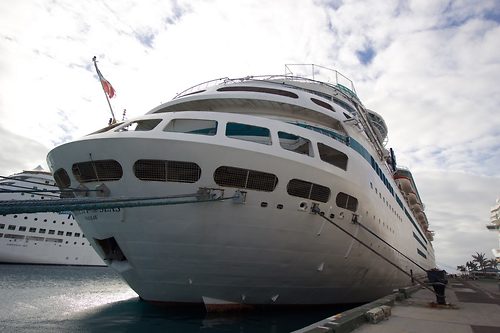 I was really looking for something new while we were here, since I've been coming here a lot recently. We walked past Senor Frogs, down to McDonald's to catch the local city bus. For $1.25 per person each way this public transportation will take you all over the island.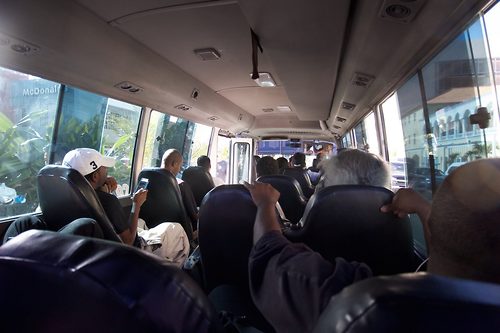 My friend Nick wanted to visit one of his favorite places called The Daiquiri Shack over on Cable Beach. The bus ride over took 8-10 minutes and was a unique experience to say the least. Once we arrived we quickly noticed the shack was closed down for a few days. We were so excited by the time we arrived it was a little let down. That being said, we were across the street from a beautiful resort Melia. We decided to walk over to the resort to check it out, since we already made our way out here. The resort was absolutely breathtaking when we walked in.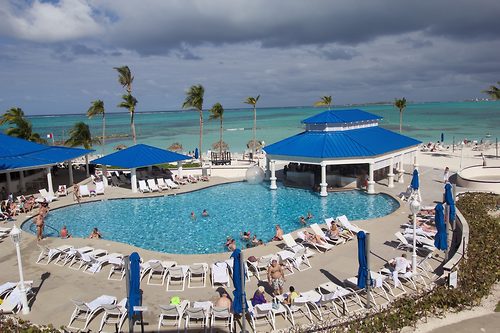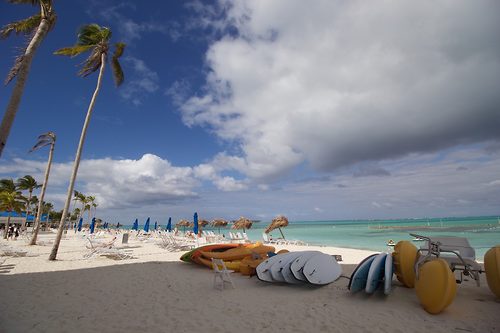 We inquired about their day passes and it seems it's $45, but doesn't include anything with it just access to the property and their free Wi-Fi (which works great). 
After we explored the resort we decided to head back to the port area and visit one of my favorites Pirate Republic Pub. If you have read my live blogs recently you know I've been coming here every visit in Nassau. It's the only craft brewery on the island and it's the first thing you see coming off the ship. We had a few beers before we got back on board, average price here for beers are $5-$8 each.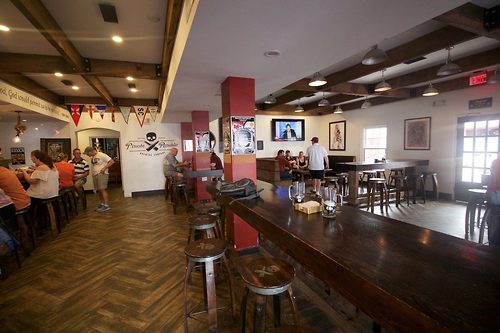 As we were walking back to the ship we decided to check out this restaurant we have been hearing a lot about. The place is called Café Matisse and I've often heard about it from crew members eating here. They were very inviting and let me come in to take pictures.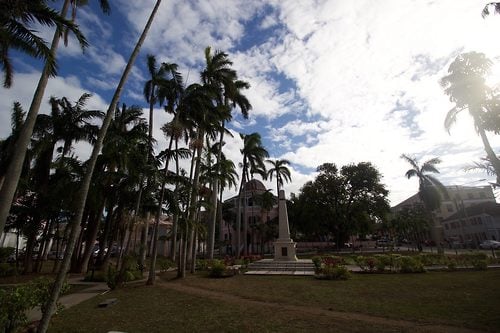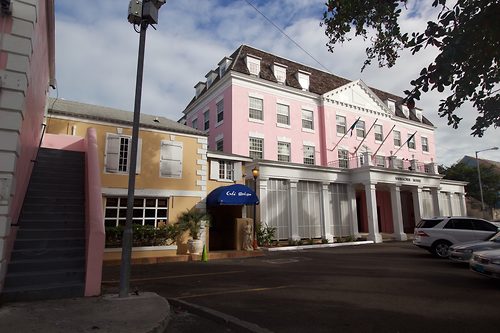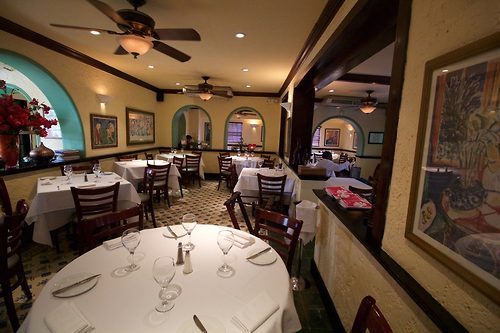 Evening on board 
Tonight around 5pm I watched the Empress of the Seas and Enchantment of the Seas dock in Nassau. I really love both of those ships and the excitement level was pretty high watching them dock during sunset.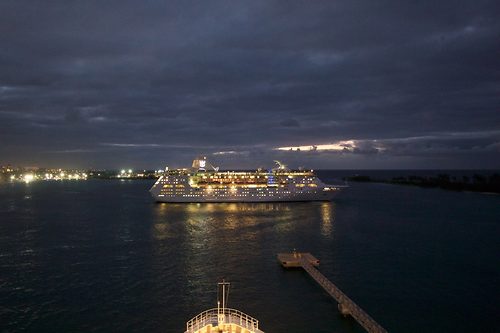 Dinner this evening is at the Captain's table at 8pm. I was lucky enough to get an invite due to my friend going, so a new experience for me.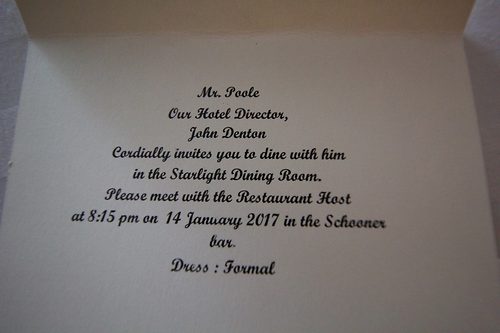 Our invitation for dinner said to meet at 8:15pm at the Schooner Bar. Once we arrived they had a section reserved for us, with card note that said VIP on the tables.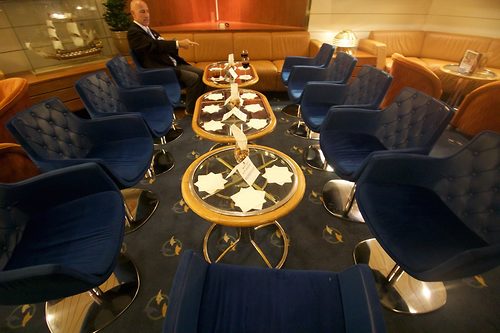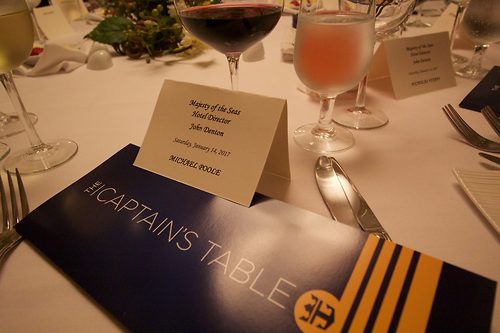 I have never been called a VIP before but I will pretend I am one! We had a round of drinks with the hotel director and then headed to our table at 8:30. During dinner I actually thought, "how am I going to explain this dinner in the blog post."
Of all my dinners at sea, I will remember this one forever. The level of service was outstanding. Even when they brought our food over it we always received it at the same time. I ordered the filet, think Chops Grille but better! I won't go on and on about the dinner, but I felt so lucky to experience that meal.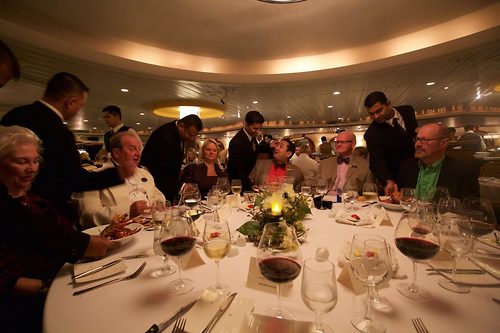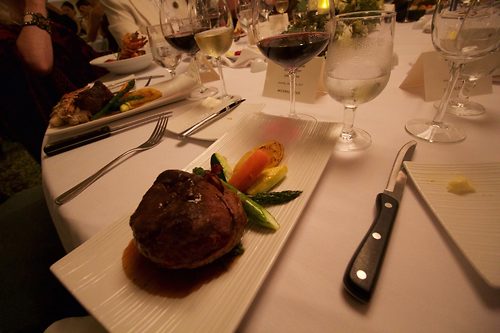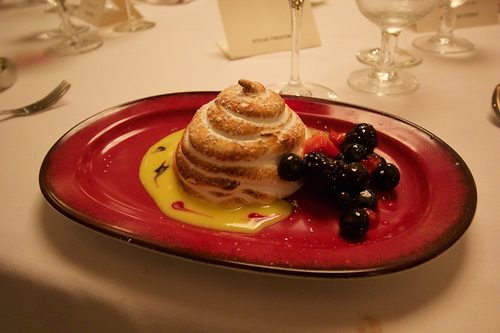 After dinner we went up to the pool deck party for our sail away out of Nassau. I can't remember a sail away party this packed before, but I had a blast. 
Well friends, that was my full day in Nassau, tomorrow we tender in Coco Cay.