In:
Hope you had a great week (maybe one week closer to your next Royal Caribbean cruise?) and you had a chance to keep up with what's new with Royal Caribbean this week. But if not, here's a roundup of this week's news.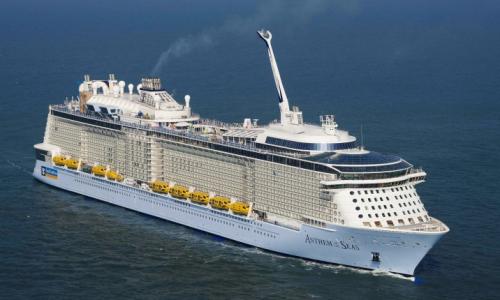 Earlier this week Royal Caribbean took delivery of its newest cruise ship, Anthem of the Seas at a ceremony in Bremerhaven, Germany.
Ship builder Meyer Werft handed over the second Quantum-class cruise ship to Royal Caribbean.  
Anthem of the Seas will have her inaugrual ceremony in Southampton, U.K., on April 20, 2015..
Anthem of the Seas will sail its inaugural season from Southampton before the ship repositions in November to Cape Liberty, New Jersey.
Royal Caribbean News
Royal Caribbean Blog Podcast
The eighty-eighth episode of the Royal Caribbean Blog Podcast is now available and this week we are previewing a listener's upcoming transatlantic cruise on Serenade of the Seas.
In this episode, Matt welcomes Beth to the podcast to discuss her 15-night cruise that will take her across the Atlantic ocean and then tour Northern Europe.  We will explore why Beth chose this particular cruise and her plans for onboard the ship.
Please feel free to subscribe via iTunes or RSS, and head over to rate and review the podcast on iTunes if you can! We'd appreciate it.
Join us aboard the largest cruise ship in the world!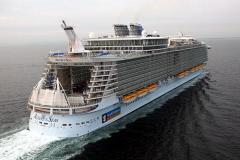 We're so excited to announce the next group cruise for readers and staff of RoyalCaribbeanBlog.com aboard Allure of the Seas!  This is an exclusive group where we are inviting you, our readers, to join us on a fantastic Allure of the Seas sailing on an 7-night cruise to the Western Caribbean.
This Royal Caribbean Blog group cruise is all about enjoying a fun Royal Caribbean cruise along with other fans who are big fans of Royal Caribbean.  Don't miss this opportunity to check out the amazing ship as well as be a part of exclusive events for those that book with our group!
For more details on booking the cruise, the itinerary and prices, check out the Royal Caribbean Blog group cruise page and if you have any questions, email me!
Royal Caribbean Around the Internet
Royal Caribbean posted a blog post all about Gigi the Giraffe on Anthem of the Seas.
The Orlando Sentinel notes cruise ships don't get older, they just get face lifts.
Campaign reports TBWA\London will be Royal Caribbean UK's agency for marketing in the UK.