In:
Royal Caribbean's Quantum of the Seas has a lot to offer, including a number of staterooms.  Today, we will look at the category L inside stateroom and take you through the cabin to give you an idea of what to expect if you book this category.
Inside staterooms on Quantum of the Seas feature what's known as a virtual balcony.  Virtual balconies are inside staterooms with an 80-inch LED screen that serve up ultra high definition views from floor to ceiling that make it look like you have a real balcony view but without the real balcony price.
On Quantum of the Seas, we reviewed stateroom 12231, which is located on Deck 12 just outside the aft elevator bank. Entry to the room is by RFID scanner, which is above the door handle.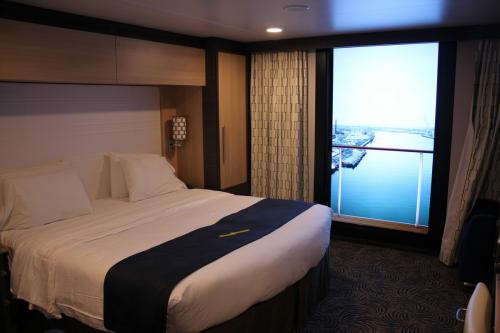 Walking into the stateroom, it's hard to miss the focal point of the room, which is the virtual balcony.  The virtual balcony serves up views from various vantage points around the ship, depending on where the ship is.  When in port, you will get a view of the port but at sea, the view will change usually to the aft.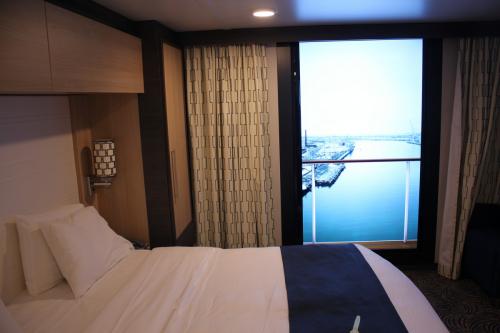 The bed is joined together but can be split apart if need be.  The virtual balcony can be turned on or off via a remote, although there are curtains provided if you would like to have the morning light come into your stateroom.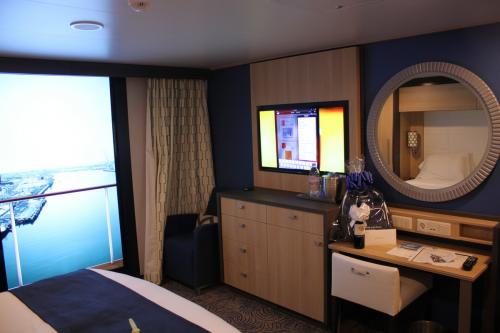 There is a large, flat screen television across from the bed, as well as a dresser below the television that has drawers for clothing and is also home to your mini-fridge.  Adjacent to the television and dresser is a desk with large mirror and power connectivity options.  You will also find along this wall one of the two large chairs.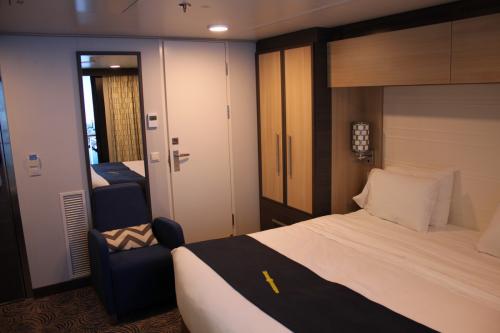 On the other side of the room, there is a full-length mirror as well as your second large chair.  On both sides of the bed are bureaus and more storage options.  The safe is also located in one of the large dressers.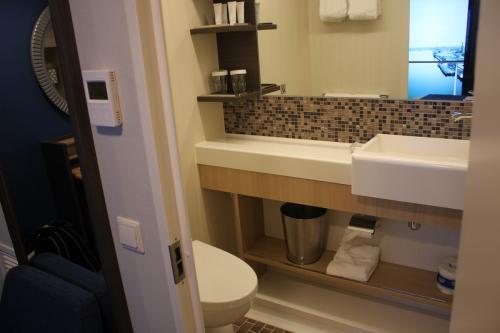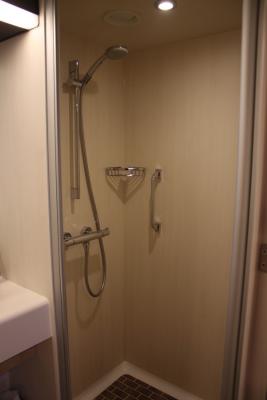 The bathroom features a stand up shower, sink and toilet.  Guests will find small bottles of shampoo, lotion, body wash and conditioner for use in the bathroom.  Your stateroom attendant will replenish your supply when necessary.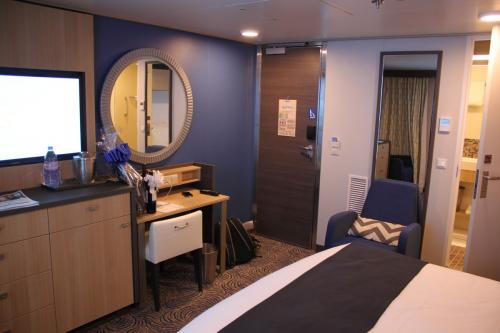 At 178 square feet, the category L inside stateroom offers the most room of the inside stateroom category.  It's quite comfortable for two passengers and perhaps a third passenger (preferably a child) could make the space work.  Anything more would be too tight a fit for comfort in our opinion.
For a solo cruiser or couple that wants to take advantage of the great inside stateroom pricing but wants a little more space, the Category L stateroom will be a perfect choice.