Royal Caribbean Post Round-Up: September 8, 2013
In:
This week was PACKED with Royal Caribbean news so if you missed any of it, here's a great chance to recap what happened around the Royal Caribbean World.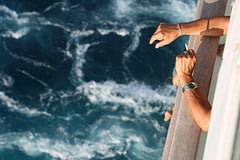 The biggest news of the week was Royal Caribbean's decision to ban smoking on its balconies, joining some other cruise lines who also institutde the prohibition recently. Needless to say, this has a lot of people either very happy or very upset.
The smoking ban begins on January 1, 2014 and applies to all forms of smoking, including e-cigarettes.  If you are caught smoking in your stateroom or balcony, Royal Caribbean will charge your onboard account a $250 cleaning fee.
Smoking isn't completely banned onboard Royal Caribbean ships.  In fact, Royal Caribbean promises many places onboard to light 'em if ya got 'em.
Royal Caribbean News
Royal Caribbean Blog Podcast
The fifth episode of the Royal Caribbean Blog Podcast is available, where we are talking about everything Freedom of the Seas.
Freedom of the Seas remains one of Royal Caribbean's most popular cruise ships we look at what's so great about Freedom of the Seas, our favorite things to onboard and we even share a few Freedom of the Seas secrets.  Mike Rahlmann joins the show this week to spread the good word about Freedom of the Seas.
Please feel free to subscribe via iTunes or RSS, and head over to rate and review the podcast on iTunes if you can! We'd appreciate it.
Royal Caribbean Around the Internet
Cruise Currents has a photo gallery of Liberty of the Seas' sailaway.
Dream Designs shared a blog post detailing their award ceremony that was held on Brilliance of the Seas earlier this summer.
Frommers has a list of their 10 favorite experiences in San Juan, Puerto Rico.