Royal Caribbean adding outdoor areas for smokers
In:
Earlier this week, Royal Caribbean implemented a ban on its guests smoking on balconies effective January 1, 2014.  While the move may feel restrictive for smokers, Royal Caribbean is increasing the number of outdoors areas where guests who wish to smoke may do so.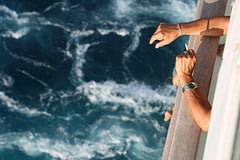 The outdoor smoking areas will be identified on the starboard side of all its cruise ships, except for Oasis-class cruise ships that will allow smoking on the port side.
Royal Caribbean executive vice president Lisa Lutoff-Perlo commented on the decision to ban smoking on balconies, "We realize smokers may be concerned that they will not be permitted to smoke on balconies. I want smokers to know that we are increasing the number of areas on the exterior of the ships to allow guests to smoke because we want you to feel comfortable and welcome."
In addition, Lutoff-Perlo indicated that non-smoking guests, "have continually told us that they don't get to enjoy [balconies] if smokers are in close proximity and smoking on their balconies."
Royal Caribbean intends to make all indoor public spaces smoke free with the following exceptions
Casino (there will be non-smoking sections of the casino as well)
Connoisseur Club on Freedom- and Voyager-class ships
One designated smoking venue on ships sailing from China homeports
Any of the indoor smoking areas are for cigarettes and e-cigarettes only.  Cigars and pipes will be allowed in designated outoor spaces or in the cigar club.