Royal Caribbean Post Round-Up: July 21, 2013
In:
It was hot this week outside and the Royal Caribbean news was heating up as well with a little bit of news about some new yet-to-be-built Royal Caribbean cruise ships emerging.
So crank up the air conditioning and enjoy this week's Royal Caribbean news roundup!
Royal Caribbean News
Join us for the first ever Royal Caribbean Blog Cruise!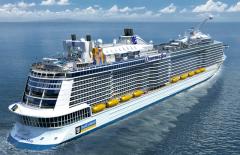 We're so excited to announce the first ever group cruise for readers and staff of RoyalCaribbeanBlog.com aboard Quantum of the Seas!  This is an exclusive group where we are inviting you, our readers, to join us on one of the first Quantum of the Seas sailings on an 8-night cruise to the Caribbean.
This Royal Caribbean Blog group cruise is all about enjoying this brand new ship with other fans who are big fans of Royal Caribbean.  Don't miss this opportunity to check out the brand new cruise ship as well as be a part of exclusive events for those that book with our group!
For more details on booking the cruise, the itinerary and prices, check out the Royal Caribbean Blog group cruise page and if you have any questions, email me!
Royal Caribbean Around the Internet
Travel Agent Central has a comment by a Royal Caribbean official released following a scathing article on using travel agents to book a cruise.
eTravel Blackboard has an article about why the 2014/2015 summer cruise season in Australia will be the biggest yet.
Florida Today has the results of a new study that says the cruise industry is boosting the local economy in South Florida.
Cruize Cast has a new podcast episode out looking at Carnival Cruise Line.