In:
Royal Caribbean is reiterating that it plans to continue to offer cruises out of the port of Baltimore one week after Grandeur of the Seas returned to service.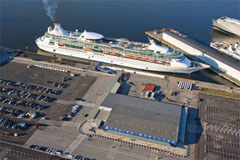 Lisa Lutoff-Perlo, Royal Caribbean's executive vice president of operations, commented on the company's commitment, "We're sticking with Baltimore.  We're back, and we're ready."
Royal Caribbean added a flag to Grandeur of the Seas that reads "Don't give up the ship", which is a famous quote from the War of 1812, and the line says it will keep the flag flying on Grandeur of the Seas as long as she's based out of the city.  Royal Caribbean says the flag means Grandeur of the Seas is back and that vacationers shouldn't "give up the ship as a vacation option."
Recently competitor cruise line, Carnival Cruise Line, announced it was pulling its cruise ships out of Baltimore in 2014, so Royal Caribbean's statement is good news for a city worried about the future of the cruise ship business in their port.