In:
Last week we looked how to book excursions through Royal Caribbean but today we're going to explore why and how to book an excursion through a third-party service.  For many cruisers, taking in a shore excursion with a company that isn't officially sponsored by Royal Caribbean can be daunting and even frightening but we're here to show you that does not have to be the case.
Why book an excursion through a third party?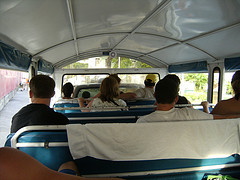 First and foremost, booking your excursions on your own can save you money.  Most of the time, the same excursions Royal Caribbean offers can be found through other parties for significantly less money.  Since everyone is always looking to make their vacation dollars go further, this is an obvious benefit.
In addition, booking excursions on your own can offer you more than what Royal Caribbean does.  Your imagination is your limitation here and you can go through a tour guide or create your own excursion through tools and resources in planning it all.  Moreover, guided tours that are booked through a third party can sometimes be less crowded than Royal Caribbean tours (although this is not a guarantee).
How do I find third-party excursions?
While booking excursions through Royal Caribbean is simple enough, booking excursions on your own will take a little more effort to get done.  The internet has blossomed into a wealth of information for finding good excursion options.  
The first place to start are web sites that list well known and used excursion options.  Our two favorites are Trip Advisor and Cruise Critic's message boards.  Trip Advisor allows you to go to each port of call you are visiting and see what attractions, businesses and tour operators are listed along with detailed reviews.  For finding good beaches or museums and other things to do, Trip Advisor has a lot of information supplied by users to help you decide what is worth doing.
Cruise Critic has a section of its message board dedicated to ports of call around the world where you can see threads and posts about things to do at each port as well as reviews of tour operators.  In some cases, the tour operators themselves post on the boards.  For more personalized help in figuring out what is good for you, Cruise Critic is the best choice.
Last, but not least, is Google.  Simply search for the port of call you are visiting along with keywords such as, "tours" or "excursions" can generate some good leads as to what is available.  It's a good thought to cross reference what you find in your Google searches with Trip Advisor and Cruise Critic to ensure the claims are as good as they say.
How do I book third-party excursions?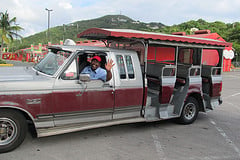 Usually third party excursions are booked in one of two manners.  The first is reserving your spot online through a reservation form.  The second is emailing or calling the person responsible for the excursion and reserving your spot.
Where Royal Caribbean requires payment of your excursion up front, quite often payment for your third party excursions is not due until you actually take the excursion.  Regardless of how you reserve the excursion, make sure any payment you make in advance is through a credit card so you can fight it if the excursion operator does not show up.  The excursion operator will let you know about payment options but most excursions we book on our own require payment when you arrive and it's usually in cash.
Can I cancel my excursions?
Take a look at any fine print about the excursions you book, but most excursions will automatically cancel your reservation if your cruise ship cannot dock at the port.  Otherwise, it's up to the operator as to what the excursion policy is.  
Many of the best third party tours are family run businesses that aren't sophisticated enough operations to have formal cancelation policies.  So while you could simply not show up as a way of canceling, a courteous email or phone call is the right thing to do to let them know your plans have changed.
Concerns of using third-party excursions
By far the biggest downside to booking an excursion on your own is the cruise ship will leave if you are running late and do not make it back to the ship in time.  That being said, these tour operators know this fact very well and word of mouth and other online reviews are the lifeblood of their businesses.  So it's in their interest to get you back to the ship on time so that you will not be disappointed and not post a negative review on every site you can get your hands on.
The cruise line may also cite safety concerns but in our experience, the safety of excursions is no worse or better by booking with or without Royal Caribbean.  Do your research and make sure there are enough positive reviews to feel confident you are going with a reputable operation.