In:
Royal Caribbean announced it will partner with FUNA International to provide stereoscopic 3D digital cinema to Royal Caribbean's brand new Allure of the Seas.  Thanks to Royal Caribbean's partnership with Dreamworks Animation, the deal with FUNA will make it possible for guests on Allure of the Seas to enjoy all the current 3D DreamWorks titles as well as other 3D movies, in the ship's Amber Theater.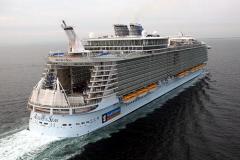 Christopher Vlassopulos, Entertainment Technology and Technical Direction for Royal Caribbean International had this to say about the new deal, "We called upon FUNA and their team to come up with creative technical design solutions in a number of areas including physical placement, additional cooling and power and integration with the existing audio system, and the result is a 3D movie experience as good as or better than any land-based theater.  On testing the finished product, people at the highest level at Barco [projection supplier], DreamWorks and Dolby [sound system supplier] were 'blown away' with the result. We wanted to do a good job but to impress them out of the gate was a real bonus and obviously something the guest will really enjoy. It looks and sounds great."
In addition to Allure of the Seas, other Royal Caribbean ships are set to receieve the 3D theater upgrade. Vlassopulos confirmed that Oasis of the Seas, Freedom of the Seas and Liberty of the Seas will reveive the 3D upgrade.
In addition to the new theater, FUNA has provided technical design, engineering, integration and consulting for entertainment, display and communications in most of the theaters, restaurants, clubs, and public spaces - as well as the crew recreation and support areas.