In:
Last month Nassau, Bahamas completed extensive dredging and refurbishment of Nassau Harbor and businesses in downtown Nassau are reporting healthy business as a result.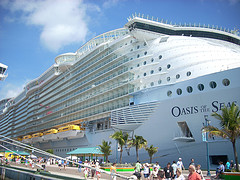 Ships like Royal Caribbean's Oasis of the Seas, which docks in Nassau every other Sunday, is responsible for increasing revenues in the city.
"The Bahamas was amongst many countries which were seeking to have these ships call on their ports," said Carla Stuart, director of Cruise Development in the Ministry of Tourism & Aviation. "By the end of December, the Oasis would have made 34 visits and brought at least 183,600 passengers for the year 2010. Head tax to be derived is estimated at $2.7 million while spend from the passengers of this vessel is estimated at $12 million. The ship will continue to call every other week."
Thelma Miller of Vintage Island Handicraft, a Festival Place souvenir store, pointed out that the Oasis' calls have been good for business on Sundays, which would otherwise be slow. Meanwhile, Senor Frog's has also been happy with the business that the Oasis brings.
"It does make a difference when the Oasis comes in," said Chester Williamson, manager of Senor Frog's. "I think the second week it came in with 3,000 people on board."
Things will get better for Nassau after December when Oasis of the Seas' sister ship Allure of the Seas joins the Royal Caribbean fleet and will also make regular stops in Nassau.  this will allow for a stop each week by one of the mega-vessels.