In:
It is official-- Royal Caribbean now holds the world record for the most passengers and crew onboard a transatlantic cruise ship crossing.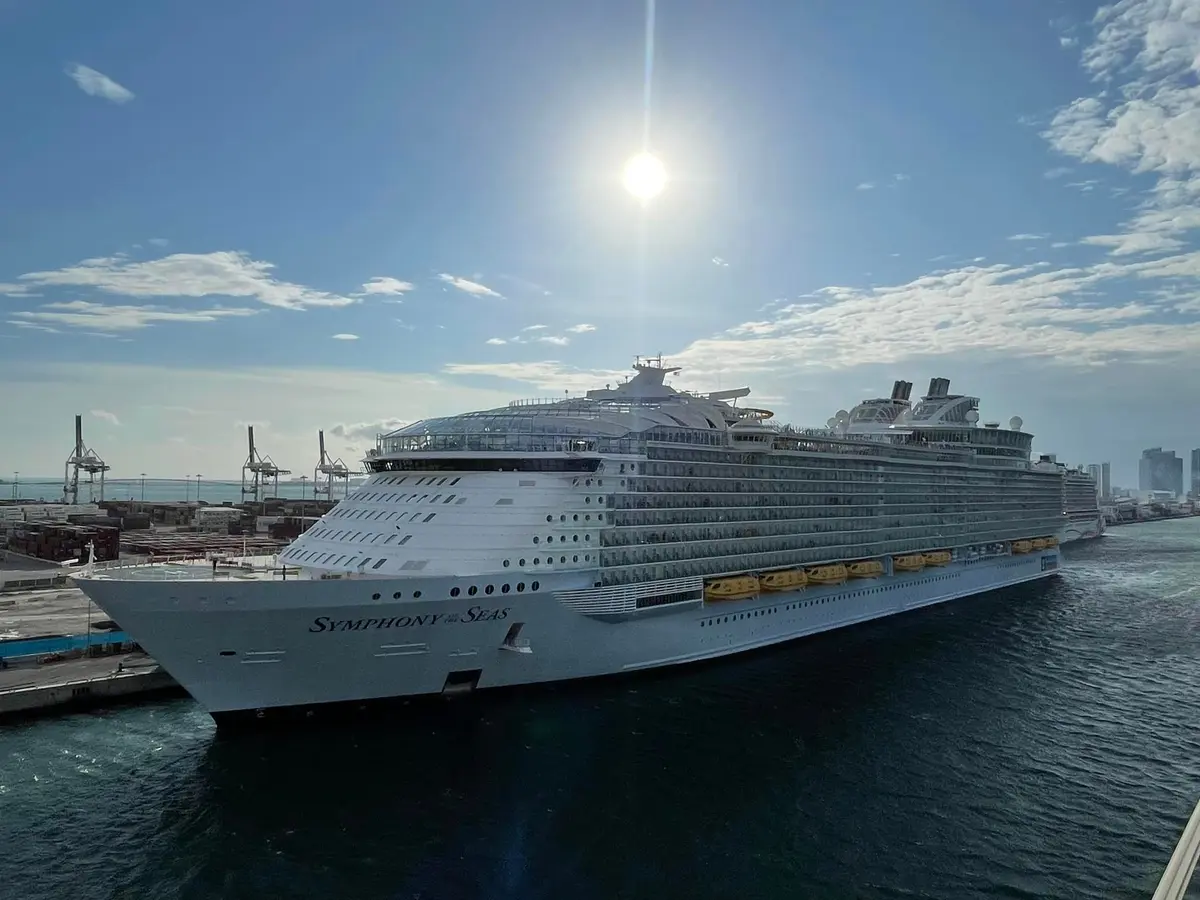 A total of 7,604 people were onboard Symphony of the Seas, including 5,350 guests and 2,224 crew members, as she made her way from Miami, Florida to Barcelona, Spain to begin her seasonal Mediterranean cruises. The cruise lasted a total of 12-nights, departing on March 9 and arriving in Barcelona on March 21.
Before beginning her summer cruises, Symphony of the Seas will undergo basic maintenance at the Navantia shipyard in Cádiz, Spain. The next scheduled cruise will depart on April 16, 2023 from Barcelona and visit Palma De Mallorca, Spain; Provence (Marseille), France; Florence/Pisa (La Spezia), Italy; Rome (Civitavecchia), Italy; and Naples / Capri, Italy before returning to Barcelona.
Symphony of the Seas will wrap up her European season on October 29 when she departs Barcelona on a 14-night transatlantic voyage back to Fort Lauderdale, Florida. En route, she will dock at Valencia, Spain; Seville (Cádiz), Spain; and Nassau, Bahamas.
That is not the only piece of headline worthy news from Royal Caribbean, either!
Keep reading to learn more about the first engine that was started on Icon of the Seas', a new Royal Caribbean Group board member, as well as a credit card policy changes.
First engine started on the highly anticipated Icon of the Seas
Even though Icon of the Seas is still months away from entering service as the cruise line's first Icon Class ship, getting excited over milestones is one way to make the time pass quicker. On March 15, the Meyer Turku shipyard confirmed that the first multi-fuel engine was turned on for the first time!
Per a social media post that was published directly by the shipyard, "Chef engineer Tuomas Auvien says: 'Icon of the Seas has six Wärtsilä main engines. The first of them (number 2) was started today, Wednesday 3/15 at 11:00 a.m."
"Both diesel and natural gas can be used as fuel in the main engines, Wednesday's start was made with diesel. The first main engine start on a ship largely tells a lot about the ship's readiness. It is a sign that the various departments throughout the yard have achieved something significant. To achieve this milestone, all professional groups are needed, and for that, big thanks to everyone!"
When she makes her grand debut, Icon of the Seas will be the largest cruise ship in the world, surpassing Wonder of the Seas, measuring 250,800 gross tons with the ability to carry nearly 10,000 passengers and crew combined. She will also be the first ship in the fleet to run on LNG-power.
This type of fuel is one of the cleanest-burning marine fuels. When engines are built to use LNG fuel, this helps to reduce a cruise ship's carbon emissions by approximately 30%.
The maiden voyage is currently scheduled for January 27, 2024 out of Miami, Florida. 
This news comes roughly one month after Royal Caribbean began construction on the second unnamed Icon Class cruise ship at the same shipyard.
Rebecca Yeung joins Royal Caribbean Group's Board of Directors effective March 15
Yeung has about 30 years of global experience in strategy and operations technology, and she is currently the corporate vice president, operations science and advanced technology at FedEx Corporation.
She has been at FedEx Corporation since 1998 and has served in different roles, including marketing, innovation, and technology. Her previous role at the company was the vice president, advanced technology & innovation.
Her current role makes Yeung responsible for advancing FedEx's innovation and transformation strategy, including scaling robotics and automation technology, autonomous vehicles, decision science, and electromobility.
She brings experience and expertise of working on a board of directors, too, as she also serves on the Board of Directors of Columbus McKinnon.
Richard D. Fain, Chairman of the Board, Royal Caribbean Group, said, "Ms. Yeung brings a valuable combination of skills to our board, as she is well-versed in technology, digitization and business strategy."
Additionally, Jason Liberty, president and CEO, Royal Caribbean Group, said, "We're excited to welcome Rebecca Yeung to the Board of Directors as we continue to deliver the world's best vacations, responsibly."
"We believe her experience in technology, automation and innovation will be a valuable addition to the board as we usher in the next phases of our growth."
Royal Caribbean changes credit card policy
An email sent out on March 20 indicates that Royal Caribbean and Celebrity Cruises' payment processes will soon be heightened with additional security checks to authenticate credit card submissions.  
 
Effective April 1, 2023, CVV (Credit Verification Value) authentication will be required for all payments related to cruise fare, air travel, and pre-cruise purchases to help assist in fraud prevention mitigate overall risk. 
The payment process will remain unchanged, other than the new requirement to enter CVV at time of payment. Note that personal PIN numbers and CVV are different, as the latter is a unique code that verifies the physical presence of the form of payment at the time of transaction. 
On Visa, MasterCard, and Discover branded cards, the CVV is a 3 digit number located on the back of the card. On American Express cards, the CVV is a 4 digit number that can be found on the front of the card.