In:
Fear not, Royal Caribbean's new safety drill isn't going anywhere.
When cruises restarted in 2021, Royal Caribbean lead the way with a new approach to the safety drill that gave guests more time and flexibility to getting the maritime safety requirement taken care of during the course of the first day of their cruise.
The change was widely heralded by passengers who loved the change because of how much easier the process became.
In the last few months, two major cruise lines announced they were reverting back from eMuster to the traditional muster drill that required passengers to stop their vacation and attend a safety drill meeting.
Norwegian Cruise Line announced their change last week that they, "have made the decision to reinstate synchronized muster drills on embarkation day across all vessels in the fleet."
Disney Cruise Line made a similar decision in November 2022.
"We don't really look backwards"
Greg Purdy is Royal Caribbean International's Senior Vice President of Marine Operations, and he unequivocally stated the cruise line has no interest in going back to an in-person muster drill.
"We have no intention of moving back," Mr. Purdy said when asked about other lines changing and if Royal Caribbean would do the same. "We are always looking for opportunities to improve. So if we see a way to improve our drill, we certainly will will pursue that."
"We're always open to change, but we're not so open to going backwards. So we will always look for moving forward and doing things if they're better to do for our guests and our crew."
The decision to stay with eMuster has a lot to do with the results it has produced.
He mentioned that Royal Caribbean has "extremely high percentage rates for guest participation", which is in part due to training of the crew members to facilitate it, as well as plenty of reminder announcements."
Mr. Purdy went on to say participation rates are higher with eMuster than the old way, "we're fairly aggressive about ensuring that you complete the safety drill prior to sailing. So we see rates typically upwards of over 97% on our ships for participation."
"That's actually better than the old traditional drill."
Technology has played a pivotal role in ensuring guest participation is higher because stateroom attendants have access to data if their guests have completed the muster drill yet.
"We're much more proactive and ensuring that you get to the drill or that if you have any questions that those are addressed."
Most importantly, guests get the important information while making the process easier overall, "This has been a real win for the guest and a win for those of our crew that are charged with with safety responsibilities in an emergency."
Mr. Purdy sees the eMuster as a good balance of explaining important information while giving guests a better overall experience, "we wanted to see how do we avoid crowds and how do we give people a more pleasant experience, but most importantly, an experience where the knowledge is transferred in a in a better way."
To that point, he thinks eMuster is a "big step" forward for the cruise line, "we think that it really was a a huge step for us as a quality vacation in the world."
Improving on problems from the old drill
Mr. Purdy pointed out that the old way of the muster drill had its own deficiencies to contend with, "one of the things we saw with that in those early days was that people were dragging those life jackets around the ship."
And since everyone had to stop what they were doing and go up or down stairs to their muster stations with the old drill, it lead to accidents, "not only were they damaging the life jackets, but they were also tripping them a lot of trips and slips."
Of course, Royal Caribbean switched to having the life jackets staged at the muster station and stored in cabins. But there were more issues.
"We started looking even more...you still have these crowds that are just kind of following flows and going to a muster station, but still having slips and trips, not having a comfortable or easy experience."
Royal Caribbean then added safety videos to stateroom televisions, but the advent of apps on everyone's phones lead to the idea of a digital approach to safety drills.
"As people got more used to using their phones, that's when the idea came up saying, couldn't we have an even better transfer of knowledge if we start to leverage the tools we have, which are the apps and the videos."
"And let's think it through, how could we make this safer and also eliminate this kind of period of time that everybody's in this moving down in the masses without really understanding kind of what they're doing or where they're going?"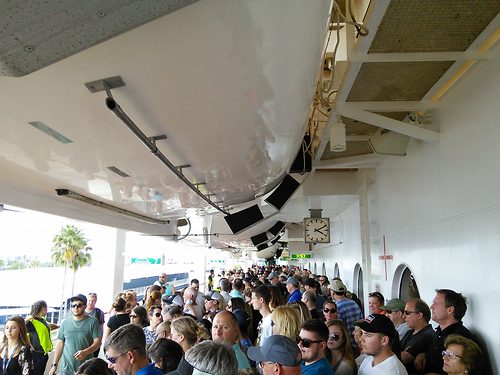 The other major improvement of eMuster over the old drill was comfort for guests. 
In the old way, people were lined up (often outdoors), which was problematic for elderly guests and young children.
"This is a situation that is counter to a good experience where we're ultimately transferring quality safety knowledge to the guests."
With eMuster, guests get the safety information in a better way, "they're able to have a more personal experience with the crew to ask them questions about the muster, to receive further instruction about donning the life jacket or or what should they bring."
Mr. Purdy went on to say surveys show that passengers are getting more of the important info with eMuster, "for us, this is really an improvement in the transfer of knowledge."
"We actually did surveys to test that, is their retention of knowledge better, and in fact, it was."
How does eMuster work?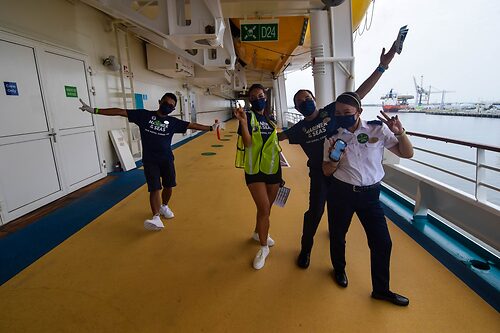 If you haven't experienced Royal Caribbean's new muster drill process, it's quite easy.
Within the Royal Caribbean app, you navigate to the safety area and watch a short, animated safety video demonstrating how to properly put on a lifejacket.
Then you play a sound clip of the emergency horn sound, so that you know what to expect.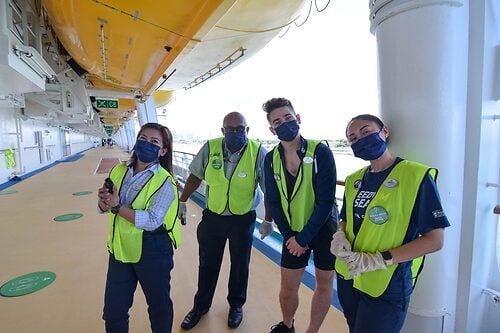 Finally, you locate your muster station and report there to check-in with a crew member.
Once you arrive at the assembly station, a crew member will give you a very brief safety demonstration. After this is done, they will scan your SeaPass, indicating that you have completed the eMuster drill.
If you don't have a smart device or prefer not to do things digitally, you can go right to your muster station and a crew member will lead you through the process.
Read more: What to expect with Royal Caribbean's new virtual safety drill
Working with the Coast Guard
Not only is eMuster a win with guests, but it's been a process approved by local authorities as well.
Mr. Purdy talked about how the U.S. Coast Guard and DNV maritime classification society to ensure everything is satisfactory, "we've had very good Coast Guard exams...the process seems to be very sound and working very well to maintain our crew knowledge and to keep our guests safe."
Originally developed to help with norovirus
While eMuster was first rolled out after cruise ships resumed service in 2021, the concept had its origins prior to 2020.
When Royal Caribbean began working on a new approach to muster drills, they envisioned a benefit for norovirus incidents, "I remember being in a meeting saying this may help us with Noro at the time, because we thought, wow, people won't be people be able to transmit anything to each other because we have a little more space now through on the first day of that vacation when people are traveling in and coming from all these different places."
When the global health emergency hit, then the benefits of a distributed muster drill process increased dramatically, "We had thought that people on ships in general, in all of our ship design and flows, we try and avoid crowds having to be bottlenecked or to just have have any discomfort."
What's next for eMuster?
I asked Mr. Purdy what improvements or enhancements we can expect from the eMuster process.
"I think a lot of the eMuster improvements that we see near term are more in the kind of the technology able to do it without the unit being on WiFi [in case of power or internet problems]."
"I think we're always also looking at how do we improve the training of our crew to be prepared to answer whatever kind of are the trending questions that are coming up from our guests."
Whether eMuster or the old drill, Mr. Purdy pointed out Royal Caribbean was always looking at ways to enhance and improve the process, "it's not like we implement it and then forget about it. We really do look at how do we continually improve it."