In:
Adventure of the Seas has made its debut in the Spanish port of Malaga and the city couldn't be happier.  After a series of short cruises out of Barcelona earlier this spring, Adventure of the Seas has moved to Malaga, along with its 3000 passengers, becoming the largest cruise ship in the Mediterranean.  Officials expect about 72,000 passengers to pass through this summer.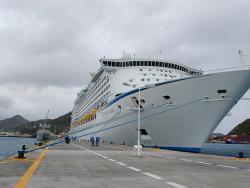 To commemorate the special occasion, a special ceremony was held in port that was attended by representatives of Royal Caribbean in Spain. Emmanuel Joly, the Director of Marketing and Sales of Royal Caribbean in Spain, highlighted the "commitment" of the company with Spain and the south and said "Proof of this is that we are the only shipping company that has a ship in Malaga the size of the Adventure of the Seas to sail and landed more than 3,000 passengers on each output having an important direct benefit to the region. "
Joly also highlighted the fact that the city of Malaga is a city "high prepared for tourism and interesting options that make it an interesting attraction for passengers from the cruise line" and that thanks to "Puerto de Atocha", the agreement signed between Royal Caribbean and Renfe, "is even closer to the center of Spain."
The Adventure of the Seas will be offering seven-night cruises from Malaga during the summer, with stops in Sardinia, Rome, Corsica and Palma De Mallorca.