In:
Royal Caribbean's Adventure of the Seas packs a lot of family fun, activities and things to do onboard.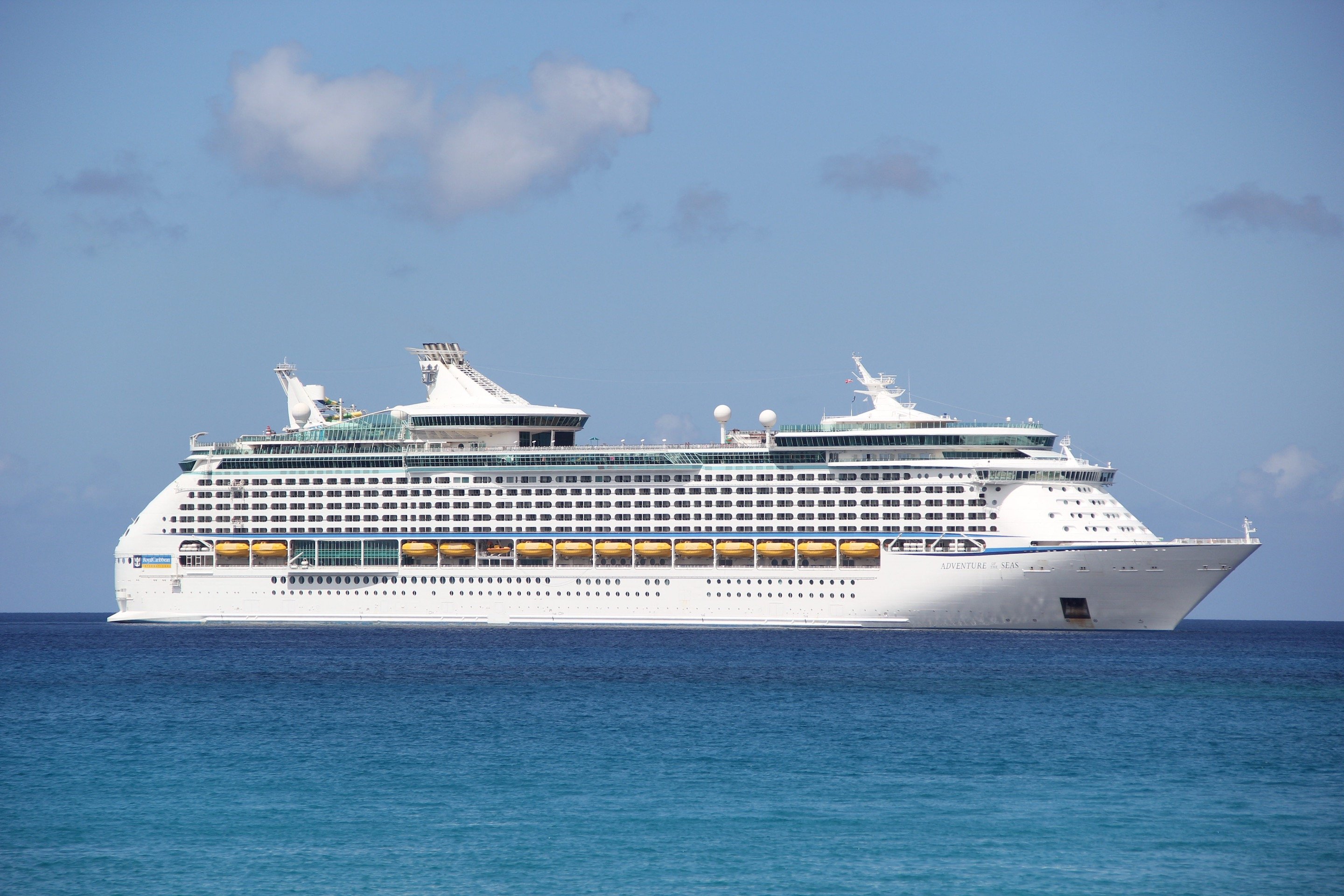 If you want to know the best ways to maximize your time and money, here are some of my top tips for anyone going on Adventure of the Seas.
These tips should ensure you have a great time onboard.
Adventure of the Seas got a refurbishment in 2018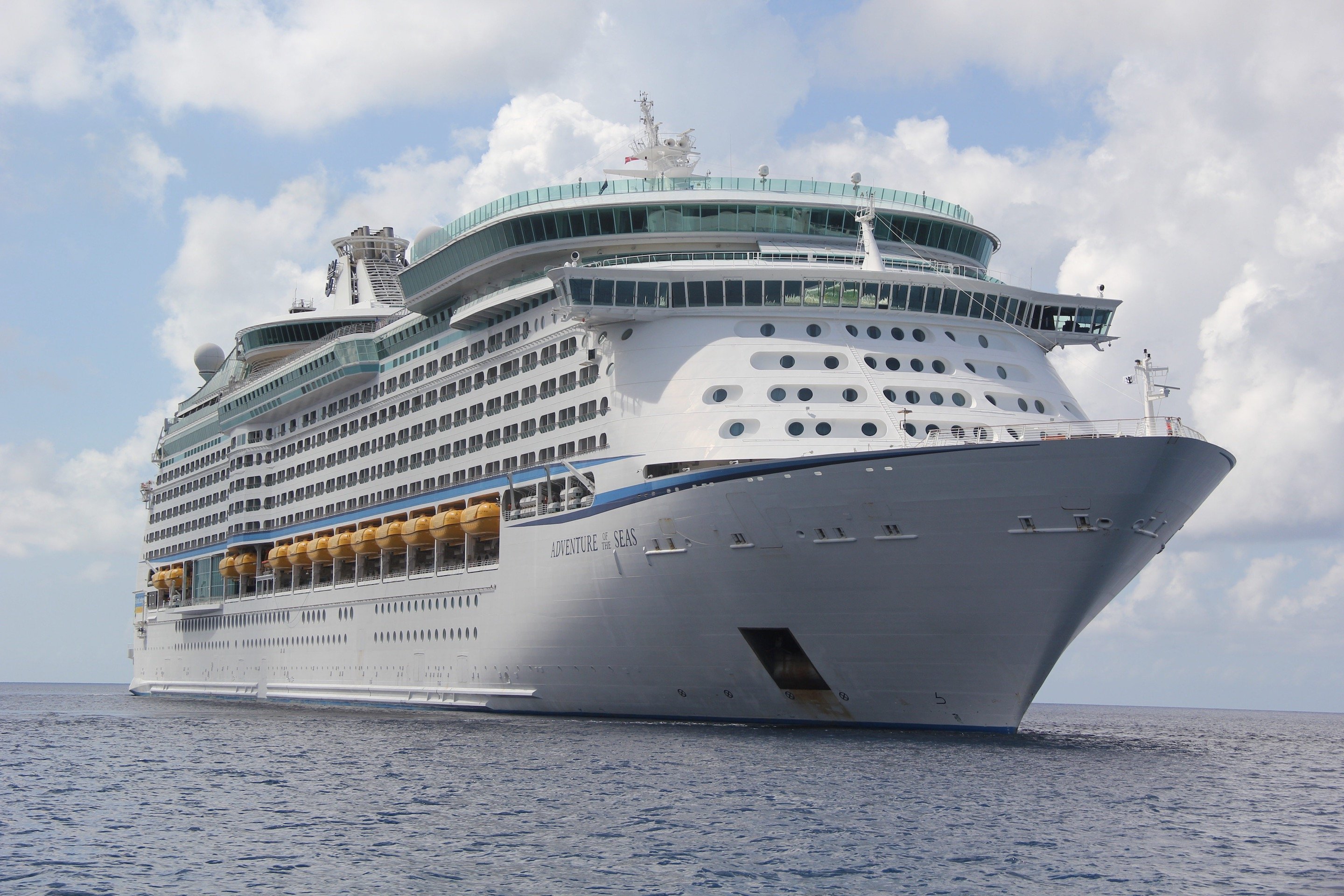 In 2018, Royal Caribbean sent Adventure of the Seas for an extensive refurbishment that added a variety of new amenities onboard the ship.
The work was split between two dry docks: one in 2016 and the other in 2018, but the ship now offers water slides, new dining venues, new staterooms and a Suite Lounge.
Only ship with Izumi on Royal Promenade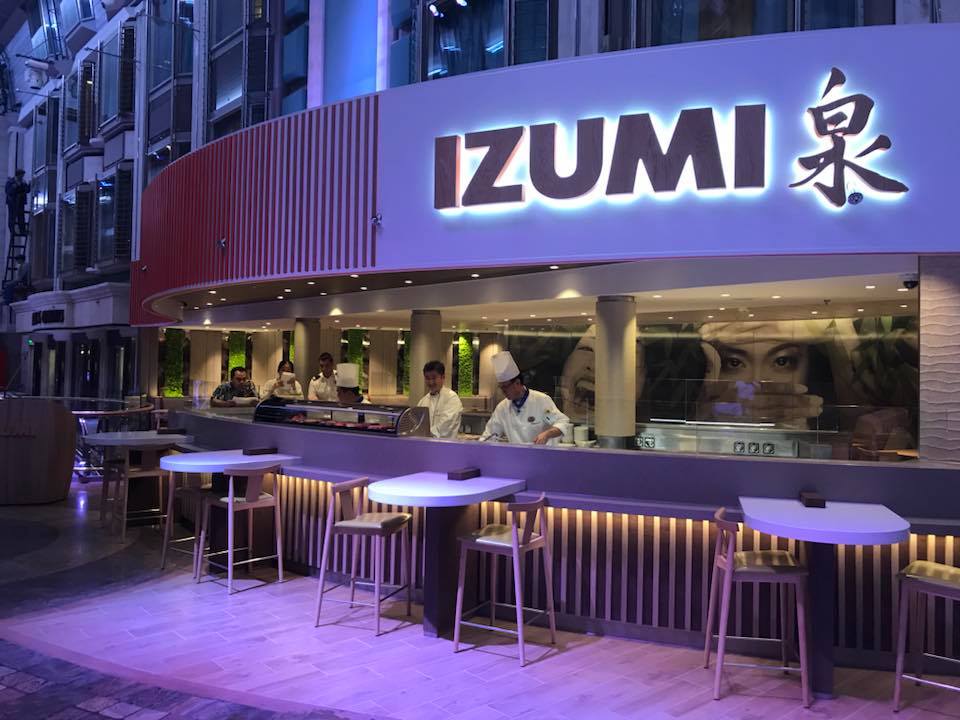 So far, Adventure of the Seas is the only Royal Caribbean ship with an Izumi location on the Royal Promenade.
Izumi has been one of the fastest spreading specialty restaurants across Royal Caribbean, but on other Voyager Class ships, it has been added to either the top of the ship or near the Schooner Bar on Deck 4.
Only on Adventure can you enjoy sushi with a view of the comings and goings of the Royal Promenade.
How to avoid waits for the water slides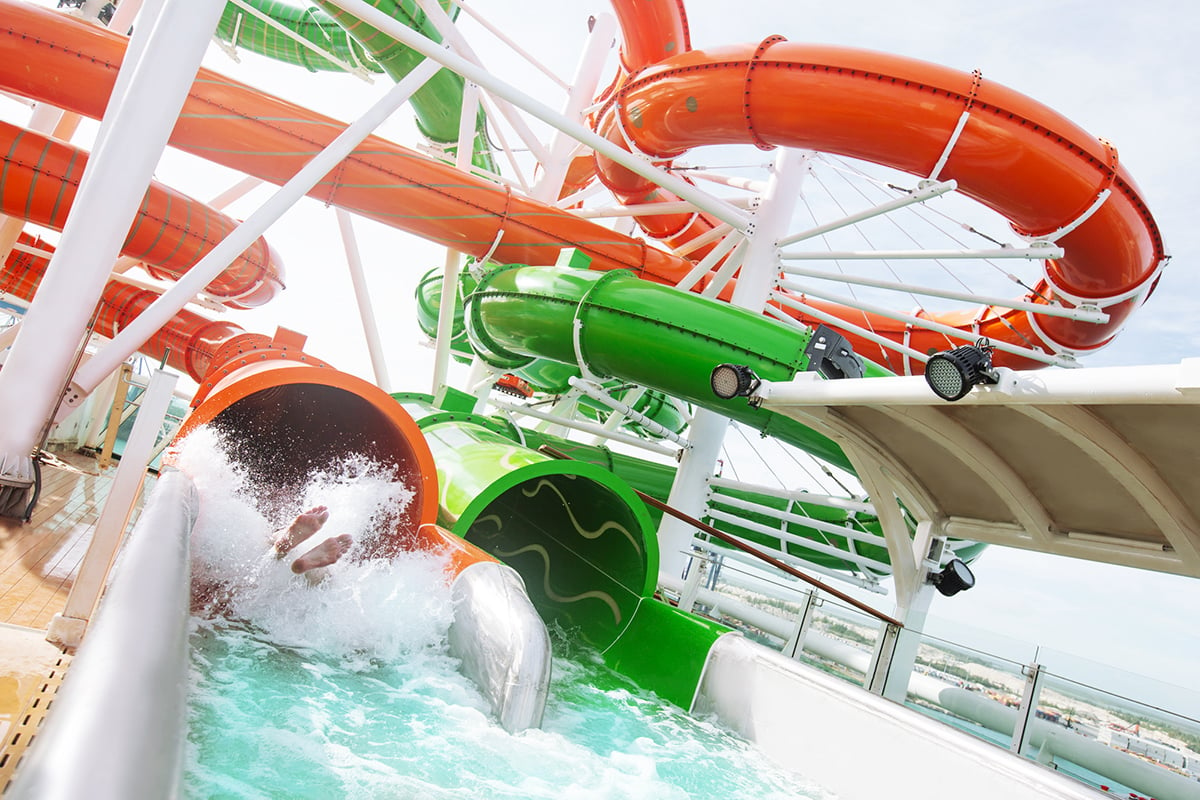 Perhaps no activity is as popular as the Perfect Storm water slides on Adventure of the Seas, but there are some easy ways to avoid a long wait.
Bring your bathing suit on embarkation day and change once you are on the ship to take advantage of the short lines for the slides. Most people are not even thinking about going on the water slide on the first day, so this is the best time to try it out.
Another good strategy is to ride the slides when they open up in the morning.  That first hour is usually not bad with lines.
You can also try the water slides while the ship is in port.  Many other guests are off the ship on tours, leaving less competition for the slides.
Try booking one of the new staterooms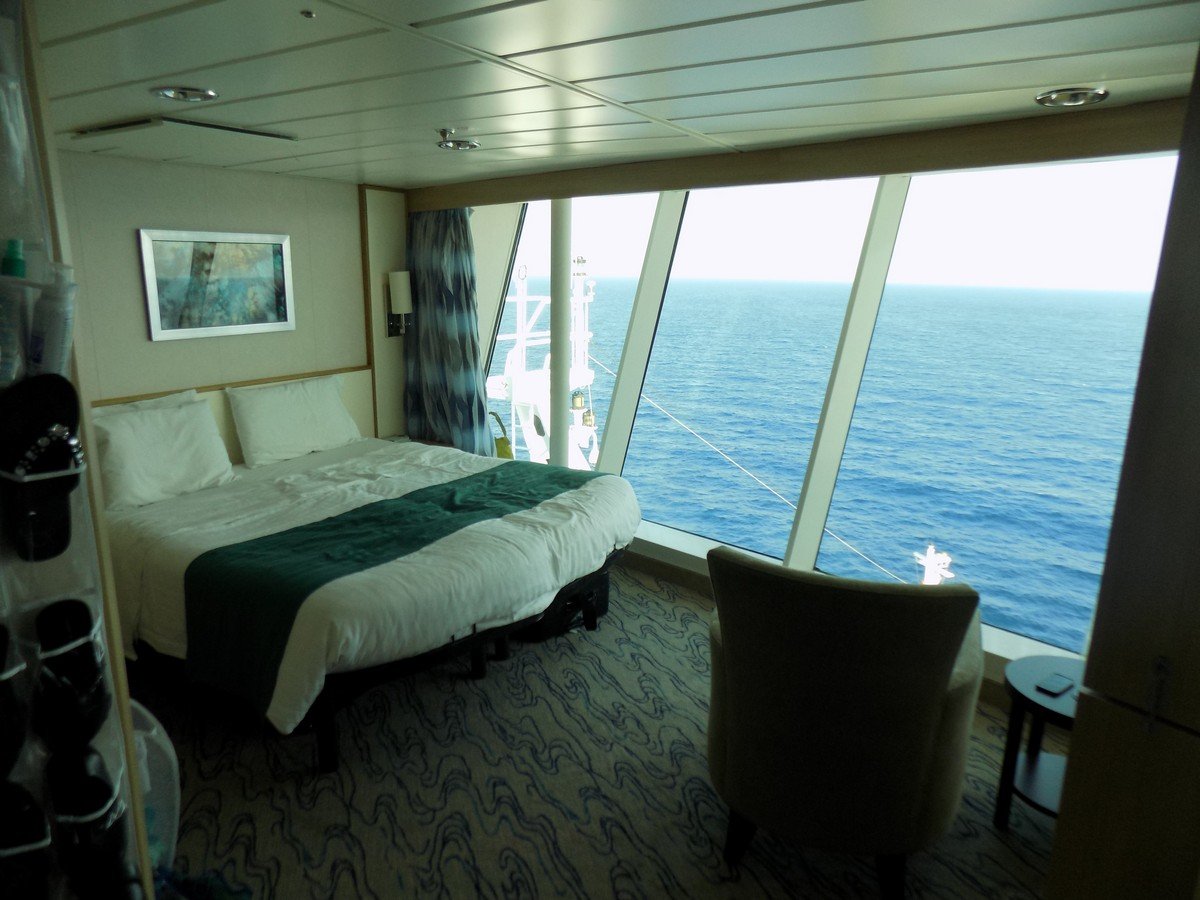 During the ship's latest refurbishment, more than 100 new staterooms were added.
Chief among the new rooms are the oceanview panoramic staterooms on deck 12 that were added.
These rooms have an incredible view from anywhere in the cabin, with a floor to ceiling wrap around panoramic window that is 76 inches high by 103-321 inches wide. 
Restaurants included with your cruise on Adventure of the Seas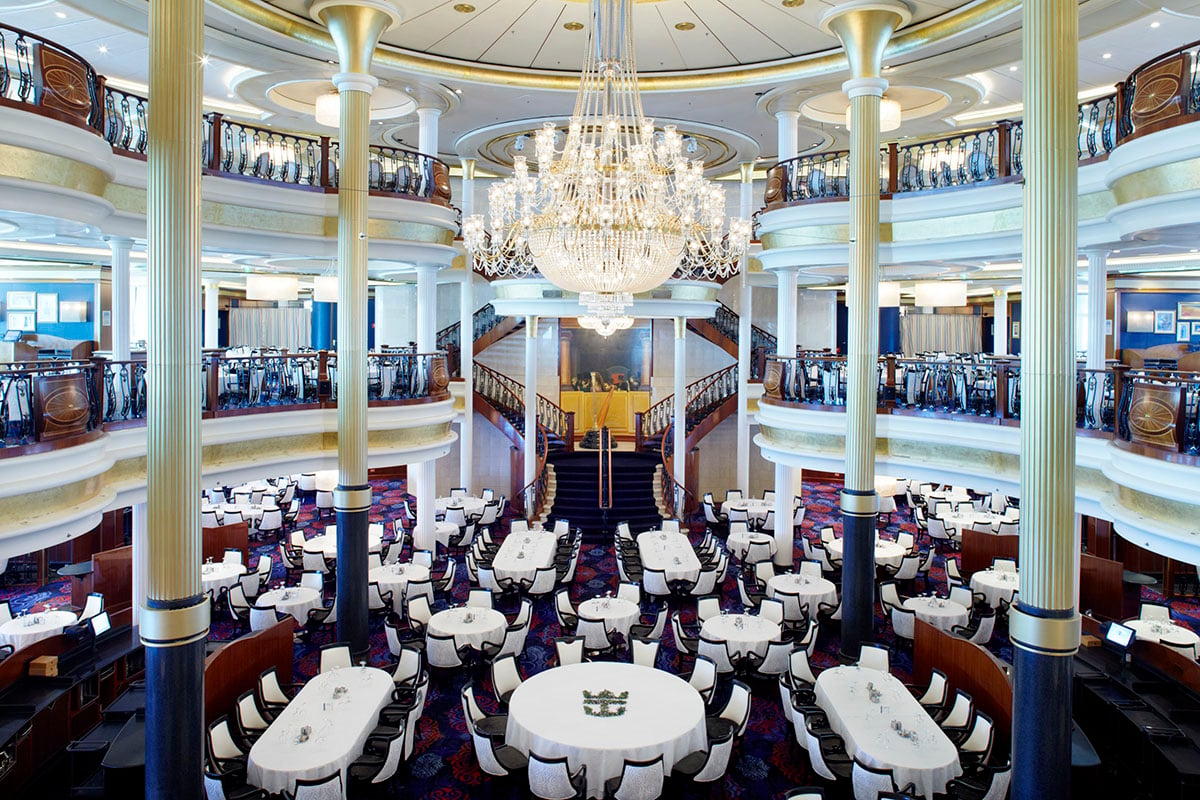 Wondering where you can eat with no additional cost on Adventure of the Seas?
Here is a list of options:
Windjammer (breakfast, lunch and dinner)
Main Dining Room (breakfast, lunch and dinner)
Cafe Promenade (Early morning until late night)
Keep in mind there may be some extra cost items at these locations.
Read more: Food on a Royal Caribbean cruise
Specialty dining packages can save you money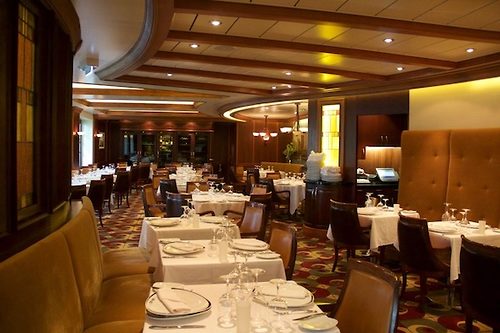 If you plan on eating at more than 1 or 2 specialty restaurants while on Adventure of the Seas, you probably should invest in a dining package.
Specialty dining packages offer a fixed cost for some, or even unlimited, specialty restaurants during your cruise.
There are four specialty restaurants on Adventure of the Seas that are included with the packages:
Johnny Rockets
Giovanni's Table
Chop's Grille
Izumi
I would not recommend eating at Johnny Rockets with your package (pay for it individually instead), and save your credits for the big three choices.
Be sure to buy dining packages before your cruise to save even more money.
Two days in a row at Perfect Day at CocoCay!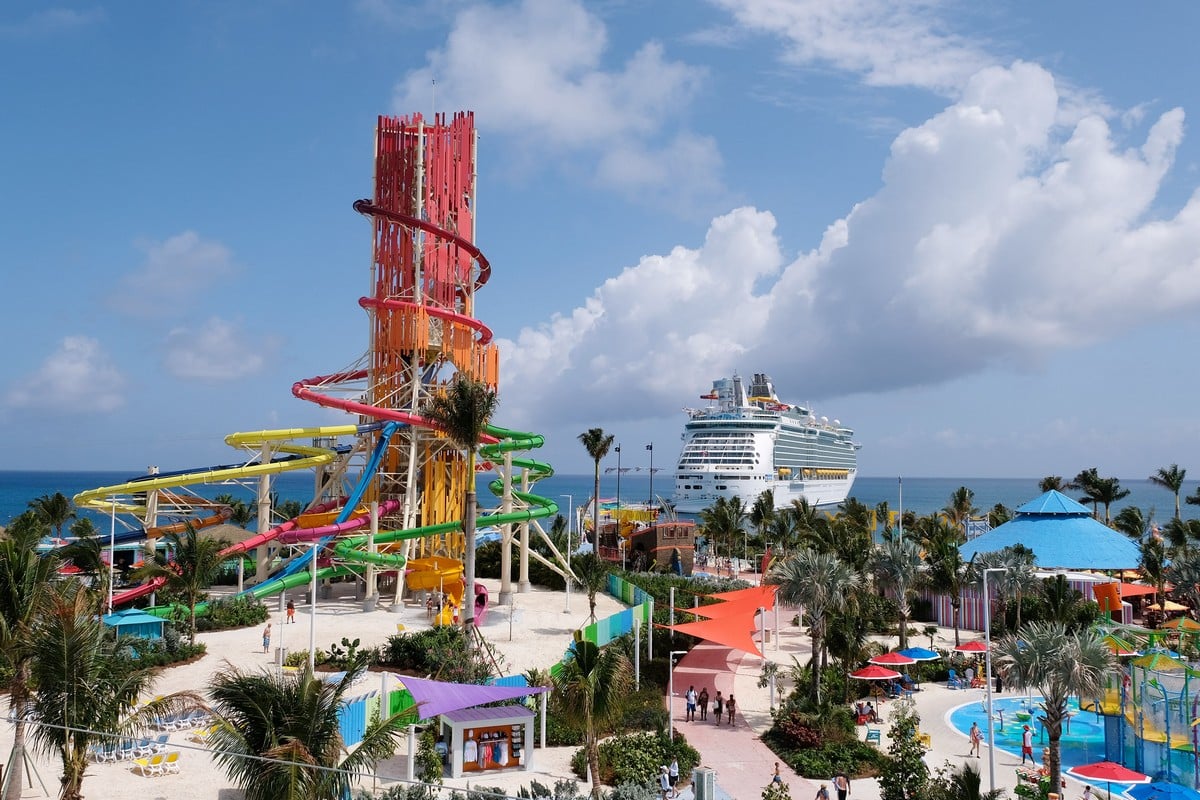 Special just for the summer 2021 cruises from Nassau, Adventure of the Seas will offer the rare double dip to Royal Caribbean's private island in the Bahamas.
Adventure will spend two consecutive days at Perfect Day at CocoCay, which means lots of time to explore and enjoy Royal Caribbean's little slice of paradise.
A good strategy is to pre-book anything you want to do at CocoCay to avoid it selling out. 
Read more: Do's & Don'ts of Perfect Day at CocoCay
Read Cruise Compass to see entertainment each night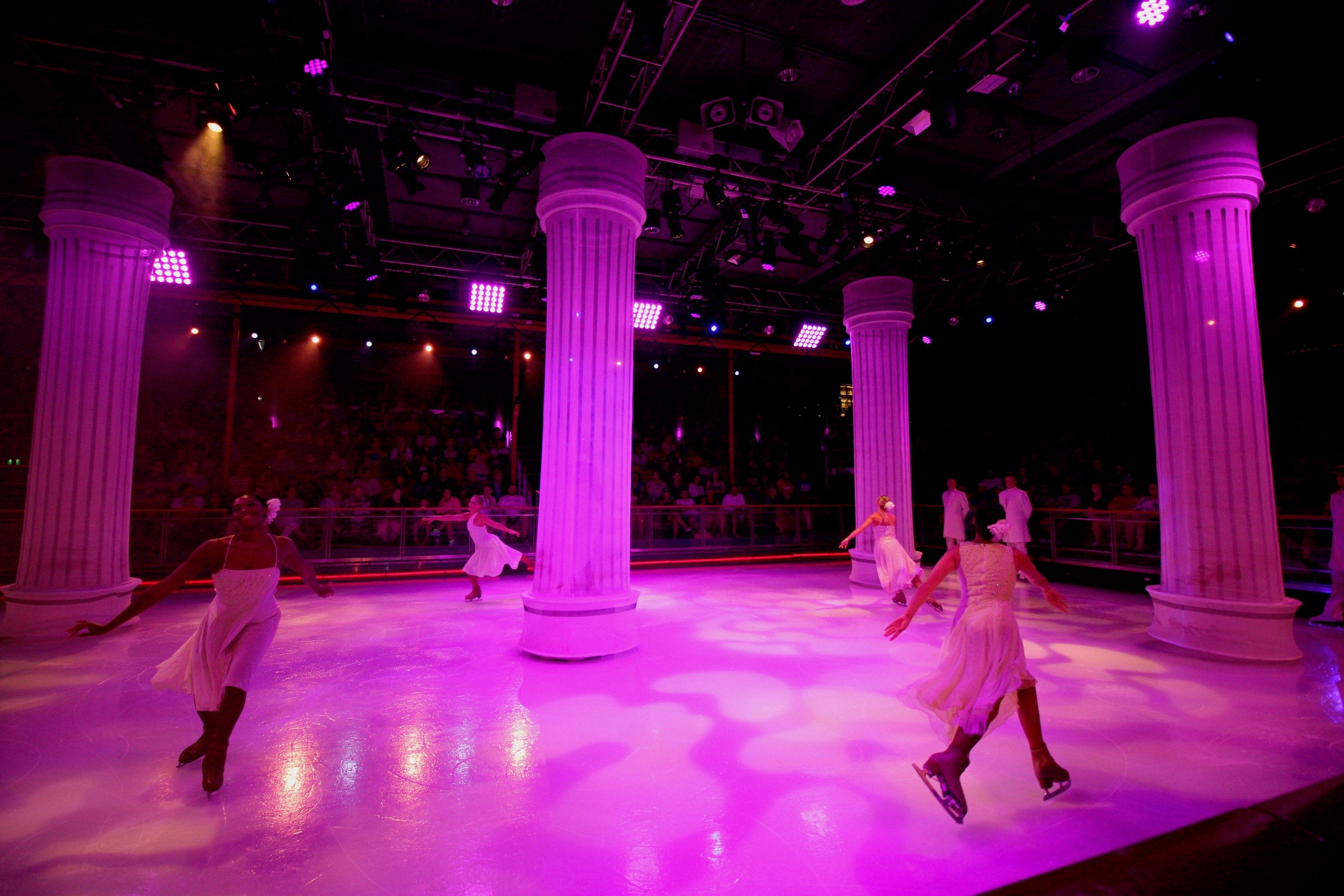 There will be nightly entertainment around the ship , so be sure to read about what is offered in your Cruise Compass.
Each evening, your stateroom attendant will deliver a new copy of the next day's schedule.  You can also find the schedule in Royal Caribbean's app.
It is a good idea to read about what is coming up, so you can plan ahead for the must-see shows.
Download Royal Caribbean's app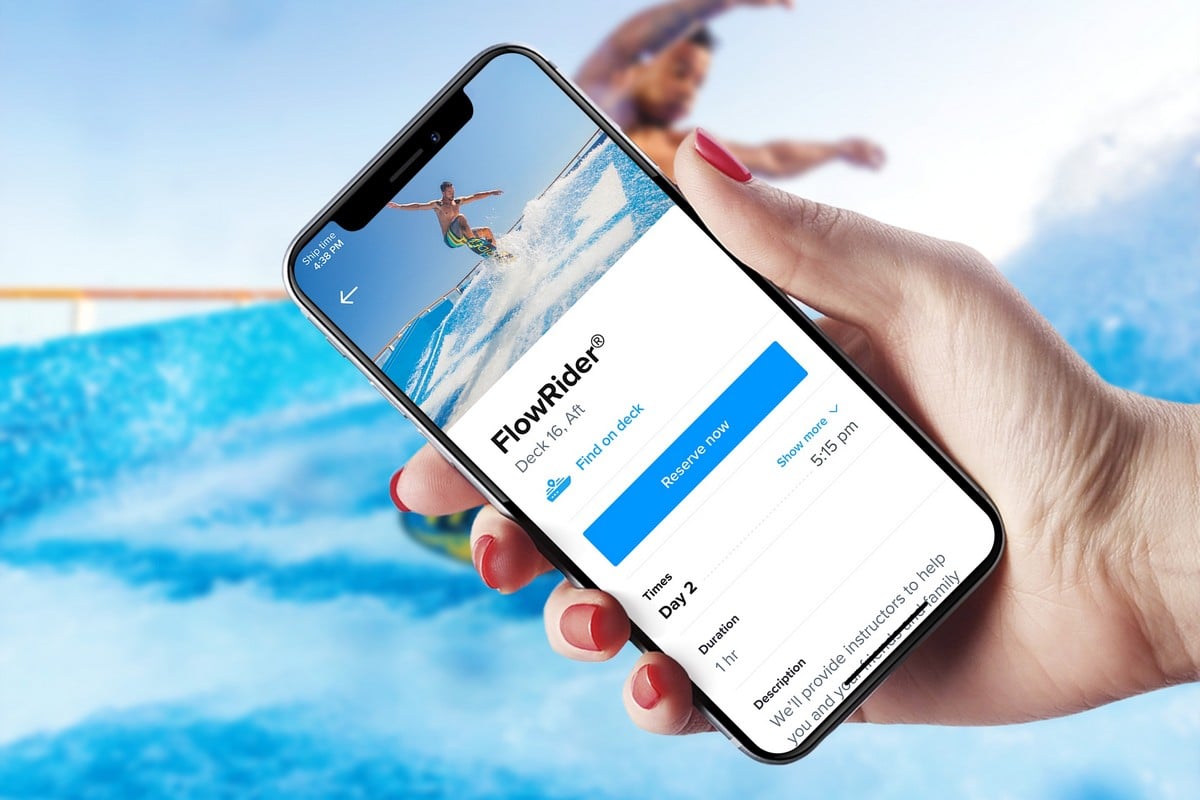 Royal Caribbean's app has gone from "nice to have" to "must have" quite quickly, and it is your key for a smoother experience overall.
Not only does Royal Caribbean's app allow for a smoother and faster embarkation process, it makes managing your schedule super easy.
Royal Caribbean has even said that its app is required, so download the app before you leave home and ensure it is set up prior to arriving.
Read more: The Royal Caribbean App: Everything you should know
Try to learn to surf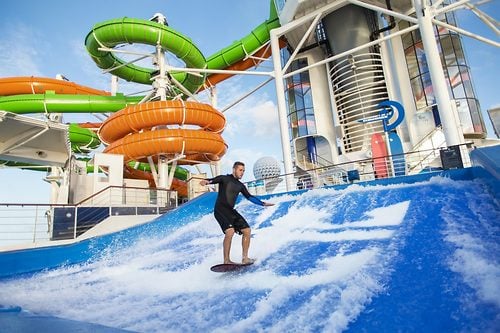 Adventure of the Seas features the FlowRider surf simulator, which allows anyone to try stand up surfing.
The FlowRider is complimentary, although you can reserve private time for an extra cost to give you lots of reps without waiting.
Just like the water slides tip, the best time to check out the FlowRider is on embarkation day or while the ship is in port.
Read more: Everything about the Flowrider on Royal Caribbean ships
Go to the helipad during sailaway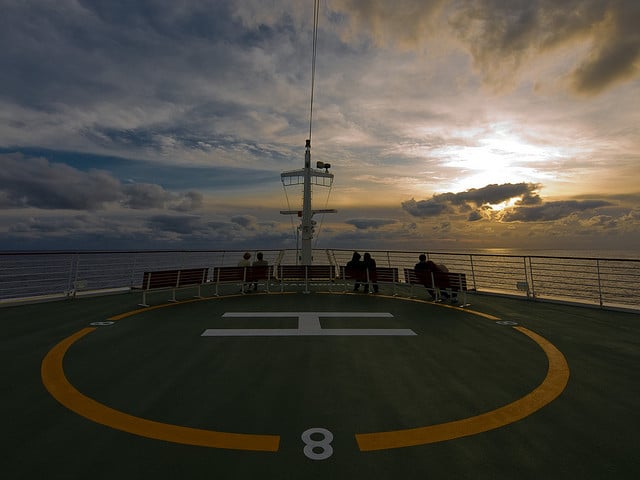 My favorite part of any Voyager Class ship is the helipad at the bow of the ship.
You can walk to the helicopter pad and enjoy unobstructed views that are perfect for sailaway.
To access the helicopter pad, go outside on deck 5 and then walk forward, climb up a set of stairs and continue walking forward until you reach the helicopter pad.
Register kids for Adventure Ocean on the first day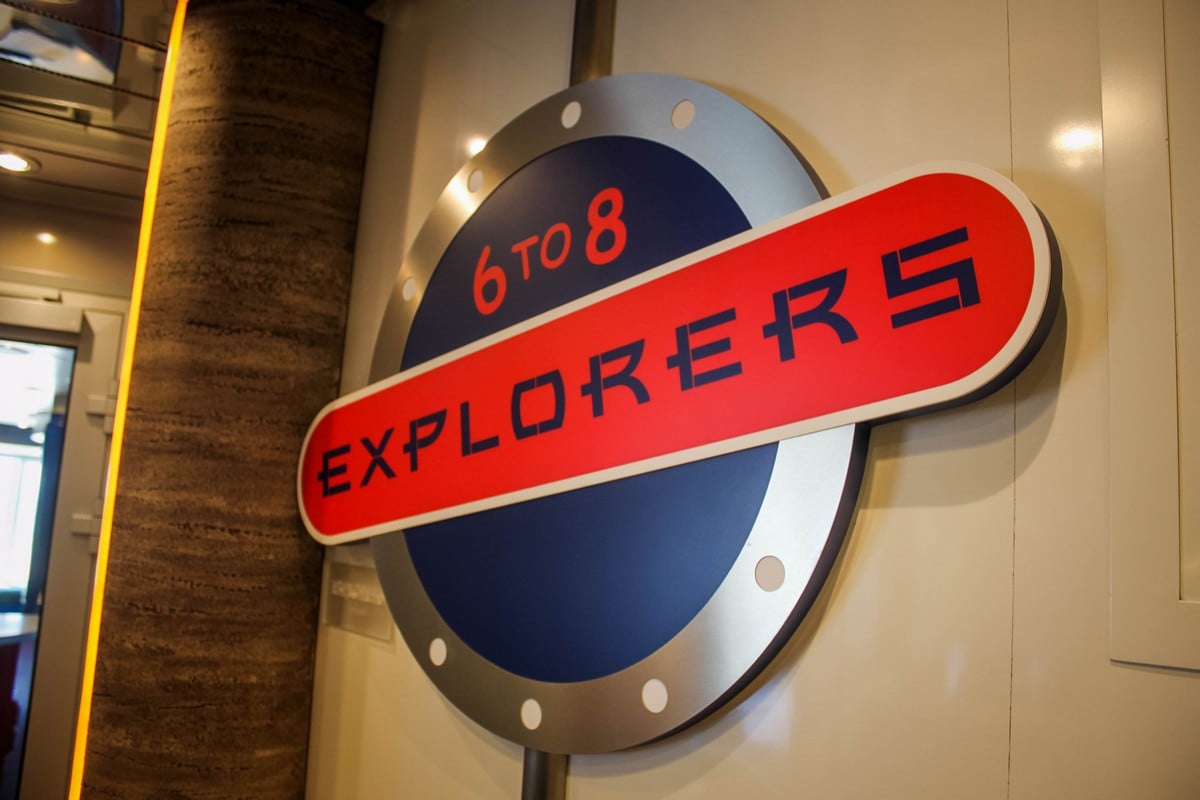 If you have kids, there is complimentary kids programming that is supervised and a lot of fun.
Children are separated into different age groups to ensure programming is appropriate:
Aquanauts: 3-5 years old
Explorers: 6-8 years old
Voyagers: 9-11 years old
Teens: 12-14, 15-17 years old.
Adventure Ocean is run every day, but you want to register them on the first day of your cruise.
There will be an open house held (usually in the early afternoon) of the first day of the cruise, so be sure to go up to meet the staff and meet the staff. Plus, it will save you time later.
Read more: Cruising with kids on Royal Caribbean
Try mini-golf at night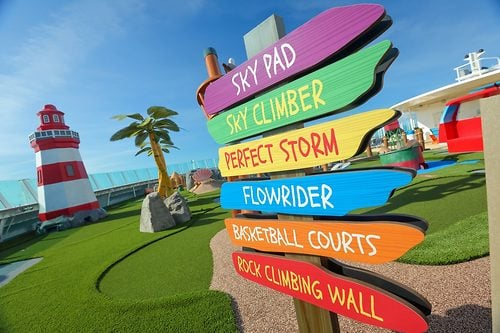 Mini-golf is a great family activity, but nighttime is a great time to try it out.
There is very little shade on the mini-golf course, so going at night means it will be more comfortable to play.  Moreover, there are less people to contend with at night, so no waiting to put.
You can go ice skating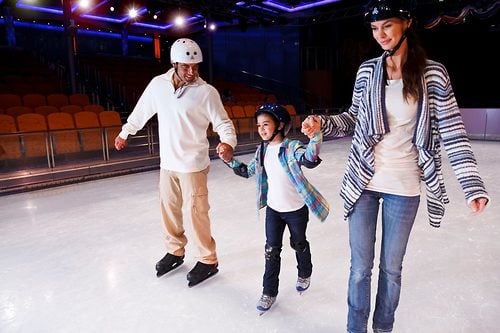 Did you know there is an ice skating rink on Adventure of the Seas? And you can go skating on it?
Adventure of the Seas has an ice skating rink in Studio B where one of the ship's best shows is performed during your cruise (more on that later), but guests can also don a pair of ice skates and hit the ice rink too!
Check the Cruise Compass for open skate sessions during your sailing.  Royal Caribbean will provide you with complimentary ice skate and safety equipment rentals. 
Be sure to pack long pants and socks.
Peek-a-boo bridge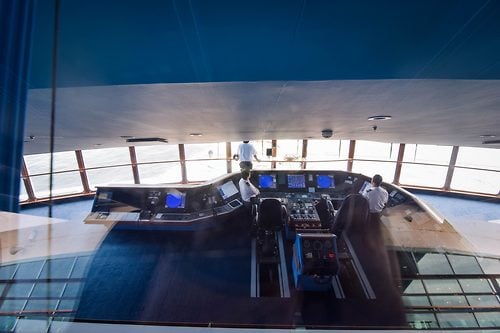 It may sound weird, but there is something called the Peek-A-Boo bridge feature, where guests can peer into the bridge at almost any time.
The observation window allows guests to look down onto the bridge and observe what the officers are up to in their daily navigational duties.  
To reach the Peek-A-Boo bridge, head up to deck 11 and walk past the sliding doors that go forward of the Solarium and do not seem to lead anywhere.
Don't miss the Tutti Salad Bar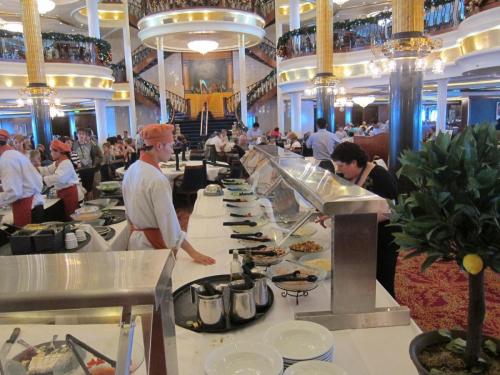 On sea days, do yourself a favor, and go down to the main dining room for lunch.
Not only is there a special menu available to order from, but the center of the dining room has a large salad bar area where you can pick your favorite ingredients to make a fresh salad, just the way you like it.
The balcony dividers do not open on Adventure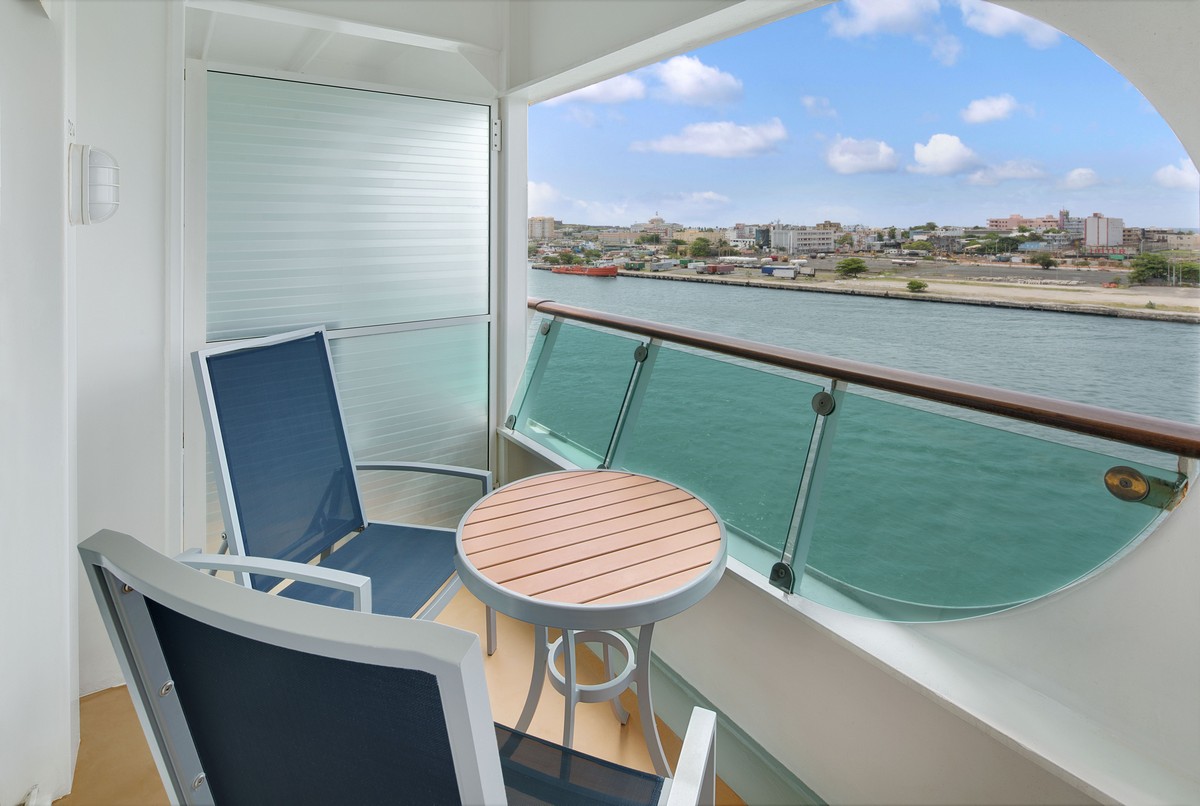 If you have had adjoining balcony cabins on other Royal Caribbean ships, you might have been able to open up the balcony divider to create a giant balcony. Unfortunately, that is not possible on Adventure of the Seas.
The first three Voyager Class ships (Voyager, Adventure & Explorer) balcony dividers are not physically possible to open because they are bolted shut. 
Restrooms with a view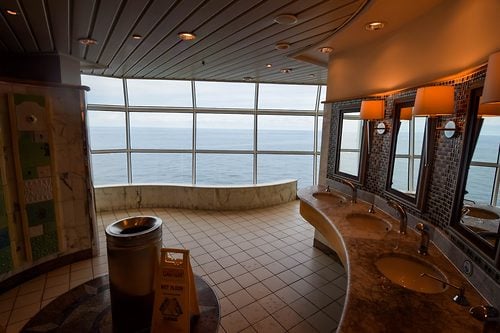 If you go to the men's or ladies restrooms on Deck 11 near the Windjammer, you get a nice view.
A floor-to-ceiling window greets guests in the public restroom outside at these restrooms only.
Free sauna and steam room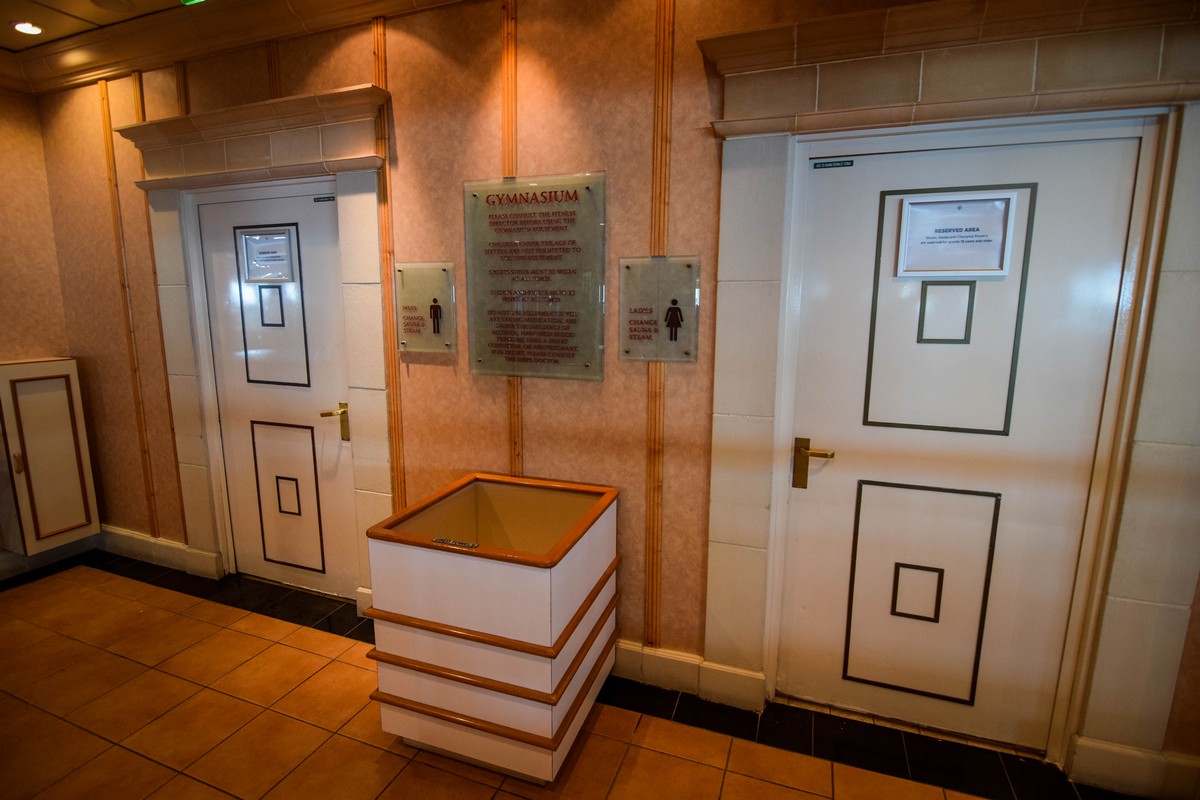 The fitness center locker rooms have a free sauna, steam room, and very large showers for anyone to use free of charge. 
The showers are great for families, and the sauna and steam rooms are lesser-known amenities open to guests on Adventure of the Seas.
Try one of the culinary classes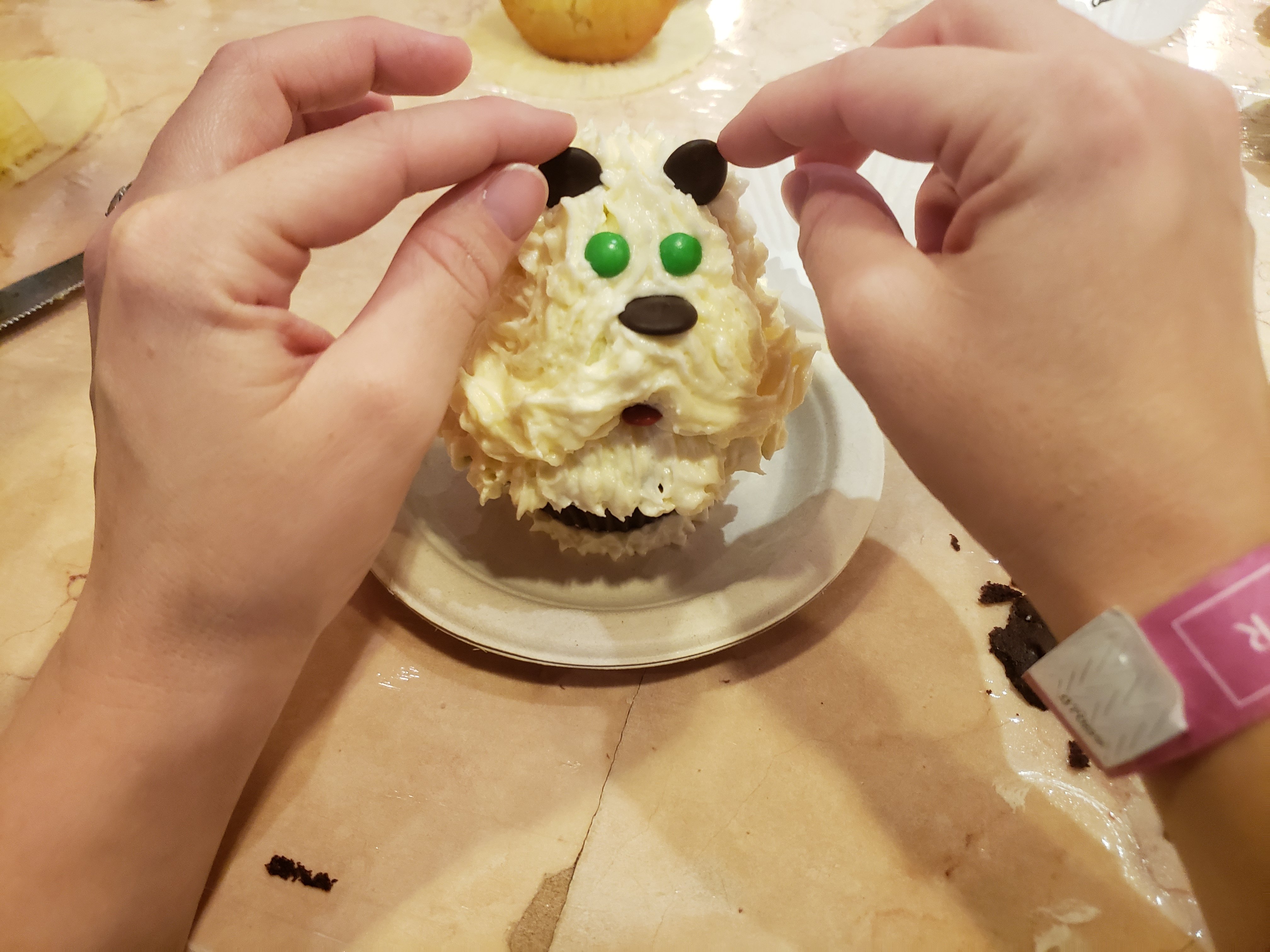 Adventure of the Seas offers some fun ways to learn to make food on your cruise.
The Cupcake Decorating class is a way to be creative with sugar and frosting, and then you get to eat your creation!
The sushi making class is a combination of meal and learning, where you get to learn from a sushi chef how to make traditional and modern sushi specialties.
You can sign up for either of these classes before the cruise on the Cruise Planner site, or once onboard your ship.  Both classes have an extra cost.