In:
Everyone wants to save money on a Royal Caribbean cruise, including getting a deal on their drinks.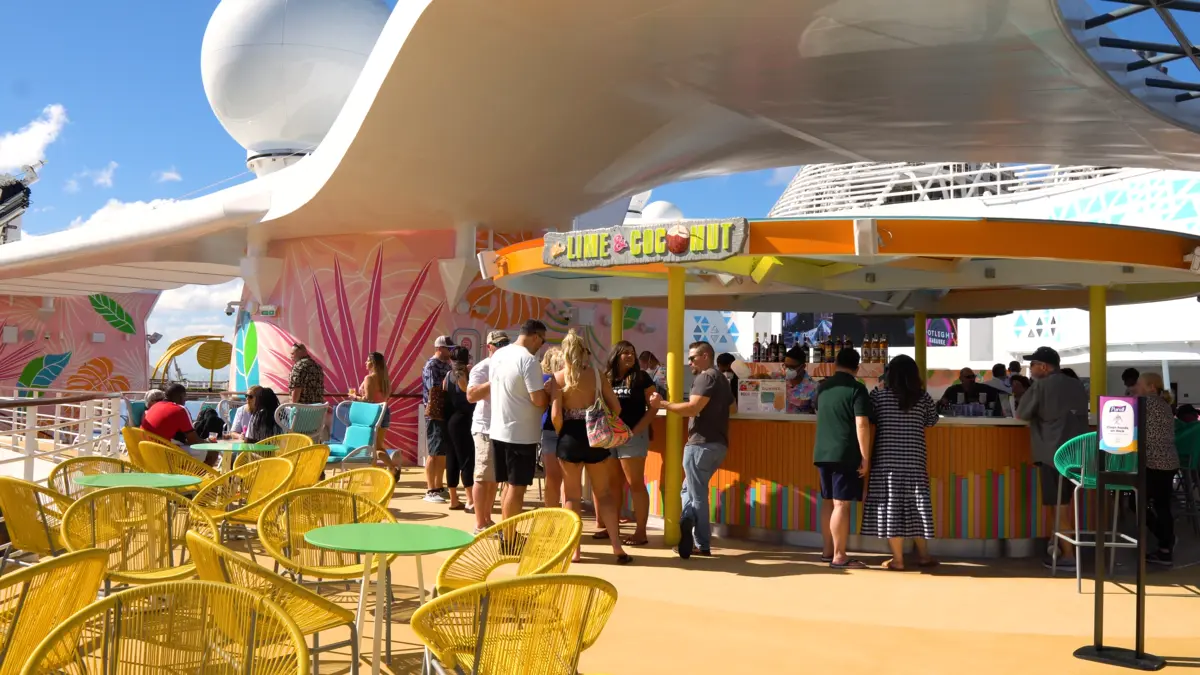 A Royal Caribbean drink package is expensive, so it's natural to want to limit how much you spend. While drink packages offer the convenience of unlimited beverages during your entire cruise, the upfront cost gives some people pause.
Unfortunately, some people think they can "beat the system" and devise ways to cheat Royal Caribbean's drink package. It's one of those they want their cake and eat it too situations, where the prices and rules regulating the drink packages compel some to look for ways around it.
Trying to cheat the package can get you in serious trouble with the cruise line, and you risk various penalties. 
We've heard all the excuses why circumventing the rules is okay to do: it's expensive, requirements for all adults to buy it if one does, a need to buy it for the entire sailing, and more. The reality is it's Royal Caribbean's decision on what the rules are, and it's not negotiable.
I don't recommend trying any means of cheating Royal Caribbean, and I'm only sharing these methods as a warning of what not to do because you can get in serious trouble.  Consider yourself warned.
Share drink benefits
The oldest and most common way people cheat the drink package is to buy the drink package and then order drinks for others who don't have the package.
Royal Caribbean is quite clear that the drink package benefits are only for the person that buys them, but some people still do this.
If you're caught sharing drinks with someone who doesn't have the same drink package as you, you risk having your entire drink package purchase cancelled without a refund.
Remember, bartenders have seen it all and you're far from the first person to sneak drinks to someone else. Moreover, there are cameras all around the ship.  So the chances of being caught is quite high.
Sneak booze onboard
There are so many videos on TikTok showing how to sneak alcohol onboard your ship as a way to save money and avoid buying a drink package completely.
Royal Caribbean prohibits you from bringing beer or liquor onboard at all. It's one of the prohibited items not allowed.
TikTok is full of cruise hacks to show anyone how to smuggle booze onboard.
The most common strategy is to fill bottles of mouthwash or shampoo to conceal it. Another way is to put the booze in a flask and hide it on your body as you embark the ship.
Other crazy ideas include liquid-holding bras, fake beer bellies, umbrella or binocular flasks.
Many of these ideas are tedious to set up, cumbersome to execute, and could you get in serious trouble with the cruise line.
Easy hacks to save money on a drink package
Trying to get around Royal Caribbean's rules is a recipe for ruining your vacation.
However, there are some legal ways to "cheat" the Royal Caribbean drink package using a few creative strategies.
Bring your own wine
You're allowed to bring one bottle of wine (or champagne) per adult on embarkation day, and this can save you a lot of money.
Bringing your own wine means you can pay retail price for your wine, instead of the prices the cruise line sells them for onboard. Plus, you can bring your favorite brand of wine, rather than being limited to what is on your ship.
Royal Caribbean supposedly charges a corkage fee to open a bottle of wine ($15 corkage fee per bottle), but in my experience it is rarely enforced.
Nonetheless, bringing your own bottles of wine can save a lot of money if all you're interested in is wine.
Book your drink package early and reprice
Did you know when you buy a drink package before the cruise, you can always take advantage of a lower price later?
The tried-and-true strategy for getting the lowest price for a Royal Caribbean drink package is to keep checking for lower prices up until embarkation day.
Royal Caribbean runs drink package sales all the time, and there's always some kind of a discount applied.  The key is to know when to buy the drink package before your cruise and periodically check for a lower price.
My advice is ignore the advertised percentage off that you see, and look at the total cost when you add it back to your cart as if you were buying it again.
If the price is lower, you can easily cancel your original purchase and then immediately re-buy it at the lower price.
Using this strategy, you can easily save hundreds of dollars.
Call Royal Caribbean to ask for a different drink package
One reason people want to cheat the Royal Caribbean drink package is because they think it's unfair that another adult in their cabin has to get the alcohol package if they get it, but there's a workaround to it.
If you try to buy the Deluxe Beverage Package on the website, you'll notice Royal Caribbean forces you to buy it for all the other adults in the same cabin.
You can call Royal Caribbean and let them know the other adult(s) in your cabin do not want the drink package, and instead, they'll allow them to buy the Royal Refreshment package, which includes just non-alcoholic beverages.
This will save a lot of money for someone who cannot or does not want the full unlimited package.
Book adults in separate rooms
If you're taking advantage of one of my favorite cruise cabin hacks and booking two or more cabins instead of putting everyone in a single cabin, be sure to assign adults in different cabins.
As an example, let's assume you have two adults and two kids and you're going to book connecting cabins because it gets you more room, separation from your kids, and an extra bathroom at a lower price than a suite.
Instead of booking the kids in one cabin and the parents in the other cabin, book one child with each parent in the room.  That way, when you go to buy the Deluxe Beverage Package, it won't force the second person to buy it because minors don't have to get a drink package!
Don't worry who's technically booked in which cabin. Royal Caribbean doesn't care which cabin you actually stay in, just that you're booked.
Look for free drinks around the ship
Another strategy is to rely on some of the free drinks you can get around your cruise ship.
Throughout your cruise, there will be different events held where you could get free alcoholic beverages.
Every cruise is different, but there are a few events common to almost every Royal Caribbean sailing:
Art auctions have free champagne
Top Tier events for Crown and Anchor Society members have complimentary beverages
Liquor tasting events
Extra cost brunch events that include champagne
This hack works best for someone that wants to be more opportunistic in how they save money and get free drinks.
Tip the bartenders
I think you should always tip waiters and bartenders for good service, but there's an added possible benefit to this gesture.
Some bartenders might give you a free drink after you tip them. Never expect a free drink as a result of offering them gratuity, but it has been known to happen.
It works best when you get to know a particular bartender or waiter and order drinks from them throughout your cruise. 
I would not expect to get many free drinks this way, and giving them a tip is about rewarding their service.  Make sure you're clear on that this isn't a quid pro quo situation.
Drink in ports of call
Odds are cocktails and beers are going to be cheaper on land in the ports of call you visit than on the ship.
If you limit your onboard consumption and spend more on drinks on land, your money will go further.
There's usually a myriad of bars near the port where your cruise ship docks, and plenty more in the surrounding area. There are beach bars, restaurants, and even carts selling drinks that could be significantly cheaper than what you'll find on the ship.
Moreover, you'll have a wider selection of drinks. This is especially important to beer drinkers who covet having access to different brands or beer types.
Order a bottle of liquor to your cabin
Royal Caribbean sells a limited selection of liquor that you can have delivered to your cabin.
There's only a few brands, and it comes in a small quantity meant to use for mixing with a soft drink, but this could be just what you want in lieu of a drink package.
If you go to the Royal Caribbean Gifts and Gear website, you'll find a few liquors to buy (as well as wine and beer brands):
Bombay Sapphire
Bacardi Gold
Absolut Vodka
You'll get a 375 ml. bottle delivered to your stateroom, along with some cans of soda to mix with it.
Gamble enough to get free drinks in the casino
An interesting strategy to get free drinks on your cruise instead of buying a drink package is to spend that money in the casino.
Royal Caribbean has a customer loyalty program specifically for the casino, where if you accrue 2,500 points or more in the casino, you'll move to the Prime level and be able to get unlimited free drinks in Casino Royale for an entire year.
Read more: I gambled enough in Royal Caribbean's casino to get free drinks and a cruise
You get points depending on how much you wager gambling. There isn't an exact calculation, but the more you wager, the more points you earn.  Moreover, you'll earn points faster playing slot machines than table games because slots can be more easily tracked.
Gambling responsibly is more important than free drinks, but if you were going to spend time in the casino anyway, this could be a way to double down on your casino habit and get free drinks as well.