In:
UPDATE July 3: Royal Caribbean has decided to honor the drink package glitch price.
For a few hours on Monday, some Royal Caribbean guests thought they were getting the deal of a lifetime on the cruise line's popular unlimited alcohol package.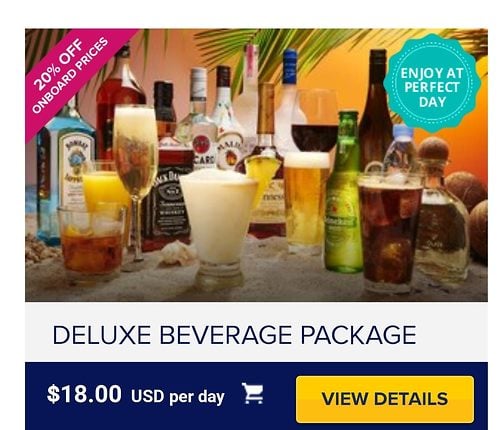 Royal Caribbean's website listed the Deluxe Beverage Package for $18 per day, per person on select 2020 sailings that got a lot of people's attention.  Usually, the Deluxe Beverage Package runs somewhere between $40 - $52 per person, per day when purchased in advance.
For a short time, the $18 price was listed and the news spread like wildfire around the cruising community. Royal Caribbean subsequently noticed the pricing mistake and reverted the price back to its correct price.
The cruise line has since notified guests who have inquired that the $18 per day, per person rate was a mistake and will not be honored. Royal Caribbean apologized for the mistake, but would not be honoring the package at the incorrect prince. Instead, the package purchase will be canceled and refunds will be issued.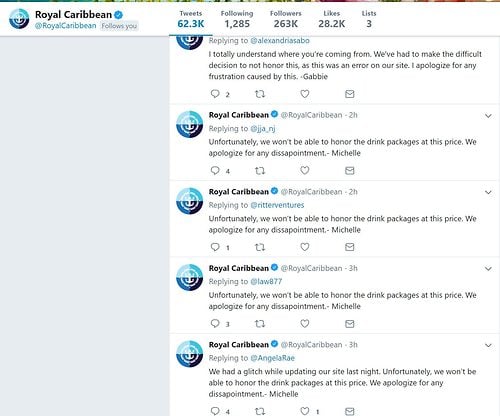 Pricing Mistakes
Pricing mistakes do occur from time to time in businesses these days, and in general, there is no law that requires companies to honor an advertised price if that price is wrong.
Typographical errors, miscommunication and other glitches can result in items being offered at what appear to be deep discounts – discounts that would be ruinous for the company if it were forced to honor them.
Laws against false or deceptive advertising require an intent to deceive on the part of the advertiser. If a company can demonstrate that an advertised price was simply a mistake, then it's not false advertising.
In 2012, the Department of Transportation established clear rules against changing the price of a ticket after purchase. According to provision 399.88(a):
"It is an unfair and deceptive practice within the meaning of 49 U.S.C. 41712 for any seller of scheduled air transportation within, to or from the United States, or of a tour (i.e., a combination of air transportation and ground or cruise accommodations), or tour component (e.g., a hotel stay) that includes scheduled air transportation within, to or from the United States, to increase the price of that air transportation, tour or tour component to a consumer, including but not limited to an increase in the price of the seat, an increase in the price for the carriage of passenger baggage, or an increase in an applicable fuel surcharge, after the air transportation has been purchased by the consumer, except in the case of an increase in a government-imposed tax or fee. A purchase is deemed to have occurred when the full amount agreed upon has been paid by the consumer."
This rule wasn't actually intended to cover mistake fares. Rather, it was put in place to ensure that airlines could not change the price of a ticket or add on fees post-purchase.
In light of a number of highly publicized incidents of mistake airline fares, the DOT posted an released its new policy for enforcing mistake fares, and here is the major change:
"As a matter of prosecutorial discretion, the Enforcement Office will not enforce the requirement of section 399.88 with regard to mistaken fares occurring on or after the date of this notice so long as the airline or seller of air transportation: (1) demonstrates that the fare was a mistaken fare; and (2) reimburses all consumers who purchased a mistaken fare ticket for any reasonable, actual, and verifiable out-of-pocket expenses that were made in reliance upon the ticket purchase, in addition to refunding the purchase price of the ticket. These expenses include, but are not limited to, non-refundable hotel reservations, destination tour packages or activities, cancellation fees for non-refundable connecting air travel and visa or other international travel fees. The airline may ask the consumer requesting out-of-pocket expenses to provide evidence (i.e. receipts or proof of cancellations) of actual costs incurred by the consumer. In essence, the airline or seller of air transportation is required to make the consumer "whole" by restoring the consumer to the position he or she was in prior to the purchase of the mistaken fare."
UPDATE: Royal Caribbean has posted via social media it is reconsidering what to do about this situation.