In:
With five months left in 2023, there is still plenty of time to plan another cruise vacation.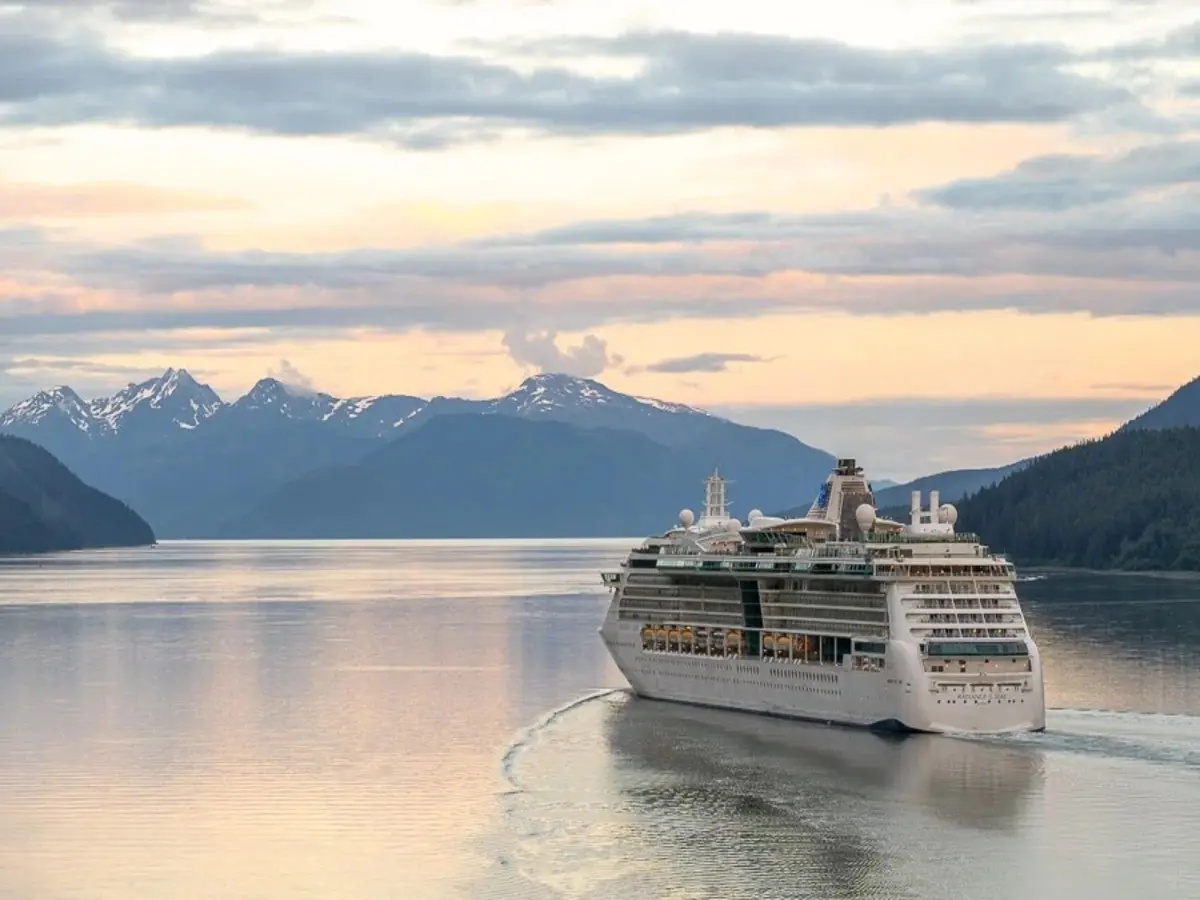 The fall months bring cooler temperatures and lower prices than peak summer cruises. Plus, even if the cruise itself is fully booked, there are less land-based travelers, meaning that there will be fewer crowds in port. 
You might even be able to find a once-in-a-lifetime itinerary that is not offered throughout the year. 
Here are the best 2023 fall cruises that you should take. 
Alaska
Royal Caribbean's Alaska's season wraps up in September, and this month just so happens to mark the region's transition from summer to fall. The earlier you cruise, the better weather you have have, including more daylight. 
On September 3, Brilliance of the Seas is departing on a roundtrip "Multi Glacier Experience Cruise" from Vancouver, Canada, with prices starting at $966 per person for an interior cabin. If you want to upgrade to a balcony, expect to pay a minimum of $1,842 per person. 
During this 7-night voyage, the ship will dock in Sitka, Juneau, and Ketchikan, Alaska. You will also have three different sightseeing opportunities in Hubbard Glacier, Tracy Arm Fjord, and the Inside Passage. 
In comparison, the 7-night Alaska Glacier onboard Quantum of the Seas that departs on September 11 only has one glacier viewing: Endicott Arm & Dawes Glacier. This does, however, mean that you will have more time in port, visiting Sitka; Icy Strait Point; Juneau; and Victoria, British Columbia. 
Pricing is similar, with an interior cabin starting at $906 per person. 
Asia
Currently, most cruises onboard Spectrum of the Seas are only 3-5 nights. This fall, however, there are two 12-night cruises that sail from Singapore to Tokyo and vice versa that are each unique in their own way. The itineraries for both sailings are different, with the first cruise visiting fewer ports than the second. 
The first sailing departs on September 19 and sails from Singapore to Tokyo, making stops in Nha Trang, Vietnam; Hong Kong, China; and Nagasaki, Kumamoto, and Kagoshima, Japan before arriving in Tokyo. Currently, pricing for this cruise currently starts around $1,800 per person for either a balcony or interior stateroom.  
The latter sailing is more expensive visits one more port of call. Throughout the 12-night voyage, the ship will visit Mt. Fuji (Shimizu), Kobe, Okinawa (Naha), and Ishigaki, Japan; Hong Kong, China; and Hue / Danang (Chan May), Vietnam.
Bahamas and Caribbean
While fall is still part of the Atlantic hurricane season, you are less likely to be impacted by inclement weather in late October and November.
In those two months, Royal Caribbean has twenty ships deployed here, meaning that you have a variety of different itineraries to choose from from embarkation ports ranging from Cape Liberty, New Jersey to Galveston, Texas and even San Juan, Puerto Rico. 
If you are looking for a quick getaway, consider sailing on Allure of the Seas. She begins making 3- and 4-night voyages out of Port Canaveral on October 30 to Nassau and Perfect Day at CocoCay. 
The fall is also one of your last chances to sail on Wonder of the Seas while she is the largest cruise ship in the world, a title no other Oasis Class ships will ever hold again once Icon of the Seas launches in January. 
In October and November, she will be making 7-night roundtrip cruises to the Eastern and Western Caribbean, all including a stop at CocoCay. 
With twenty ships, though, you don't have to sail on some of the largest in the fleet. Some of the smallest, such as Vision of the Seas, will be sailing on unique and longer itineraries to the Southern Caribbean, visiting ports like St. Croix, St. Maarten, St. Lucia, Barbados, and St. Kitts & Nevis.
You will find better rates on the older ships, too. A 12-night cruise on Vision of the Seas starts at $1,199 per person, while a 7-night cruise onboard Wonder of the Seas starts at $1,246 per person.
Bermuda
September is a good month to visit Bermuda, as daily highs will still peak into the 80s. This means that you will be able to enjoy the warm summer temperatures with fewer crowds. 
Liberty of the Seas sails to Bermuda from Cape Liberty through October. In September, there are three 5-night sailings, each has two days at sea and two days docked at the Royal Naval Dockyard. 
While not the largest ship in the fleet, this Freedom Class ship offers plenty of activities and things to do, including water slides, a FlowRider surf simulator, an ice skating rink and Broadway show, specialty dining venues, pools, and more. 
Currently, the cheapest sailing departs on September 30 and costs $609 per person. 
Canada and New England
Fall foliage cruises are popular because they allow passengers to enjoy the beautiful scenery of the changing hues of the trees of Canada and New England. 
This year, Royal Caribbean is offering four "fall foliage" cruises onboard Jewel of the Seas. For the best chance of seeing the most transformation, take one of the earlier two, as you are more likely to experience peak foliage through mid-October. 
The first is an 11-night northbound cruise from Cape Liberty to Quebec City on September 28 that starts at $949 per person. This itinerary focuses on Canadian ports of call, visiting Halifax and Sydney, Nova Scotia; Charlottetown, Prince Edward Island; Corner Brook, Newfoundland; and Sept-Iles and Saguenay, Quebec. 
The following 10-night southbound cruise from Quebec City to Cape Liberty is more port intensive, with only three days at sea. Additionally, you will dock in Portland, Maine and Boston, Massachusetts. This sailing starts at $749 per person for an interior room. 
And while not advertised as fall foliage cruises, there are two sailings onboard Liberty of the Seas where you are likely to experience some of the northeast's fall magic: October 5 and 19. Both sailings start at under $650 per person. 
The ports of call include Boston, Massachusetts; Portland and Bar Harbor, Maine; Halifax, Nova Scotia; and Saint John (Bay of Fundy), New Brunswick. 
Europe
Unlike the Caribbean, you can expect to spend long days in port exploring European cities, rather than lounging on the beach. In the peak of the summer, it can get to be miserably hot. In the fall, you will be greeted with cooler temperatures and fewer crowds in port. 
In July, for instance, it is not unusual for the daily high to reach the high 80s and 90s in places like Rome, while in October, the daily temperatures range from the high 60s to mid 70s. 
For a 7-night Western Mediterranean cruise onboard Symphony of the Seas, the sailings range from $1,295 to $1,755 per person for an interior room in October. You can sail from either Barcelona, Spain or Rome (Civitavecchia), Italy; however, the cheapest port of embarkation is Barcelona. 
During your voyage, you will visit Naples/Capri, Italy; Palma De Mallorca, Spain; Provence (Marseille), France; and Florence/Pisa (La Spezia), Italy. If you sail from Barcelona, you will have a day in Rome, and if you sail from Rome, you will be able to explore Barcelona for a day. 
Mexico
October and November are two of the best months to visit the Mexican Riviera, as you will find pleasant weather compared to the summer months.
Moreover, October marks the end of the region's rainy season; August and September have higher rainfall averages. Temperatures will still be in the 80s, meaning that you can sunbathe and enjoy other water activities in port. 
Consider a 7-night cruise to Cabo San Lucas, Mazatlán, and Puerto Vallarta onboard Navigator of the Seas, a Voyager Class ship that received $115 million in renovations in early 2019, and visit beautiful beaches, try the local cuisine, and see world-famous landmarks, including the El Arco rock formation in Cabo.
Due to less overall demand, you will find some great deals, too. All dates in October begin under $700 per person for an inside stateroom. 
Read more: What it's like to cruise on Royal Caribbean's Navigator of the Seas in 2023
Panama Canal
The fall is one of two times throughout the year that Royal Caribbean offers sailings through the Panama Canal. This year, there are three cruises that you can choose from, all of which are on Radiance Class ships. 
The first is a 16-night cruise onboard Radiance of the Seas that departs on October 7 and sails from San Diego to Tampa. The next two are not until November, and they are both 14-night cruises onboard Serenade of the Seas. 
On November 7, Serenade will depart from Miami, arriving in Los Angeles on November 21. That same day, she will leave on another Panama Canal cruise to return to Miami. 
Pricing varies greatly, with the most expensive being the 16-night cruise onboard Radiance. This cruise starts at $1,646 per person for an interior room. At the time of writing, all ocean view, balconies, and suites were sold out. 
The cheapest Panama Canal cruise in Fall 2023 is the 14-night sailing on Serenade of the Seas from Los Angeles on November 21. An interior room begins at $936 per person.  
After these three sailings, there will not be another opportunity to cruise the Panama Canal onboard a Royal Caribbean ship until April 2024. 
Transatlantic and transpacific cruises
The fall is also a common time for transatlantic and transpacific cruises, as ships are being redeployed after cruises in seasonal regions, such as Europe and Alaska. 
The larger the vessel, the more you will have to do onboard during the long stretch of sea days. Symphony and Odyssey of the Seas will offer the most to do, with the latter visiting more ports of call. 
When Symphony of the Seas departs on her transatlantic cruise on October 29, she will only stop at two different ports in Europe -- Valencia and Seville (Cadiz), Spain -- before crossing the ocean. Before docking in Fort Lauderdale, she will visit Nassau. Currently, the price for this cruise begins at under $740 per person. 
Odyssey of the Seas' return to the Americans will begin on October 27. On this sailing, you can visit Florence/Pisa (La Spezia), Italy; Nice (Villefranche), France; Palma De Mallorca and Valencia, Spain; Ponta Delgada, Azores; and Bermuda. The price for this cruise is substantially more than Symphony, though, with interior cabins starting at $1,750 per person. 
In total, there are nine transatlantic and transpacific to choose from in October and November 2023. If you want a transpacific cruise that visits Hawaii, you will want to skip these itineraries in the fall. They only depart from Honolulu, rather than island hopping like spring voyages from Honolulu to the Pacific Coast. 
Transpacific sailings on October focus more on the islands of the South Pacific, such as Vanuatu, French Polynesia, and Tahiti. Upon arrival in Australia, the ships -- Brilliance, Quantum, and Ovation of the Seas -- will begin their seasonal deployments in the South Pacific, where they will remain until Spring 2024.