In:
There seem to be certain moments of absolute joy when it comes to a Royal Caribbean cruise vacation.  It is the moments when you forget about everything else in your life briefly and are engulfed in the pleasure of the cruise.
Frankly, I think it is these kinds of moments that bring Royal Caribbean fans back again and again to book more cruises.  
Here, you will find our list of the top 11 moments when you can take it all in and feel like you are "home".
11. Email telling you your cruise documents are ready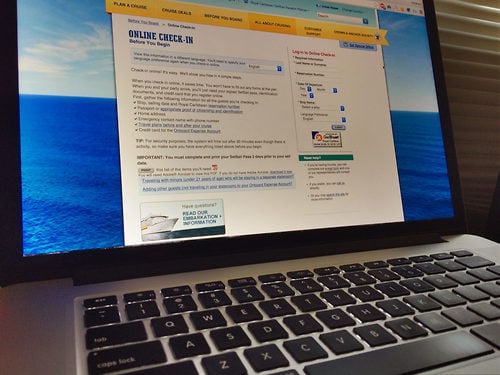 When I go to check my email and there is an email from Royal Caribbean that it is time to check into my cruise is the first real sign that my upcoming cruise is going to be here soon.
Let's face it, we book our Royal Caribbean cruises well in advance and it always seems like those countdowns to the next cruise cannot come soon enough.  
But this one email is your first indication that your next Royal Caribbean cruise is nearly here.  It was never so much fun typing in your family information!
10. Attaching your luggage tags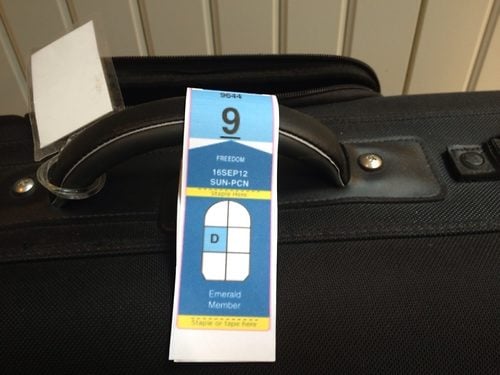 Like the email above, if you are taking the time to affix  to your suitcases and baggage, that means you are very close to a cruise.
While packing may not be the most fun activity someone can do, there is no denying that attaching your luggage tags can give a great sense of excitement since it only ever happens when you are days away from a cruise.
It just seems so perfect to have a set of suitcases with Royal Caribbean luggage tags on them, waiting to be put in a car and head off to a cruise.
9. Hearing the sound SeaPass cards make when passing through security
This is one of those sounds you have to have been on a Royal Caribbean cruise previously to properly appreciate.
Hearing this sound is just one of those quintessential Royal Caribbean moments that remind you subtly you are onboard a Royal Caribbean cruise.
8. Windjammer lunch on embarkation day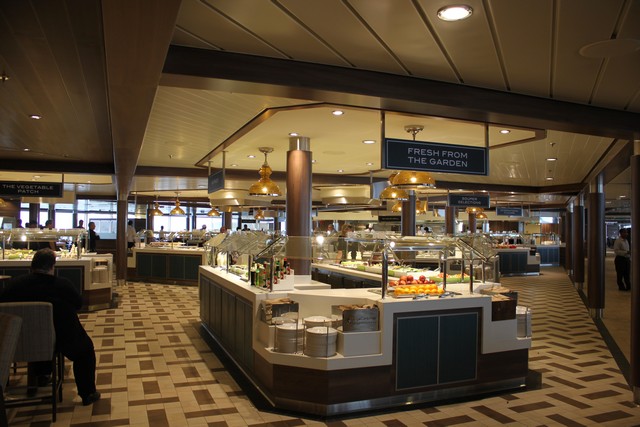 If there is one meal I always look forward to every cruise, it is the first lunch onboard the ship in the Windjammer.
Having lunch on embarkation day in the Windjammer is a Royal Caribbean cruise tradition for me and when I sit down with my overflowing plate of food, that is the moment for me when it feels like the cruise has really begun.
7. Opening your stateroom door for the first time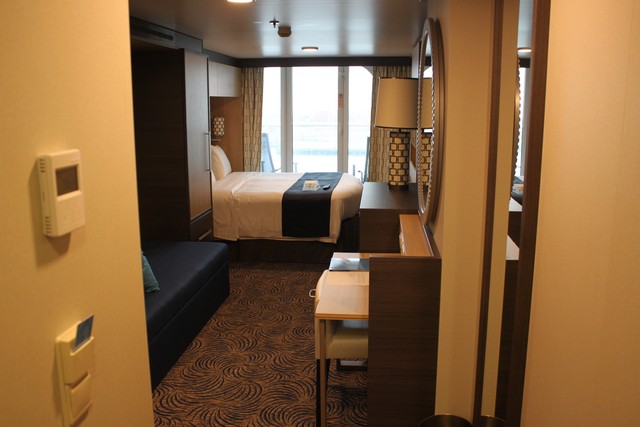 Another one of those "my cruise is finally here" moments has to be when you put your SeaPass card or WOWBand up to the door of your stateroom and swing the door open to reveal your home for the next week or so.
Walking into your "home away from home" that represents your personal space for duration of your cruise really feels, well, good.  
Our family enjoys exploring the stateroom to find all the spots we can put away clothes and the various souvenirs we will collect.  And when you have a balcony stateroom, is there anything better than sliding open those balcony doors for the first time and feeling the ocean breeze?
6. Enjoying time on the pool deck
This moment is one that seems to repeat itself time and time again on your Royal Caribbean cruise but no one is complaining!
Time spent on the pool deck is time well spent, and it seems so many guests will find their way up to the main pool and enjoy some sun and a dip in the pool.
Regardless of if you enjoy time at the Solarium, H2O Zone or main pools, there never seems to be a bad time to be in the pool because this area of the ship is always a hub of activity and the perfect place to let a few hours slip by.
Extra points for enjoying the pool deck with an adult beverage, complete with umbrella and maybe some live music playing nearby!
5. Dinner in the main dining room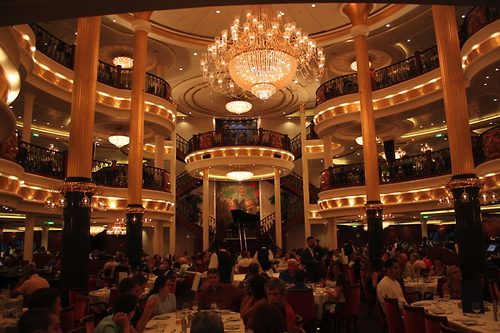 The main dining room is a quintessential part of the cruise experience and having dinner here is a feeling that I have yet to replicate anywhere else on land.
From the moment you are shown to your table and seated with a selection of fresh breads to choose from, the main dining room continues to be a central part of the cruise experience and sitting here and looking around to enjoy the scope and beauty of the area always resonates with me.
Perhaps it is because there are few, if any, comparable experiences to the main dining room outside of a cruise and Royal Caribbean seems to do their main dining room experience with such class and expertise that we relish the experience. 
4. Taking in a show in the Royal Theater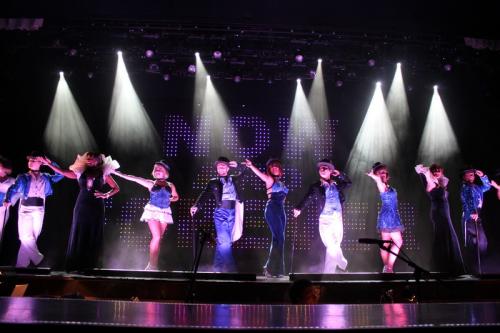 Royal Caribbean takes real pride in the entertainment it provides for its guests, chief among them the entertainment in the Royal Theater.
Whether you are seeing a Broadway show or the Love & Marriage game show or any of the fabulous acts that can be found in the Royal Theater, it seems like this is another one of those times when you can literally sit back and take it all in.
Royal Caribbean designs its shows to be a focal point of the onboard entertainment and for years, the company has been producing bigger and more elaborate shows that give guests something exciting and fun to watch each evening.
Favorite shows have to be any of the Broadway shows, Love and Marriage game show, Welcome Aboard show and Sonic Odyssey.
3. Walking down the Royal Promenade or into the Centrum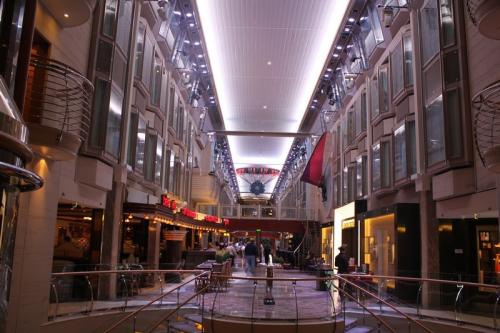 It does not matter if you have cruised with Royal Caribbean dozens of times or if it is your first, being on the Royal Promenade or Centrum always impresses guests and it is not hard to see why.
It is difficult not to step foot in this area and have a huge sense of satisfaction wash over yourself as you have one of those moments when you think to yourself, "I really am here!". 
The smell of food coming from Cafe Promenade or Sorrento's Pizza, the many shops selling pretty much everything you can think of, the art surrounding you, it all combines to set the tone for somewhere quite different from anywhere else.
The funny thing is it does not matter how many times you have been on a Royal Caribbean ship before, these areas seem to always strike you as being unique and exciting.  
2. Reading the Cruise Compass in your stateroom bed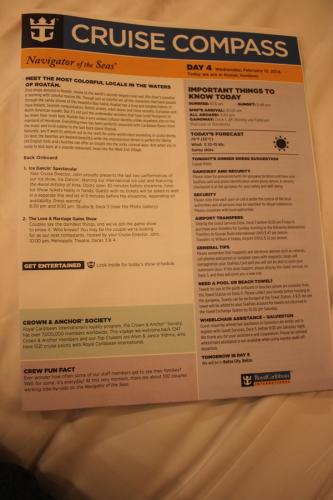 If you ask me, one of those Royal Caribbean moments has to be getting into bed after a long day of having fun onboard and grabbing the copy of the Cruise Compass the stateroom attendant dropped off to read with my wife and pick out what we want to tomorrow.
Royal Caribbean designs its experience to offer a lot of opportunities for fun throughout the day and night, and the Cruise Compass is your guide to it all.  
It seems like I never get to half of the events I aspire to see, but I love looking for events I have done and loved as well as new ones to try.  The wide array of events offered seem to always be impressive and I make sure to highlight the activities that I think I want to try.
Besides events, the Cruise Compass is your guide to sales, weather forecasts, information about the port we are about to visit and more.  It really provides the perfect glimpse into what is to come tomorrow.
1. The moment your ship starts to sail away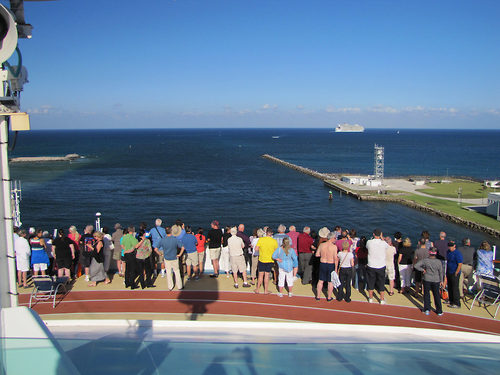 Without a doubt, the perfect Royal Caribbean moment is when your ship starts to sail away and your vacation really begins.
Some folks watch sail away from their stateroom balconies, some go up to the pool deck to be a part of the celebration and others pick other areas of the ship to enjoy it, such as the Viking Crown, helipad or the promenade deck.
It really does not matter where you go, but that moment when you look around and see your ship is starting to move always strikes me as a "WOW" moment because it marks the beginning of the cruise part of your cruise vacation!
In a way, sail away is the moment of your vacation when all the excitement and planning you have been dealing with for months and years up to this moment pays off and you forget all about countdowns, bills, book reports and everything else and get into that cruise state of mind.