In:
Royal Caribbean is so committed to delivering the best family cruise vacation experience, they're adding a new crew member whose job it is to ensure families are having a great time.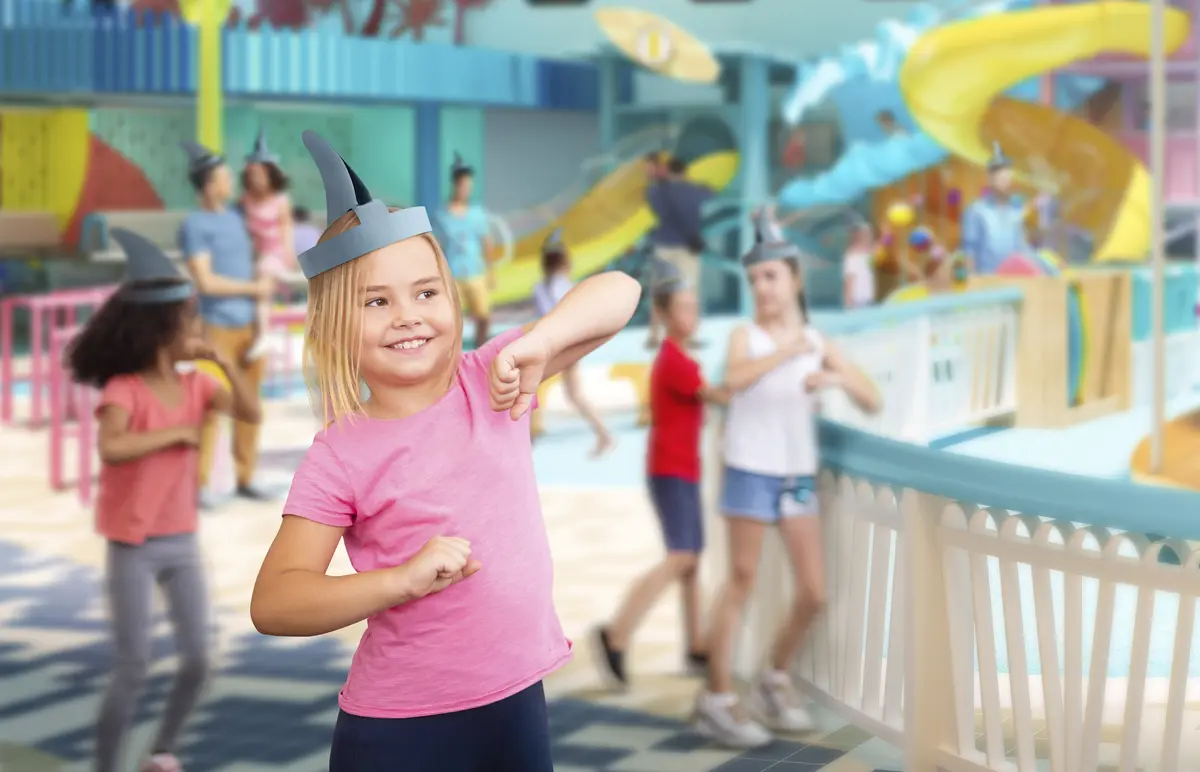 Icon of the Seas will feature next-level experiences designed for specifically for kids, teens, and adults who don't want to miss any of the fun.  
The 250,800 gross ton ship will offer things for the entire family to enjoy together, while also having separate spaces for guests of all ages to have their "alone" time. After a cruise on Icon of the Seas, every family member will have memories of their together their own adventures.
"The brand has evolved, and we've become more and more focused on multigenerational families," said Michael Bayley, Royal Caribbean International President and CEO.
"And if you see and understand that Icon truly is, we deliver that, and we tick every single box as it relates to the ultimate family vacation."
Admiral Awesome
Icon of the Seas will be the first to welcome Admiral Awesome. The brand-new family fun ambassador will spearhead all family excitement onboard and be the LOL, or leader of laugher. 
Admiral Awesome will host different events, including the Larger-than-Life Family Festival in Surfside, which will be a celebration complete with live music, dancing, and supersized games-- think bowling, ring toss, darts, and more. 
There will also be a Steel Pan Family Jam. This event invites the entire family to join in on the fun and play some instructional instruments. Don't worry-- kid-friendly sheet music will be provided!
Kids will also love the Big Shark Block Party, where they can dance with Admiral Awesome and friends to themed mashups and classics, such as Baby Shark and Baby Beluga. 
Admiral Awesome will not just be full of energy. There has to be a balance; nobody wants their kids worn out at the end of the second day! At night, they will read original bedtime stories under the stars during Once Upon a Bedtime Story.
Surfside, the ultimate stay-all-day neighborhood 
When Icon launches in early 2024, she will be the very first cruise ship in Royal Caribbean's fleet to have an area dedicated to young families: Surfside. Here, parents can sit back, relax, and enjoy a tropical drink or spiked milkshake while the kids stay entertained. They can, of course, join in on the fun, too. 
When hunger inevitably strikes, there will not be any hassle of dragging the kids up to the Windjammer. Instead, the entire family can dine at Surfside Eatery, a buffet dedicated to families that will feature fan-favorite Windjammer offerings. There will also be Surfside Bites, a grab-and-go stop for salty and sweet snacks.
Surfside will also be home to a brand-new specialty restaurant: Pier 7. This casual boardwalk eatery will serve an all-day brunch. 
Before or after lunch, adults (and kids) can grab something to drink from The Lemon Post, which will have a menu of unique drinks for everyone in the bunch. 
Accessing Adventure Ocean, Royal Caribbean's award-winning youth program, will be a breeze, as it will be connected to Surfside. The dedicated youth spaces will feature activities for even the youngest sailors.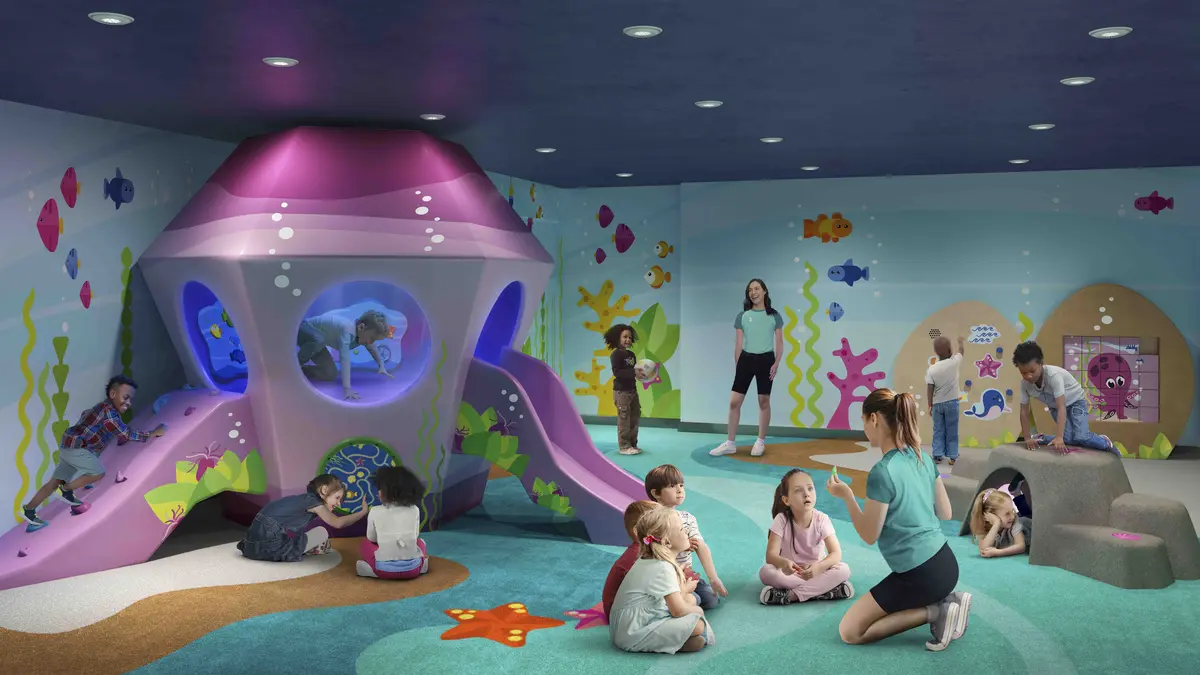 Between Splashaway Bay, Baby Bay, Water's Edge, a carousel, the themed events, and dining venues, Surfside is almost like a vacation destination of its own!
Fun for older kids, teens, and adults
Icon of the Seas is going to be the ultimate vacation for all because it does not focus on a single demographic. Instead, it offers a little bit of something for everyone. Adults, for instance, can challenge each other during Laser Tag: The Fight for Atlantis, while older kids and teens will enjoy having dedicated play times just for them.
Onboard, guests will also find the largest ice skating area at sea, Absolute Zero, as well as The Royal Escape Room, which will require everyone to work together to solve the puzzle before the timer runs out. 
Sometimes, older kids and teens do not want to spend their entire vacation with their families. Social 020, a hidden, teens-only venue, is just for them. Here, they will be able to hangout with other guests their age while playing video games, listening to music, or watching movies. 
They will also love all the experiences that Thrill Island has to offer, from the record-breaking Category 6 waterpark to the Lost Dunes mini-golf course, rock climbing at Adrenaline Peak, the FlowRider surf simulator, and Sports Court.
Category 6 will be the largest waterpark at sea, encompassing over 17,000 square feet of space! Plus, families can enjoy the area together, as it will have first family raft slides at sea: Storm Surge and Hurricane Hunter. The best part? All adventures within Category 6 will be complimentary during the hours of operation.
These adrenaline-pumping thrills will appeal to adults, too!
Thrill Island will also feature Desserted, the first milkshake bar in the cruise line's fleet. This extra-charge venue will serve three different types of milkshakes: classic, extravagant, and boozy for the adults!
Everyone will be able to reconvene in the Royal Promenade, a concept that first debuted on Voyager of the Seas in 1999. This will be a central hub for all guests with bars, lounges, restaurants and feature some fan-favorites including Spotlight Karaoke and Giovanni's Italian Kitchen & Wine Bar.
Family-friendly accommodations
Large families rejoice! 80% of the staterooms onboard Icon of the Seas have been designed for larger families and will feature 14 brand-new categories of rooms to choose from, such as the Family Infinite Balcony.
These staterooms will have include in-room games, a split bathroom concept, and even a separate bunk alcove for children that can be closed off with a curtain for privacy!
It will also be the only ship in the fleet to have the Ultimate Family Townhouse, a three-story suite that is the definition of the ultimate family experience! It will have an in-suite slide, movie theatre, karaoke room, and patio that allows for direct access to the Surfside Neighborhood.
According to Michael Bayley, the average cost of the Ultimate Family Townhouse will be a whopping $75,000 per week!