In:
After 17 years of cruising with Royal Caribbean, I'm less than two cruises away from reaching the highest tier of the cruise line's customer loyalty program.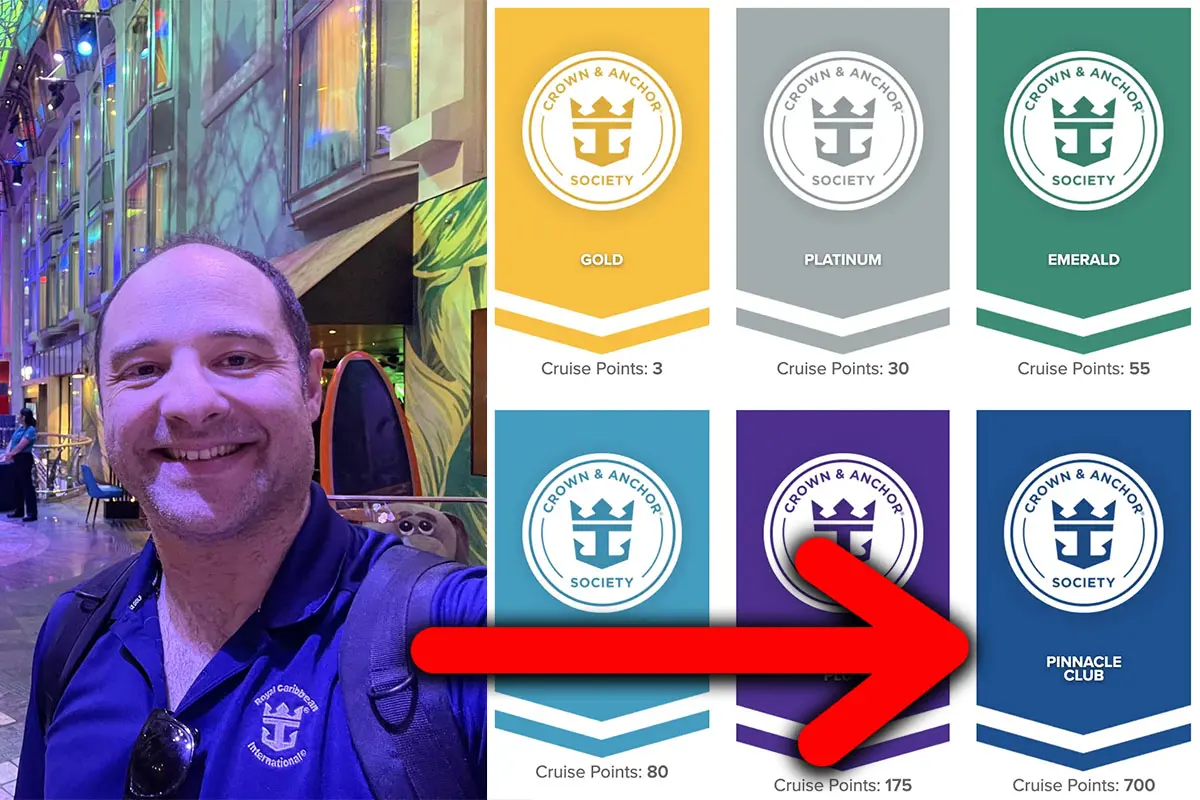 There are 6 levels of the Crown and Anchor Society, but the very top level requires a great deal of dedication to a single cruise line to achieve.
Pinnacle Club status (henceforth referred to simply as "Pinnacle") means you accrue 700 points in Crown and Anchor Society.
I didn't have a goal when I first started to reach Pinnacle, but the more I cruised, the more apparent it became I would reach it sooner than I expected.
When I sail on the June 16, 2023 cruises on Navigator of the Seas, I should hit lucky number 700 early in that sailing.
Most cruisers will never get close to the 700 points needed, but if they do, there is a slew of new amenities and benefits, along with a distinct culture to Royal Caribbean's upper echelon of cruisers.
Reaching 700 points
I was never one to cruise more in order to attain a higher loyalty program status. 
Unlike the airline industry that places a great deal of emphasis on attaining status (primarily driven by business travelers), some of the best benefits for cruisers are when you get to the upper-middle tiers. However, Pinnacle status shares some similarities with the airline programs in terms of offering the most perks at the top.
I got into cruising because I liked the idea of visiting different ports, and the benefits I received along the way sweetened the experience.
I remember thinking about how lucrative it was to get to Platinum status and be eligible for a balcony discount.  Then I thought when I became a Diamond member and getting complimentary drinks every day of my cruise was just about the best I could hope to achieve.
It's a long way from Diamond Plus at 175 points to the 700 threshold for Pinnacle.  Two factors catapulted me significantly faster to 700 than I thought would otherwise.
First and foremost, I live in Florida, and that means I have access to year-round cruises without the additional cost of airfare. 
Florida is the cruising capital of the world because of all the cruise ships based here, and being able to drive to your cruise (especially when there's a cruise deal) enables far more cruising than living anywhere else.
I live in the Orlando area, and that puts four different Royal Caribbean home ports less than 4 hours of driving away.  Two of them are just about an hour away.
Compounding my Florida residency is of course the fact I've been working on RoyalCaribbeanBlog.com as my full time job.
Being able to "cruise for a living" meant I started going on many more cruises than I ever did when I had my former day job.  Similar to how retirees have the time to cruise a lot, I didn't have to balance vacation time needs. 
Of course, having a wife and two school-aged kids means I'm not sailing every week by any means.  It's a struggle to balance the school schedule, especially considering how much I love going with my kids on sailings around the world.
And in case you're thinking I get to cruise for free from various media cruise giveaways from Royal Caribbean, there are very few free cruises given to me (maybe twice per year), and most importantly, I receive zero Crown and Anchor points for media cruises.
But if there's one factor that got me to Pinnacle faster than living in Florida or even working on this blog, it was the double points promotion.
From 2020 through the end of 2022, Royal Caribbean offered double the normal amount of loyalty points for cruises booked during the cruise industry shutdown.
It was a strategy by the cruise line to spur new bookings at a time when many people were hesitant to book cruises on sailings they weren't sure were actually going to sail due to the uncertainty related to the industry's return to service.
Going on week-long cruises and getting 28 points per sailing (sailing in a suite or solo multiplied by 2) moves you up the ladder a heck of a lot faster.
Everyone in Crown and Anchor Society benefitted from the double points, and it certainly accelerated my points trajectory.
Why reaching Pinnacle means something
When I got to Diamond Plus status (175 points), I thought I had reached the mountain top of Royal Caribbean status for what was realistic for me, and I was content being there because I didn't truly grasp the value of getting to Pinnacle.
The more you cruise, the more friends you'll make along the way, and I've gotten to known many wonderful people that were already Pinnacle members or turned Pinnacle later.
Everyone has a story how they attained what seemed like the impossible: seven hundred points!
In speaking with them and observing other cruisers, it's clear being a Pinnacle is more than just a different color on your SetSail pass or an extra free drink every day.
Royal Caribbean itself places a ton of emphasis on its top tier cruisers. In short, they want other cruisers and crew members to know someone is a Pinnacle compared to any other Crown and Anchor status.
Pinnacles get gold SeaPass cards, are able to check-in with the suite guests, get mentioned at Top Tier events onboard, and receive a gold lapel nametag to wear around the ship.
While I personally don't care for the badge as something I want to wear, it's incredible how much emphasis the Pinnacle program gets from the company.
I think any customer wants to feel valued, whether at a sandwich shop, car dealership, or on a cruise ship. Certainly most companies talk about how much they love their customers, but Royal Caribbean backs it up with action.
Beyond the added benefits listed later in this article, it's more than lip service. When policies are amended, the cruise line often makes special stipulations just for Pinnacle Club members.
In my observations, it seems Pinnacles also get a lot of officers onboard speaking to them to not only get to know these people, but take care of concerns they may have. 
I don't want it to seem like Pinnacles get everything they want and the cruise line is perfect in their handling, but Pinnacles get more attention than any other tier.  I can appreciate that Royal Caribbean cares beyond form letters and freebies.
The extras you get with Pinnacle status
In case you're wondering what extras you can expect if you reach 700 points, here's a breakdown of the benefits Royal Caribbean lists for its Pinnacle guests.
Flexible arrival
Personalized lapel pin for Pinnacle Club
Pinnacle Club SeaPass Card with exclusive privileges
Daily breakfast at a specialty restaurant
Exclusive nightly pinnacle club event
Milestone cruise certificate valued at the prevailing rate of a 7-night balcony stateroom for 700 and 1050 cruise points
Milestone cruise certificate valued at the prevailing rate of a Junior Suite stateroom for 1,400 and every 350 cruise points thereafter
Bigger discount on Balcony & Suite staterooms compared to a Diamond Plus member
The free cruises for continuing past 700 points is a really nice option that adds a tremendous amount of value.
After hitting the Pinnacle Club level, you'll get an additional free cruise every time you accumulate another 350 points. That means you will get an initial free cruise after hitting 700 points, and then additional cruises at 1,050 points, 1,400 points, 1,750 points, etc.
The free cruise is for two people, but you can bring a third and fourth guest. You'll just have to pay for their fares. 
The first two cruises are in a balcony cabin. After that, you quality for a junior suite.
If you don't want to sail the Caribbean, you can ask for a cruise credit to use toward an itinerary somewhere else. Royal Caribbean will give you $2,400 toward the purchase of a cruise at 700 and 1,050 points, and $3,200 toward the purchase of a cruise at 1,400 points and above.
Two more cruises to go
With just about 20 points to go until I make Pinnacle, I find myself reflecting on the years of cruising.
If my math is right, I've taken 68 cruises so far and that means I'll reach 700 once I'm on cruise number 70, which will be Navigator of the Seas on the June 16th sailing.
If you were to ask what it feels like to reach Pinnacle, my answer would be "surreal".
I never thought I would reach Pinnacle quite this soon, but in doing so, it feels like a new phase of my Royal Caribbean cruising career will open, similar to how things changed onboard when I hit Diamond.
I'm grateful to my many friends who are already Pinnacle and have shared their experiences over the years. As one of our writers is fond to say, "cruising is what you make of it" and the Crown and Anchor Society is very much the same way.
I may not take advantage of every single Pinnacle benefit, but there are a few I'm very much looking forward to, such as priority embarkation and complimentary internet access.
Of course, the complimentary cruises along the way will be yet another good rationale for telling my wife we "need to book another cruise."
I hope sharing my experience will provide you with context for perhaps making it to Pinnacle as well some day, and what Crown and Anchor Society offers its most loyal cruisers.