In:
Top executives from the Royal Caribbean Group discussed a variety of topics during the company's fourth quarter earnings call on Tuesday.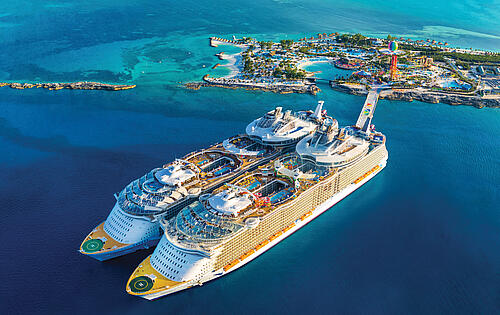 Each quarter, Royal Caribbean Group hosts a call with Wall Street analysts to provide an overview of their financial results and share insights on the company's growth and plans to come.
Here are the important takeaways from this quarter's earnings call as it relates to how Royal Caribbean is doing and what their plans are for the rest of 2023.
Back to normal
Jason Liberty, Royal Caribbean Group President and CEO, discussed how 2022 saw the return to normal for cruise vacations.
"2022 was a challenging but successful transitional year. During the fourth quarter, demand for our brands accelerated. We delivered a record 1.8 million vacations, achieved a 95% load factor, and successfully returned to Australia for the first time in three years."
In the cruise industry, load factor refers to the passenger capacity onboard Royal Caribbean's ships. Most Royal Caribbean ships continue to sail at full capacity as 2023 begins.
Why do cruise vacations remain so popular? Liberty discussed how consumer preferences are shifting from goods to experiences.
"Entertainment and travel spend remain strong and the job market continues to show resilience. Consumer sentiment has improved and banks have recently reported healthy savings and continued resilience in credit card spending."
Royal Caribbean Group's products appeal to a broad range of vacationers, whether booking short getaways to Perfect Day at CocoCay or a luxury world cruise.
The company's fourth quarter results clearly show that cruise lines are back to normal, and growth should be expected to continue in 2023.
More web traffic and more new to cruise than 2019
Royal Caribbean Group is seeing an influx of new cruisers to their brands, with the fourth quarter's new to cruise and new to brand mix above 2019 levels.
This growth can easily be seen when looking at Royal Caribbean Group's website traffic. As Jason Liberty stated, "Growth in cruise search has outpaced general vacation searches, resulting in double the number of visits to our websites compared to 2019."
More website traffic also means more traffic on the Cruise Planner website, with around 60% of guests making pre-cruise purchases in advance of their cruise. This translates into "more revenue, stickier bookings, and happy guests."
Related: The Ultimate Guide to the Royal Caribbean Cruise Planner site
Liberty explained how increased website traffic has, unsurprisingly, led to a significant increase in bookings. "The seven biggest booking weeks in our company's history all occurred since our last earnings call. Our commercial apparatus is full speed ahead and all channels are delivering quality demand above 2019 levels."
Royal Caribbean Group expects to provide "amazing vacation experiences" to over 8 million guests in 2023.
Hideaway Beach update
As part of the earnings call, Royal Caribbean Group discussed what's new for the company in 2023. Aside from new ships across Royal Caribbean, Celebrity, and Silversea is a new addition to Royal Caribbean's private island, Perfect Day at CocoCay.
"We plan to launch Hideaway Beach in the fourth quarter of 2023," Liberty stated, "an adult neighborhood making Perfect Day at CocoCay more perfect."
Related: Guide to Hideaway Beach adults-only beach at CocoCay
Hideaway Beach is set to increase capacity at CocoCay by 3,000 guests, bringing the island's total capacity to 13,000 guests per day. Little details are known about the offerings and design of Hideaway Beach, but it will surely be a popular spot on the island for adults in search of a more tranquil atmosphere.
Demand for Perfect Day at CocoCay
Royal Caribbean Group estimates around 2.5 to 3 million guests will visit Perfect Day at CocoCay in 2023, and Royal Caribbean President and CEO Michael Bayley spoke of the island's success.
"The demand for that product [Perfect Day at CocoCay] is exceptionally high. The demand not only is there from a volume perspective, but the rate is there and that rate has been going up again in a very healthy way."
The popularity of Perfect Day at CocoCay has also led to increased spending for products and experiences on the island. While much of the island is complimentary, many guests choose to spend extra on add-ons like Thrill Waterpark, the Coco Beach Club, and private cabanas.
It's no secret that prices for these add-ons have gone up since the restart of the cruising industry in 2021, but Bayley explained how "we've seen a great demand and a lot of resilience as the prices go up. So it's a hit and it's very successful."
Want more Perfect Day locations
During the call's question and answer session, Michael Bayley was asked about the company's plans for opening additional Perfect Day locations around the world.
"We have an appetite for other such ventures," Bayley answered. "As soon as we're ready to make any other announcements, we will. Our intention is to continue to grow this piece of the experience for our guests."
Thus far, Royal Caribbean has only announced one additional Perfect Day location: Perfect Day at Lelepa, which will be located in the small South Pacific nation of Vanuatu.
No new information was released about Perfect Day at Lelepa during today's call, but we can expect this island to be a major driver for bookings in the Australian cruise market.
People still spending a lot on extras
When the cruise industry restarted in 2021, Royal Caribbean noticed an increase in the amount of spending by each guest onboard. From specialty restaurants to drink packages and shore excursions, the company saw a sharp increase in the amount of cruise add-on purchases.
When asked whether or not this trend is sustainable, Michael Bayley explained how "When we first starting coming out of the pandemic and we saw this really strong, robust onboard spend, we wondered how long it would last for. It's just continued to strengthen."
With 60% of passengers booking pre-cruise purchases and 25% of the purchases occurring directly on the Royal Caribbean app, Royal Caribbean Group feels confident that this performance will continue throughout 2023 and into 2024.
Icon of the Seas best selling ship ever
Although the inaugural sailing of Icon of the Seas isn't until January 2024, the ship was mentioned as an important business driver for 2023.
Michael Bayley discussed the incredible success of Icon of the Seas thus far.
"We opened up Icon of the Seas for sale a few months ago, and that ship has literally been the best selling product in the history of our business and has been absolutely outstanding in terms of the demand and the pricing that we're generating for that product."
Icon of the Seas is the first ship in Royal Caribbean's Icon Class, the first new class of ships since the Quantum Class launched in 2014. The ship will feature a waterpark, family-oriented neighborhood, upgraded suites-only spaces, and an indoor AquaTheater entertainment space.
Related: Icon of the Seas: Itinerary, features, and more
In addition to new public spaces are new stateroom categories, the most elusive of which is the Ultimate Family Townhouse, a three-story cabin in the ship's Surfside Neighborhood. Bayley mentioned how this cabin alone had incredible success with bookings.
"It's only one category of room… but the Ultimate Family Townhouse that we sell on Icon is already 55% sold out for 2024 at an average price of $75,000 a week."
Related: Guide to Icon of the Seas cabins and suites
Royal Caribbean Group believes 2024 will be a very healthy year for the company, and a big driver of success will be the launch of Icon of the Seas.
Lingering effect of Ukraine war?
As the Russia-Ukraine war continues in Europe, Royal Caribbean Group has seen several effects on their business offerings and demand.
The first lingering effect of the conflict in Ukraine is the deployment impact; cruises to Eastern Europe and the Baltics are still on pause.
The second effect is the war's effect on energy prices in Europe. European consumers are encountering significantly higher energy costs than in the past, influencing consumer spending.
Jason Liberty discussed that despite the conflict in Ukraine, there is still great demand for European cruise itineraries, including demand from European consumers.
"Their propensity to cruise, their desire to go on a vacation experience is high. The value proposition for the cruise, as I noted in my remarks, that gap is still very significant.
"But I think that's really where you see the effect. European consumers desire to go to the Nordics, desire to go to the Western Med, Eastern Med, which is really kind of fully open to them to experience, that demand is there."
China cruise market re-opening
The final takeaway from today's earnings call with investors is the state of the cruising industry in China.
Michael Bayley stated two impediments to the re-opening of the Chinese cruise market:
A ban on cruising and group travel in China is still in effect
Japan has a requirement that Chinese tourists must test for Covid-19 and could potentially be quarantined
The company is hopeful these requirements will be dropped during the first half of the year. Once these conditions are no longer in effect, the market will reopen.
"We're thinking that it'll be late 2023 and we're kind of thinking that in 2024, probably, realistically, the China market will be back," said Bayley. "But obviously that's based upon how we understand and see the situation currently."
China has been a highly profitable market for Royal Caribbean Group, so the company continues to anticipate the restart of the cruising industry in China.
Currently, Spectrum of the Seas, Royal Caribbean's Quantum Class ship designed for the Asia cruise market, offers sailings from Singapore.