In:
Wonder of the Seas, Royal Caribbean's newest cruise ship, is the biggest cruise ship in the world. She features the most modern activities, cabins, entertainment, and dining choices found in the fleet, and there's no wonder why she is a favorite among many Royal Caribbean cruisers.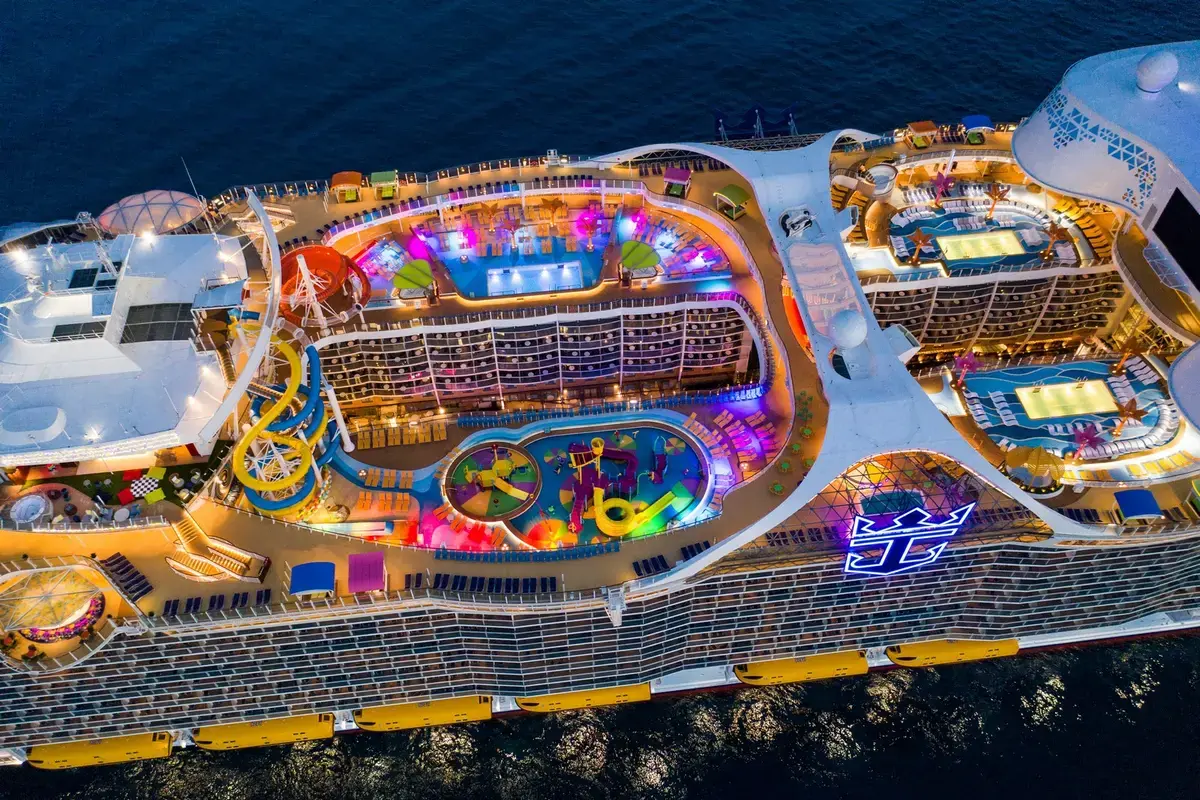 While the entire ship is remarkable, there are a few key areas where Wonder of the Seas really stands out. From a reimagined pool deck to a suites-only oasis, here are the 10 things Royal Caribbean got right with Wonder of the Seas.
Brunch at The Mason Jar Bar & Restaurant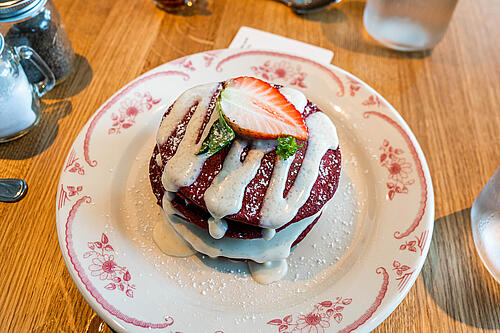 The Mason Jar is Royal Caribbean's newest specialty restaurant concept, with a menu inspired by dishes from various regions of the American South. From chicken pot pie to blackened catfish and St. Louis-style ribs, the restaurant features dishes you may not eat regularly at home.
Related: The Mason Jar Southern food restaurant review on Wonder of the Seas
In addition to dinner, The Mason Jar is also open for brunch on sea days. Both sweet and savory brunch is available, with items including chicken and waffles, salmon-avocado toast, stuffed french toast, and a crispy chicken sandwich.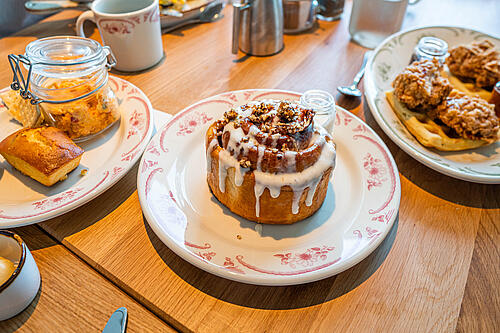 Breakfast is my favorite meal of the day, so when I heard that Royal Caribbean's newest restaurant would feature a brunch menu, I couldn't wait to try it.
I ordered the red velvet pancakes–akin to dessert for breakfast–and tried the restaurant's gargantuan cinnamon roll. As someone with a sweet tooth, I was in heaven, and I wouldn't hesitate to book brunch again on my next Wonder of the Seas cruise.
Giovanni's Wine Bar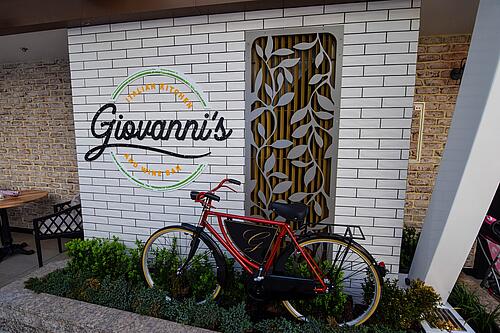 While Vintages Wine Bar is found on many Royal Caribbean ships, the cruise line took its wine bar concept up a notch with Giovanni's Italian Kitchen and Wine Bar.
Giovanni's Italian Kitchen is the newest Italian restaurant concept on Royal Caribbean. Giovanni's Wine Bar is an extension of the restaurant, which offers wine and à la carte appetizers, pizzas, and desserts from Giovanni's Italian Kitchen.
Related: How Royal Caribbean reimagined its signature Italian restaurant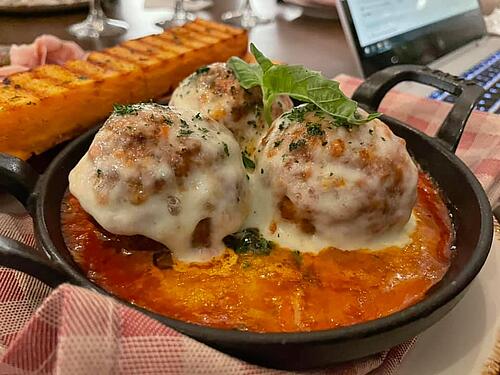 At Vintages, only a small tapas menu is available, so I loved having an extensive menu of à la carte dishes to choose from at Giovanni's Wine Bar. Items were priced quite reasonably (around $3-9 for appetizers and $9-12 for pizzas).
I felt the wine bar made an excellent dinner (or snack) choice for those who wanted to try Giovanni's Italian Kitchen without forking over $50 for dinner per person. Plus, I loved the modern, bright design of the wine bar–a stark contrast to the darker and moodier vibe of Vintages.
inTENse AquaTheater show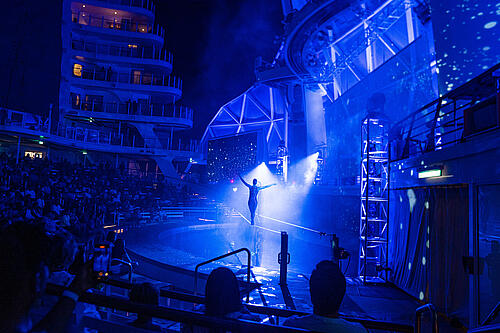 Shows in Royal Caribbean's AquaTheaters are always spectacular, but the AquaTheater show on Wonder of the Seas is one of the best I've seen yet.
inTENse, the ship's AquaTheater show, is the first to feature an all-female cast. Not only did I love the female empowerment of the show, but the slacklining, high-diving, aerial performances, and synchronized swimming were beyond incredible. The show lives up to its name; it is intense!
If you're sailing on Wonder of the Seas, don't miss this performance.
Suite Neighborhood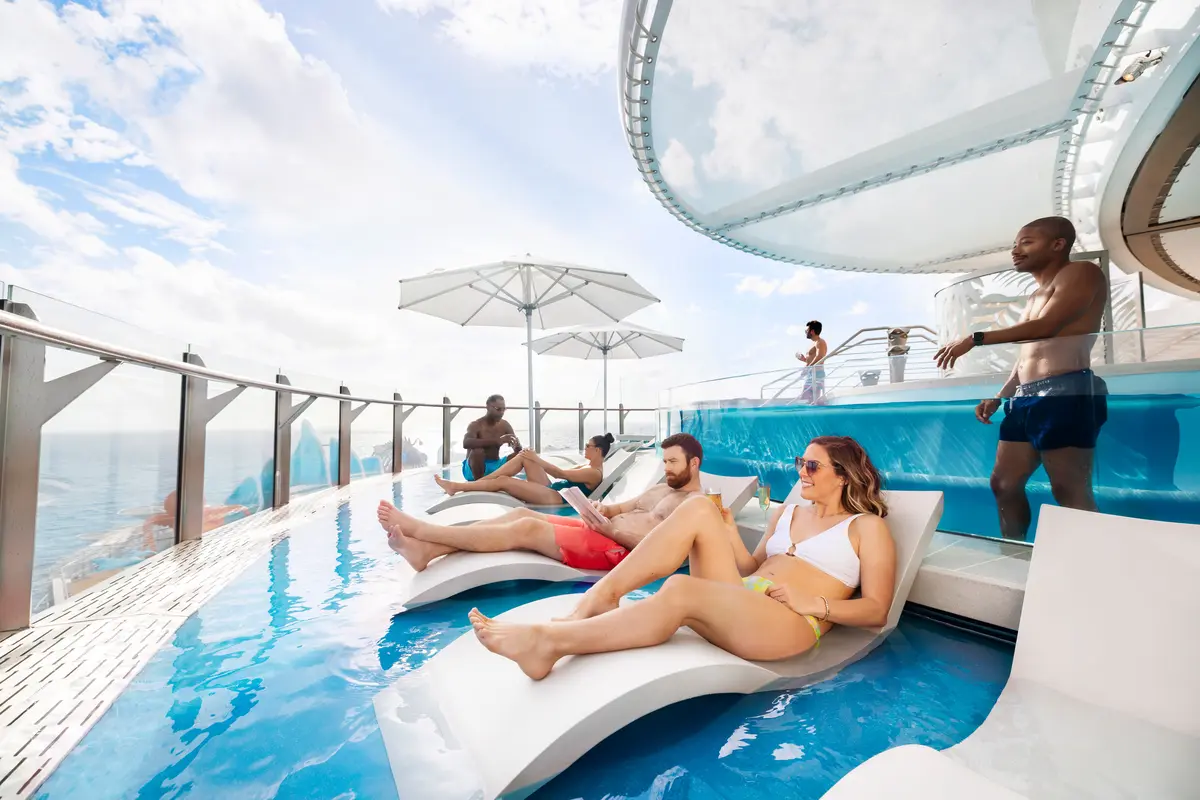 Wonder of the Seas is the first Oasis Class ship to feature a designated Suite Neighborhood, accessible only to suite guests. This neighborhood includes a Suite Lounge, Coastal Kitchen restaurant, and private sundeck with its own bar and pool.
Related: Wonder of the Seas neighborhoods tour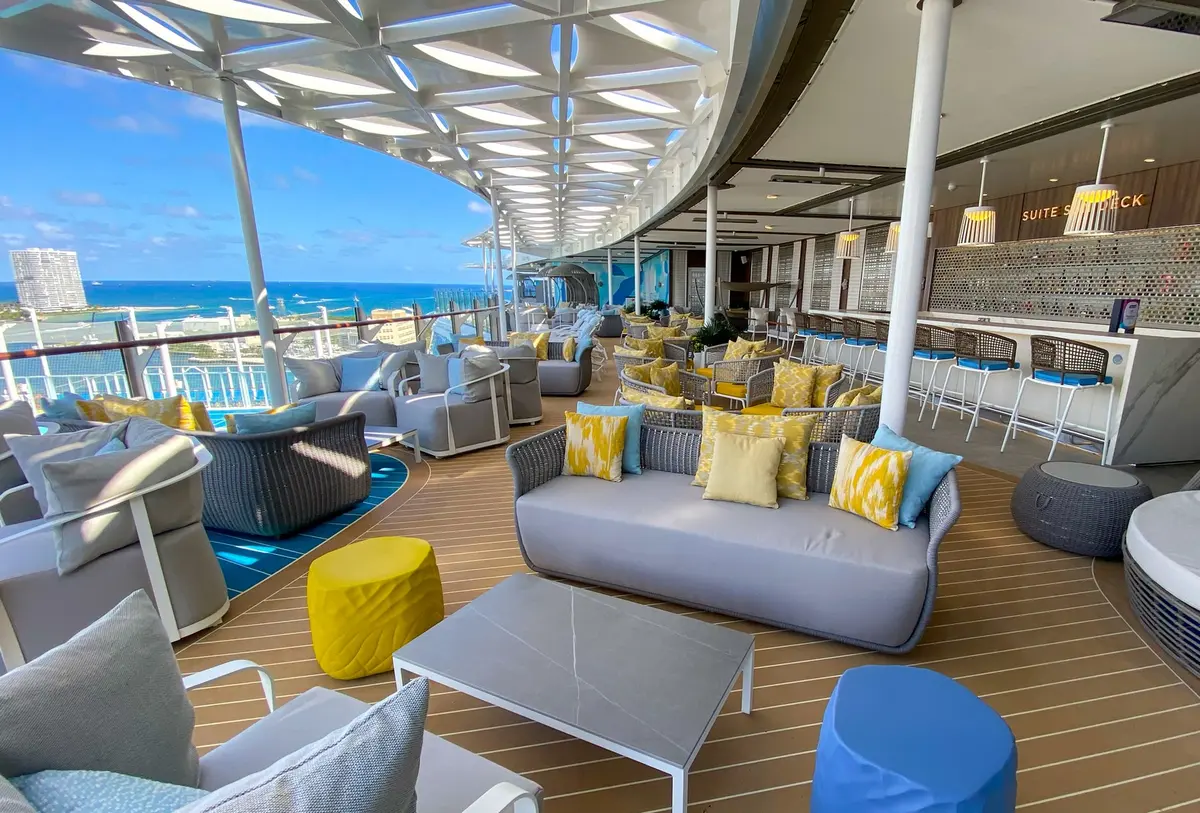 The Suite Neighborhood on Wonder of the Seas is an enhanced version of the suites-only areas on other Royal Caribbean ships. Even though other ships may have a private sun deck, lounge, and restaurant for suite guests, they are rarely located in the same place. The Suite Neighborhood combines these features into one convenient area for suite guests, creating a "ship within a ship concept" that is not found on other ships.
Guests in Grand Suites and above can access the Suite Neighborhood, and those in Sea Class (Junior Suites) can dine at Coastal Kitchen for dinner only.
Although I'm not sure I'll ever sail in a $20,000 suite, the Suite Neighborhood certainly has me dreaming about cruising in luxury!
Windjammer size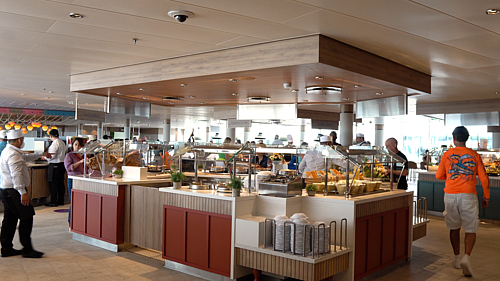 On other Oasis Class ships, the Windjammer is quite small in relation to how many guests are onboard. With so many other dining choices available, Royal Caribbean wanted to make the Windjammer less prominent on the Oasis Class.
They later realized, though, that passengers prefer having a large buffet with plenty of seating and endless food choices. Because of this, the Windjammer was reimagined on Wonder of the Seas and is the largest buffet in the fleet.
Related: Guide to Royal Caribbean's Windjammer Cafe buffet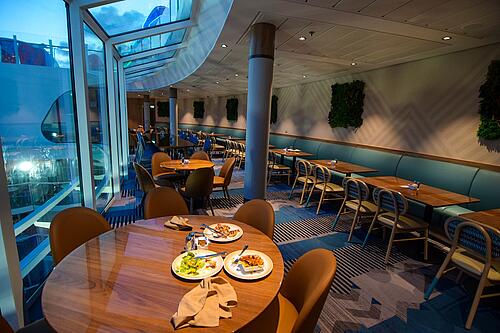 As someone who enjoys dining at the Windjammer for breakfast and lunch more than other venues, I appreciated the larger buffet size on Wonder of the Seas. I find that I rarely eat at the Windjammer on other Oasis Class ships; the area always feels too cramped for my liking.
On Wonder of the Seas, though, I dined at the Windjammer nearly every day of my cruise and was impressed by the size and variety of offerings.
Cantina Fresca & El Loco Fresh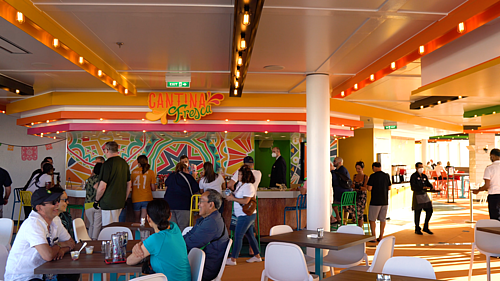 El Loco Fresh is one of my favorite complimentary dining options on any Royal Caribbean ship, and I'll never pass up a quick lunch of burritos, nachos, and tacos.
Wonder of the Seas took El Loco Fresh to the next level by placing it adjacent to a brand-new bar, Cantina Fresca. Cantina Fresca is a Mexican-inspired bar featuring margaritas and aguas frescas, which offer the perfect accompaniment to chips, salsa, and unlimited guacamole.
Additionally, the bar's location near the Sports Court is perfect for those who want to grab a quick bite to eat in between time at the pool and signature activities like zip lining and the FlowRider.
Climate-controlled Solarium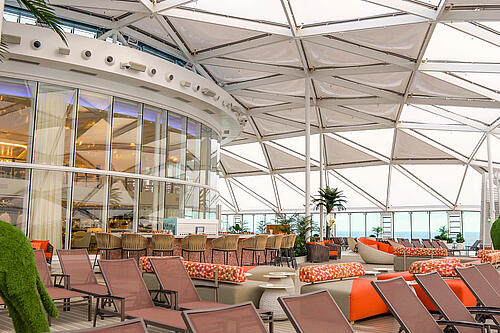 The adults-only Solarium on Wonder of the Seas may just be the best in the fleet. Unlike other Oasis Class ships, it's fully enclosed and climate-controlled. In my opinion, this makes it a far more comfortable spot to relax compared to the open-air Solariums on other Royal Caribbean ships.
Related: Wonder of the Seas vs other Oasis Class ships
Outside of being climate-controlled, the Solarium is beautiful. With a domed ceiling, comfy lounge chairs, art pieces, a pool, and a plethora of jacuzzis, it's one of the best hangout spaces on Wonder of the Seas.
Social100 teens-only patio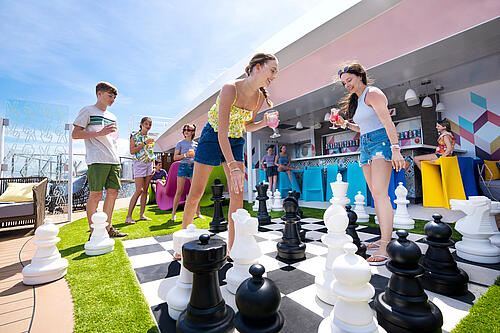 Wonder of the Seas features Royal Caribbean's new rendition of Adventure Ocean kids programming, which focuses on giving kids more flexibility in what they'd like to do compared to the old Adventure Ocean.
Related: 50 best cruising with kids tips & secrets
Part of the new Adventure Ocean includes updated teen spaces, and Wonder of the Seas features both an indoor teen lounge and private outdoor deck known as Social 100: The Patio.
The Patio features its own bar, hot tub, comfy seating areas, large chess board, and selfie backdrops. It's somewhere passengers aged 13-17 can meet and mingle with kids their own age, and I can imagine it's a popular spot for teenagers onboard.
I would have loved this hangout space as a teen, and I'll admit I'm a little jealous there's not an adults-only equivalent of this space!
Cowboy hat stage in the Royal Promenade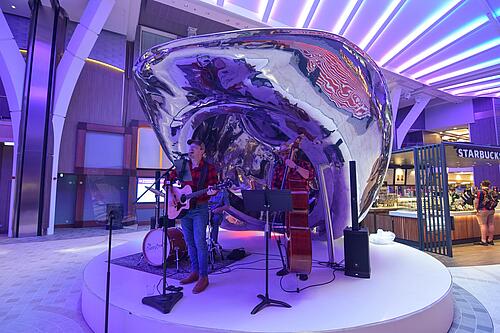 Every Royal Promenade on an Oasis Class ship features a large piece of artwork. While the five-ton, 3D metallic head on Harmony of the Seas impressed me, I was especially impressed by the use of artwork on Wonder of the Seas.
The Wonder of the Seas Royal Promenade features a silver-plated, giant cowboy hat. Upon first glance, I didn't pay much attention to it.
Later on in my cruise, however, I discovered that the art piece also functions as a stage for The Mason Jar band. I thought this concept was unique and enjoyed listening to the musicians while strolling around the Promenade.
Colorful, reimagined pool deck
The Wonder of the Seas pool deck immediately transports passengers to a Caribbean paradise, with colorful decor and tropical-themed bars dotted along the ample deck space. I'd argue that the pool deck on Wonder of the Seas is the best in Royal Caribbean's fleet.
One of my favorite aspects of the pool deck is The Lime & Coconut, Royal Caribbean's signature Caribbean-themed bar. This bar features the best of the fleet's tropical cocktails, including the creamy, tangy Lime & Coconut cocktail, Mai Tai, and Goombay Smash.
Related: Wonder of the Seas Guide, itineraries, features, and more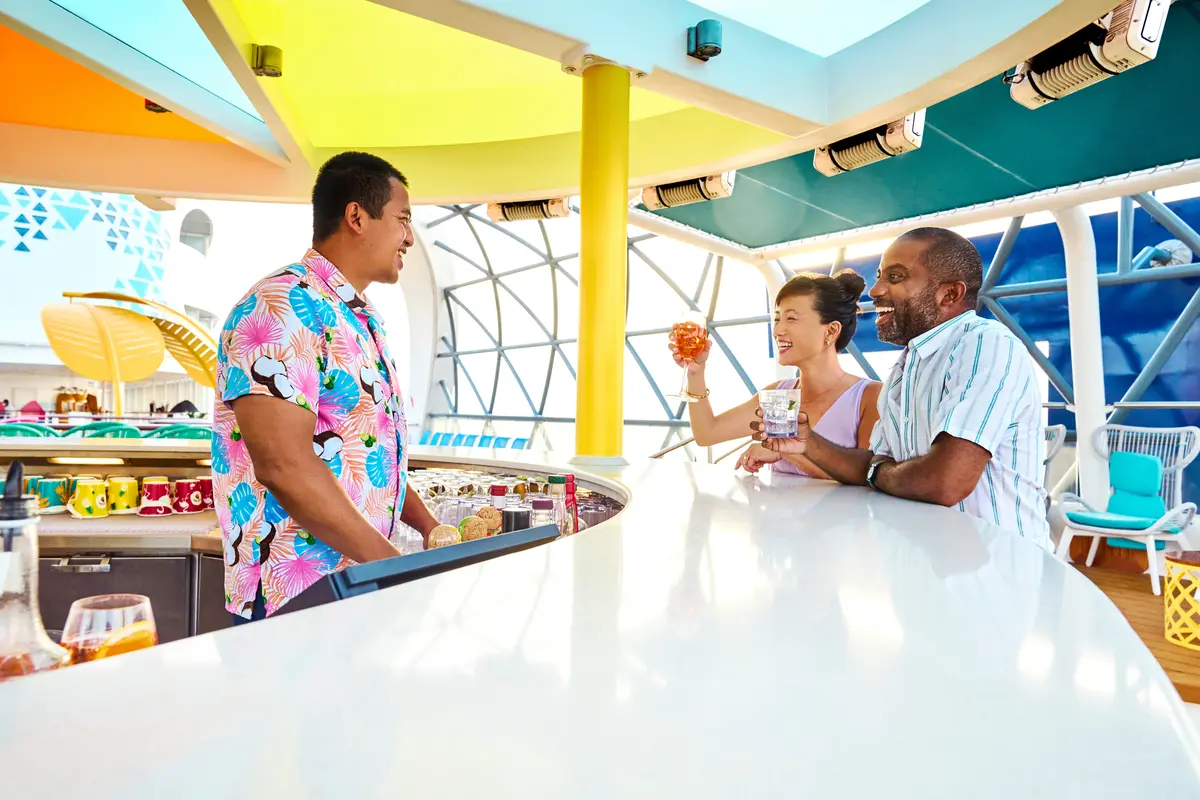 I appreciated the variety of seating available on the pool deck. Comfy loungers can be found throughout the deck along with private casitas (available by reservation only), in-pool loungers, and even "theater" seating in front of the pool deck's TV screen.
The pool deck is guaranteed to be busy on any Wonder of the Seas cruise, and it's the perfect place to catch some sun as you sail through the Caribbean.