In:
The internet is a great place to share experiences, but there are a few cruise ship critiques that you should probably not put much stock in when making a decision.
I enjoy reading other people's experiences on a Royal Caribbean cruise, including what they liked and didn't like about their cruise. But I will rarely, if ever, use it as a basis for my own plans.
The reason why you should not base your buying decisions on someone else's experience is that your cruise could be completely different. Moreover, your particular tastes may be different than theirs.
It's quite common for me to see a message on the Royal Caribbean Blog message boards from someone who got back from a cruise and rants about something they did, saw, or experienced onboard they did not like at all. In some cases these are a result of being unaware of what to expect, or perhaps they simply did not care for it. 
An important mantra of reading others reviews is that we all have different tastes. Think about something you love but you know others cannot stand, such as a favorite sport, a hobby you enjoy, or a local restaurant. You love it, but know someone that has the complete opposite opinion you hold. That doesn't make you wrong, nor does it mean others might not enjoy it either.
Of all the commonly reviewed cruise experiences out there, here are the top hot takes to safely ignore and try it out yourself anyway.
Food and dining reviews
They say "everyone's a critic", and this definitely holds true of dining.
One of the most commonly shared reviews of a cruise ship is the food served onboard, both the food included and what costs extra.
With so many dining choices, lots of people love to share their dining reviews of a restaurant, including the individual dishes, the service, or the restaurant overall.
When it comes to food reviews, I always think about broccoli. 
Broccoli is a particularly polarizing food because there are so many people that love broccoli and an equal amount of people who absolutely hate broccoli. What does that mean? We all have different tastes and just because someone loves or despises broccoli doesn't mean you will either.
So when you read about Meemaw's Fried Chicken N' Waffles at the Mason Jar, or Taste of Royal lunch, you shouldn't decide if you'll order something (or skip the restaurant all together) because of someone's review.
This also holds true of the service.  Every restaurant has a bad day in terms of slow service. Think about dining at home and I'm sure you'll recall plenty of times your favorite restaurant was extra slow or your waiter was not great.
Slow service can happen anywhere, and it's something Royal Caribbean is constantly working to prevent. 
My advice is to not limit yourself or skip a restaurant because of what someone else thought of the food or service. Give it a try at least once to see how you like it or not.
Mattress comfort
"I've hard the mattresses are uncomfortable" is another topic of discussion that is bound to be purely subjective.
There are plenty of theories about cruise ship mattresses and whether or not they are too firm.
Just like all the models at a mattress store, some people will prefer a firm or cushy mattress. Your cruise ship mattress is going to be no different.
If you do find the mattress firm, you could always ask your stateroom attendant for a mattress topper. Or ask for another comforter and place it under the sheet to provide more cushion.
Crowds
Is the pool deck, Adventure Ocean, Royal Promenade or the ship itself crowded? A lot of it will depend on your own personal definition of how crowded is too crowded.
A researcher at the University of Tokyo looked at how people perceive congestion, and it turns out the sheer volume of people around us is not the end-all, be-all of what makes it feel crowded.
"I was a little surprised to find that the density of people in a given space was not the best indicator of perceived congestion; in fact, it turned out to be the walking speed, or velocity, of the people around the perceiver," said Project Assistant Professor Jia Xiaolu.
If you hear that the pool was crowded on a sea day, was that person in the pool the whole day? Did they observe it from a higher deck? Did they spend all day or 10 minutes? And most importantly, how do they determine what is too crowded?
Let's face it, Royal Caribbean cruise ship are not private yachts and their ships sail at full capacity. This isn't a secret, so there will be other guests around you most of the time. But that doesn't mean it's a poor experience.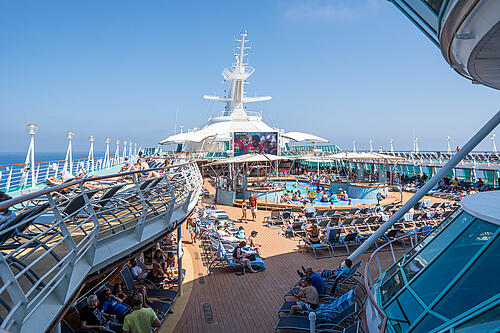 Some people love being in the center of the fun, and that includes being in a bar or pool where lots of other people are hanging out.  Meanwhile, there are folks that prefer to have a space all to themselves at all times. 
If you read that a ship was crowded, that isn't a scientific analysis of the experience or that you shouldn't sail on it. 
Entertainment
You'll find comedians, Broadway shows, singers, and plenty of other live entertainment on your cruise. With it, comes everyone's thoughts on if it's worth seeing.
Royal Caribbean invests heavily in live entertainment, so you'll find no shortage of bands, singers, actors and the like. 
The shows onboard Royal Caribbean cruise ships are always the source of endless reviews. Look no further than the ongoing discussions surrounding the Broadway show, "Cats" on Oasis of the Seas, for proof of this.
My advice is to see the show to determine for yourself what you like or don't like. 
I've seen enough magicians onboard cruise ships to swear them off, but that's my opinion. I know others that love magic shows on cruises. It's proof that we all have different tastes and not to rely on someone else's review of a show to determine if you will see it.
Cruise ships
The all-time cruise hot take worth ignoring completely are cruise ship reviews.
Because cruise ships offer so many choices in what you can do, the experience will be vastly different for every person. You certainly cannot determine if you should cruise on one ship or not based on if someone else liked or hated the ship.
But what if there are a lot of negative reviews about a particular ship? I get this question all the time from readers.
My response is reviews of cruise ships are useless because of how much variation each person on that ship can have.
First and foremost, I believe the top reason for a negative experience on a cruise ship is being unaware of what the ship has and does not have onboard.
People often ask "What is the worst Royal Caribbean ship?" thinking that there's at least a few duds that everyone should avoid. It's not the case at all.
It has less to do with an inherit flaw or problem with the ship, and more to do with what you want in a cruise ship.
If you're still not convinced that all those negative reviews of one cruise ship are flawed, then consider the the nature of online reviews.
The people that write online reviews are far from objective, and anything but a professional reviewer. Often they will let minor issues overwhelm the bulk of their experience and give an undeserved 1 star review.
Want proof of that? Here's my favorite exercise.
Do a Google search for The Great Wall of China, which is one of mankind's greatest engineering achievements. 
There are over 15,000 reviews and it has a 4.2 star rating with hundreds of 1 star reviews.
"It's way too long. They should offer rides across."
"Very boring. It did not move and it was no fun."
"Too much walking."
You may be laughing at these ridiculous reviews of an incredible feat, but these are the same kind of slanted reviews you'll read about cruise ships.
Read more: Why you can't trust online reviews of cruise ships
Instead of relying on online cruise ship reviews, look at what each ship you are considering offers and doesn't offer. Consider your own personal preferences (do you like having lots of activities for kids? Want water slides? Need Broadway shows?) and then pick the right ship based on those thoughts.
If you want to learn about Royal Caribbean ships, here are some helpful resources: