In:
Royal Caribbean has updated the situation with Quantum of the Seas needing to slow its speed and skip Alaska glacier visits.
Earlier this week, guests booked on Quantum of the Seas on August sailings were sent an email to inform them that the ship would skip glacier viewings on their sailing.
Thus far, the August 1, 8, and 15 Alaska cruise sailings are impacted. Quantum of the Seas is sailing 7-night Alaska cruises from Seattle.
A new email was sent today to guests booked on Quantum of the Seas to update the situation as to why the change is necessary.
Royal Caribbean says the speed limitations are caused by a technical issue with one of the engines.
While that may sound alarming, the cruise line reminded guests the ship has four engines, and one of them requires repairs and the repair parts are delayed, "Quantum has four engines. One requires some repair and there's a delay in receiving the parts needed. Additionally, another engine is scheduled for routine maintenance soon, which means we'll have to reduce our overall speed during these sailings."
"While we're doing everything we can to expedite this, the global supply chain situation that we're all experiencing is further impacting the delay."
Royal Caribbean was sure to note the safety of the ship is not compromised, "Safety is always our top priority. Our ships can safely sail in these kinds of situations, just at reduced speeds."
Trying to make up for a missed glacier
As to skipping a visit to Dawes Glacier, Royal Caribbean says they have tried to find an alternative but the logistics are not simple, "We've been working tirelessly to find a way to visit Endicott Arm & Dawes Glacier for your sailing, but this would result in drastically reduced port times."
"And given that there's always a risk of missing the Glacier due to weather, it's best to go with the surer option of keeping better times in port. The decision to modify our itinerary wasn't taken lightly."
"We've done everything possible to minimize the impact to your time with us and are sorry for the inconvenience."
Increased compensation
Royal Caribbean also included a change to the compensation for the change in itinerary.
First, the amount of onboard credit offered is now one full day of cruise fare paid, per person.
Any unused onboard credit will be available to be refunded back to your credit card.
If not visiting the glacier causes someone to no longer want to sail, Royal Caribbean will allow them to cancel.
Guests have until July 17 to change their mind if they no longer want to sail and they can get a full refund, including non-refundable deposits and/or pre-paid amenities.
Guests will need to contact their travel agent to cancel, and should get a refund within 14 business days.
Royal Caribbean will also allow the refund amount to be moved to a different sailing.
Full letter
Here's a copy of the full letter Royal Caribbean sent.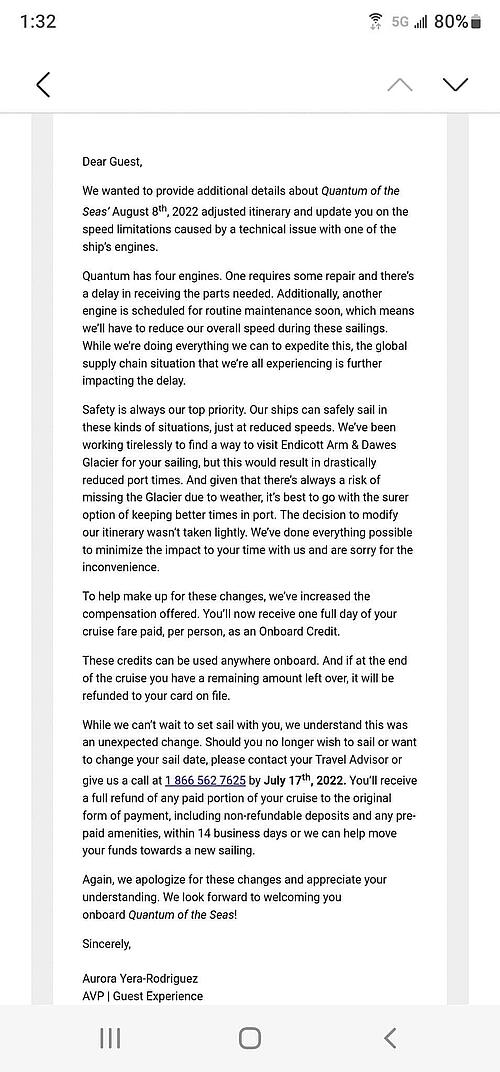 Thanks to John Trivedi for sharing the email.