In:
Guests booked on Quantum of the Seas to Alaska this season will have to forgo scheduled glacier visits.
Royal Caribbean notified guests booked on Quantum of the Seas this season that due to "a speed limitation caused by a technical issue with one of the ship's engines", planned visits to Dawes Glacier have been cancelled.
Thus far, the August 1, 8, and 15 cruises are impacted.
Dawes Glacier is famous for its 600 foot tall, half-mile wide active icecap. It's one of the major highlights of an Alaska cruise.
Royal Caribbean did not disclose what the engine issue is exactly.
Quantum of the Seas is sailing 7-night Alaska cruises from Seattle.
While the engine issue is not a major problem, it will require itineraries to be adjusted. Primarily, Royal Caribbean has adjusted some arrival and departure times in Alaska and British Columbia.
"As a result, we've replaced our visit to Skagway, Alaska with Ketchikan, Alaska on Wednesday, shifted our visit to Sitka, Alaska to Thursday, and we'll no longer visit Endicott Arm & Dawes Glacier on Friday. We're terribly sorry for any inconvenience caused by this, but the safety and comfort of our guests and crew is always our top priority."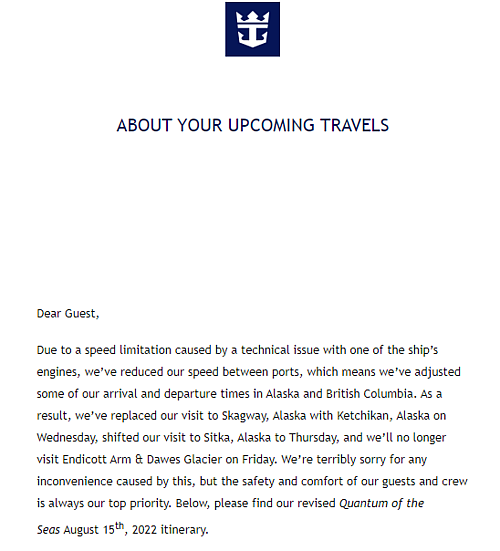 Depending on the itinerary, times and ports of call are being adjusted, such as dropping Skagway or replacing it with Ketchikan.
The cruise line is offering compensation due to the loss of Endicott Arm & Dawes Glacier from the itinerary.
$75 USD for Interior and Ocean View staterooms
$100 USD for Balcony staterooms
$200 USD for Suites
If at the end of the cruise you there is a remaining amount left over, it will be refunded to the card on file.
Cruise ship propulsion problems not uncommon
While unsettling, engine problems are not unheard of in the industry.
In just the last few years, both Allure of the Seas and Oasis of the Seas had engine issues that restricted their speeds. Allure in particular had propulsion issues in 2019, 2017, and 2013.
Fellow Quantum Class ship Anthem of the Seas had an issue with her azipod in 2016.
It's important to note that a propulsion problem is not a safety concern for guests sailing.
Reader reaction
No one is ever happy when a scheduled port visit has to be dropped, and cruise fans shared their dismay on the RoyalCaribbeanBlog message boards.
smokeybandit wrote, "I wonder what the decision point was between cancelling a couple cruise to fix the issue vs. taking away one of the most sought after aspects of an Alaskan cruise and handing out OBC to just sail with a busted engine."
Tom Trudnowski thinks dropping a visit to the glacier removes the primary appeal of an Alaska cruise, "the only reason you pretty much book an Alaska cruise, is to cruise the inside passage and see the glaciers, everything else is secondary, if important at all."
D Alt recognized this issue as something that can happen to any sailing, "These things happen. Mechanical equipment needs repair from time to time and they can't always predict when something is going to break down."