In:
Technically, today was our inside passage day I discovered, which means the day our ship passed through the inner waters from Vancouver up to Alaska. Basically, it was just a sea day as we made our way up to our first stop.
I was up around 7am to start getting some work done on RoyalCaribbeanBlog. If that seems early, I'm still somewhat adjusting to west coast time, and the fact 7am is 10am on the east coast was really bugging me that I was missing what was happening in the world, so to speak.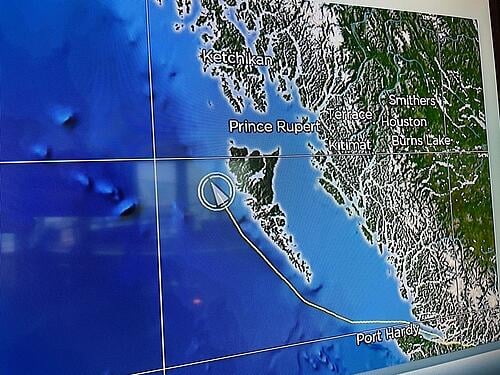 The day started out gray, with clouds dominating the sky.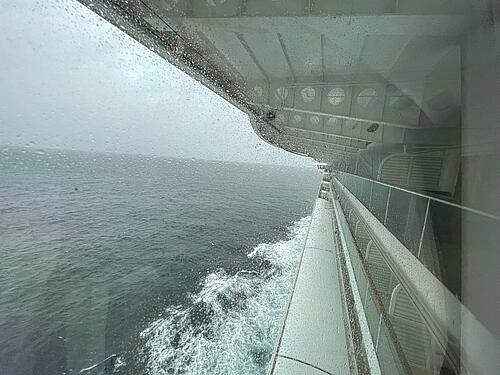 When the rest of the family got up, we headed to the Windjammer for breakfast. One benefit of being a suite is we have a private breakfast place in Chops Grille, but the variety the Windjammer provide won out for at least this morning.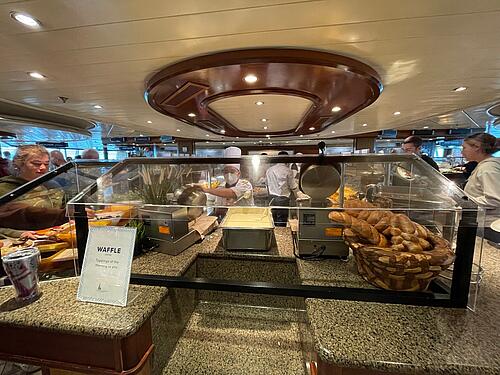 My kids loved the waffle station in the middle of the Windjammer, and my wife admitted those waffles were pretty darn good.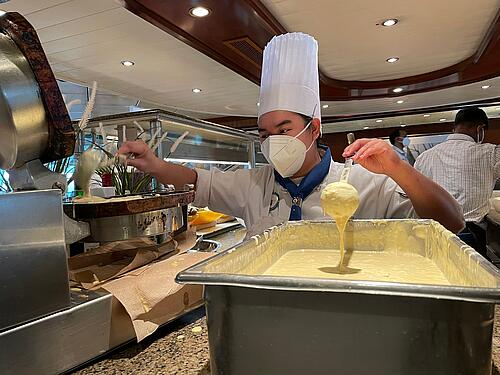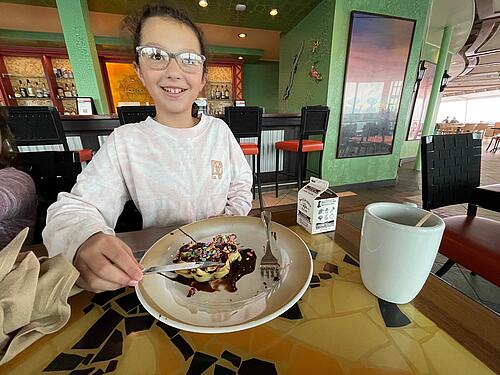 I also spotted the avocado toast station.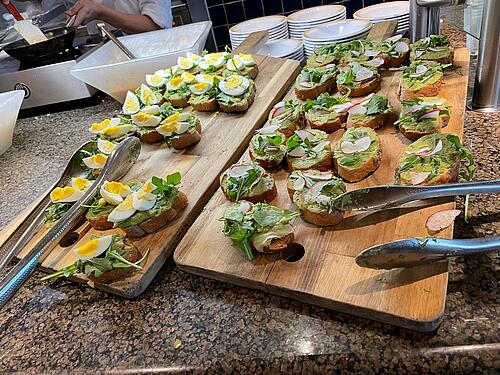 We took our food to the outdoor seating formerly known as Rita's Cantina. One of the waiters brought us coffee and our kids hot chocolate.
After breakfast, we headed to the Solarium to enjoy some open air. As noted yesterday, from 8am to 11am, the Solarium is open for kids (excluding the hot tub).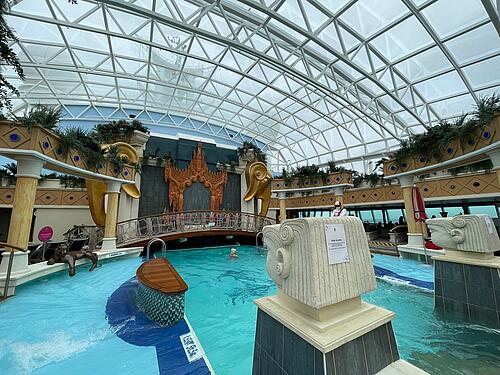 My girls brought their sketch pads to draw, and I decided to get an early start on my Diamond Plus drink vouchers with a bloody mary.
I walked from the Solarium to the pool bar to get a drink. The Solarium Bar wasn't open today (it had been yesterday).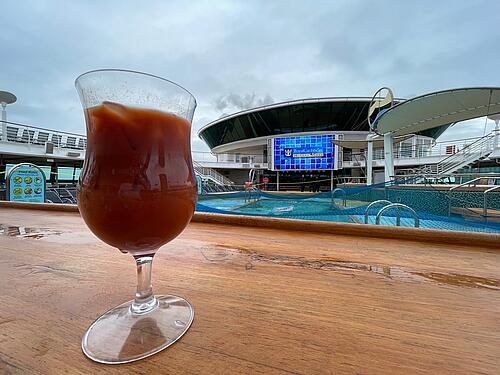 As the morning went on, the temperature warmed up and peaks of sunlight began to break through. I enjoyed spending some time on the pool deck with the fresh air and plenty of chairs to choose from.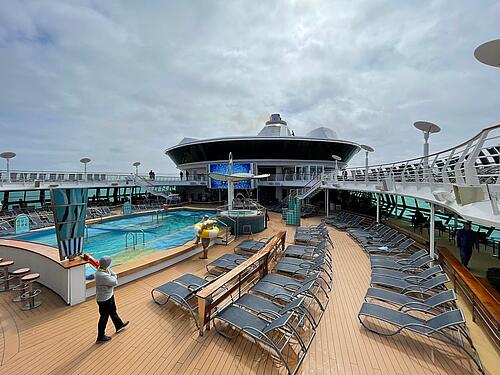 My wife had her spa appointment this morning, and later in the morning I took the girls to get their nails done at the spa. With my title of husband and dad of the year simultaneously in tact, I headed to the Safari Club for the Top Tier event.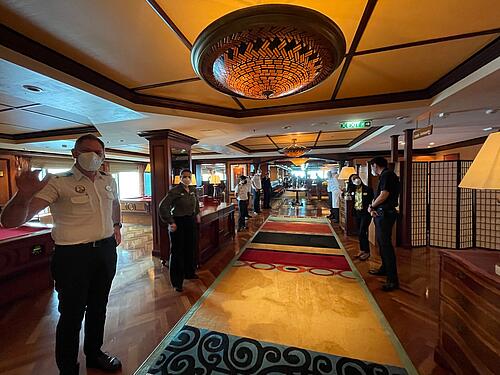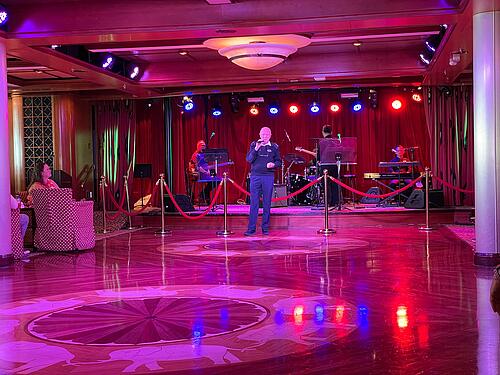 On the non-short cruises, Royal Caribbean invites guests to attend a get together to welcome Crown and Anchor members who have reached Platinum or above, and recognize those members with the most points or reaching Pinnacle Status.
There are over 700 Crown and Anchor Society members onboard, and the ship's Captain welcomed everyone.
I always make a point of attending the Top Tier events to show I appreciate them putting on these events for us.  The complimentary mimosas and champagne are not a bad excuse to go either.
With everyone finished in the spa and salon, we went down to the main dining room for lunch.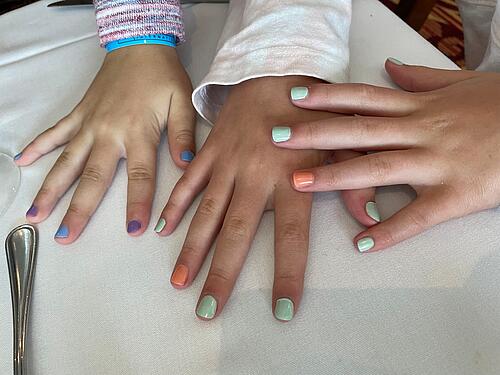 The food was fine, and enjoyed the ease of the being able to sit and enjoy a meal rather than another visit to the buffet.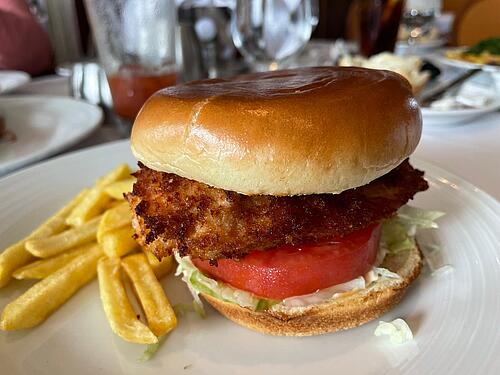 Chicken sandwich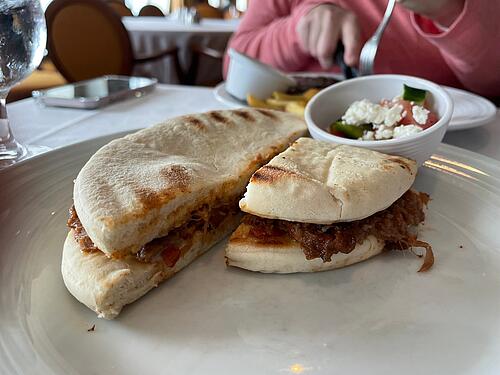 Mediterranean lamb sandwich
After lunch we headed to the NextCruise office to look into some future cruise options. Looking over new cruise ideas is the closest thing as an adult I have as a thrill to walking around KB Toy stores as a kid.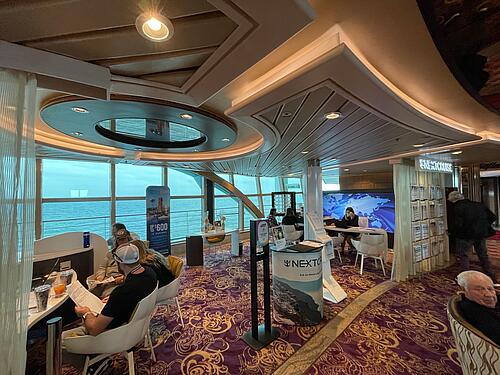 My kids wanted to go watch Encanto in the ship's cinema, which gave me the perfect excuse for my favorite sea activity: a nap.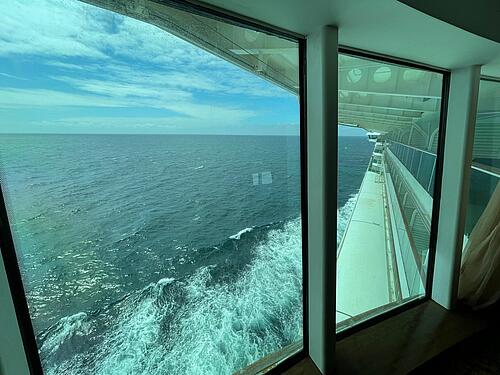 Tonight was formal night, and we reserved a table at Giovanni's Table for dinner.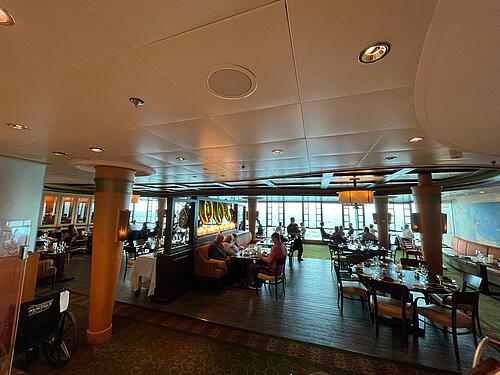 While this may not be the new Giovanni's Italian Kitchen update, we still enjoyed the menu selections, especially the filet mignon option.
The soup of the day special, Minestrone, was really good, and of course the main courses did not disappoint.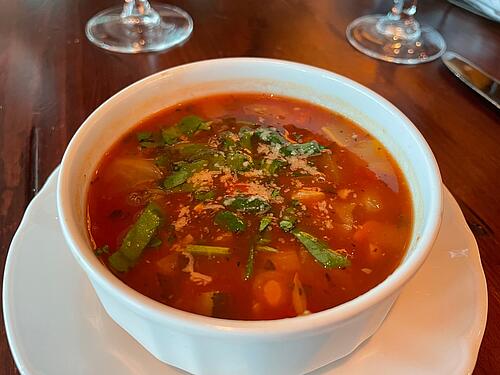 Minestrone soup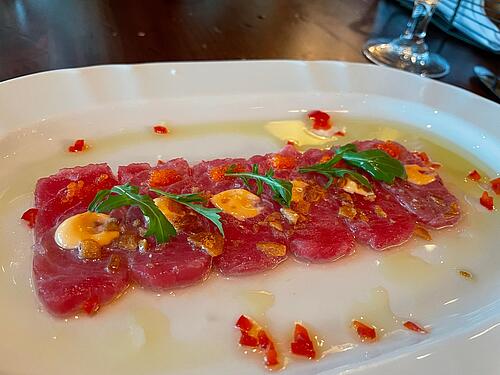 Tuna Tartare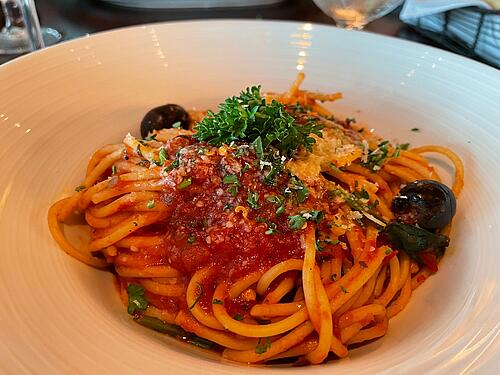 Spaghetti pasta of the day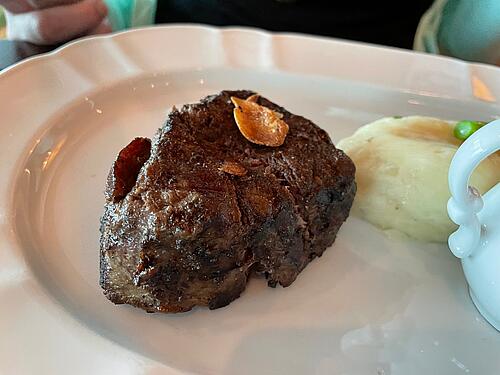 Filet
After dinner, it was time for a show.  Tonight, there was a Broadway medley in the theater that highlighted Broadway songs that crossed over to Hollywood films.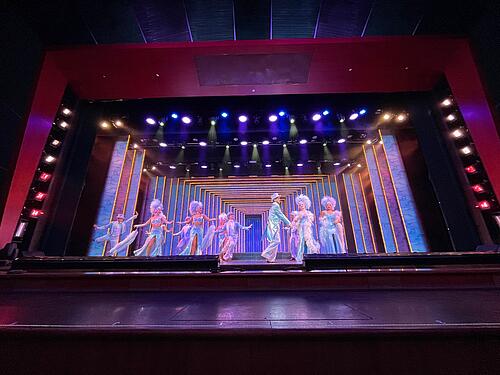 There were songs from West Side Story, Hairspray, Little Shop of Horrors and more.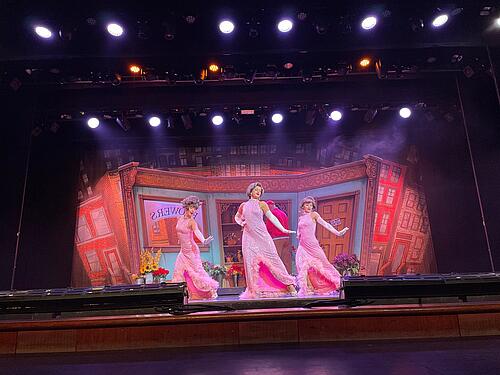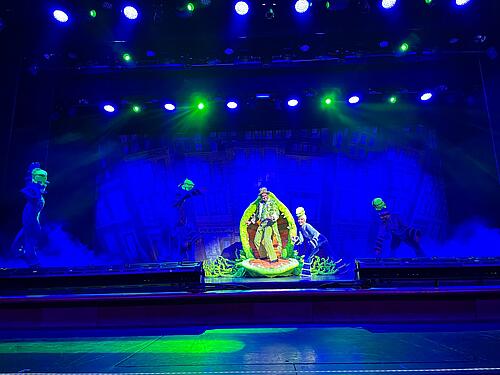 I hadn't seen this show yet on a Royal Caribbean ship, so it was nice to see something different.
Walking out of the show right around 10pm, I could see there was still daylight out. Getting closer to Alaska!
After the show, we watched karaoke in the Safari Club. My oldest daughter really enjoyed seeing people give it their best.
Tomorrow we will be in Sitka.
Staffing situation on Serenade
Speaking of things that aren't open, it's no secret that Royal Caribbean cruise ships are understaffed currently due to the same staffing struggles all businesses are dealing with.
Read more: The top problems Royal Caribbean is facing as it returns to full capacity
I had read other people's accounts of long waits for drink service, dinners taking longer than usual, and other issues of the sort related to waits. Truly over the first two days, I have not run into anything that made me think twice about my experience.
While I would love to enjoy the pub, the pub singer performs at the Schooner Bar instead. The casino isn't operating the craps table, but I found many open seats for blackjack or roulette instead.
Dinner on the first night in the main dining room took an hour and fifteen minutes, while dinner at Giovanni's was an hour and a half. Those times are well-within the norm for meals I would have had pre-2020.
It's still early in the cruise, but I wanted to share I'm constantly looking to gauge how much the experience has changed between myself and other guests I've been chatting with onboard.
Stray Observations
We got a note in our room that we had reached enough Crown and Anchor Society points for a crystal block.  We have the choice to take it home now, ship it home, or pass on it completely.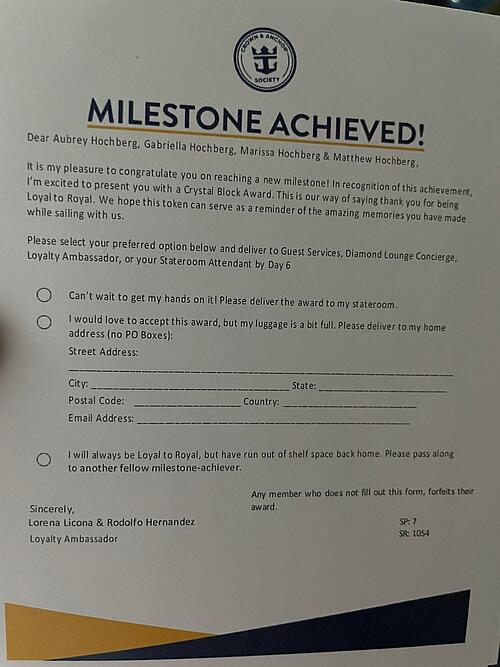 Crystal blocks are given to Diamond Plus guests periodically after they accrue enough points. Once you reach 140 points in Crown and Anchor Society, you earn a crystal block from the ship you happen to be on at the time.
You then earn a new block every 70 points you accrue thereafter. 
I also got a letter in the room to inform us as a Diamond Plus guest we would not be able to use the concierge lounge because there were too many Diamond Plus and Pinnacle guests onboard. Not a problem since I'm staying in a suite.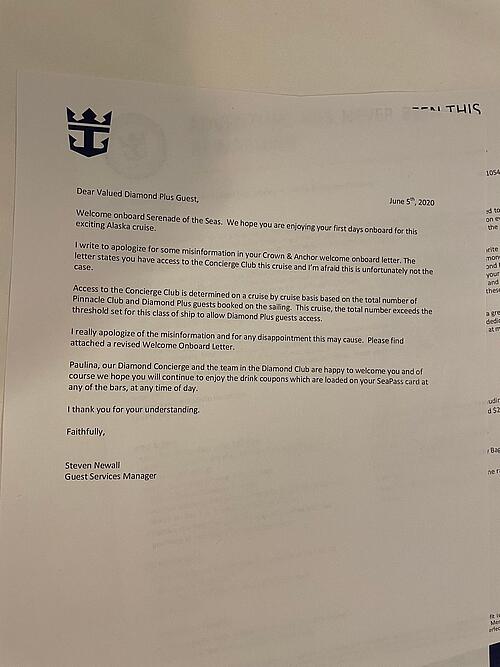 One nice change you'll find on an Alaska cruise versus a Caribbean cruise are the enrichment events, where speakers provide a lecture on a given topic. Today, there was a member of the Royal Canadian Mounted Police that spoke about the work he does in Canada's national police force.