In:
Juneau is Alaska's capital, and it's our next stop. We're in Alaska for over 12 hours, providing ample time to see a lot of what it has to offer.
Our ship docked at 7:30am, so the gangway was open well before we were prepared to get off the ship.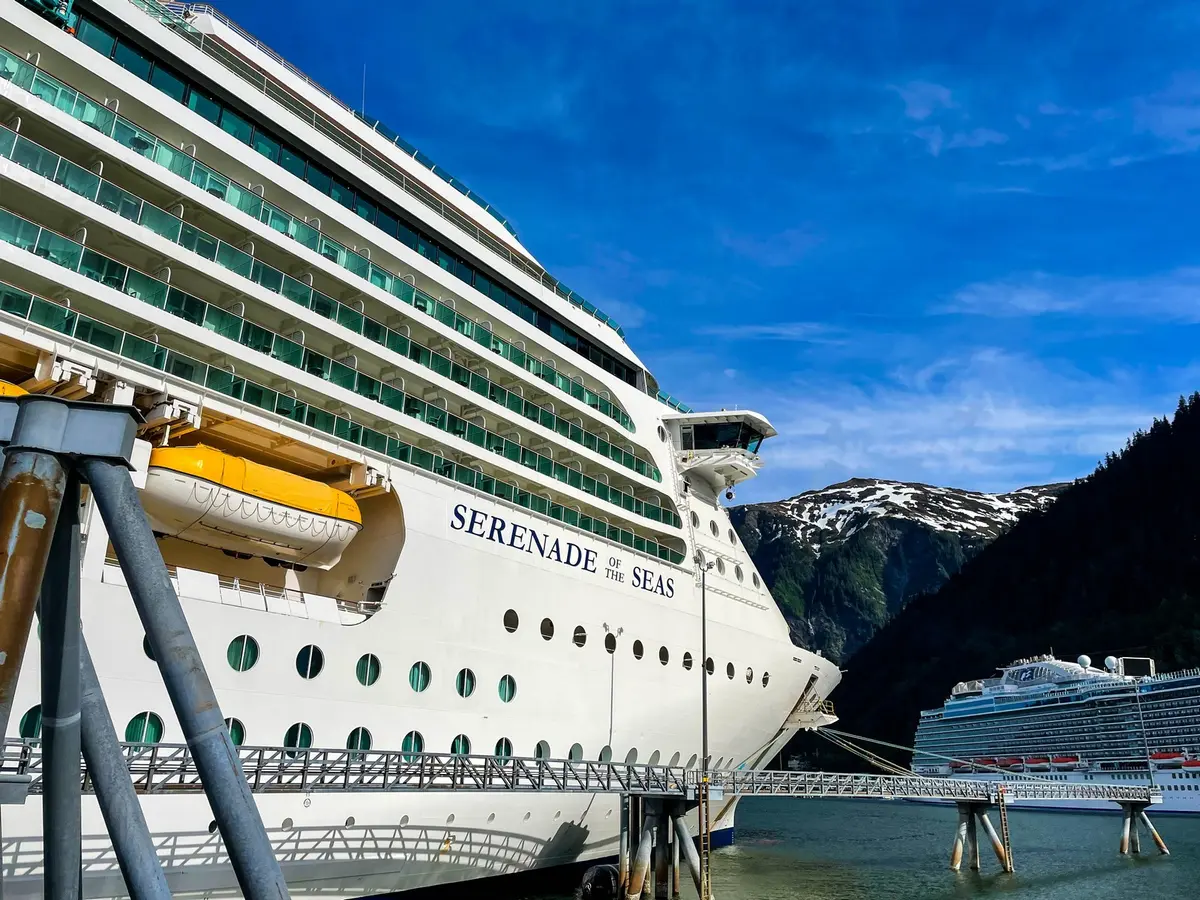 After a quick breakfast in the Windjammer, we headed off the ship for our tour. We booked a half day self-guided Jeep rental, where we drive the car along a route and explore at our own pace.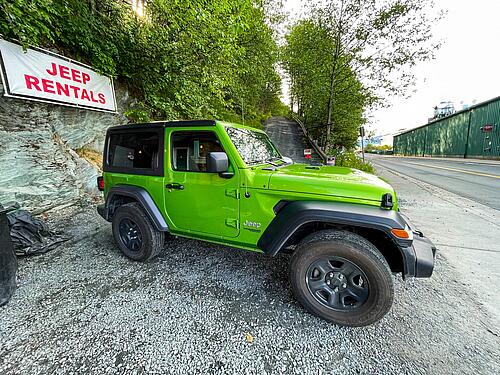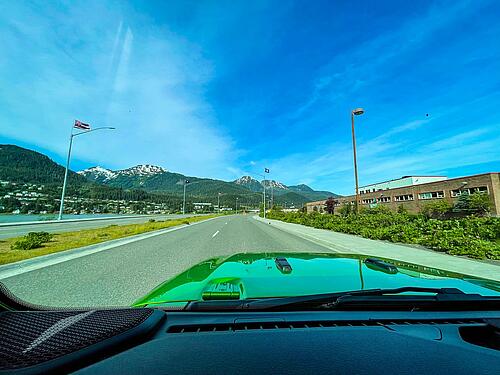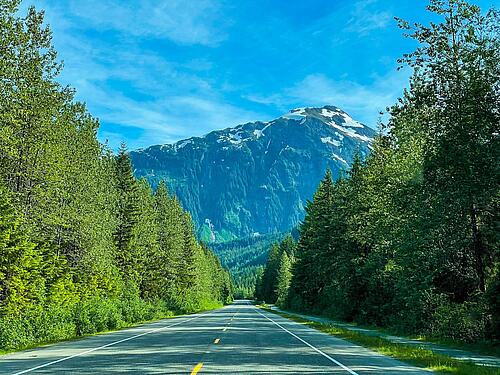 We could have driven anywhere, but the onboard iPad provides a map and narration of the places, animals, and history of Alaska.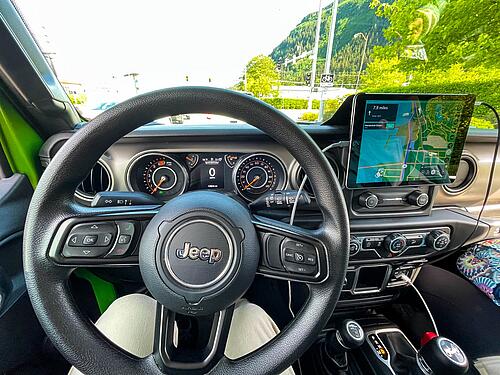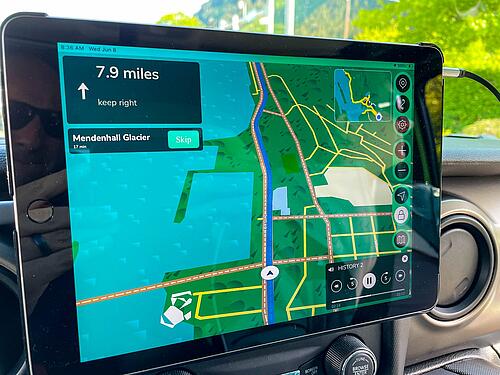 The drive is 2 hours in total, but provides 2.5 hours of out of the car exploration.
Our first stop was Mendenhall Glacier park, where we parked the car and walked the Nuggets Falls trail.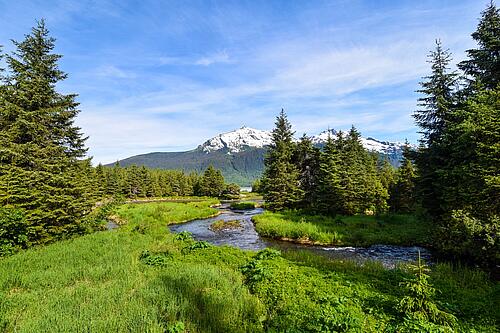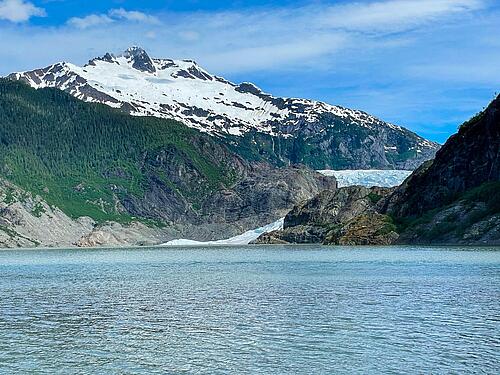 We had done this hike last time in Juneau, but it's so rewarding a view that we couldn't pass it up again. It's about a 1.5 mile roundtrip hoke, and we had absolutely stunning weather for the outdoors.
The skies were clear and blue, with the sun shining all morning. It was perfect for being outdoors and enjoying the views.
Along the trail you get to see Nuggets Falls right next to Mendenhall Glacier, although the views of the glacier are better from elsewhere along the trail.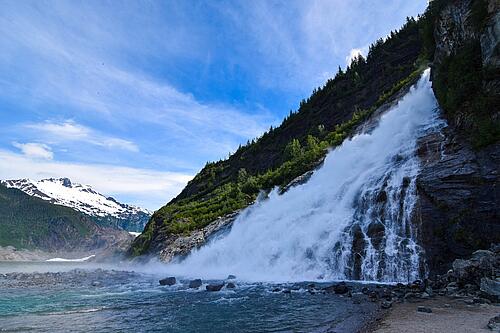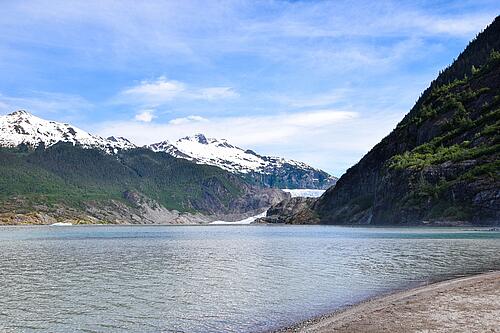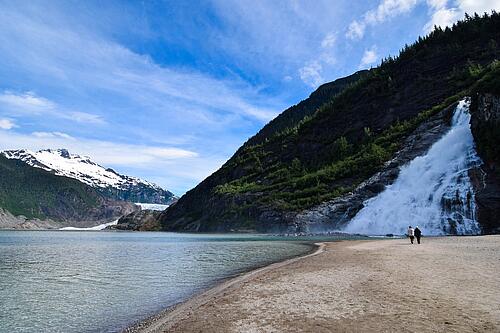 While the kids found the trail a bit too long for their liking, it was very rewarding getting to the falls and enjoying it all.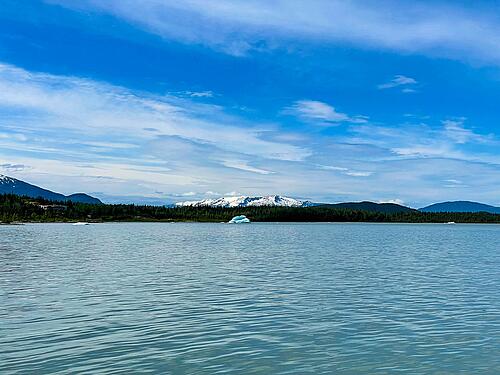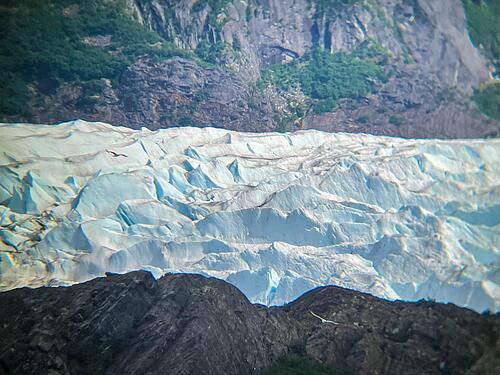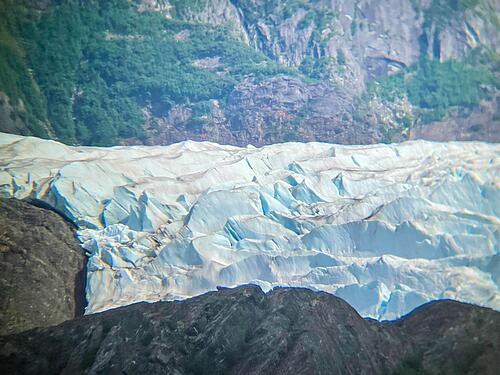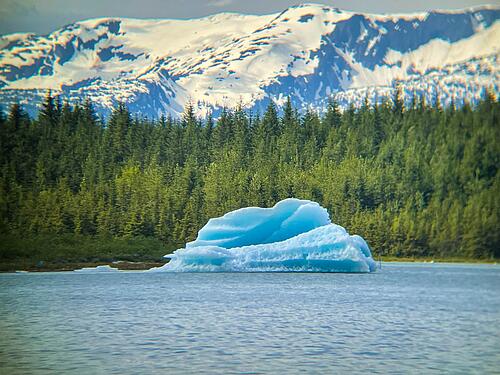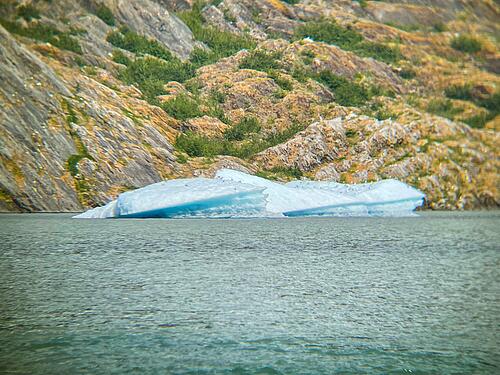 Back in the car, our next stop was Eagle Beach, which is also one of our top spots in our local's guide to Juneau article.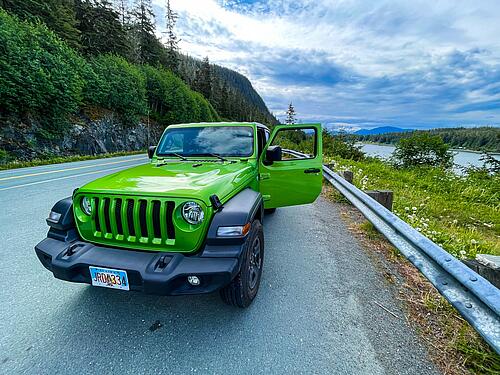 Eagle Beach is about a 40 minute drive from the glacier park, and offers a wide open lake front to explore. We had spent a lot of time at Mendenhall, so Eagle Beach was more of a quick walk.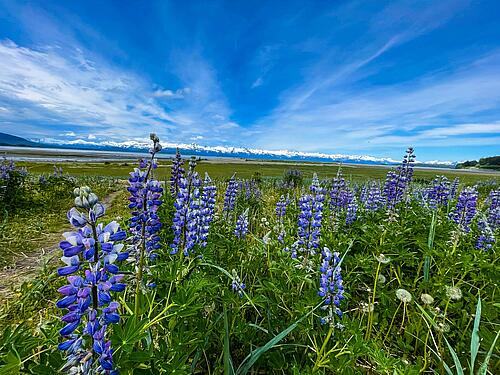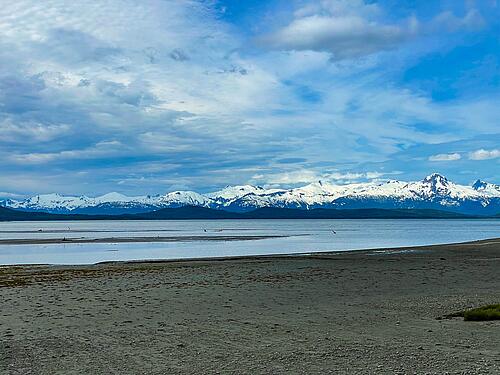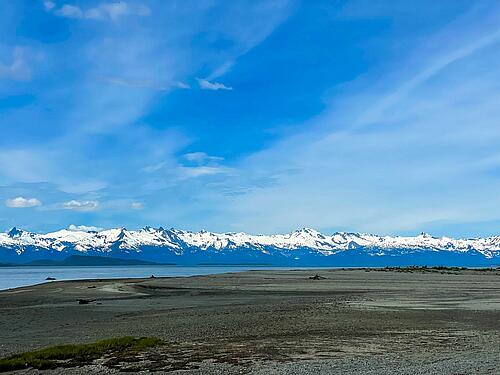 The mountains that surround the beach are beautiful, and I loved sitting on a log and looking around. Awe-inspiring, to say the least.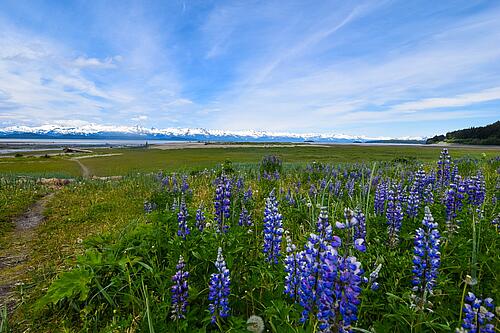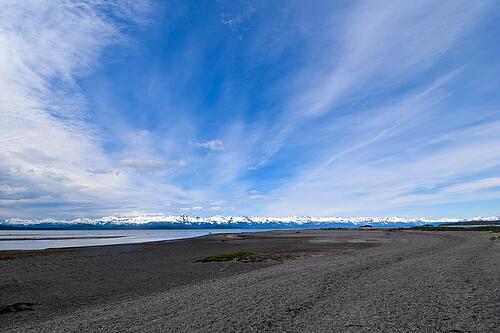 Eagle Beach also has camp sites, if you happened to bring food.
Next up was a visit to The National Shrine of Saint Thérèse, which not only honors a local saint, but is situated on a beautiful piece of land.
Right outside was our first bear sighting, just along the highway.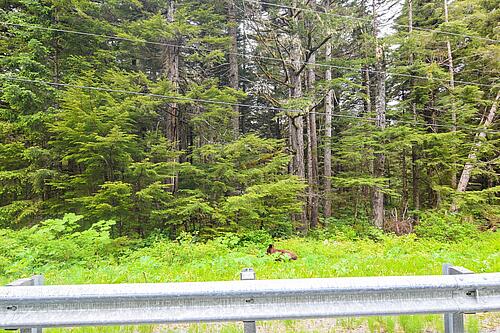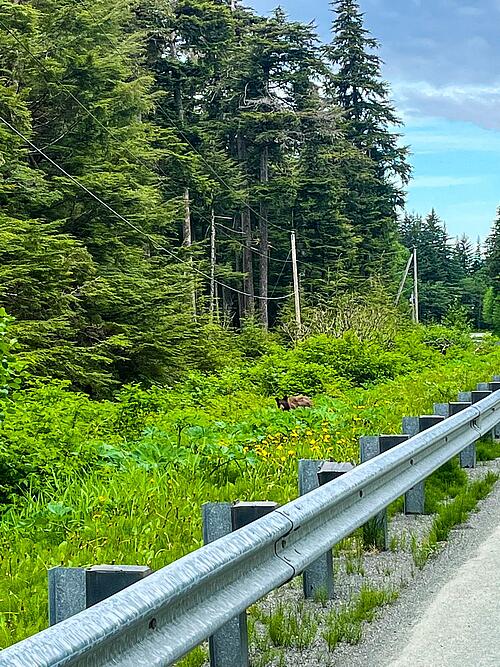 He looked to be a younger bear, but he stood by the road just long enough to see him for a few seconds before he went back into the woods.
Our final stop was at a lookout point on North Douglas, which provided another lovely view of the surrounding area.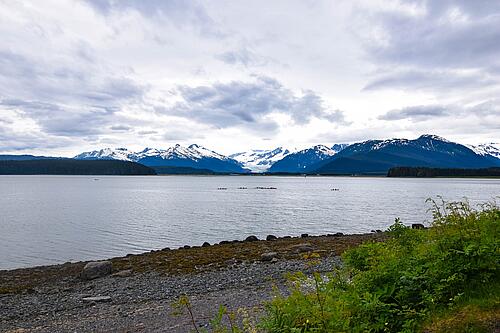 The natural beauty of Juneau was incredible, and I would have loved to have a few lawn chairs and a lunch to just sit at one of these places for a few hours and enjoy it all.
The Jeep rental idea worked out quite well, and I think the kids really enjoyed having a break in the car to relax between walking. Plus, my oldest daughter really found the narration to be fascinating.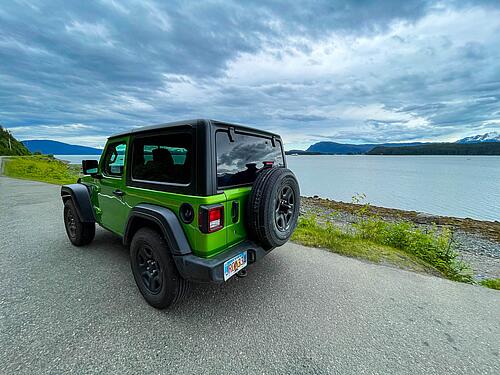 We returned the Jeep at 1pm, and then went in search of lunch. We ran across an outdoor bar that had fire pits, along with a Mexican food truck right next door.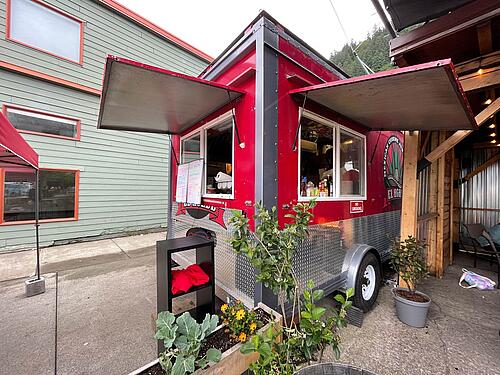 Beer, Mexican food, and fire is the perfect combination!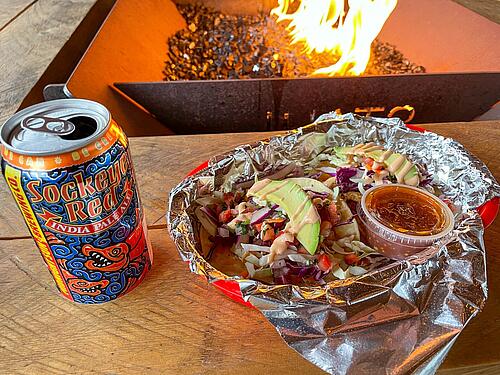 After lunch, we walked the streets of South Franklin Street and shopped around a bit.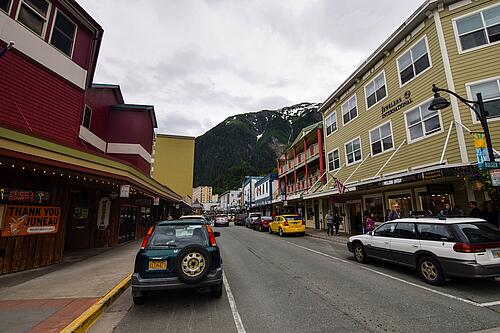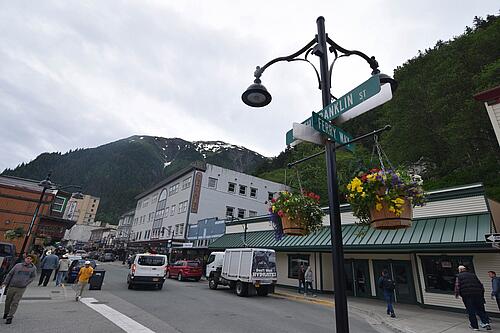 We had hoped to stay in town for dinner as well, but it provided to be difficult to find a sit down restaurant that wasn't just another bar. Ultimately, we decided to head back to the ship to relax and have dinner.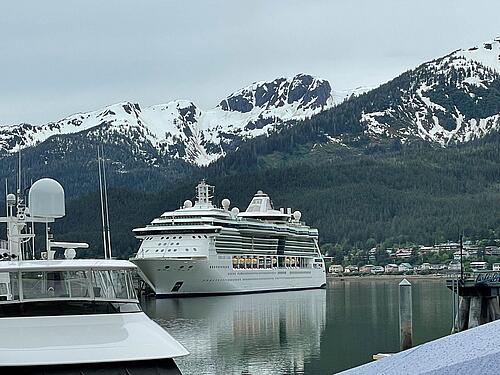 Since we are coming back to Juneau next week, I wasn't too hard pressed to squeeze out every hour we could.  I really loved having so much time in port.
Back on the ship, it was time for dinner in the main dining room and then drinks in the Concierge Lounge.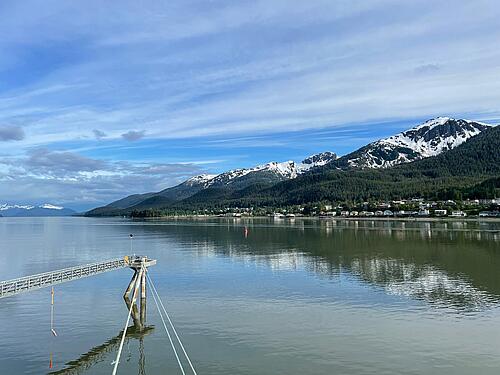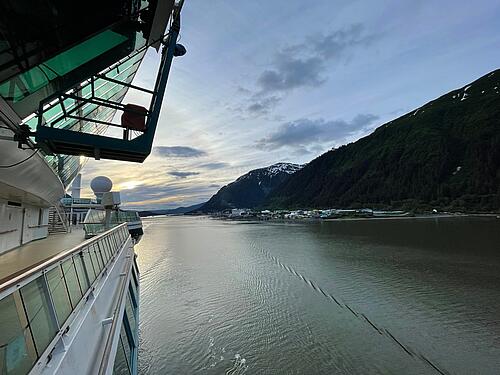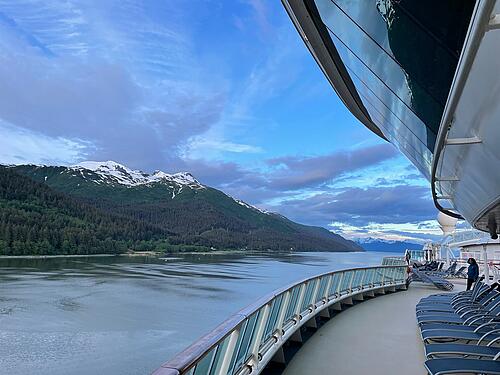 Stray Observations
The pub opened up last night after the ship received 4 new crew members that transferred from Radiance of the Seas while in Sitka.
I stopped at Guest Relations to ask about how many passengers, and they said there are 2100 guests onboard, which constitutes 95% capacity.
At the Top Tier event on Monday, it was mentioned we had 778 crew members onboard (plus 4?).