In:
Have a cruise in Miami or Fort Lauderdale and need to find a place to get a covid test before you sail?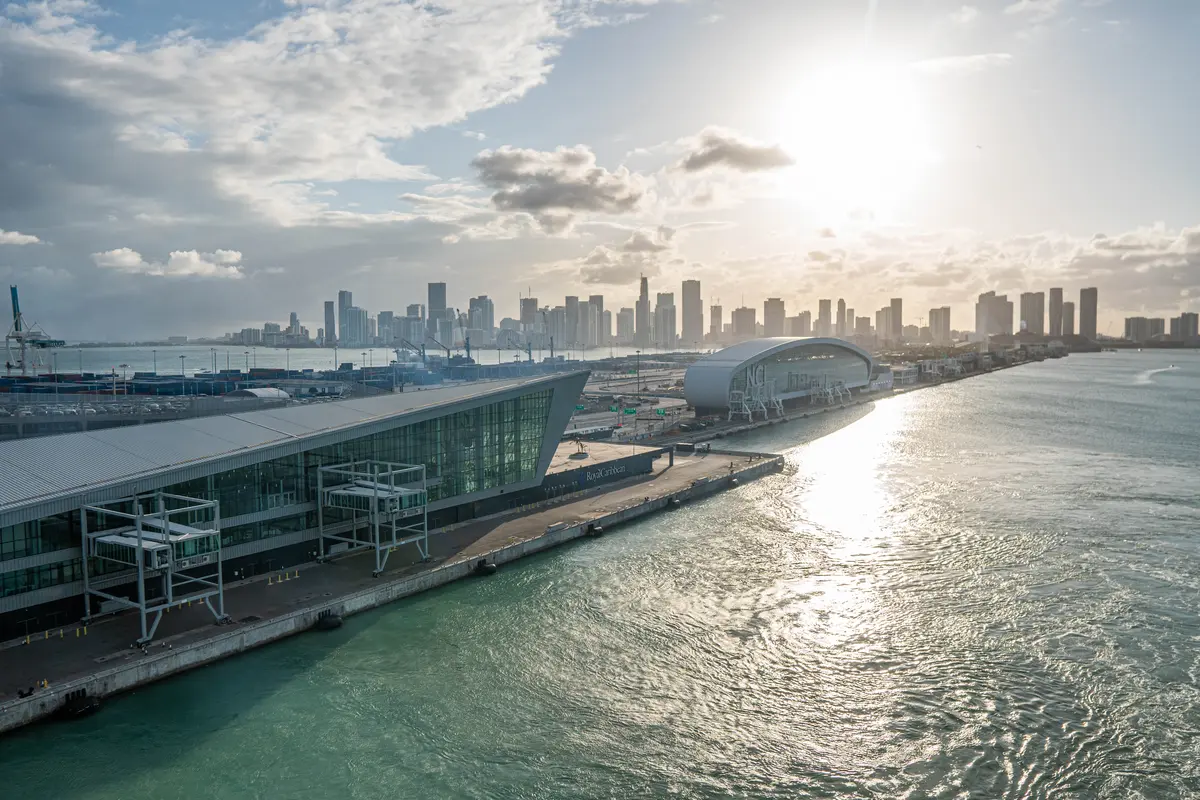 Prior to any Royal Caribbean cruise, every passenger must obtain a negative Covid test. While this policy has been in place since the restart of the cruise industry in June 2021, it is still a common cause for concern among many cruise passengers who are anxious about whether or not they can easily find a Covid test in their area.
Some cities in the US may have ample testing options whereas others may have more limited options. Additionally, as many passengers must fly to their cruise departure port one day ahead of their cruise, this gives them less time to secure a test in their area. This is especially true for those passengers arriving on international flights to the United States, as the Covid test they must take for entry into the US may be expired by the time they must board their cruise.
Therefore, some passengers may opt to book a Covid test appointment in their cruise departure port upon arrival as opposed to finding a test in their local area. Prior to my cruise last week on Freedom of the Seas, I wanted to try out a local Covid testing site in South Florida to see what options are available for those hoping for an easy way to secure a Covid test.
When searching for local Covid testing, TentTest.com was recommended to me, which offers rapid Covid-19 antigen testing with results in 15 minutes. They had a wide range of testing time slots available, all the way from 6AM to 10PM. This was a welcome change from the limited hours I had experienced in the past when testing at pharmacies like CVS and Walgreens.
I booked my Covid test appointment one week in advance, although the site also offers same-day appointments on the off chance that you are unable to book in advance.
Location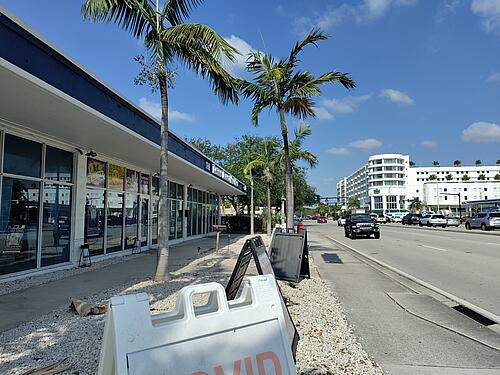 Tent Test is located around 4 miles from both Fort Lauderdale-Hollywood International Airport and Port Everglades. The address of the testing location is 718 SE 17th Street, Fort Lauderdale, FL 33316.
The testing location is convenient for anyone flying or driving to Fort Lauderdale, and it is located just a few blocks from popular hotels that many passengers book the night before their cruise, including Hyatt House Fort Lauderdale and Holiday Inn Express Ft. Lauderdale Cruise-Airport.
While it may not be the most convenient option for those flying into and cruising out of Miami, its proximity to the Fort Lauderdale cruise port is favorable.
Testing experience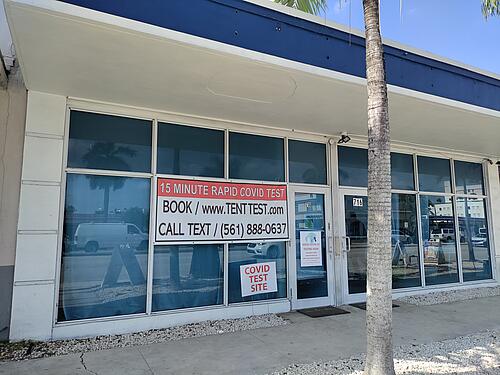 I took an Lyft to the Tent Test site, but I was running late due to traffic and a slightly delayed disembarkation from my cruise on Oasis of the Seas. Nervous that I would miss the test, I called Tent Test and explained the situation. Luckily they were extremely understanding and allowed me to push my test back a half hour without any issue.
It was easy to spot the correct building as I arrived due to Covid testing signage on both the windows and curbside. The testing proctor, Ed, opened the door as he saw me approaching and welcomed me inside.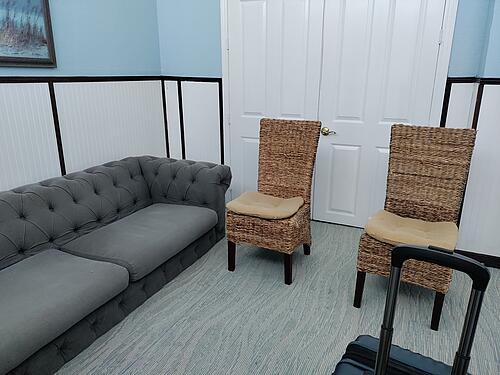 I was seated in a comfy waiting area inside the testing site. As I was the only person being tested in the time frame I selected, my testing process was extremely quick and efficient.
Normally those being tested would be moved from the waiting area to a private room, but as there was no one else in the building I was able to be tested in the waiting area. The proctor briefly explained what the test would entail and conducted the nasal swab.
While some tests, such as the Abbott BinaxNOW Ag Card Home Test, are a self-swab test, the proctor swabs your nose for you at Tent Test. I usually prefer self-swab, especially after an extra painful PCR Covid test I received in Egypt last year, but to my surprise my test at Tent Test ended up being the least-painful Covid test I have done yet!
After a simple swab right at the entrance of both nostrils, the proctor took the test to their lab area and I waited fifteen minutes for my result.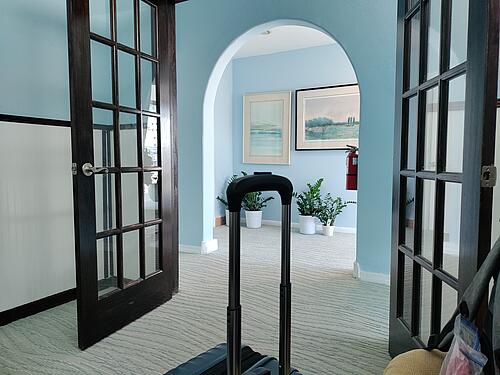 I was given a paper hard copy of my negative test results, which were complete with everything Royal Caribbean requires to board the ship: your name, test type, lab's address, CLIA number, date of test, and your negative result. I had no issues presenting my negative test results from Tent Test at the cruise terminal in Miami.
Testing price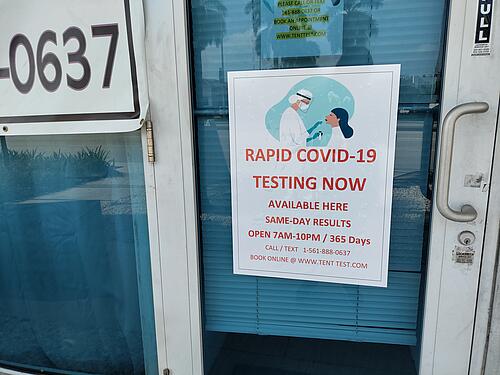 The standard Covid testing price for one person at Tent Test is $65 per rapid antigen test. Discounts may be available in larger groups. Additionally, Tent Test providers can also arrange to visit you directly at your hotel or house. For pricing and more information on these options, it's best to give Tent Test a call ahead of time at (561)-888-0637.
While the test is not free like you will encounter at places like Walgreens and CVS, I felt it came at a fair price compared to many other testing options. Covid testing at Miami International Airport, for example, ranges from $79 to $179. In addition, while Royal Caribbean offers limited testing directly at the cruise terminal, costs start at $99 per person.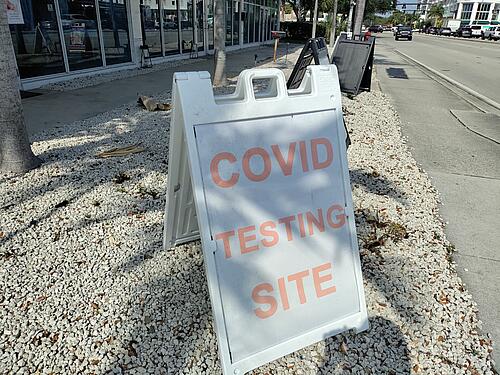 Tent Test also makes a great backup Covid test option in case something goes wrong with your primary testing method. Before one of my cruises, for example, I drove to Walgreens for a rapid NAAT test only to find out the pharmacy had unexpectedly closed early and there was no one to proctor my Covid test. Luckily I was able to reschedule for the next day, but if I had to travel that same day I would have been out of luck for a Covid test.
In addition, while the at-home Covid tests are extremely popular options for passengers, occasionally the test results are found invalid or the test kits are missing an item. Having Tent Test as a backup option can be extremely helpful.
Overall, I would recommend Test Test as an option for those who must secure a Covid test in South Florida before or after their cruise. The entire process was simple and just about as enjoyable as a Covid test can be. My testing proctor Ed was very friendly as well, which made me feel welcome and comfortable at the testing site.
What are the current testing requirements for Royal Caribbean cruises?
While Covid testing requirements are subject to change, here are the current pre-cruise testing requirements for cruises out of the United States:
Vaccinated guests must show a negative Covid-19 test result taken no more than 2 days before boarding day (PCR or antigen)
Unvaccinated kids aged 2-11 must show a negative PCR test taken no more than 3 days before boarding day
Unvaccinated kids' pre-cruise test cannot be taken on boarding day (as they will receive an additional test at the terminal)